Denim jeans are about as classic Americana as it gets. And we're firm believers that every man should own at least one pair (ideally a few in different color finishes, fits, etc.). And while there are a wealth of brands that make solid pairs of jeans – including a few that make them here in the USA – one brand you can always depend upon is Levi's.
After all, Levi's is the tried and true original when it comes to denim jeans. And you don't get to be the longest-running manufacturer of a men's style staple by accident. It took years and years not just of perfecting these pants, but of altering them over the course of time to suit changes to popular style. As such, Levi's has a pretty big catalogue of options, each of which represented by a three-digit number. But, what do those numbers mean, exactly? Well that's what we set out to clear up in the following complete guide to Levi's numbering system.
Criteria
What The Metrics Mean
Before we get started, it's important to know that this list encompasses all of Levi's current standard offerings. As styles change, it's entirely possible that some of these will end up being discontinued and new ones might be introduced. Similarly, there are sub-styles and variants that are not necessarily going to be listed independently, as they do not differ from other offerings in significant enough ways, though mention will be made in the style that most closely fits these variants. Similarly, there may be styles from the past that are not represented, as they are no longer produced.
It's also necessary to understand what, exactly, the metrics mean when choosing jeans – be that from Levi's or another denim brand. As such, we'd like to outline some of the terms that define the jeans, how you wear them, their look, and their feel. While the styles differ from number to number within Levi's system (without any apparent rhyme or reason as to how they are numbered), you can always look to the following criteria to determine exactly what you're getting out of any pair of Levi's jeans. Just keep in mind that these are not the only determining factors, as sizes also vary depending upon seat size, leg opening, and more.
Fit
Probably the most important and most all-encompassing metric, 'fit' refers to the overall look and feel of the pants. In the case of Levi's, it can be defined in one of three ways: slim, regular, and relaxed. As you might imagine, they ascend in order according to how tight the jeans hug your legs from top to bottom. So, slim jeans hug your legs, regular ones are somewhere between tight and baggy, and relaxed are loose and baggy.
Leg
A slight variance from overall fit, 'leg' refers to the taper (or lack thereof) of the jean from top to bottom. In this case, it is defined in one of three ways: tapered, straight, and boot cut. Tapered jean legs stay fitted from your hips down to your ankles, straight legs are as wide at the hip as they are at the ankle (giving the impression that they get looser from top to bottom), and boot cut jeans taper down to around or just below the knee before opening up wide again to accommodate the wearer's footwear (specifically calf-length footwear like cowboy boots or motorcycle boots).
Rise
This metric refers to how the jeans sit around your waist and/or hips. Unlike the metrics above, this one can be categorize in one of just two ways (though there is slight variation from style to style): low and regular – though Levi's does not specifically use these terms. Instead, they opt for more complicated descriptors. For instance, low is equivalent to "hangs on the hips," whereas regular is "worn below the waist," "sits low on the waist," or has no qualifying description at all. This will also determine room in the crotch area, as low rise jeans tend to have less room than regular, as they can't be hiked up as hight – though some have compensated for this with a larger seat area. This metric is certainly the most difficult to define.
Leg Opening
As simple and straightforward as it gets, this measurement refers to the circumference of the bottom of each pant leg. It also has a direct correlation to the 'leg' metric, as the way the leg of the pants is shaped will determine how wide they end up at the bottom. For reference, tapered pants tend to have the smallest leg opening, straight leg jeans are the middle ground, and boot cut often have the widest opening – though the last two can be swapped in the case of extremely relaxed straight leg pants.
Style By Number
Blue Jean Breakdown
501
Proof that you can never go wrong with a classic, the 501 is Levi's original jean and still one of the brand's all-time most popular. Originally released in the 1890s, these jeans are an excellent pick for the job site and your personal life alike. They fit well – not too tight or too lose – and they look as great today as they did over 100 years ago. There are also a couple variations on this jean that can be found – including a tapered-leg version and a skinny version. These variations change the leg of the pant, but are otherwise built the same. There is also a 502, which is exactly like the original 501, but with a tapered leg and a slightly slimmer fit – ideal for those who still want a roomy thigh, but not a wide leg opening.
Fit: Regular
Leg: Straight
Rise: Regular
Leg Opening: 16″/17″
504
Believe it or not, but the 504s were actually created after the 505s. There is, however, a correlation between the numbers and the two styles. Namely, the 504s are very similar in style and fit to the 505s, except that the 504s sit slightly lower on the waist and feature a more fitted seat and leg. Other than that, they are remarkably similar.
Fit: Regular
Leg: Straight
Rise: Regular
Leg Opening: 16.25″
505
Whereas the 501s are the original work pants from Levi's, the 505s mark a different period in the brand's history: that as a fashion staple and not just a piece of functional clothing. A little looser in the leg than the 501s, these are the jeans that were featured on the Rolling Stones' Sticky Fingers album cover. They're not vastly dissimilar to the 501s, but they are certainly a bit more relaxed.
Fit: Regular
Leg: Straight
Rise: Regular
Leg Opening: 16.5″
508
Again, this offering is not entirely dissimilar to the original 501 jeans, but for one chief difference: the 508s feature a tapered leg. This means that, while they are comfortable from hip to ankle, they also get slimmer as they travel down your leg, making for a more tailored look. Still not quite a slim-fit jean, these denim pants are certainly less baggy than their work-centric counterparts and have a more contemporary appearance overall – and look great with your favorite sneakers.
Fit: Slim
Leg: Tapered
Rise: Low
Leg Opening: 14.25″
510
Amongst some of the first Levi's in the brand's foray into leg-hugging jeans, these were the tightest-fitting of their offerings for quite some time. While that's no longer true, they're still on the slimmer side of the spectrum – the kind you might see worn by musicians and artists, and not so much by the working class or bikers. If you like a tight-fitting jean, these are a good place to start.
Fit: Slim
Leg: Tapered
Rise: Low
Leg Opening: 13″
511
A step back from the 510s, the 511s are one of Levi's most popular modern style of denim pants – as they still have the classic looks of their old-school offerings, but have a much more tailored fit, thanks to a slim tapered leg. While there's still plenty of crotch and seat room to these jeans, they're still a lot more fitted than Levi's more traditional offerings.
Fit: Slim
Leg: Tapered
Rise: Low
Leg Opening: 14.5″
514
Appearance-wise, the 514 is not tremendously dissimilar to the lower 500-series blue jeans offered by Levi's. Their main difference is that the material they're made out of isn't traditional denim, as it has some stretch woven into it. The biggest benefit to this is you get a classic straight-leg look to the pants, but they also have a lot more give, offering a better range of motion. The trade-off: stretchy fabric is inherently less durable than standard denim.
Fit: Regular
Leg: Straight
Rise: Regular
Leg Opening: 16.5″
517
A slimmer jean through the thigh, much like the 511s, these 517s are suited perfectly for those who prefer a snug fit, but need to be able to accommodate more bulky footwear. That is to say, they have a bootcut that can fit over your favorite pair of work boots, motorcycle boots, or otherwise. With the exception of the wider leg opening, however, these jeans are on the slim end of the spectrum.
Fit: Regular
Leg: Boot Cut
Rise: Regular
Leg Opening: 18.25″
519
By far the slimmest and tightest offering Levi's has to offer, the 519s are very literally skin-tight. Honestly, we're not entirely sure who these jeans are intended for (perhaps remnants of the emo scene or club kids), but it's without question that these are an example of fashion over function. You'll need to grease up your legs to get into these and probably have to cut them off afterward.
Fit: Slim
Leg: Tapered
Rise: Low
Leg Opening: 12.25″
527
Levi's original boot cut jean, these are not quite as slim as the 517s, but still open up toward the ankle to make way for, say, a pair of cowboy boots. And, in all reality, that is likely what these denim jeans were originally designed for: ranch hands, cowpoke, and other frontier-types who find themselves more at home on the back of a horse than in their own domicile.
Fit: Regular
Leg: Boot Cut
Rise: Regular
Leg Opening: 18.25″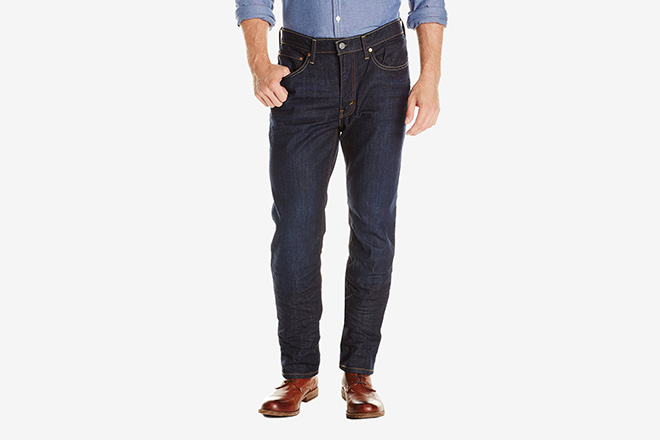 541
Another instance of an interesting combination of factors coming together to create a new style trend, these jeans were created to suit the fact that physical fitness is presently en vogue. That is to say, they're a relaxed fitting jean with a tailored look made to be worn by actual athletes and gym rats alike. They feature a tapered leg for clean lines from top to bottom, but aren't so fitted that an accidental flex will tear them apart.
Fit: Relaxed (Athletic)
Leg: Tapered
Rise: Regular
Leg Opening: 15.75″
550
With the same signature style as the 501s, 550-numbered jeans from Levi's are a great option for anybody who wants a classic appearance, but needs a little more room in both the seat and the leg. They also feature a tapered leg, so they don't flare out at the ankle, making them look a bit more tailored and ensuring your movement isn't hampered by hanging fabric.
Fit: Relaxed
Leg: Straight
Rise: Regular
Leg Opening: 16.5″
562
The polar opposite of the skin-tight 519s, these pants are Levi's most relaxed offering across the board. They're not just pipes, however, as there is a slight taper from waist to ankle, keeping them from looking too baggy for comfort. If you utterly despise the feeling of raw denim hugging your legs, this is definitely the pair of jeans for you.
Fit: Relaxed
Leg: Tapered
Rise: Regular
Leg Opening: 16.5″
The Complete Guide To Denim Care
Jeans aren't just a fashion staple; they're a long-term investment. And if you want to make the most of yours, you'll need to know how to keep them in shape – which you can learn in our guide on how to care for denim.