There is perhaps no garment more necessary in the summertime than a simple t-shirt. However, different tees boast different materials, weights, shapes, and so on. With all that in mind, how do you designate the perfect top to tackle the tepid summer heat? For the most part, you can narrow down the perfect tee to a lightweight, easy-going choice that fits your style best. Whether it's slim-fitting or oversized, boxy or wide, keep an eye out for just how breathable the shirt is when looking for the best summer t-shirt.
If you're eager to make the most of what feels like the first genuine summer in roughly two years, remember that the sun veering its way out of the clouds often calls for a wardrobe change. While there are still a few weeks until the season truly kicks off, we figured we'd get a head start on beating the forecasts with a roundup of the 18 best t-shirts to rock throughout the summer.
UNIQLO AIRism Cotton Crew Neck Short-Sleeve
UNIQLO's new top is a perfect way to kick off this easy-going list. The Japanese label implements its AIRism fabric to provide you with optimum performance and a lightweight feel that works as well on a walk down the shore as it does a hardcore workout. Available in six different minimalist colors, you can never go wrong with a blend of comfort and variety.
Everlane Air Crew
Everlane's collection of essentials is parallel to UNIQLO and serves as an equally trustworthy brand. The San Francisco-based clothier's Air Crew Tee is as light as its name entails, composed of easy-going 3.7-ounce cotton fabric. It is loosely woven with a slub texture, which is thin enough to emit body heat and let the breeze in simultaneously.
Nike Dri-FIT Legend Training Tee
There aren't many names that outdo Nike when it comes to performance, so it was only a matter of time until one of its tops showed up. The ultra-breathable, razor-thin Dri-FIT Legend Training tee features an odor-resistant finish, so you can work up an ultimate sweat this summer with nothing to worry about. Plus, there are over a dozen different colors to choose from, so you're bound to find the perfect one.
Taylor Stitch Cotton Hemp Tee
As one of our favorite brands, Taylor Stitch delivers quality pieces to both its buyers and the planet, and its Cotton Hemp Tee is a great example of its eco-cognizance. The garment-washed top is composed of a blend of organic cotton and hemp, rounded out with fully-taped shoulder seams and featuring a tailored fit suitable for a somewhat-formal occasion.
Buck Mason Pima Classic Tee
Buck Mason's Pima Classic Tee is arguably the boutique label's flagship product, as it's been touted as a go-to choice by the likes of Tom Brady and Ryan Gosling. While getting recognition from a single t-shirt may seem hard to believe, this really is some t-shirt. It's crafted from a sturdy, USA-grown 140 GSM jersey knit pima cotton and comes available in a trio of different lengths, so you can go for the exact look you want for no additional cost.
American Giant Classic V-Neck
The L.A.-bred manufacturer composes an incredible t-shirt no matter what the cut, but we figured a sporty v-neck would be a suitable choice here. Plush, durable, and built to last, the Classic Cotton V-Neck is garment-dyed in a trio of standard shades, as well as an additional set of subtle limited edition ones. It is finished off with double-needle straddle-stitching to withstand wear and tear, deeming this top as top-notch.
Carhartt WIP Chase T-Shirt
As one of the usual suspects on our guides, we've concluded that you can't go wrong with anything from Carhartt's streetwear sub-label. The loose-fitting Chase T-Shirt is made from a soft, combed cotton jersey so comfort isn't even a question. Finished off with an embroidered logo, this is sure to adhere to your inner workwear enthusiast.
Jungmaven Jung Pocket Tee
Simplicity takes the crown in the summertime, which is a quality that Jungmaven knows like the back of its hand. The eco-friendly brand cuts and sews its signature pocket tee from globally-sourced materials, like hemp and organic cotton. The garment-dyed top comes available in a myriad of shades and is finished off with a pocket to keep your gear accessible in any color.
Iron & Resin Perfect Tee
Iron & Resin's Perfect Tee is so nice that you get it twice, as it comes sold in a convenient 2-pack. Like the rest of its products, this top was made in the USA from premium cotton, with the entire handcrafting process coming to shape in Southern California. Built for everyday wear, the true-to-size tee comes rounded out with a handy pocket for added function.
Nudie Jeans Roger Slub Organic Cotton Jersey
The minimalist label's Roger t-shirt is made from a Fair Trade-Certified, organic slub cotton jersey, going to show that the brand's adherence to sustainability is as admirable as its versatile design. With its lax neckline and rolled edges, this easy-going tee would go perfect alongside, you guessed it, a pair of Nudie Jeans.
Lady White Co. Lite Jersey T-Shirt
Lady White Co.'s claim to fame comes courtesy of this very shirt, so keep that in mind when draping it over your shoulders. The fully-combed cotton tee boasts taped shoulder seams and a snug, pre-shrunk fit. With one glance at its unmistakable 1960s-inspired silhouette, one would argue that this is what a prime Marlon Brando would be wearing if he were around right now.
Proof 72-Hour Merino Tee
Proof's 72-Hour Merino Tee is tailored toward the traveler, capable of withstanding up to three days' worth of wear with no odorous consequences. Thanks to its breathable merino wool makeup bolstered by nylon reinforcement, this lightweight top is moisture-wicking and built to regulate temperature. Plus, it's available in a whopping 21 colors, so there is no excuse for any man not to find the right shirt.
lululemon Metal Vent Tech Shirt 2.0
While Nike's aforementioned training tee remains a great choice, lululemon's option is an integral upgrade for the rigorous athlete. With its signature Skip-the-Chafe material — made from a blend of recycled polyester, elastane, and two types of nylon — the slim-fitting t-shirt boasts a seamless construction purpose-built for achieving fitness goals. While it's primarily designed with training in mind, you'll be comfortable in this no matter what the occasion is — after all, it's called athleisure for a reason.
Snow Peak Recycled Cotton Jersey T-Shirt
As one of Japan's most prestigious brands, you can never go wrong with anything from Snow Peak, with its stylish and sustainable tee sitting at the top of that list. Crafted from 20% recycled cotton and made breathable enough to take on your next adventure (and then some), this serves as a great base layer for any outfit you have in mind this summer.
Levi's 1950s Sportswear Shirt
We're turning the clock back a bit with this archive-inspired pick. Levi's timeless 1950s Sportswear Shirt is perfect for anyone, whether they live for the modern era or think they should've been born in another one. Maintaining its integrity with a boxy shape, spade chest pocket, and capped short sleeves, this '50s-era recreation from Levi's archives is perfect for hitting the beach.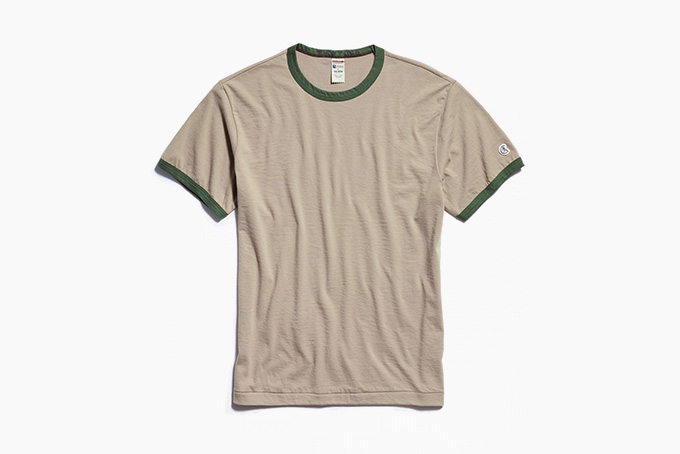 Todd Snyder x Champion Ringer Tee
This shirt may stray from most silhouettes around the list, but a classic ringer tee is also a summertime essential. Todd Snyder's ongoing partnership with Champion has proven to be successful, and archival homages like this put that on full display. With its ribbed neck and sleeves, the Champion Ringer Tee is a perfect choice to deviate from the norm when the heat starts to pick up.
Mr. P Cold-Dyed Organic Cotton T-Shirt
At the end of the day, who could you trust more with keeping you chic than one of the world's most fashion-forward retailers? With its intentionally uneven tone spread throughout, the shirt's signature touch lies in its unique color, resulting in a top that you likely won't see twice. Available in your choice of green or pink, either option is a great addition to your wardrobe.
John Elliott Anti-Expo Tee
John Elliott's overarching exclusivity trickles down to its exceptional craftsmanship, as the designer's eponymous label takes a quality-over-quantity approach with everything it makes. This relaxed-fitting, oversized tee is made from sturdy, midweight recycled cotton and rounded out with unfinished edges for a stylish touch. As yet another brand that finds itself in the heart of Los Angeles, you've got to trust anyone based in one of the world's fashion capitals.
The Best Summer Pants For Hotter Weather
Now that you've got your top half sorted for summer, it's time to outfit your bottom half. And since you can't wear shorts everywhere (or you shouldn't, anyway), we've rounded up the best lightweight pants for you to pull on this summer.