Although recency bias would force you to believe that the bucket hat has only been around dating back to the early 2010s, the left end of its timeline extends much further. Upon their conception, these now-trendy pieces of headwear were once exclusively made from wool and kept unwashed. Initially only worn by fishermen and farmers for the sake of keeping a dry head, the bucket hat is now consistently donned by rappers, athletes, and, to be honest, just about everyone else. That's why we've taken the time to round up the best bucket hats that you can buy.
Whether you're looking to add some flair to your lively party outfit or stick to the hat's roots by wearing it out on the docks, the bucket hat comes in a bevy of different styles. From sporty bucket hats and uber-stylish designer examples to traditional fisherman's hats made of wool and blacked-out technical headwear, we've got just about every kind of bucket hat you can think of. So have a look at our bucket (hat) list below to find your next favorite hat.
NikeCourt Heritage Tennis Bucket Hat
Nike's sporty take on the classic fisherman's hat comes as no surprise — after all, this is Nike we're talking about. Embellishing the bucket hat's prominence in the tennis community, their Heritage selection is equipped with a convenient sweatband and was simply built for the court, but is bound to look equally chic away from the net, too.
Boathouse Gore-Tex Bucket Hat
Keeping warm is one thing, but staying dry is often an entirely separate endeavor. When it comes to staying protected when the forecast calls for harsh rainfall, there is quite genuinely no name as trustworthy as GORE-TEX, which is why Boathouse consistently taps in with the waterproof specialists for their esteemed tech. The Philadelphia-based performance brand has undergone some major changes in the past couple of years as they seek a greener outlook, and this piece falls right in line with that. Making use of sustainable textiles, Boathouse's windproof bucket hat is Bluesign Certified and looks to keep the planet as safe as your head dry.
Carhartt WIP Cord Bucket Hat
Carhartt's streetwear branch is a sub-brand that we refer to with reverence, as WIP consistently reworks its parent company's workwear into something else entirely. This particular bucket hat is no "work in progress" as far as we're concerned, as it amounts to a stylish piece of headgear that pulls no gimmicks. Crafted from a smooth corduroy and finished off with the brand's iconic logo, its sense of subtlety is what earns Carhartt WIP's bucket hat an easy spot on this list.
Saturdays NYC Windbreaker Boonie Hat
The Boonie hat is a nameworthy subproduct that stems from the bucket hat. Although it's accentuated by a similarly rounded brim, its tactical makeup serves for more than just style purposes. Initially worn by soldiers for the sake of keeping cool, Saturdays NYC offers any citizen to do the very same, with looking the part also being a top priority. The Windbreaker Boonie Hat's blend of cotton and nylon makes for extremely lightweight wearability that's assisted by a pair of mesh rivets for added breathability.
Kangol Wool Lahinch
There are few names more reputable for this particular silhouette than Kangol, the English brand that's been crafting handsome pieces of headgear for over eighty years. While this hat gets its name from a small town on the coast of Ireland, this cozy and timeless wool bucket hat is sure to look good no matter what side of the pond you find yourself on.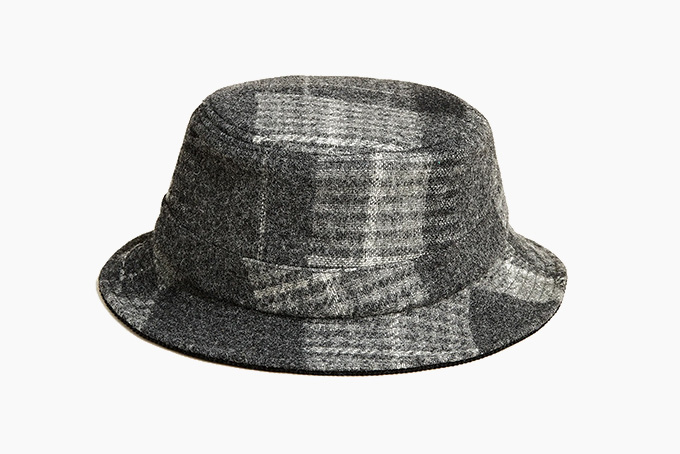 J.Crew Portuguese Wool Bucket Hat
There are few names in the industry that manage to pull off what J.Crew does as well as they do — providing formidable fashion at a humble price tag is no easy feat. Nevertheless, they manage to do so time and time again, and from high-quality fabrics, too. In this scenario, the renowned Portuguese textile mill, Albano Morgado, is to thank for a wool-crafted jacquard bucket hat. Boasting a professor-adjacent patchwork pattern, it is guaranteed to keep you looking like the most stylish person in the room — and maybe even the smartest.
Tilley Iconic T1 Bucket Hat
Not to be confused with Tilly's, the shopping mall staple, Tilley is a Canadian group of milliners that know their way around a hat. Their Iconic T1 Bucket Hat abides by its name, serving as an incredible option thanks to its biodegradable OKEO-TEX cotton duck fabric, high-quality water repellence, and a pair of grommets for good measure. Additionally, it's also equipped with a hidden pocket. With a sturdy composition and versatile look, calling this hat "iconic" may even be a bit too humble of Tilley.
Nudie Jeans Martinsson Camouflage Bucket Hat
While the classic Boonie hat is backed by its militaristic origin story, it doesn't evoke the same tactical look of a hat coated in camouflage. Often hard to mess up such a quintessential pattern, Nudie Jeans pulls it off as well as they do a pair of their iconic, well, jeans. Made from 100% organic cotton twill, this hat is simple and already feels worn-in, so there's no need to worry about you doing the latter yourself.
Pangaia Organic Cotton Bucket Hat
Nowadays, sustainability is the name of the game when it comes to the world of fashion, and there's no issue in shamelessly making that clear as Pangaia does with this clearly organic cotton hat. Moreover, Pangaia is a brand that goes to show that cognizance and coolness are synonymous, as their bucket hat has got it written in black and white — or just about any other color you prefer, for that matter.
MANASTASH Polartec Hemp and Organic Cotton Boonie Hat
MANASTASH's handsome Boonie hat is composed of Polartec hemp and organic cotton, going to show that this consistent eco-friendly theme is not merely a marketing gimmick as much as it is a legitimate call to action. It is finished off with embroidered eyelets and a sleek, adjustable buckle band. Formerly based in Seattle and currently running things out of Japan, MANASTASH has truly been around the globe, but this hat can only be found in one place: MR PORTER.
John Elliott Bucket Hat
It's hard to go wrong with anything you decide to pick up from John Elliott, and this simple bucket hat from the Los Angeles-bred designer really drives home that point. Their aptly named piece of headgear is finished off with a sleek quilted brim and an adjustable drawstring, providing a perfect fit that will keep you looking as stylish as anyone else in your purview.
orSlow US Navy Denim Bucket Hat
Anything crafted from selvedge denim is worth noting, be it a small-scale cardholder or a costly jacket, and this Japanese-made bucket hat is no exception to this rule we just put in place. Its particular style takes inspiration from that of the classic U.S. Navy hats that had been worn in decades past. Sure enough, orSlow's offering will go perfectly with anything your wardrobe has to offer — that's right, even more denim on top of this (or, rather, below it) will still manage to look good.
Our Legacy Taupe Corduroy Bucket Hat
As we mentioned earlier, corduroy-composed garments are nearly impossible to mess up, and Our Legacy tends to keep everything prim and proper whether or not it's crafted from the distinct wale-adorned cotton. The Stockholm-bred brand's Taupe hat is lined with stripes of black and brown, boasts a quilted brim, and the ability to make an abundance of fashion statements with its corded-up exterior.
Acne Studios Buko Satin Quilted Bucket Hat
Acne Studios is difficult not to love as it often seems that they do no wrong; after all, what's not to love about simplicity? Blurring the distinction between minimal and basic is one of the Swedish brand's greatest attributes, and their glossy, satin session hat falls right in line with that ethos. And don't worry, it's still finished off with the brand's symbolic and subtle Face logo — it just wouldn't be Acne, otherwise.
Stone Island Logo-Appliqued Reflective Rain Camo Bucket Hat
As the pioneers of technical gear, Stone Island is well-equipped to craft just about anything. Their strichtarn-clad offering doesn't veer off-track, as it's finished off with a sleek beige color and a tonal logo. For added convenience, the hat is equipped with a bungee-style drawcord and even boasts a press-stud pocket in its interior. Crafted from polyurethane-coated nylon, the storied Italian brand's bucket hat is optimized for every occasion.
The 10 Best Wool Caps
While the bucket hat is technically traditional, they are surely more of a fashion statement than the iconic and ubiquitous baseball cap. If you're looking to stay cozy while keeping things subtle this winter, then do yourself a favor and check out our guide to the market's best wool caps.