Although camping is considered a leisure activity, it is one that requires a great deal of planning and preparation. This is especially true if your idea of camping involves venturing deep into the wilderness and far from the amenity-filled campgrounds that exist just outside the edges of modern civilization. When you're surrounded by nature without the right equipment, things can go south quickly. You'll end up having a miserable time at best… and a dangerous time at worst. So to help you avoid these pitfalls on your next outdoor excursion, we've put together a list of the best camping gear essentials to buy.
Without tooting our own horn, we'd like to point out that this list is pretty extensive. It includes 30 items, and every one of them fills its own unique slot. Now, that doesn't mean that you need to go out and buy all 30 of them before your next camping trip — though that would make for one epic adventure — it just means we want you to have a strong overview of the types of gear you should think about bringing along with you into the woods. You'll find clothes to wear, shelter to keep you safe and warm, gear to help you prepare food and drinks, some survival items in case of emergency, and even a few little luxuries to make your vacation a fun one. So have a look below at our guide to the best camping gear essentials.
LifeStraw Personal Water Filter
You hope you'll never have to use the LifeStraw, but you'll be glad you brought it along in case you ever need it. The compact personal water filter removes well over 99.99% of waterborne parasites, bacteria, and microplastics, making the undrinkable drinkable. Having one of these on your person while camping can mean the difference between life and death if you become stranded without sterile water.
Thermacell MR300 Portable Mosquito Repeller
Without a doubt, bugs like mosquitoes are one of the biggest drags of spending time in the great outdoors. The blood-sucking insects can make life outside miserable, but finding a reliable way to keep them away without exposing yourself to harmful chemicals is tough. Enter this device, which eschews deadly DEET in favor of low-toxicity allethrin to create a 15-foot mosquito-free perimeter that lasts 12 hours per refill.
Darn Tough Hiker Boot Sock
Darn Tough wasn't using hyperbole when they came up with the name for their rugged socks — these things are practically indestructible. Made from merino wool, the socks are naturally soft, moisture-wicking, temperature regulating, and even flame resistant — all features that come in handy when you're at camp. They're also fully cushioned with a seamless design for all-day comfort, and they're backed by the brand's lifetime warranty in the unlikely event that they develop any holes.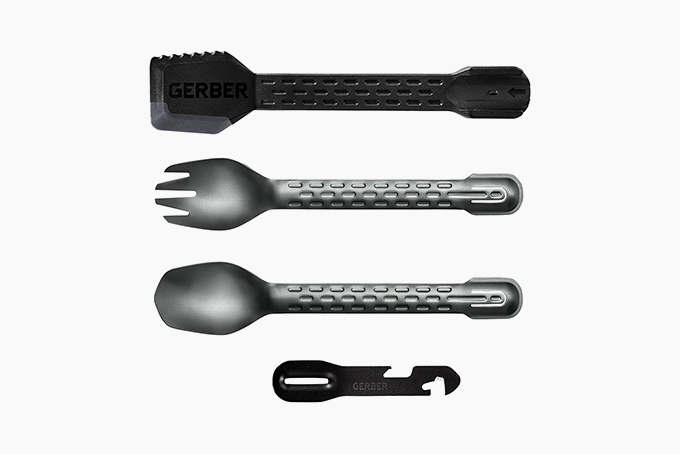 Gerber Compleat
One of the most satisfying aspects of camping is having a nice meal by the campfire with your fellow campers. And while the classic "sharpened stick" has its role for toasting up marshmallows and hotdogs, some meals require a bit more in the way of utensils. This punny set from Gerber will have you ready for any type of meal with a fork, spoon, spatula, and 4-function multi-tool. Plus, all pieces snap together to convert into a set of super handy tongs.
Adventure Medical Sportsman Series Medical Kit
Like the LifeStraw, a first aid kit is something you hope you'll never have to use but will never regret bringing along. But not all first aid kits are created equal. This example from Adventure Medical is designed specifically for the challenges of outdoor ailments, with supplies to treat various types of animal attacks, field injuries, and more. The gear is divided up into injury-specific sections for ease of use in an emergency, and the included wilderness medicine guide provides instructions on how to treat more than 50 common outdoor afflictions.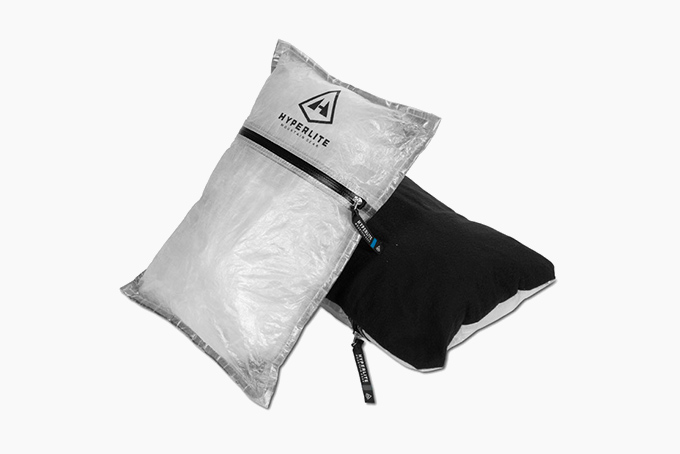 Hyperlite Stuff Sack Pillow
It's always good to look for gear with multiple functions when camping, as such products reduce the number of items you need to bring, allowing you to pack lighter. This stuff sack/pillow is one such piece of gear. By day, it functions as a waterproof stuff sack to protect your most sensitive gear from the elements with its tough Dyneema exterior. But turn it inside out and stuff it with clothing and you'll be treated to a cozy Polartec fleece pillow for the nighttime.
Coleman LED Lantern
Coleman's been lighting the outdoors for Americans since 1900, so if anyone knows their way around a lantern, it's them. This twin lantern from Coleman boasts four LED bulbs that never need to be replaced and offer up to 390 lumens of brightness. The batteries are good for 299 hours on low (6m beam) or 85 hours on high (10m beam), giving you more operational time than you'll need, and the weather-resistant construction means it's ready to take on wind and rain.
Free Fly Hybrid Short II
If you've never experienced hybrid shorts before, then it's time to find out what you're missing. These examples from Free Fly are up for literally any outdoor activity, from partying to sports to swimming. They look like a handsome pair of chino shorts but feel like athletic shorts. They're made from a stretchy, antimicrobial, and breathable material that moves with you and keeps you cool and stink-free. They're lined with soft and moisture-wicking bamboo, and they're even quick-drying so they'll hold up to a dip in the lake.
Proof 72-Hour Merino Tee
We've already hinted at the benefits of packing light while camping, and one of the best ways to cut back on your haul is by reducing the pieces of clothing you bring. And one of the best ways to do that is with Proof's 72-Hour Merino Tee. The name is no misnomer — this shirt was designed to stand up to 72 hours of wear between washes. Thanks to merino wool's natural thermoregulating and anti-odor properties, this can be your only shirt for an entire long weekend at camp — and no one will want to steer clear of you because of it.
Stanley Growler Gift Set
American heritage brand Stanley has been making durable vacuum-insulated bottles decades longer than most of their competitors have even been in business. In other words, the 110-plus-year-old brand knows what they're doing. This 64 oz. growler in stainless steel will keep liquids hot or cold for 18 hours and comes with four stainless steel tumblers that are a serious upgrade over the standard camp mug.
Prana Stretch Zion Pant
While we sometimes wish we could wear shorts all the time, some situations — especially outdoors — call for pants. And for those situations, these are the pants we're reaching for. Made from a super-stretchy nylon/spandex blend that's also incredibly durable, the Zion Pants feature a gusseted crotch for a greater range of movement. They also boast a DWR finish that repels water, and roll-up snaps make cuffing these bad boys super easy when the need arises.
NEMO Helio Pressure Shower
What's better than a shower while camping? Answer: nothing. Sure, having a shower at camp certainly takes away some of the "roughing it" aspect of the activity, but once you get under the water you won't care about that anymore. This ingenious device holds 2.9 gallons of water and puts out 5 to 7 minutes of continuous water pressure from its 7-foot hose. And this isn't your average camp shower; this is a real-deal, high-pressure stream that's great for washing your hair, dog, dishes, or anything else that gets dirty.
REI Co-op Camp Bed Self-Inflating Sleeping Pad
Once thought of as a luxury, the sleeping pad is being thought of as a camping essential more and more as time goes on. And it's easy to see why, as sleeping on a soft and supportive surface makes for a much more restful night than just plopping a sleeping bag on the lumpy ground. This pad from REI offers excellent ground insulation for those chilly nights, while its self-inflating design makes setup a breeze.
ESSE 4P
A knife is one of those tools where you won't know how useful it is until you need it, and this knife is especially useful in the great outdoors. Created to be the perfect all-around tactical, survival, and bushcraft knife, the ESSE 4P has a 4.5-inch blade of 1095 carbon steel fixed to a Micarta handle. Put through the wringer countless times by professionals all around the world in situations much worse than any you're likely to find yourself in, this knife is designed to take a beating and never let you down.
Jetboil Flash Stove
While cooking at camp can be a fun experience, it can turn stressful if it becomes too time-consuming. After all, you don't want to spend your entire trip cooking — you're on vacation! That's where Jetboil's Flash Stove comes in. In case you couldn't tell by the name, this compact stove will heat up your grub in a hurry. It features a match and lighter-free lighting system to get you started immediately, and its quick boiling cooking will have your food ready in under two minutes.
Helinox Chair Zero Camp Chair
There's nothing worse than showing up at a campsite and realizing that you didn't bring anything to sit on. Sitting on the ground gets old fast, and unless your campsite features a bunch of strategically placed rocks and stumps, that's what you're going to have to do. So it's always smart to bring a few chairs, and these seats from camp chair experts Helinox are the bee's knees. They're super lightweight and pack down to the size of a water bottle.
Patagonia Black Hole Duffel Bag
It's tough to imagine a brand that's more associated with outdoor adventuring than Patagonia, as the brand offers a ton of gear that's built to survive whatever nature throws at it. And to haul all that gear, Patagonia has their iconic line of Black Hole bags. Available in various forms, our go-to is the duffel. It comes in several different sizes, boasts legendary durability, and is solidly weather- and abrasion-resistant.
mahabis Curve Canvas
This just in: slippers don't have to look dorky. mahabis' classic Curve has the look of a stylish canvas sneaker but the comfort of your favorite slippers. They feature a temperature-regulating wool lining, a Staywax-finished canvas outer that fends off water, and a grippy, shock-absorbing rubber outsole. They're the perfect shoe for lounging around the campsite, and will even work in a pinch if you need to make a quick trip into town for supplies.
Filson x Estwing Fireside Friend Splitting Tool
Estwing makes great axes. Filson makes stylish outdoor gear and clothing. So guess what happens when the two come together? That's right, you get one great and stylish ax. This USA-made maul has a one-piece forged head and a handle made from steel, so you'll never have to worry about cracking your handle. You'll also get a few style points thanks to the custom Filson-branded grip and colorway, and an included nylon sheath keeps the blade safe when not in use.
Danner Trail 2650 Campo
While you'll pretty much want to live in camping slippers during your getaway, some excursions require footwear that's a bit more hardwearing. For those situations, you'll need a solid hiking shoe, and Danner makes some of the best in the world. The Trail 2650 Campo combines lightweight breathability with abrasion resistance and durability, offering you the best of both worlds. They're also comfortable thanks to an ultra-lightweight EVA midsole, and the Vibram 460 outsole with Megagrib provides excellent traction on both dry and wet surfaces.
VSSL Java Handheld Coffee Grinder
Do you really need coffee while you're camping? Yes, obviously. What a ridiculous question. Now, do you really need freshly ground coffee while you're camping? Probably not, but it sure does offer an elevated experience. This is a luxe pick for sure, but if you're looking to take your camping experience to the next level, nothing beats a cup of freshly-ground coffee made with this stylish high-end portable grinder that's made from aircraft-grade aluminum.
Pendleton Board Shirt
A good flannel shirt is essential for camping, and Pendleton's camp-collared Board Shirts are a classic that's been around forever — the Beach Boys were known fans — and they remain the brand's best-seller. And just as they always have been, the shirts are woven in American mills from pure virgin wool, resulting in an overshirt that's resistant to water, odor, and stains and will keep you just the right temperature as you kick back by the fire.
Snow Peak Field Coffee Master
Once you grind your coffee beans you're going to need something in which to make your cup o' Joe, and you won't find any better than this offering from the Japanese outdoor experts at Snow Peak. Crafted from a combination of stainless steel, brass, and glass, the Field Coffee Master can function as a percolator, a pour-over system, or the kettle can be used separately to heat water. It's an extremely versatile and well-designed device, which is just what we'd expect from Snow Peak.
Rumpl NanoLoft Puffy Blanket
Rumpl is one of the top names in the insulated blankets game, and their Puffy line is the stuff of legend. For the NanoLoft variant, the brand goes eco-friendly by swapping out the feathers for their proprietary NanoLoft insulation. Made from 100% post-consumer recycled material, NanoLoft is comprised of tiny circular clusters of fiber that mimic the properties of down clusters. These clusters trap warmth inside pockets of air, preserving heat no matter how cold it gets outside.
BioLite FirePit+
Starting a campfire is pretty much the most essential skill that every camper must learn, but let's face it: sometimes you just don't want to bother with the hassle of it all. And for those times, there's this technological wonder. BioLite's ingenious portable fire pit boasts an automatic wood-fired flame that's powered by 51 air jets injecting oxygen in key locations. It throws off almost no smoke, meaning there's not a bad seat in the house, and you can even transform it into a charcoal grill for a little hibachi action.
The North Face The One Bag
A sleeping bag is one of the most indispensable pieces of camping gear there is, and the difference between a good one and a bad one is highly noticeable. If you ask us, you're better off opting for a great one, and that's what we have here from The North Face. Confidently referred to as "The One," this standout bag is built to keep you cozy in a wide variety of temperatures as it combines the benefits of a 40°, 20°, and 5° sleeping bag in one thanks to zip-on insulation.
YETI Tundra Haul
For such a young brand, YETI has firmly established themselves as makers of some of the toughest and most well-built outdoor gear in the industry. But it's still the brand's coolers that set them apart more than anything else. The Tundra Haul is a wheeled version of the brand's most-acclaimed cooler, and it makes maneuvering to and around your campsite a breeze. Plus, you're still getting the outstanding insulation and rock-solid build quality that YETI is known for.
Arc'teryx Beta AR Jacket
Arc'teryx may call this jacket the Beta, but trust us, it's second-to-none. Built with versatility in mind, this lightweight, packable jacket offers durable protection in a wide range of environments because let's face it, you can't control the weather while camping (or any other time, for that matter). Its shell is made from a next-gen material that Arc'teryx developed with GORE-TEX called GORE-TEX PRO with Most Rugged Technology, and it delivers unprecedented strength, breathability, and water resistance in a triple-layer construction.
Luminox Bear Grylls Survival Chronograph MASTER Series
Luminox makes some of the toughest watches in the world, but for this collaboration with famed survivalist Bear Grylls, they really took things to the extreme. With a case made from the brand's strong and lightweight CARBONOX material and a sapphire crystal, this watch is made to take a beating. Plus its 300m water resistance, physical compass, and always visible Luminox Light Technology illumination make it the ideal outdoor companion.
Hilleberg Januu
If there's one piece of gear you picture when you think of camping, it's probably a tent. A tent is one of, if not the biggest purchase you'll make for your camping trip, so you'll want to make sure you invest in the right one. Swedish tentmaker Hilleberg definitely gives you your money's worth, like in this classic two-person tent. The Jannu is designed for mountaineering, so it's extremely lightweight and boasts a four-season build and super-stable construction that will hold up to any weather. In other words, it will easily handle even the worst camping trip you can muster.
Bonus: Escapod TOPO Trailer
Tent not doing it for you? More of the camper type? Well, if you've got the budget, then we've got the camper for you. Escapod's TOPO is a teardrop trailer that's built to handle the roughest adventures around. Made to go off-road and off-grid, the TOPO comes standard with 20 inches of ground clearance and 31-inch all-terrain tires while also featuring nice amenities like a stainless steel exterior galley kitchen with dual propane burners and a 5-inch foam mattress. Now, this is camping.
Sprinter Van vs. Teardrop Trailer: Which Is Better For Camping?
If looking at our bonus pick has you thinking that you'd like to take your camping to the next level by investing in a camper, then you'll eventually have an inner debate over whether you should choose a teardrop trailer or a Sprinter van camper conversion for your outdoor adventuring needs. Lucky for you, we happen to have a guide on that very subject.