May 23, 2018
Category: Gear
Camping is one of the best leisure activities you can partake in nowadays. It's relatively cheap, it gets you out of the congestion of the city, and it's an excellent way to reconnect with nature in a meaningful way. That being said, we wouldn't suggest to anyone that you should go into the wilderness with unworthy gear – as that can make the difference between a fun and enjoyable trip and utter disaster.
With that in mind, we've scoured the web for some of the most top notch stuff you can get your hands on – from tents, to tech, to cooking accessories, and more – to make sure you get the absolute best out of any camping trip. No, you don't need all of this gear to get out on the trails, but you'll be in a far better, more comfortable, and safer position if you do. The following are our picks for the 30 best pieces of camping gear.
Word Notebooks Adventure Log
Loaded with 48 pages featuring a unique adventure documentation system – which allows you to note your location, date, companions, and other notable information – these USA-made pocket notebooks are the perfect tech-free way to keep track of all your travels. And they come in a three pack, if you want to share.
Esbit Folding Titanium Utensils
built from solid titanium, so you know they're both lightweight and tough as nails, these folding camp utensils from Esbit are the perfect companion to your favorite camp stove. They also look great, are corrosion resistant, and can be purchased on their own or as a set.
Stanley Classic Flask
For those who understand the value of a celebratory drink after a long hike, the Stanley Classic Flask is the perfect pocket companion. Its BPA-free stainless steel will keep your spirit of choice safe and sound, and the wide-mouth screw top opening ensures easy pouring every time.
Soto Pocket Torch
Pop a disposable lighter into the Soto Pocket Torch and you've got a fire-making tool that will last 60% longer, can create a flame up to 2,300 degrees Fahrenheit, and will burn for a whopping 20 minutes non-stop. Whether you're just trying to start a campfire or you need a survival lighter, this is an excellent camping accessory.
Stance Adventure Socks
If you're like us, a camping trip also means there's going to be some measure of hiking. And nothing can ruin a good hike like uncomfortable feet. Pair you favorite hiking boots with Stance's Adventure Socks and your toes will stay warm in the cold, perfectly cushioned regardless of how tough the terrain is, and wont get bogged down with moisture.
Exotac Waterproof Match Case
When you're out at the campsite, it's always a good idea to keep some matches close – even just as a survival contingency plan. But wet matches won't do anyone any good, so protect your precious fire starters inside the Exotac Waterproof Match Case. It fits 20 matches, can go down to 5 meters deep without leaking, and is also crush proof – thanks to its anodized aluminum construction.
Hydro Flask Vacuum Insulated Water Bottle
Whenever you're in the great outdoors, water is of the utmost importance. But nobody wants to be drinking warm H20, if they can help it. Keep your water ice cold for up to 24 hours inside of one of Hydro Flask's vacuum insulated water bottles. Or, if hot coffee is more your thing, it can keep it warm for 6 hours straight.
Sierra Designs DriDown Pillow
Pillows have been a staple of sleep for a long time for a very good reason: they can make your rest all the more comfortable. That doesn't change simply because you're headed into the woods. Manage your sleep the same you might back at home with this excellent camping pillow from Sierra Designs. It's super packable, will add just 5.8 ounces to your gear, and is even modular – so you can take or leave pieces depending on your load and desire.
Fjallraven Ovik Melange Beanie
Especially in the colder months, keeping your head warm is of the utmost importance. And Fjallraven's Ovik Melange Beanie is one of the most comfortable and stylish ways to manage that. It's knitted from synthetic cruelty-free acrylic, has a moderately loose fit so you don't strangle your cranium, and comes in a number of different colors.
Opinel No. 8 Outdoor Survival Knife
This specialty folding knife from century-old knife making brand, Opinel, takes their signature style and pares it into an unbelievable survival tool. Not only is it great for cutting, with its Sandvik stainless steel partially serrated blade, but it also features a weatherproof handle and has a built in 110 decibel emergency whistle. From simple cutting tasks to outright wilderness survival, this knife is an excellent companion.
Fisher Space Pen Trekker
There's a pretty good chance that you'll bring some tech with you on any camping trip you take. But stuff that runs on batteries and satellites can be unreliable away from the city. If you want to document your travels or just jot down ideas as they come to you, you're better off taking a pen along. And this everyday carry writing utensil can fit on your keychain, writes in all measure of bad weather, is made in the USA, and has a lifetime guarantee.
Gerber E-Tool Folding Spade
Whether burying your food to keep it safe from wild animals or burying your waste (as you should, especially when dispersed camping), a handy entrenching tool or folding shovel can be your best pal. And it's hard to do better than this one from the masters at Gerber Gear. Featuring a glass-filled nylon handle and anodized aluminum construction, this tool is light as a feather but more than tough enough to break up the most packed dirt. Bring this bad boy on your next mountaineering adventure – you won't regret it.
Olight M1X Striker Flashlight
Whether you're trying to find that special beer in your adventure cooler at twilight or you need to scare off some wildlife in the middle of the night, a high-powered tactical flashlight can be your best friend. And that's exactly what you'll find in Olight's M1X Striker. Boasting a lumen output of up to 1,000, IPX8 water-resistance, and a 360-hour maximum runtime (you read that right), this is one of the best portable torches out there. And, in the case of a self defense emergency, it also has a toothed bezel.
GCI Outdoor FirePit Rocker Camp Chair
What's more comfortable that sitting around the fire in an excellent camp chair? We think it might be the option to rock back and forth. But since rocking chairs are normally a bit unwieldy, we're glad the folks at GCI have figured out a way to bring that soothing motion to their FirePit Rocker camp chair. It's portable, folds down super compact, and is just top notch when it comes to relaxation and comfort.
Sea To Summit Alpha 2 Camp Cookware Set
Just because you're out in the woods doesn't mean you have to suffer when it comes to eating. Skip the MREs and survival rations and opt instead for cooking gourmet camp food with the Sea To Summit Alpha 2 camp cookware set. It all packs together for easy portability and storage, has enough gear to make meals for two people, and is as easy to clean as it gets.
Coalatree Trailhead Adventure Pants
Especially if you find yourself camping in inclement weather or in places with a lot of humidity, your apparel needs to be a little more versatile than, say, your favorite blue jeans. Skip out on your average pants in favor of Coalatree's amazing Trailhead Adventure Pants. They're remarkably comfortable, have just enough stretch to keep from impairing your movement, are stain- and water-resistant, are made from anti-microbial fabric, and weigh a remarkable 10.9 ounces a pair. It doesn't get better than this.
Rumpl Original Puffy Adventure Blanket
Once you're done adventuring for the day, the time has come to cozy up by the campfire and melt into comfort for the evening. Which is all the more easy if you're snug and warm while you do it – and that's a more than achievable goal if you bring with you a Rumple Puffy adventure blanket on your camping trip. It's made with the same technical materials as premium sleeping bags, is water- and debris-resistant, and packs down small enough to stash in your backpack. This is an adventure blanket done right.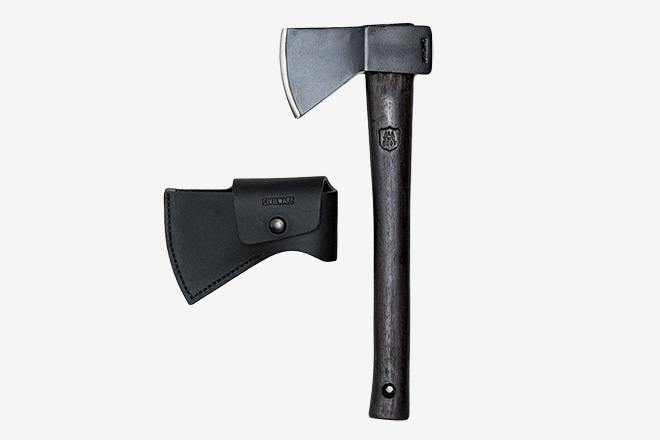 Civilware Hatchet
Any moderately competent woodsman can tell you that a camp hatchet is one of the most important tools for any outdoor explorer. But some are much better than others. For instance, the Civilware Hatchet is built from a combination of sturdy American hickory, drop-forged high carbon steel, and comes with a leather sheath for easy storage and safe transport. Whether hacking up wood for a campfire or just clearing a path, this it the cutting tool for the job.
Kammock Roo Double Camping Hammock
Comfort is the name of the game when it comes to leisure camping – but that can be compromised by dirty uneven ground. Instead of trying to pad the dirt, pick yourself up off the earth entirely with Kammock's Roo Double camping hammock. It's big and strong enough for two people (up to 500 pounds), is soft yet durable, has a packing pouch that doubles as a gear pocket, and comes with climbing-grade carabiners for suspension purposes.
Under Armour UA Infil GORE-TEX Boots
You should never go out on an outdoor adventure without a worthwhile pair of hiking boots. And these ones from Under Armour are some of the best. Not only are they tough, lightweight, and look damn good, but they also have GORE-TEX built-in to ensure that they're also totally waterproof. That way, if you happen upon a majestic waterfall in your travels and you want to take a closer look, you need not worry about your feet getting wet.
BioLite CampStove 2
Most survival experts will likely want to build their own fire out in nature. But, for those just looking to have a nice time out on the trails, BioLite's CampStove 2 is a far more convenient and tech-forward option. Not only does it generate heat and gives you a flame over which you can cook, but it will also turn that heat into electricity – so you can charge up your high-tech gear that you brought along with you. This is a high-tech camping gadget at its best.
Osprey Farpoint 55 Travel Backpack
While there are a lot of really great hiking backpacks out there, we like this one as a part of our camping gear for one simple fact: it has modular functionality. On top of being tough as nails and water-resistant, the Farpoint 55 is actually two bags in one. So, you can store all your gear inside for the haul out to the campsite, but when you want to take short day trips without being over-encumbered, you can detach the smaller day pack and leave what you don't need behind.
RinseKit Portable Outdoor Shower
Outdoor adventures, especially when there is trail hiking involved, can get a little sweaty and grimey. And it can be hard to get cleaned up out at the campsite – especially if you like your shower water hot. Luckily, the folks behind the RinseKit are here with their newest edition camp shower. Not only does this thing have excellent water pressure, but it also has the ability to heat up the water inside for extra refreshing bathing. Skip the cold water bottles and opt for this instead.
Therm-A-Rest UltraLite Cot
Sleeping in the wilderness doesn't have to mean sleeping on the uneven, cold, hard ground. Elevate your sleeping bag and get a little comfort out of it with the Therm-A-Rest UltraLite Cot. It's the lightest option on the market, assembles quick with no tools needed, and collapses down to into a super compact carry bag for easy transport and storage.
OtterBox Venture Cooler
Nowadays, there are a lot of options on the market for a great adventure cooler. But, not all of them can say they are tried-and-tested bear-proof. The Venture cooler series from OtterBox, however, is. They also have superb ice retention (up to 10 days straight), have a bunch of available accessories, and are made right here in the USA. Seriously, these coolers are badass.
Patagonia Down Sleeping Bag
After being purveyors of excellent outdoor gear for a very long time, Patagonia has finally turned their sights on sleeping bags – which seems like a logical next step. And boy did they nail it. Not only do these sleepers look the part, but they've got it where it counts – offering protection from the elements down to 19 degrees Fahrenheit. If we're caught in the cold on a less than clear winder evening, we want to be in these bags.
Suunto Traverse Alpha Outdoor Smartwatch
There are certainly benefits to a traditional analog watch, especially in a survival situation. But there is also a lot to be said for a smartwatch, especially when it's as capable as the Suunto Traverse Alpha. Tested to military standards, this super-tough high-tech timekeeper also has a GPS function, a location-based moonphase calendar, a stainless steel case, nylon strap, and scratch-resistant sapphire crystal.
Arc'teryx Cerium LT Down Hoodie
Canadian brand Arc'teryx is one of the most lauded gear makers on the market – and they've got a lifetime warranty on all their stuff to back up their status. So you know you can count on them for all your camping apparel needs. Great as both a standalone jacket or a mid-layer, this remarkably lightweight down puffy jacket is the perfect addition to any camping apparel set – especially if things get a little windy.
EURO Blackcan Heat Camping Mat
It can get really cold at night out at the campsite – even during the summer. But that doesn't mean you have to weather it while you shiver in your sleep. At least not if you have the EURO Blackcan Heat Camping Mat. Like a comfy heat blanket with extra padding, this hot water heated pad will keep you snug as a bug in even the coldest weather.
Heimplanet Cave Tent
No, this is not merchandise from a science-fiction movie (though it has appeared in Netflix's Lost In Space series), it's a bonafide futuristic camping tent from Heimplanet. The inflatable frame makes for easy set up, tear down, and storage, and the geodesic dome-style frame ensures that this tent stays safe and on the ground even in the worst conditions. Did we mention that it sleeps three people for three seasons, because it does.
Best Vintage Style Camping Gear
Sometimes, when it comes to camping gear, old-school is the name of the game – at least in regards to style. If that suits your tastes, you'll definitely want to check out our list of best vintage camping gear.
HiConsumption is reader-supported. When you buy through links on our site, we may earn an affiliate commission. Learn more