As is likely abundantly clear, we're big fans of new gear — be that for adventures urban, outdoor, or otherwise. However, brand-spanking-new equipment can come at quite a high cost and the price we pay is often not immediately clear. Sure, money is a good way to gauge it, but there are other factors to take into consideration in this day and age — including the environmental impact.
By now, it should be abundantly clear to everyone that trash is an absurdly problematic issue both in regards to human civilization and our natural spaces. In fact, according to the EPA, the average American makes about 4.4 pounds of trash per day — a shocking figure, to be sure. Some of that, however, can be mitigated in our shopping choices. Rather than buying everything brand-new, we'd like to encourage folks to at least consider buying gear crafted with recycled materials, as it can definitively help curb our contribution to the world's waste. To bolster that argument, we've gathered up what we think are the 20 best pieces of gear made from recycled materials in the following guide.
Why Choose Recycled?
Everyone's Responsibility
This is an unprecedented time in the history of our planet for many reasons. But one of the most negative reasons is trash. As mentioned, the EPA estimates that the average American produces 4.4 pounds of trash per day, which rounds out to be about 2,072 pounds per person and a collective total of 254 million pounds every single year. And while only a fraction of that amount ends up getting recycled (or can even be recycled, for that matter), there is real, tangible evidence to suggest that purchasing items made with recycled materials helps alleviate some of that burden on the environment.
No, buying recycled gear isn't going to save the world. But it is a good first step that, truly, takes very little effort on the part of the consumer and has a pretty major positive impact. And that's a responsibility we should all take seriously because it does affect each and every one of us. From the Texas-sized island of garbage in the Pacific to the landfill at the base of Mount Everest to the microplastics in our drinking water, the problem is unavoidable. And the longer we take to tackle this issue, the closer we get to losing the only home we as a species have. Sure that might sound alarmist and a bit over the top, but it's also absolutely true.
Flowfold Recycled Sailcloth Wallets
Sailcloth is a pretty remarkable material. It's ultralight to the point that it floats, totally waterproof, scratch- and puncture-resistant, and can be made into just about any color you can imagine. The big problem: it's not particularly eco-friendly. But Flowfold is helping alleviate that by repurposing retired racing sailcloth into a series of everyday carry wallets that benefit from all its exceptional features and look superb.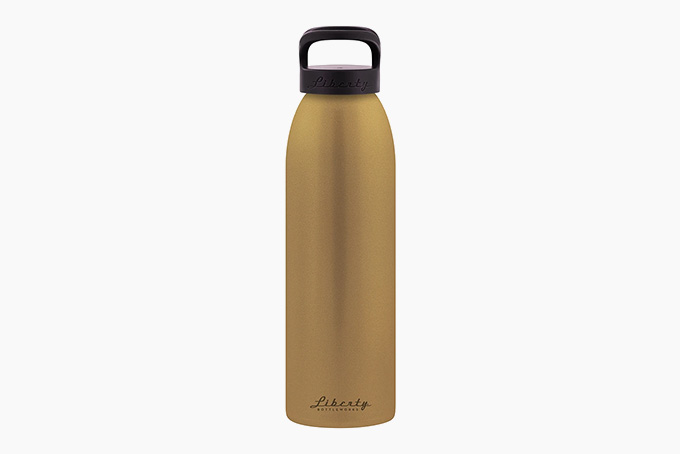 Liberty Bottles
Aluminum is about as close to a miracle material as metal gets. It's almost infinitely recyclable, its got an excellent strength-to-weight ratio, it can be anodized into pretty much any color, etc. Its these reasons and more that USA-made brand, Liberty Bottles, chooses to craft their beverage vessels out of 100% recycled aluminum. Available in a wide variety of styles, colors, patterns, and more, these water bottles are some of the best around — and they're also one of the most eco-friendly options around.
Patagonia Worn Wear
For almost half a century, Patagonia has been making some of the best and most widely-available outdoor-focused apparel around. They're also one of the brands pioneering eco-consciousness and they're constantly working to improve how they impact the world around them. As such, they've started their Worn Wear program, which takes in used gear, repairs it, and then resells it at a discounted rate. It's an impressive program that helps keep Patagonia's gear out of landfills and also gives people the opportunity to get their hands on superb gear at a much cheaper price. You can also trade in your own used gear toward Patagonia purchases online or in their retail stores around the world.
Recycled Firefighter Gear
Recycled Firefighter's entire business is built on the idea of taking retired firehoses and turnout gear and repurposing them into unique and rugged everyday carry goods. And while they craft a wide variety of pieces — including bags, belts, accessories, and more — we're partial to their flagship Sergeant wallet. It's a beautiful and handy minimalist wallet with plenty of card and cash storage, no two are alike, and they're durable enough to last through a lifetime or more of usage.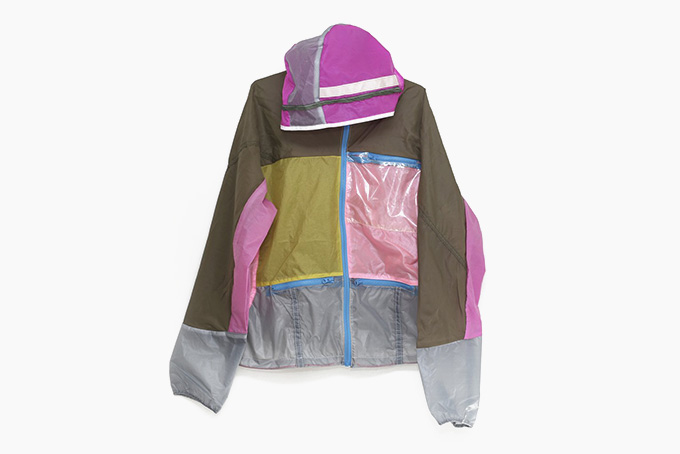 Baumm Parachute Gear
Parachute nylon is a pretty impressive material. It's rugged, tear- and puncture-resistant, naturally hydrophobic, and it comes in every shade of the rainbow. But it's definitely not biodegradable, making it a pretty major contributor to the planet's trash problem. The folks at Baumm, however, take retired parachutes and turn them into unique gear and apparel you can buy. And while the silhouettes are the same across the board, the nature of the business means that each piece is individual. From backpacks to fanny packs to jackets and more, Baumm makes them all.
The North Face Recycled Apparel
As one of the major players in the outdoor gear and apparel industries, The North Face is abundantly aware of their impact on the world and their authoritative position. As such, they're constantly trying to take more responsibility for how they treat the world, including the use of recycled materials in some of their apparel — including the ThermoBall Eco insulation found in the jackets, vests, and sleeping bags you see here.
Sunski Polarized Sunglasses
There are tons of options out there for stylish sunglasses. However, a lot of them use materials like plastic which, once they're of no more use, end up in trash heaps around the world. Sunski, however, has made a conscious choice to use scrap plastic that's already wasted into SuperLight recycled resin frames — helping to alleviate their carbon footprint in a pretty major way. Plus, as an added bonus, they give 1% of their profits to environmental charities.
Cotopaxi Repurposed Collection
Cotopaxi's entire business model takes into consideration their environmental impact in a pretty major way. In fact, their designs themselves are crafted to eliminate as much waste as possible. However, they've taken it a step further with their Repurposed collection, which offers limited-run products built from what little waste they do produce. They're still built to the same exacting standards, but they're more unique and help keep trash out of the landfills.
Bellroy Recycled Collection
Like many of the brands on our list, Bellroy was already doing a tremendous job of being conscious of their material choices. But now they've taken that a step further in the creation of their Recycled Collection, which turns plastic bottles into nylon fabrics that are then turned into absolutely stunning and useful everyday carry gear — especially bags. And they're taking that a step further by committing to using 90% of their fabrics from natural or recycled sources by 2021, making them one of the sustainable brands to watch in the future.
Killspencer Parachute Collection
Known for some of the most premium carry goods around, Killspencer definitely sits closer to the high-fashion side of the spectrum than many of the other brands on this list. However, they're also still abundantly aware of their impact on the world and, as such, have chosen to create a lineup of gear built from genuine recycled parachute nylon. The collection is still built to their same ultra-clean exacting standards, but it's a sustainable angle we're exceedingly appreciative of. From stash bags to totes to duffels and more, these beautiful bags are built to last and help eliminate trash.
Rumpl Recycled Blankets
In 2019 alone, Rumpl reclaimed over three million discarded plastic bottles and turned them into recycled polyester thread, fleece, and insulation. That means they've needed virtually no virgin plastic in the creation of their durable, handsome, and warm camp-friendly Puffy Blankets. They've even used that same insulation in their comfortable ponchos and beer koozies, as well. If you're in the market for comfortable campground gear and you care about your carbon footprint, you can trust in Rumpl.
Mountain Hardwear Ghost Shadow Outerwear
A part of the movement to use more sustainable and recycled materials is proving that these products are just as viable as those that are brand-spanking-new, as that can help sway some detractors. It also helps if the brand behind these products has some major clout in the industry. And that's exactly what Mountain Hardwear offers in their Ghost Shadow outerwear. These vests and jackets are ultralight, high-performance, and they're made with 70% recycled insulation and 100% recycled nylon.
United By Blue Bags
Few brands are making such an impressive eco-conscious impact as United By Blue. This brand does their best to use sustainable materials, remove a pound of trash from the world's waterways with every item bought, and they manage that all while still offering some of the best-looking gear around. In this particular case, we'd like to focus on their Base and Rift backpacks — which are crafted from 100% recycled polyester, offer ample storage, and look great in any venue. Of course, everything they make — from bags to apparel and more — is all built with the same ethos.
Oliver Cabell Phoenix Sneakers
If you've been paying attention, you might realize that one of the biggest trash problems on the planet comes in the form of single-use plastics, like "disposable" water bottles. Well, the folks at Oliver Cabell have seen this issue and taken it upon themselves to design their Phoenix sneaker to help eliminate some of those plastics. You see, these shoes are crafted from a 3D-printed textile that eliminates seven recycled water bottles per pair. They're also durable, ultralight, machine washable, and they look superb.
Merrell Bare Access XTR Sweeper Trail Running Sneakers
The story behind Merrell's Bare Access XTR Sweeper trail running sneakers is an interesting one. You see, they were actually designed specifically for use by "sweepers" — volunteers who, after trail races, help clean up the routes. And while their purpose is a noble one, Merrell took it a step further and built them with uppers made from 40% recycled fabric uppers, 30% recycled outsoles, and BLOOM foam (made from sustainable algae). Their laces and Hyperlock TPU film heel counters are also made from 100% recycled materials. Truly, these sneakers are a step in the right direction.
RÆBURN X Timberland Brooklyn Sneakers
When RÆBURN and Timberland came together to craft their latest capsule collaboration, they didn't have to use recycled materials. But the fact that they did — utilizing parachute nylon, organic cotton, and more — is worth celebrating. That's bolstered even further by the handsome appearance and reliable durability of all the gear, especially the hiking-ready boots and sneakers. If sustainability in fashion works the same as style trends, it starts from the top and trickles down. And that means this outdoor-inspired streetwear collection is a good sign of things to come.
Seaweed & Gravel Crawford Straight Selvage Jeans
Much to the chagrin of blue jean fanatics everywhere, denim is actually exceedingly bad for the environment when crafted without care — thanks largely to the high amounts of waste produced and chemicals used in its creation. However, the folks at Seaweed & Gravel have taken a step in the right direction by crafting their Crawford jeans with recycled 100% cotton red-line Selvage Denim. That choice, in our opinion, is definitely worth celebrating and deserves your hard-earned cash.
Velosophy Bicycles
As previously mentioned, aluminum is practically infinitely recyclable. And when paired with its other excellent attributes — like lightness, durability, etc. — that makes it one of the best, most sustainable materials on the planet. And Velosophy has chosen to make their handsome bicycles out of 100% recycled aluminum. While they're excellently built and absolutely qualify as some of the best gear made from recycled materials, another part of their business model also deserves recognition. You see, on top of all that, Velosophy also donates a second bike for each sold to a schoolgirl in developing countries — making their already-impressive venture all the better.
Vollebak Indestructible Puffer Jacket
Vollebak makes some of the most impressive cutting-edge garments we have ever seen. And each is better than the last, however impossible that might seem. Their Indestructible Puffer Jacket, however, has another leg up in that it boasts insulation crafted from recycled water bottles. Pair that with an exterior made from carbon fiber that's 15-times stronger than steel and you've got yourself an unbeatable winter coat with a bit of an eco-conscious edge.
Notox Surfboards
If there's any industry that should be abundantly aware of the issue of trash in our waterways, its the surf industry. And that's probably exactly why brands like Notox exist. You see, this brand builds absolutely stunning, well-built boards out of recycled and sustainable materials. And what's even better is that they're doing it for every level of the sport. Whether you're a beginner looking for a buoyant foam board or a hardcore high-performance big wave surfer, they've got a board for you. Best of all, what little waste they do produce with each board (roughly 2.2 pounds) is 75% recyclable.
20 Sustainable Gear Brands You Should Know
Using recycled materials isn't the only way to stay eco-conscious, though it definitely does help. Find out some of the other ways and the companies helming the movement on our list of the best sustainable brands.