Jan 5, 2022
Category: Gear
Ever since Shiro Suzuki founded Code Of Bell back in 2016, the brand has continuously put out some of the most innovative storage solutions on the market. Less humble bags than they are wearable extensions of your pockets, the line is collectively known as "Carrywear" on account of its purpose-built efficiency. That is to say — when your carry exceeds the confines of your pockets, but a backpack is too big, Code Of Bell has you covered.
It should come as no surprise, then, that Code Of Bell makes any number of bags that are worth a look — each and every one brings something unique to the table. However, there's no denying that — out of all of the brand's offerings — the X-Pod sling is one carry solution that's proven especially popular. In fact, it's one of Code of Bell's best-sellers and is almost perpetually out of stock — often as soon as the brand re-ups on its supply. The question is, though: is the X-Pod all that it's cracked up to be? Has Code Of Bell managed to rewrite the rules of sling bags? We get hands-on in order to decide for ourselves.
Video Review: Code of Bell X-Pod
Pictures alone don't do the X-Pod justice; it's far too complex to illustrate in just a couple of shots. Check out our beautiful 4K Code of Bell X-Pod Sling review on our Youtube channel.
First Impressions
An Intimidating Appearance
Okay, let's face it: when you see the X-Pod for the first time, you're almost overwhelmed by how much is going on around the sling. With its many straps, clips, and zips, it's an undeniably busy bag that's overbuilt to the point that it's almost intimidating. For this reason, some folks may find it a bit excessive during everyday use, as it takes some practice to understand how it packs away. Once you get a handle on how the X-Pod works, though, you come to appreciate everything that Code Of Bell has accomplished with the bag. There's nothing that's even close insofar as capacity, modularity, and build quality are concerned.
This is largely thanks to the X-Pod's innovative rolltop design, as it can accommodate pretty much anything you could hope to carry. When compressed, the sling measures a compact 14" long by 5" wide by 2" deep, offering a manageable 2.3L of storage. Unclip the sling's compression straps and release its clips, however, and you'll find that it expands by nearly 4", allowing for a generous 7L at max capacity. For a bag with this much capability, then, the X-Pod proves that some game-changing functionality doesn't have to come at the expense of overall form.
Materials & Hardware
The Cream Of The Crop
Regarding construction, Code Of Bell has pulled out all the stops. That is to say, the X-Pod is a cocktail of some of the most cutting-edge materials being used in bags today. The body of the sling consists of a combination of Cordura nylon for the main compartments, a lightweight X-Pac for the roll-top front pocket, as well as a high-vis orange ripstop on the interior. Oh, and we should also point out that Shiro Suzuki recently switched from a 1680D ballistic nylon (used in the original models) to a 940D weave to allow for a more comfortable carry with the same long-lasting abrasion resistance. It's a small touch, but it's one that's vastly improved the wear experience.
Without a set of first-rate fasteners, the X-Pod would quickly become a jumbled mess. Thankfully, Code Of Bell has backed up its top-notch material selection with some truly heavy-duty hardware. Just take the adjustment points, for instance. The cinchable compression straps feature some skeletonized WJ buckles, minimizing weight whilst preserving the X-Pod's integrity. The roll-top, too, comes with some seriously state-of-the-art components, pairing a set of hook and loop closures with snaps and length-keepers to allow for endless customization and a tidy appearance. Oh, and not forgetting weather resistance, Code Of Bell has even given the X-Pod some waterproof YKK AquaGuard Zippers for the main closures. Rounded out by a shoulder strap with some neoprene winglets and a self-locking magnetic Fidlock fastener, the result is a bag that's as impressive in build as it is striking in looks.
Internal Organization
No Expense Spared
Unsurprisingly, the Code Of Bell X-Pod packs organizational provisions in spades. Within the main compartment, it sports an elasticated mesh divider and a pair of zippered pockets — a setup that's ideal for keeping everything neat, tidy, and tucked away in its place. At the back, you'll find yet another compartment, this one hidden for stashing critical carry like wallets, passports, and phones. As if that wasn't enough, there are two small zippered accessory pouches located on either side of the shoulder strap –- perfect pockets for easy-to-lose items such as wireless headphones, keys, and pocketable flashlights.
While all of that is undoubtedly impressive, the hallmark feature of the X-Pod has to be the roll-top front pocket. Secured with a set of detachable compression straps and adjustable sliders, it even features some multipurpose attachment points for use with bike lights and other accessories. And, because it comes with two zippered openings, it's incredibly convenient to access — no matter how you wear the bag. Sure, it's a bit cumbersome at first, but you'll quickly realize that the roll-top allows for some pretty next-level carry accommodation.
On-Body
As Comfortable As They Come
Despite everything that the X-Pod has going on, it's a surprisingly easy sling to wear. That's because, along with a set of handy side compression straps, it also comes with some adjustable Hypalon fasteners. In practice, such a combination really allows you to cinch it down and keep it tight against your torso. In other words: whether you wear it as a crossbody bag, a waist pack, or a single-arm sling, the X-Pod is easy to set and forget. With its padded back panel and quick-grab top handle, it rests comfortably on your person and makes for convenient handling regardless of the environment.
So, even though the X-Pod doesn't come with any padding on its beefy webbing strap (like many other slings on the market), it's nevertheless plenty comfortable during longer excursions. On each side of the bag, Code Of Bell has fitted a soft neoprene winglet that helps to relieve pressure and absorb sweat. Now, we didn't get to test the X-Pod during the heat of LA summer, but we'd expect it to prove a very breathable wear no matter the weather. Finally, we'd be remiss if we didn't mention the strap's many adjustment points. Between the tension-locking buckles, the set of length-keepers, and the smooth-sliding main fasteners, the X-Pod is super easy to size correctly on the go.
Closing Thoughts
The King Of Carry
While the Code Of Bell X-Pod comes with a pretty steep learning curve, we'd wholeheartedly recommend it for those who want to take their everyday carry game to the next level. Overbuilt? Maybe. Overcomplicated? For some. Uncompromising? No doubt about it. The end-all, be-all of wearable storage solutions, the X-Pod is a sling that continues to reign supreme. With its unmatched versatility and outstanding build quality, this is a bag that can go toe-to-toe with any other offering on the market and come out on top. Shiro Suzuki intended for the X-Pod to serve as a wearable extension of your pockets. We'd argue that, in many ways, his creation is truly second-to-none.
The 15 Best Sling Bags For Everyday Carry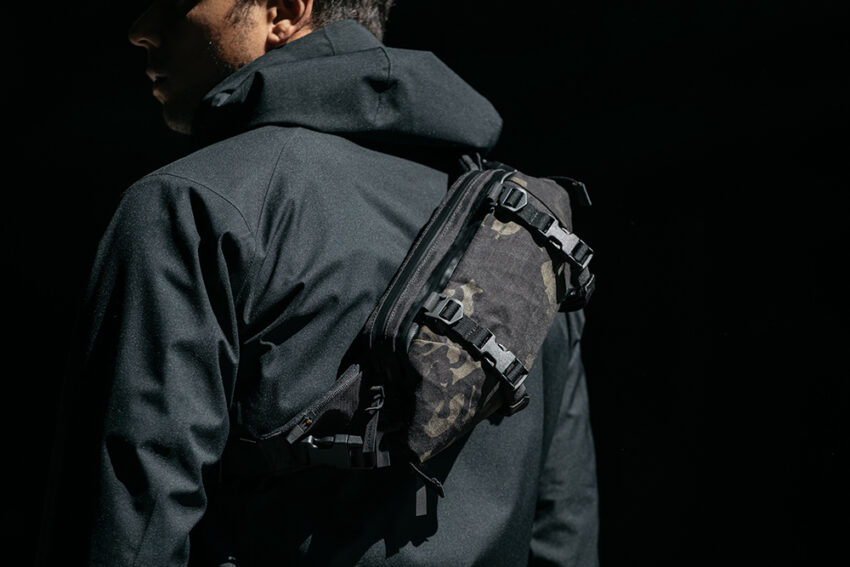 We're big fans of everything that Code of Bell has done with the X-Pod, but we do recognize that it can prove a little intimidating in its operation. For those who need something a bit more streamlined, our guide to the best everyday carry sling bags should do just the ticket.
HiConsumption is reader-supported. When you buy through links on our site, we may earn an affiliate commission. Learn more