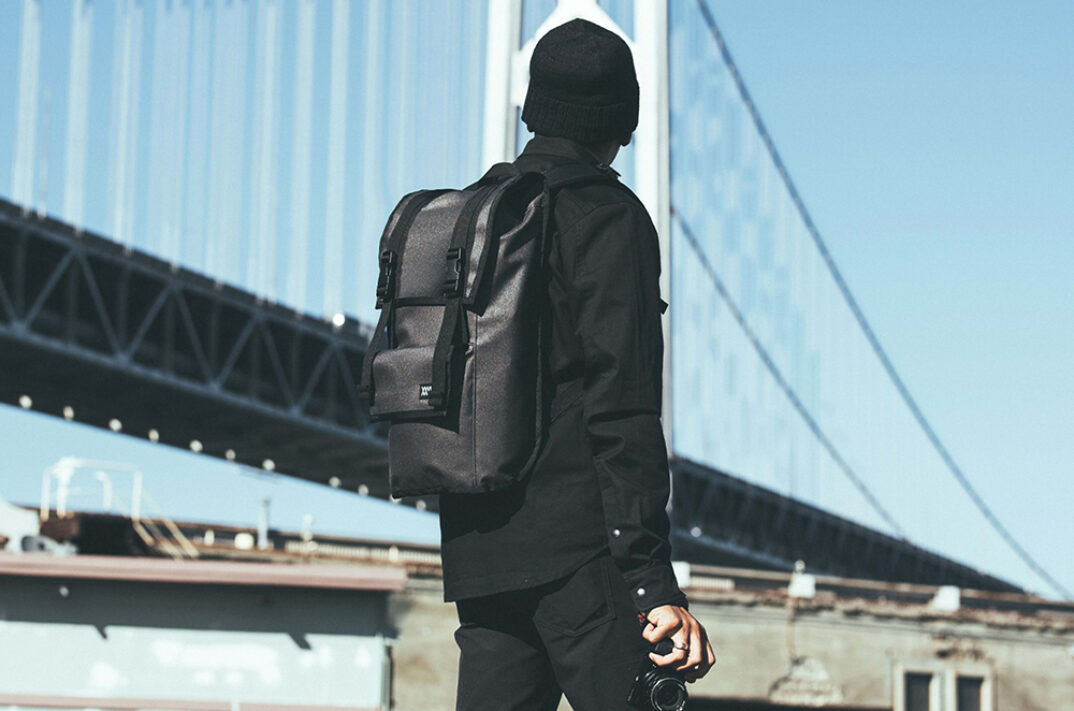 There's no denying that a major part of everyday carry is style — even if it's not amongst the direst of factors. We'd never blame anyone for taking styling into consideration when picking out EDC gear, even if that means sacrificing or compromising with other features, formats, etc. After all, a fully-kitted, hardcore mil-spec piece of gear might be able to get the job done, but that often comes at the expense of subtlety, simplicity, and manageability. And that can be a deal-breaker for plenty of folks, especially those that prefer a better balance between style and substance.
The issue denoted above is abundantly clear in the world of backpacks. Take the Triple Aught Design FAST Pack EDC, for instance; it's an absolutely superb backpack, but it is aggressive in its appearance, complex in its format (giving it a relatively steep learning curve), and highly catered to those with a taste for battlefield-ready tactical gear. And it definitely isn't for everyone. Luckily, if you prefer much more pared-down styling and features — perhaps with urban-friendly functionality in mind — there is no shortage of options out there. In fact, we've rounded up a bevy of offerings below that we believe to be the 25 best minimalist backpacks available right now.
Herschel Settlement Backpack
While they tend to stay on the more budget-friendly end of the spectrum, Herschel has managed to help separate themselves from, say, JanSport by gearing toward more design-focused offerings, like the Settlement Backpack you see here. Formatted like traditional bookbags, this pack features a clean exterior, two zippered pockets (one small and one large), either 17L or 23L capacities, and a padded laptop pouch — not bad for a $50 offering.
Exterior: Polyester
Capacity: 17L or 23L
Laptop Sleeve: 15″
Incase Reform Backpack
While the outside of the Incase Reform Backpack is as minimalist as they come, Incase is adept at hiding an exceptional array of features that aren't betrayed by their bags' appearances. In this case, the ultra-minimalist exterior hides an interior marked by several pockets and compartments to make organizing your everyday carry — including your computer and tech accessories — a cinch. It also has a padded back and straps, an abrasion- and water-resistant exterior, and so much more.
Exterior: 300D Ecoya/Nylon or 840D Nylon
Capacity: 17L
Laptop Sleeve: 16″
Topo Designs Light Pack
Another brand that has a surprisingly deep array of exceptional offerings, Topo Designs is no stranger to minimalism — a fact which is on full display in their utterly-pared-down Light Pack. Hell, even the name suggests the fact that less is more. It features two zippered external compartments — one small and one large — padded shoulder straps, a laptop sleeve on the inside, and it comes in a multitude of finishes and materials (although we're partial to the canvas version here).
Exterior: DWR 12oz Cotton Canvas
Capacity: 18.5L
Laptop Sleeve: 15″
Tom Bihn Daylight Backpack
As a brand, Tom Bihn has a few things going for it that are scarce elsewhere. For starters, almost all of their bags come with some measure of customization, usually regarding the external materials. They also offer a wider array of colors across their catalog than just about anywhere else. And all of their packs come with a lifetime guarantee. That's true, too, for the Daylight minimalist backpack you see here. Best of all, regardless of which configuration you go with, this is a bag that will serve you brilliantly day-in and day-out.
Exterior: 400D Halcyon/420D Ripstop Nylon or 525D 2×2 bluesign Ballistic Nylon
Capacity: 16.5L
Laptop Sleeve: 13″
The North Face City Voyager Daypack
Although the brand is most closely associated with outdoor adventure, The North Face has been making a pretty significant impact in the worlds of streetwear and urban everyday carry. Take, for instance, the company's City Voyager Daypack. This sleek, pared-down pack boasts a simple two-compartment setup, a solid internal organizational scheme (including a dedicated laptop pouch), a DWR-finished weatherproof polyester exterior, and — best of all — a lifetime guarantee. Plus, if you don't like all-black-everything, it also comes in a gorgeous Agave Green.
Exterior: DWR Recycled Nylon
Capacity: 19.5L
Laptop Sleeve: 13″
Osprey Arcane Day Bag
Like The North Face, Osprey is best known for its capable outdoor carry and storage solutions. However, that doesn't mean the brand hasn't dipped its toes into the world of urban-friendly minimalist carry, as evidenced by the utterly sleek Arcane Day Bag. With its 20L capacity, dual-compartment design, and recycled polyester exterior, this bag is ready to do work at any given moment. And it still boasts some useful internal storage, tether points, and it comes in a trio of handsome colorways.
Exterior: Recycled 500D Polyester
Capacity: 20L
Laptop Sleeve: 15″
Rains Field Bag
As far as traditionally-styled bookbags are concerned, we're not sure there is a more well-executed minimalist option than the Rains Field Bag. With its two-compartment design, this pack harkens back to the JanSports of our childhood, but it's elevated thanks to its PU-coated waterproof exterior and complete lack of extraneous design details. In fact, even the branding is as subtle as possible, constrained to just a single embossed logo at the bottom quarter. best of all, you can choose from five smart colors, ensuring you can cater the bag to your personal style preferences.
Exterior: PU-Coated Polyester
Capacity: 16L
Laptop Sleeve: 13″
TIMBUK2 Division Laptop Backpack Deluxe
If you're an everyday carry enthusiast, especially one who likes to travel, and you haven't looked into Timbuk2, it's time to change that. This brand does carry solutions brilliantly across the spectrum, a fraction of which you can see in their exceptional Division Laptop Backpack Deluxe. Its pared-down exterior — which you can have in five different colors — does nothing to betray its compartmental organization inside, which has room for all your EDC, laptop computer, and more. And it even has compression straps to ensure your gear inside doesn't jostle around while you're in transit.
Exterior: 630D Nylon
Capacity: 22L
Laptop Sleeve: 15″
Heimplanet Monolith Minimal Rucksack
As you can probably gather from its name, Heimplanet's Monolith Minimal Rucksack was made specifically with minimalism in mind — and it was executed brilliantly therein. It has an 18L capacity — perfect for day-to-day usage or short-form travel — along with an ultralight, super-tough, weatherproof Cordura nylon exterior, complete with PU-coated YKK zippers. And while the outside is as pared-down as possible, the inside still has plenty of organizational options — including a 15″ laptop compartment and MOLLE compatibility. The brand even sells its own modules you can stash inside for even more organization and versatility.
Exterior: 500D Cordura Nylon
Capacity: 18L
Laptop Sleeve: 15″
Chrome Industries Urban Ex Rolltop Backpack
Best known for their city-going cycle commuter carry solutions, Chrome Industries has a wide-ranging collection of offerings that range from the comprehensive to the ultra-pared-down. The latter of that spectrum can be seen in the Urban Ex Rolltop Backpack you see before you here. This minimalist bag has no extraneous exterior details, a waterproof construction, a 15″ padded laptop sleeve, and more. Even if you don't bike at all, this is still a superb everyday carry backpack.
Exterior: 420D Nylon TPU w/ Hypalon
Capacity: 26L-28L
Laptop Sleeve: 15″
lululemon City Adventurer Backpack
If you're familiar with lululemon, it's probably because they're one of the top athleisure brands currently on the market. But if you think that's all they trade in, you're sorely mistaken. In fact, they offer one of the best minimalist backpacks currently around. Called the City Adventurer Backpack, this simple bag is crafted from lightweight, water-repellent fabric and offers plenty of space and organization for all your daily hauling needs — all without being bogged down by unnecessary detailing and/or overcomplicated additions. You can have it in a drab sage colorway or have a bit of flash in the black and gold option.
Exterior: Nylon
Capacity: 17L
Laptop Sleeve: 15″
Wexley Stem Daypack
Just because a brand has a big name, that doesn't mean they make good gear. Similarly, brands you might not immediately recognize shouldn't put them out of contention. If the latter were the case, we might not have had the pleasure of taking a closer look at the exceptional Wexley Stem Daypack. With its sleek Cordura nylon exterior, 17L capacity, YKK zippers, and Duraflex hardware, this bag doesn't exactly reinvent the wheel. But it doesn't have to because it has refined said wheel into something much more artful — so to speak.
Exterior: 1000D Cordura Nylon
Capacity: 17L
Laptop Sleeve: 15″
Alchemy Equipment AEL013 Minimalist Daypack
Minimalism doesn't have to mean compromise. In fact, given the right circumstances, it can mean the opposite — as is the case with Alchemy Equipment's AEL013 Minimalist Daypack. As its name suggests, this bag was made specifically with minimalism as its core tenet — it was even designed with Dieter Rams, a master of minimalist design, in mind. The result is a pack Rams would likely love with a 20L capacity, weatherproof exterior, and drop-dead gorgeous styling.
Exterior: 900D Kodra w/ 3x PU-Coated Bottom
Capacity: 20L
Laptop Sleeve: 15″
Fjallraven Kanken No.2 Laptop Backpack
Fjallraven's Kanken bag series is probably the brand's most recognizable collection of products. It also happens to contain the brand's best minimalist backpack, in our opinion. The Kanken No.2 Laptop Backpack is everything we could hope for in an everyday backpack and more: instantly recognizable styling, plenty of color options, a manageable capacity, a dedicated padded laptop pouch, and top-notch construction. The only thing that might hold you back is just how utterly popular it is — although we'd suggest that its popularity is well-deserved and speaks more to its value than mere hype.
Exterior: Wax-Coated G-1000
Capacity: 18L
Laptop Sleeve: 15″
Aer Day Pack 2
Were you to put all of Aer's offerings on a wheel and spin it, literally anything it landed on would be worth your time and money. But if it's a minimalist backpack you seek, we'd urge you toward the Day Pack 2 — which is even minimalist in its name. This gorgeous bag features a sleek exterior crafted from Cordura nylon (complete with a PU-coated front to keep your tech extra-safe), a 14.8L capacity that's better for those that like to keep things pared down, a padded pouch suited to 15″ laptops, and more. Use this pack for a day and you'll want to keep using it for the rest of your life.
Exterior: 1680D Cordura Nylon w/ Carbonate Polyurethane-Coated Front
Capacity: 14.8L
Laptop Sleeve: 15″
Arc'teryx Granville Zip 16 Pack
Anyone familiar with the outdoor and backpack industries will not be surprised to see highly-reputed Canadian technical brand Arc'teryx on our list — they might not even be shocked that we picked the Granville, as it has garnered a reputation as one of the best minimalist bags around, bar none. Of course, you don't have to have a familiarity with this 16L, weatherproof, laptop-toting pack in order to see just how good it is. To determine that, all you have to do is have a gander at it.
Exterior: AC² (Advanced Composite Construction)
Capacity: 16L
Laptop Sleeve: 15″
Mission Workshop The Fraction Backpack
Especially for city commuters, flip top bags are one of the better weatherproof, secure EDC backpack options out there. But a lot of flip top bags, especially those inspired by the outdoor industry, have a habit of being bulky and hefty. Mission Workshop's Fraction, however, was made to be sleek and small while still offering the same styling and protection. And that makes it perfect for everyday carry, even if you need to haul a laptop around. It doesn't hurt, either, that this pack looks great in all three colors it's offered in.
Exterior: 1000D Nylon
Capacity: 14L
Laptop Sleeve: 13″
Arktype Dashpack Mark II
For some, even a 20L pack is a bit much for an EDC bag, which we totally understand. If you want to truly make your carry as minimal as possible, including limiting the overall haul, we'd point you in the direction of the Arktype Dashpack Mark II. It's exceptionally tough, has a bit of tactical-inspired styling and features (including exterior modular webbing), but its 15L capacity and low-profile silhouette will ensure you're not weighed down by unnecessary bulk.
Exterior: 1680D DWR Ballistic Nylon
Capacity: 15L
Laptop Sleeve: 13″
Bellroy Transit Workpack
You can't go wrong with anything made by Bellroy, to put it bluntly. But if you're searching for a minimalist backpack, you may want to have a gander at the Transit Workpack. As its name suggests, this EDC backpack was designed specifically with city-going commuters and office workers in mind, so it has plenty of internal organization for all your EDC, tech (including your laptop), and adjacent accessories. Of course, it also still has a sleek exterior, an exceptional material construction, and it looks professional enough to lug in and out of meetings.
Exterior: 100% Recycled Weatherproof Woven Fabric
Capacity: 20L
Laptop Sleeve: 16″
Defy Bags Bucktown Backpack
Literally any version of Defy's Bucktown Backpack — named for the part of Chicago that Defy calls home — is a great minimalist bag. But if we're forced to pick just one, we're quite fond of the X-Pac edition, as its sailcloth material is ultralight, waterproof, abrasion- and puncture-resistant, and still looks great from any angle. It doesn't hurt, either that it has a 15″ laptop pouch, a suite of water-resistant zippers, and a sizeable 23L capacity.
Exterior: X-Pac Sailcloth
Capacity: 23L
Laptop Sleeve: 15″
GORUCK GR1 Slick Backpack
Put simply: GORUCK's GR1 is one of the best backpacks ever created, period. And while it likely would have made this list anyhow, the Huckberry-exclusive Slick edition definitely fits best with the minimalist theme. And it was managed beautifully: the brands simply removed the external MOLLE webbing, resulting in a far sleeker exterior without sacrificing any of the pack's other top-notch features. For those wondering, yes: it still comes with its legendary bombproof laptop compartment. But if you want one, you'll want to snatch it up quickly; these packs don't stay in stock for long.
Exterior: 1000D Cordura Ballistic Nylon
Capacity: 21L or 26L
Laptop Sleeve: 17″
Hyperlite Mountain Gear 2400 Porter
Not every minimalist backpack was made for city slickers. In fact, Hyperlite Mountain Gear likely hadn't considered city carry at all in the creation of its 2400 Porter backpack, which was made with backpacking and outdoor adventure in mind. Of course, that doesn't mean it doesn't qualify; it very much does, as can be gathered with merely a casual glance. It doesn't hurt that the pack was constructed from ultralight, incredibly tough, waterproof Dyneema fabric, either. If you want a no-nonsense multisport adventure pack that could literally travel to the ends of the Earth and back without so much as a scratch, this is it.
Exterior: Dyneema
Capacity: 40L
Laptop Sleeve: No
Cote & Ciel Nile Obsidian Backpack
It might seem too bold to suggest, but we're pretty sure that the Cote & Ciel Nile Obsidian Backpack is the most externally minimalist bag we've ever come across. Truly, it almost looks like it's been wrapped in polyester fabric simply to give the impression of minimalism, but that's just how great a job the brand did design it. Of course, the inside is a different story — marked by handy compartments to keep your everyday carry gear secure and orderly, including a 15″ laptop pocket. For the design-minded, especially those with a love of Bauhaus, this might be the best bag on this entire list.
Exterior: Polyester
Capacity: ~38L
Laptop Sleeve: 15″
Killspencer Utility Special Ops Backpack
While most minimalist backpacks — and backpacks in general — tend to be crafted from pliable synthetic materials like nylon and polyester, that's just not Killspencer's style (although they do offer some nylon bags). Rather, they've taken their Utility Special Ops Backpack and crafted it from the material that has helped to set this brand apart: full-grain leather. Crafted with the imperfections of leather and, thus, uniqueness in mind, this backpack is equal parts a useful everyday carry gear hauler and a show-piece you'll want to put on full display. Yes, it's expensive; yes, it is absolutely worth the money.
Exterior: Leather & Suede
Capacity: 15.23L
Laptop Sleeve: 15″
Veilance Nomin Pack
While the entry price is obviously exceptionally high for the Veilance Nomin Pack, this bag is worth every single penny. In fact, this backpack is largely credited for setting the gold standard when it comes to ultra-minimalist carry solutions. That starts with its weight: an absurdly low 33 ounces in total. That factor alone, plus its pedigree, should be enough for most. But if it isn't, the bag is also waterproof (with taped seams and WaterTight zippers), has a low-profile silhouette, can safely hold a 15″ laptop, and comes in two muted colorways. If you can afford it, you're not going to find a better minimalist backpack.
Exterior: AC2 Plain Weave Nylon Urethane Laminate
Capacity: 26L
Laptop Sleeve: 15″
The 15 Best Sling Bags For Men
A backpack is still a backpack, no matter how minimalist. If that format is still too bulky for you, you might find something more to your liking (AKA smaller, more compact, and even more pared-down) on our list of the best sling bags.