One of the most important factors when choosing a bag — be that for travel, everyday use, business, or otherwise — is the material out of which it is made. For many it might be secondary to size and/or format, but it's still amongst the top things to look for when choosing one. And the reasons are plentiful, ranging from its appearance to its durability and even how weatherproof it is.
While there are a lot of generic fabrics out there, one of the most popular ones — especially in the worlds of everyday carry and the outdoors — is actually a branded fabric. A type of strong, woven nylon, Cordura has seen a huge spike in popularity over the last few years, to the point that people actually seek it out by name when shopping. And the most common application for that fabric is, you guessed it, to build bags. If that's what you're searching for, you've come to the right place, because we've rounded up the 20 best Cordura bags for all your hauling needs.
What is Cordura?
& What Makes It Special
Back in 1929, the company that would go on to become DuPont created a rayon-based material called Cordura. However, as time passed and more materials were developed, it became abundantly clear that nylon, rather than rayon, had far more potential. So, in 1966, the company rebranded a type of nylon as Cordura and all but dropped their work with rayon entirely. Over time, it was further refined — made more durable, able to be dyed in just about any color or pattern imaginable, and eventually produced en masse similar to basic canvas fabrics.
Today, the applications of nylon-based Cordura are legion. It can be found in everything from apparel to footwear, to motorcycle equipment, to everyday carry gear, and — most commonly and perhaps most importantly — bags. There is also a wide variety regarding the types of Cordura out in the world. Typically, the difference can be found in the "denier" — a measure of thickness or density of the fibers. Typically, the higher the number, the tougher the Cordura. However, there are other factors that also impact the fabric's durability and resistance.
Because Cordura is nylon-based canvas fabric, it is possible to combine it with other technologies to make it stronger, more weather-resistant, or even alter its appearance. Commonly, Cordura is paired with GORE-TEX membranes to make it more waterproof than it would already be — for reference, nylon (especially high-denier varieties) is naturally water-resistant. Similarly, Cordura can have a DWR (durable water-repellent) coating applied to it, which also ups its water-resistance. It can even be coated with polyurethane to make it completely waterproof (which is seen in submersible bags), as well as puncture- and slash-proof.
To be clear: Cordura is not armor. However, it can be abundantly more durable and weatherproof than fabrics of a similar weight and feel. That being said, Cordura does have an advantage over other, tougher materials in that it is relatively lightweight; widely available for purchase and, therefore, an easy building material for companies to get their hands on; and it is remarkably versatile. And that all together is probably why it is so popular.
Backpacks
Over-The-Shoulder
More than likely the most popular bag style of all time (the one exception maybe being women's purses), backpacks are everyone's favorite go-to hauler. They're usually fairly spacious, easy to wear in a variety of settings, perfect both for daily commuting as well as longer-form travel, and they are available in more formats, sizes, and shapes than you can shake your fist at.
The North Face Borealis Backpack
A classic backpack from an iconic brand crafted with 210D ripstop Cordura nylon, The North Face's Borealis Backpack is subtle enough to be a go-to everyday bag but is also durable and capacious enough to accompany you on travel or a day (or two) out on the trails. It boasts a 28L capacity (including a padded 15″ laptop pouch), dual water bottle pockets, compressions straps, and it is available in a huge number of colors so you can pick out one that fits your style the best.
Mystery Ranch Urban Assault Pack
At a glance, it's fairly easy to tell that Mystery Ranch's Urban Assault Pack, with its triple-zipper quick-access system, is a pretty unique bag. Built for speed but with an exceptional minimalist external design, this sleek 24L bag is built from 500D Cordura — giving it some natural weatherproofing, as well as puncture- and slash-resistance. On top of that, it has plenty of internal organization (including a 15″ laptop sleeve), water bottle pockets on the exterior, YKK zippers, and so much more.
Aer Duffel Pack 2
One of the all-time best travel bags ever built, Aer's Duffel Pack 2 is actually a hybrid of a backpack and a duffel bag, as its name suggests. That makes it extremely versatile when it comes to carry styles — making it ideal for speedy expeditions with little notice. It's also crafted from exceedingly tough 1000D Cordura ballistic nylon, making it remarkably tough. Plus, it has a remarkably handy organizational compartment system that includes side pockets, a large main compartment, a 15.6″ laptop pouch, and even a separate ventilated pocket that's perfect for dirty workout gear and/or shoes up to a men's size 13. Buy this travel backpack and you might never need another.
Chrome Industries BLCKCHRM 22X Bravo 3.0
Just recently released as a part of Chrome Industries' BLCKCHRM collection, the 22X Bravo 3.0 is a superb hauler for urban denizens and cyclists alike. Not only does it boast a weatherproof roll-top closure, a quick-access laptop side-zip pouch (which fits computers up to 15″), and a handy removable bike helmet cross strap storage system, but it's also built from ultra-tough Cordura TPX Durable Laminate fabric — inspired by sailcloth — making it weatherproof and super-tough. There's even a small phone pocket with a waterproof zipper to keep your pocketable tech safe and accessible at all times.
T.A.D. FAST Pack Litespeed
In case the name isn't abundantly clear, Triple Aught Design's tactical FAST Pack Litespeed was built primarily with quickness in mind. But nimbleness is hardly the only thing going for it, as anyone can ascertain with just cursory glance. It's also built from MIL-SPEC Invista Cordura fabric — which is tough as nails — and it features a MOLLE modular grid on the exterior, it has comfy padded shoulder straps and a back pad with stabilization straps, and it's still plenty spacious whether you're using it as an everyday pack or heading out into the field. Oh yeah, and it is hydration bladder compatible.
Timbuk2 Parker Pack
A 940D Cordura backpack with Timbuk2's iconic urban styling, the minimalist Parker Pack was made for the modern man's everyday life. And, while its construction and styling are certainly high points, this pack also has the ability to expand from and EDC bag into something a bit more capacious for travel — be that for a long weekend or as a supplementary bag for a much longer trip. It also boasts an Airmesh back panel for all-day comfort, alongside stabilization straps that make it perfect for hauling even unwieldy loads.
Arc'teryx Arro 22
You can always depend on Canadian outdoor brand Arc'teryx to produces some of the best gear around — and their foray into Cordura is certainly no exception. Lightweight and durable, this backpack was designed specifically to function just as well in a city setting as it does in the great outdoors. It also has a litany of helpful features that include hydration bladder compatibility, a padded back pad and shoulder straps, an internal sleeve that fits laptops up to 15 inches, a smaller WaterTight zipped pouch for any EDC gear that can't get wet, a water bottle side pocket, and the list just keeps going and going.
DSPTCH Travel Pack
If you want to have a gander at a brand that builds exceptional bags for just about every occasion, you can turn to DSPTCH and you will not be disappointed. And while it's hard to pick a single offering of theirs that stands apart from the rest of their superb catalog, we're quite fond of their Cordura nylon Travel Pack. It boasts an impressive 30L of internal space, a clean minimalist exterior, it features a number of organizational pockets (including one for laptops and another for shoes or dirty workout gear, and it even has a removable luggage strap for easier navigation through airports. Best of all, it's made in the USA and comes with a lifetime guarantee.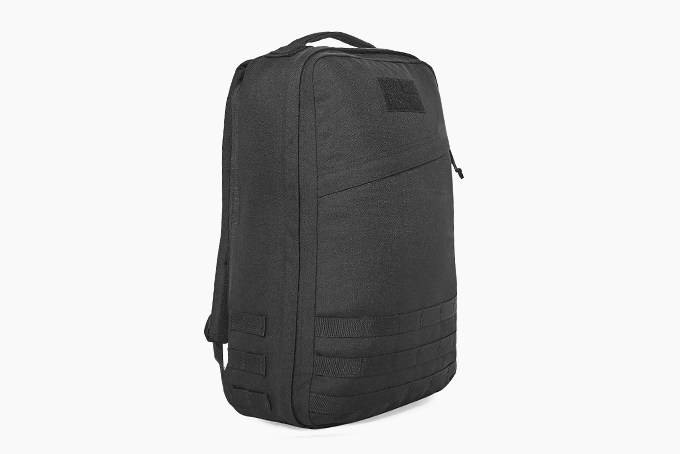 GORUCK GR1
While it's damn near impossible to pick out a single everyday backpack that stands out from the rest as the clear champion, GORUCK's GR1 would absolutely be in the conversation for the top spot. In fact, it's so brilliant, that it has continued to be amongst the best since GORUCK was founded in 2008. What makes this bag so special? Well, for starters it was designed and tested by Special Forces soldiers operating in Baghdad. It's also built from ballistic Cordura, it has a genuine bombproof laptop compartment (yes, really), and it manages to be capacious and expandable (thank you, MOLLE grid) while still looking sleek and minimalist. We wouldn't be so bold as to call this the best backpack ever, but there are plenty of people who likely would.
Bellroy Duo Totepack
If there's any brand out there that knows how to make exceptionally beautiful and well-styled everyday carry gear of all types, it's Bellroy. The Australian outfit pulled no punches with their Duo Totepack, either. Inspired by what might be called a basic grab bag, this fully-realized bag is constructed from a combination of Cordura and environmentally-certified leather, it can expand to hold up to 15L of gear (including a 15″ laptop), it has water-resistant zippers, and its tote straps are a good deal more functional than the top strap of most other backpacks. It might seem a bit expensive, but we think it's worth every penny.
Duffel Bags
Capacious Carriers
A bit less hauling-friendly, duffel bags make up for their awkwardness by offering a relatively large amount of space in a no-nonsense package. And while most of them feature an over-the-shoulder carry style, some have been adapted to backpack-style carry and most also come with suitcase-style handles. Ideal for quick weekend getaways where spaciousness is more important than organization, these bags are second only to the backpack in their variety and availability.
Matador Transit30 Pocket Duffel
A lot of duffel bags, even the lightest ones, are still somewhat bulky and don't pack down well for storage. Thankfully, the folks at Matador have come along and shown that you can still get spaciousness, durability, and good looks in a package that can collapse down to about the same size as a beer can. As its name suggests, the Transit30 duffel — which is built from waterproof 30D Cordura ripstop nylon — can haul up to 30L of gear. It's also tear-resistant, has water-resistant zippers, and even has a detachable roll-top storage bag. Best of all, all of that comes together to weigh a paltry five ounces total.
Topo Designs Mountain Duffel
If your biggest concern with your next duffel bag is spaciousness and a lot of it, you should absolutely be considering the Topo Designs Mountain Duffel. Of course, while this 1000D ballistic Cordura nylon bag has a gargantuan 61.4L of internal space, that's only one of the many things that make it an exceptional pack. Along with suitcase straps and a removable shoulder strap, it also comes with stowable backpack straps — making it a triple-threat hauler. It also has a quick-access external pocket to pair with its spacious main compartment. And it's padded to keep everything inside safe and sound. Best of all: it's made in the USA.
REI Co-op Big Haul Rolling Duffel
One of the bigger downsides to most large duffel bags is that they're kind of a pain in the ass to haul when they're fully loaded with stuff. However, REI Co-op's Big Haul does away with that problem by incorporating a pair of wheels and a handle to make navigating airports and subway stations far less tiresome and frustrating. It's also by far one of the largest bags on our list, measuring up at a capacity of 109L in total — making it perfect for extended trips. And it's made from a combination of 400D TPU-coated nylon and 915D Cordura ballistic nylon. For world travelers looking to take their time in their adventures, this rolling luggage can't be beaten.
Red Oxx Big Oxx Expedition Series
Designed and hand-crafted from USA-sourced materials in Billings, Montana, the Red Oxx Big Oxx Expedition Series duffel is about as all-American as duffel bags get. This gargantuan hauler is also the largest on our list, measuring up at a capacity of 125.6L. The 1000D Cordura nylon exterior is also reinforced for unrivaled durability, it features mil-spec snaps, and it's even urethane-coated for extra weatherproofing. Available in 12 different color options, this bag is a bit on the gargantuan side for most, but we expect there are at least a few people that need a bag as big and tough as this one.
Colfax Design Works Project TOAD Drybag
Colfax Design Works does not produce bags on a very large scale, which is sort of unfortunate because what they do offer is always remarkably impressive. And their Project TOAD Drybag might just be the best one they've ever crafted. As you can guess from its name, this bag is completely waterproof — meaning you can actually submerge it entirely underwater and nothing inside will get wet at all. It's also manufactured in the USA from coated Cordura, has mil-spec webbing and hardware, watertight YKK zippers, and a trio of strap types — including backpack straps for easier hauling out in the field or through a crowded airport. All of that pairs with a 40L capacity to make one formidable travel/adventure bag.
Alternatives
All The Rest
Backpacks and duffel bags are hardly the only kind of bags made from Cordura. Have a gander around the space and you'll realize it has been applied to everything from dopp kits (AKA toiletry bags) to messenger bags, to slings, and everything in-between. We've picked out a few of our favorites below.
MIS Mesh Toiletry Bag
An essential bag for all jet-setters and travel-minded explorers, dopp kits are ideal for hauling your toiletries no matter where you're headed. And the MIS Mesh Toiletry is one of the best. That's because it was built on machines that once made mil-spec gear for the armed forces, it is crafted from 1000D Cordura nylon, it's water-resistant, and it's easy to clean. Whatever hygienic gear you bring along with you on trips, this is the perfect pouch in which to store it. Did we mention that it's made in the USA? Because it is.
Aer Cable Kit
Keeping all of your tech gear in order on a day-to-day basis can be pretty aggravating if you don't have the right tools to make that happen. Thankfully, the folks at San Francisco's Aer have packed a wealth of storage options into their handy Cable Kit. With an appearance not unlike a dopp kit, this bag is built from 1680D Cordura ballistic nylon, has a water-resistant coated front to protect your tech from light drizzles, it has a dual compartment design with plenty of internal organization, and it can carry up to 1.7L of gear.
Timbuk2 Especial Messenger Bag
The messenger bag is about as classic as carry solutions get, dating back as far as the Roman Empire. Timbuk2's Especial Messenger Bag, however, is a thoroughly modern take on this carry classic. Constructed from 500D Cordura ripstop nylon, it's plenty tough and even water-resistant enough to use in the day-to-day — whether you're a car or bike commuter. It can also haul up to 22L in its quick-access flip-top main compartment. And it's still plenty secure with dual closure buckles to ensure nothing goes awry while you're on the road.
Topo Designs Commuter Briefcase
Traditional briefcases are, admittedly, a bit stuffy. But the folks at Topo Designs have managed to craft one that still looks professional enough for a business setting, but has the kinds of toughness and durability you might look for in an outdoor-focused hiking bag. Built from 1050D Cordura ballistic nylon and top-grain Horween leather, this USA-made bag has a 15L capacity, a padded internal pouch that fits up to a 15″ laptop computer, it has removable backpack straps for alternative carry styles, and it even has a luggage pass-through.
Code of Bell X-Pak Sling Pack
Sling bags have been increasing in popularity, and with offerings like the Code of Bell X-Pak, it's pretty easy to see why. Like a mid-point between a fanny pack and a messenger bag, this speedy 1680D Cordura ballistic nylon and Dimension Polyant VX Series X-Pac fabric is tough as nails, water-resistant, features a wealth of quick-access organizational zippered pockets, and it can expand from 11L all the way up to 23L when necessary. As if that's not enough, it also features a 13″ laptop sleeve, YKK zippers with Hypalon for even more weather resistance, and the list just keeps on going.
What's The Difference: Cordura vs. Ballistic Nylon
There are a lot of different kinds of fabrics out there. In fact, even under the umbrella of "nylon" there are a number of different varieties. Learn the distinction between two of the most popular on our Cordura vs. ballistic nylon guide.