Some people like to run for the joy of attaining an exercise high, and others are dedicated to pushing themselves past their cozy comfort zones to annihilate their best times. As long as you're running, you can benefit from analyzing every last detail to evolve as a mile killer. In order to keep track of your statistics, as well as make the running experience as smooth as possible, running gadgets come in handy.
Going old school when it comes to running isn't necessarily a bad thing, but with all the technology and progressive gear we have today, you should at least consider using running gadgets. With all the technology available today, you can perfect your stride, customize your playlist, and even light your path during a night jog. It's all about training smarter, not harder, so you can achieve a level of personal greatness in your running career. Since companies produce a seemingly endless amount of tech for running, we've decided to give you a hand in your search for the best running gadgets. We've looked at what the top running brands have to offer and compiled a list of exemplary run tech and gear. All you have do is scan our carefully considered picks and grab what you need.
If you want to take running seriously, chasing perfection will allow you to grow as an athlete. You may think that investing in contraptions geared toward running will slow you down, but they'll actually do the opposite. Running gadgets will allow you to keep track of your goals, reminding you to inch toward them every day. It's all about making the running process smooth so you're not killing yourself to reach your goals. Compiling a set of running gadgets will allow you to decrease the chance of injury, influence your drive, and refine your stride. As always, if you are just beginning to run consistently, we recommend that you create a workout plan with your doctor.
Million Mile Light V2
The ingenious Million Mile Light V2 is a battery-free safety device powered by your motion. The 30-lumen running light has a serviceable 200-meter projection to keep you visible while you're on your route when the sun is down. You'll never have to worry about losing power in the dark with this IPX6-rated water-resistant gadget. Clip it on and the hypersensitive device will illuminate with the slightest movement.
Yaktrax Run Traction Cleats
In case you want to do some trail runs, but don't feel like switching out your favorite running shoes to do so, the Yaktrax Run Traction Cleats are the answer. The cleats attach over your running shoes and provide you with high-strength rubber foot frames and replaceable 3mm carbide steel spikes, in addition to a coil design. They have multiple coil angles for 360° of traction so you can get a grip on any terrain under any weather condition.
Black Diamond Spot Headlamp
For those wanting a hands-free light for night runs, the Black Diamond Spot Headlamp has a powerful 300-lumen projection via a One QuadPower LED. It also has a Red SinglePower LED for night vision with dimming and strobe settings, which you can activate without needing to cycle through the modes. The device is also IPX8-rated, making it waterproof up to 1.1 meters underwater for a duration of up to 30 minutes.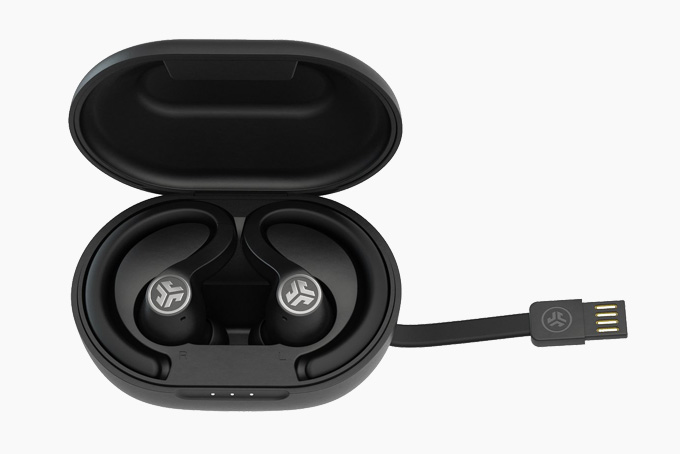 JLab Audio JBuds Air Sport True Wireless Earbuds
With IP66 sweat-resistance and six hours of playtime via Bluetooth, the JBuds Air Sport Wireless Earbuds won't leave you hanging in the middle of a run. You'll enjoy pristine sound to help you stay pumped blasting your personal playlist with JLabs run-ready wireless earbuds. And with Be Aware Audio, you'll be able to hear what's going on around you as well for your safety. Not to mention, you'll get over 34 extra hours using the convenient charging case.
Incase Active Armband
An armband is a must-have for any serious runner, and the Incase strap has a simple yet effective design to meet your needs on the road or treadmill. The lightweight Incase Active Armband is easily adjustable with a Velcro closure and a sturdy protective case to keep your smartphone safe in the event you take a hard fall on your route. The included case can also be detached from the strap so you can change the song or reply to an urgent text message.
GoMotion Synergy Light Vest
Another lighting solution for your night runs, the GoMotion Synergy Light Vest is equipped with a three-level beam CREE 100-lumen LED to illuminate the path ahead. The light is adjustable so you can customize the angle, while the reflective strips on the front and back add extra visibility at night. It also has a Hydrapak hydration bladder so you can grab a quick sip while you try and beat your best mile time.
Garmin Foot Pod
Get intimate with the details of your runs with the Garmin Foot Pod and transcend to the next level. You can monitor various statistics, such as your distance and cadence, when you use this pod indoors on a treadmill or a track at your local gym. It provides you with 98% accuracy on important metrics like stride-length and tempo, and it lasts for a solid year of training with a replaceable watch battery.
Suunto Smart Sensor
Another way to measure your heart rate while you run is by wrapping the Suunto Smart Sensor around your waist. This device works with Suunto sports watches or the Suunto Movescount App. The compact device fits comfortably around your waist so it won't hinder your breathing or agitate any part of your body. After your run, you can track your heart rate patterns and adjust your intensity to fit your doctor-approved health goals.
Scosche Rhythm+ Armband
According to Scosche, the Rhythm+ Armband is the best heart-rate monitor available today. The IP67 waterproof device has a beefy eight-hour battery life and a 100-foot range. It's compatible with fitness watches, smartphones, and fitness equipment, but works perfectly fine as a solo act. Wear the Rhythm+ Armband on your bicep, tricep, or upper forearm and get an accurate reading every time. Maximize your workouts with this nifty running gadget and crush your current run goal.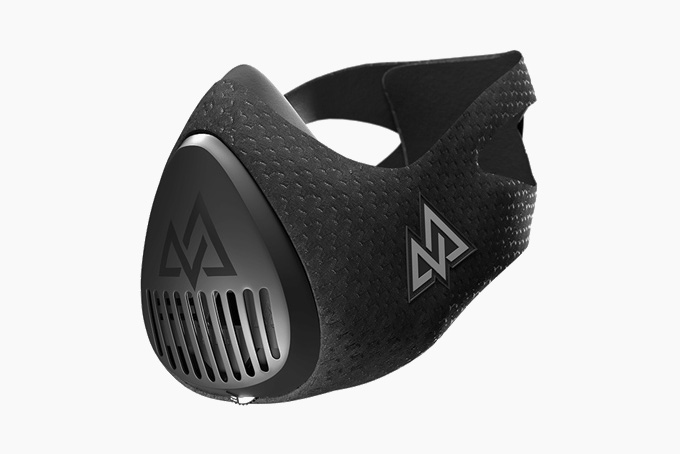 Training Mask 3.0
If you're looking to punish yourself during a run session, the Training Mask 3.0 will make your workout a hellish experience. You can adjust airflow via a dial to control the air friction resistance system, providing an alternative to elevation training. Work on proper breathing as you run with this elevation training mask and condition your lungs to take deep, calm breaths to improve your endurance. On top of all the positive functionality, you'll look like fitness Bane with this bad strapped boy on.
Mighty Vibe Music Player
Everyone loves Spotify, but with Mighty Vibe, you can use Spotify without your smartphone. You'll be able to take your streaming music offline and listen to it while you work on your stride outside or at the gym. On a single charge, it will run for over five hours to keep the tunes pumping through your wireless headphones so you don't need to dread running without music, which is undoubtedly one of the worst things that can happen on your run.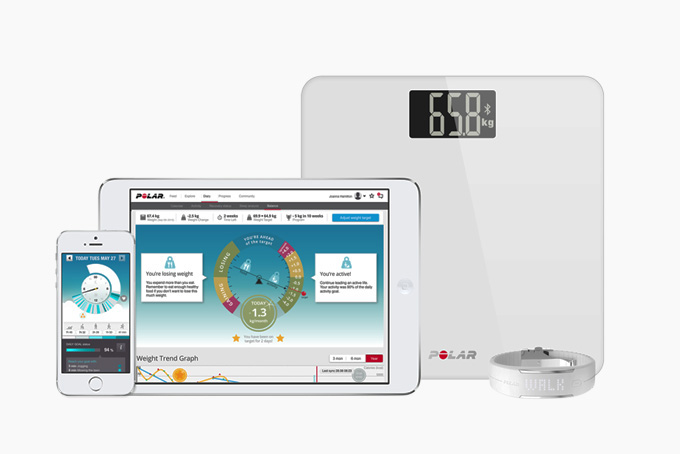 Polar Balance Smart Scale
The Polar Balance Smart Scale is a holistic weight management system that will help you reach your desired weight. It provides you with personalized activity goals and nutrition advice to complement your daily running routine. The smart scale utilizes the BMI index to further customize the system for your benefit. It also comes with the Flow app, working in conjunction with the smart scale to help you lose pounds the right way.
Fitbit Charge 3
Fitbit has been around as one of the leading fitness trackers for quite some time, so it's no surprise that the device is ideal for steadfast runners. The advanced fitness tracker has a 24/7 heart-rate monitor and comprehensive all-day activity tracking, including distance, steps, calories burned, and floors climbed. You can choose from over 15 goal-based exercise modes, which include running, biking, and swimming. And you'll be able to use the on-screen dashboard to check your health and activity stats on a daily basis.
UA HOVR Phantom Running Shoes
Upgrading running shoes with fitness tracking technology via the UA Record sensor, you can grab nearly every running metric for each run so you can improve after every session. The UA HOVR Phantom Running Shoes are also noteworthy running shoes even if they were enhanced for the digital world. Thanks to warp-knit uppers, 3D-molded midfoot panels, SpeedForm 2.0 sock liners, and full rubber outsoles, you'll cover ground like a world-class, long-distance runner.
Rogue Fitness Hyperice Vyper 2.0
Recovery is just as important as going hard during your run sessions, so the American-made Rogue Fitness Hyperice Vyper 2.0 vibrating foam roller is an absolute must-have for your post-workout recovery cooldown. It is one of the most powerful vibrating rollers with setting options between 45 and 92 Hz. It's made with an eco-friendly poly-propylene exterior and is TSA-approved for easy travel. They also come with rechargeable lithium-ion batteries for over two hours of juice per charge — more than enough to get the recovery job done.
Stryd Power Meter
Snap the Stryd Power Meter to your running shoes and you can measure your running power as you're completing your daily route. It's compatible with a variety of fitness GPS watches, including models from Garmin, Polar, Suunto, and Apple. According to Stryd, their Power Meter provides industry-leading pace and distance accuracy so you'll get the proper statistics to create appropriate running goals. The device will give you a personalized power target for each of your runs, which is designed to improve your endurance and speed over time.
Oakley Radar Pace Polarized Sunglasses
In collaboration with Intel, Oakley created the Radar Pace Polarized Sunglasses to be a personal fitness coach for those who want to maximize their physical output through crushing their previous marathon times. These running sunglasses provide voice-activated workout metrics and touch-panel control for an ergonomic running experience. The IPX-5 water-resistant shades have integrated sensors to track running stats, Prizm Road lenses for enhanced clarity, ear booms, and nose pads. Personalize your running sessions with these tech-savvy shades.
RunScribe Plus Foot Pod
The RunScribe Plus Foot Pod will calculate every piece of critical data as you run outdoors. There's no need to bring your smartphone, as the foot pod will record each stride and then use the web dashboard to analyze and compare via the RunScribe app after you're done for the day. Various metrics are recorded through the foot pod technology, including pronation, stride rate, flight ratio, cumulative shock, and more. RunScribe boasts over 250 coaches, gait labs, clinicians, and academic researches around the world trust this convenient device.
Garmin Forerunner 945
Garmin's Forerunner 945 GPS Smartwatch is one of the best timepieces you'll find for runners. You can keep your rhythm by syncing music from select streaming services and store up to 1,000 songs on the Forerunner 945 for phone-free listening. To keep track of your effort to run faster, the GPS running smartwatch will monitor critical statistics, such as altitude, training load focus, recovery time, aerobic and anaerobic training effects, and your VO2 max. If you enjoy trail running, the watch can provide you with full-color maps and 10 hours of life in GPS mode with the music pushing you to the finish line.
Marc Pro
Proper post-workout recovery is important for runners who hit the road a majority of the week to train for half or full marathons. The Marc Pro device is a muscle stimulator to assist you in making a speedy recovery so you'll feel refreshed and ready for the next run. The device will also give you a more complete recovery when compared to other methods, taking your active recuperation to another level.
15 Best Fitness Recovery Products
Now that you've chosen some running gadgets to help you analyze your run, it's time to consider post-workout gear. Check out our list of best fitness recovery products and decrease your potential for injuries.