Though purchasing and owning high-end camera equipment was once primarily reserved for professionals, the general popularity of photography has massively spiked over the last decade or two. Not only has this given way to a growing number of available video cameras, DSLRs, mirrorless models, drones, and other hardware, but it's also resulted in a huge variety of different bags and carry solutions engineered specifically for transporting and protecting photography gear and equipment — the latest and greatest of which we'll be zooming in on today in this guide to the best camera backpacks and bags for amateur and professional photographers.
The Best Camera Backpacks Rundown
Best Camera Sling

Moment Rugged Camera Sling 10L

Best Value Backpack

WANDRD PRVKE V2

Best Overall Backpack

Peak Design Everyday Backpack

Best Travel Backpack

Shimoda Explore V2 25L

Best Outdoor Backpack

Nomatic McKinnon Camera Pack 35L

Best Upgradable Backpack

f-stop AJNA DuraDiamond 37L Camera Backpack

Best USA-Made Backpack

Mission Workshop Integer
What Exactly Is A Camera Backpack?
As the name suggests, camera backpacks are a type of backpack that is designed from the ground up to meet the needs of modern photographers. Despite looking like normal backpacks from the outside, these backpacks usually feature a clamshell opening that lifts to reveal a modular main compartment that features a series of modular dividers that allow users to accommodate cameras, lenses, lighting gear, and a host of other hardware and accessories. Contemporary camera backpacks also often feature robust weatherproofing to protect the electronics within. Because they look like normal packs from the outside, camera backpacks also don't announce to the outside world that their user is carrying expensive camera gear.
What Aspects Should I Consider When Buying A Camera Bag?
From the outside, camera bags don't look all that different from regular backpack. In fact, some models are pretty much visually indistinguishable from their photography-focused counterparts. Under the surface, however, camera bags are incredibly unique, differing pretty substantially from your everyday work or school pack. So, while there are a handful of similarities between normal and camera backpacks, there are a handful of finer points that are unique to the latter — both of which we'll be touching on in this condensed guide to the main areas to consider when purchasing a camera backpack.
Design: Like regular office or everyday carry backpacks, camera backpacks come in all manner of different designs. On top of a bag's size and volume and style and appearance, it's crucial to factor-in a camera pack's closure and opening setup — with quite a few of our favorite models sporting full-length suitcase-style clamshell openings that provide unobstructed access to the bag's contents.
Primary Materials: Whether it's work bags, EDC packs, travel duffels, or tech slings, the overall quality and durability of any type of carry solution is largely owed to the material or materials used to craft its primary elements like its shell and bottom. And camera backpacks are no different in this regard, making primary construction one of the most crucial areas to consider when shopping for one. Camera backpacks are made from a wide array of materials, though some of the most common constructions on reputable premium models include high-denier poly or nylons, as well as proprietary materials like X-PAC sailcloth, CORDURA, or Dyneema. It's also worth looking into whether or not a bag's shell material has been further fortified via any type of weatherproofing treatment such as a polycarbonate or DWR finish.
Secondary Materials: Though not as important as its primary construction, a camera backpack's secondary materials should also be taken into account, as this element can also impact a bag's overall quality and user experience. This includes components such as a backpack's shoulder straps, back pad, grab handles, and liner material.
Hardware & Trim: Alongside primary and secondary materials, and the techniques used to piece those constructions together, another element that separates the more premium camera backpacks on the market from their cheaper counterparts is hardware and trim. Also playing a substantial role in a pack's overall user experience, hardware and trim elements to consider when shopping include the bag's buckles and fasteners, zipper tracks, zipper pulls, and any and all labels and logo patches.
Size: Like normal everyday carry packs, camera backpacks come in a wide array of different sizes, ranging from compact slings to flight-ready travel-sized models. We recommend considering the camera gear and other equipment and items that you plan on regularly carrying as this should help give you some sense of the volume that will be required to accommodate your typical loadout.
Weatherproofing: With normal packs weatherproofing is important, however, with camera-specific carry solutions, this aspect becomes even more pivotal, as poor weatherproofing can easily lead to camera equipment being damaged or destroyed should water find its way into the bag amidst a downpour. In addition to the bag's overall design, other areas that impact weatherproofing include a bag's primary construction, if that construction boasts any type of fortifying treatment, and the types of zippers and tracks being used. The construction technique used to piece the bag together will also impact the weatherproofing factor.
Camera-Specific Features: On top of modular main compartments, quite a few of today's best camera packs also boast features and amenities designed to accommodate the needs of photographers. This includes dedicated pockets for SD cards and other tiny accessories, as well as soft-lined compartments for lenses and lighting gear, and exterior mounting loops for attaching tripods. Some of the main compartments of camera backpacks also feature dividers and cubbies sized to accommodate specific camera types or lenses.
Modularity & Upgradability: The vast majority of camera backpacks are fairly modular in nature, allowing their user to custom-configure the interior of the pack to accommodate their specific equipment and accessories. This makes modularity another monumentally important aspect to consider when shopping. What's more, some bags also have the ability to be upgraded with a number of different optional add-ons or accessories .
Additional Tech Storage: All camera backpacks are designed to accommodate cameras and photography gear, though some also come outfitted with storage to house other tech items such as headphones or laptops — making this a crucial area to consider if you plan on regularly carrying a laptop, tablet, or other pieces of tech or devices.
Moment Rugged Camera Sling 10L
Pros
Fits iPad Pro models
Weighs less than 1.5lbs
Super rugged, weather-resistant construction
Cons
Limited storage space compared to other camera packs
Best Camera Sling: Moment has long made some of our favorite camera gear on the market, so it comes as no surprise that the outfit also produces one of the best camera bags on the market in the form of the Moment Rugged Camera Sling. Sold in 6-liter or 10-liter sizes and in black or OD green color options, the Rugged Camera Sling is a crossbody-style vessel that contains a padded interior that houses a set of modular dividers. Backed by a multi-year warranty, this model also features a waterproof NPX shell construction fitted with water-resistant YKK zippers. This sling can also fit iPad Pro models of up to 11".
Capacity: 10L (Or 6L)
Exterior Material: NPX
Laptop Sleeve: 11"
WANDRD PRVKE V2
Pros
Offers outstanding bang for your buck
Also great for commuting & travel
Capable of housing 16″ MacBook Pro
Rolltop offers expandable storage
Cons
Photography bundles sold as optional add-ons
Best Value Backpack: The WANDRD PRVKE v2 is a roll-top-style pack that resembles your average outdoor backpack, however, underneath the surface, the bag conceals a host of modular interior dividers that enable it to accommodate and protect your mirrorless or DSLR and accompanying gear. With the bag's modular inserts removed, the PRVKE v2 also makes for a terrific travel or commuter bag. And though it's absolutely brimming with genuinely useful features, it is worth noting that the Photography Bundle and Pro Photography Bundle cost an additional $80 and $120 respectively. Despite this, this second-gen bag still manages to offer some of the best bang for your buck of any camera bag currently on the market.
Capacity: 21L (Or 31L or 41L)
Exterior Material: Waterproof Tarpaulin & Robic 1,680D Ballistic Nylon
Laptop Sleeve: 16"
Peak Design Everyday Backpack
Pros
Award-winning EDC-specific photographers pack
Super clever & intuitive layout
Sustainably manufactured from eco-friendly materials
Super modular internal organizer system
Sold in 4 color options & in 20L or 30L sizes
Best Overall Backpack: Between its numerous awards and the fact that its design has been ripped off and emulated by a number of other brands, the Peak Design Everyday Backpack is an incredibly modular and well-built camera pack that's cut from a full weatherproof, 400-denier nylon canvas shel that's DWR-impregnated, double-PU coated, and derived from recycled content. Capable of also housing a 16" laptop, this immensely-popular pack also gets shoulder straps that pivot at axial points, vented quick-drying mesh back padding, the brand's brilliant FlexFold divider system, and MagLatch hardware that provides an additional 3 liters of storage space (for the 20-liter bag, or an extra 8L for the 30L model). The exterior of the bag also boasts four external cinching carrying straps that stow beneath a magnetic sleeve, plus a Cord Hook system.
Capacity: 20L (or 30L)
Exterior Material: DWR-Impregnated, Recycled 400D Nylon Canvas
Laptop Sleeve: 15″
Shimoda Explore V2 25L
Pros
Engineered specifically for travel
Houses stackable shockproof Core Unit modular camera insert system
Meets carry-on sizing requirnments
Backed by 5-year warranty
Features a slew of travel-specific features
Cons
Additional Core Unit modular inserts sold separately for added fee
Best Travel Backpack: Protected by a five-year warranty, the Shimoda Explore V2 25L is a rugged weatherproof camera bag that's been engineered from the ground up for travel applications. Compatible with both U.S. and international carry-on sizing requirements, the second-gen Explore 25L features Shimoda's shockproof Core Unit modular camera insert system which is not only able to accommodate and protect mirrorless, SLR, and DSLR cameras — including rigs with a vertical grip — but these core units can also be purchased separately and stacked within the bag. Other noteworthy travel-focused amenities include water bottle pockets that can also house tripods, lockable zippers, and a hidden passport pocket.
Capacity: 25L (Or 30L or 35L)
Exterior Material: 210D & 420D Carbonate Ether PU-Coated Nylon Ripstop
Laptop Sleeve: 13"
Nomatic McKinnon Camera Pack 35L
Pros
Made to house 2-4 day's worth of clothing & gear
Includes RFID-protected pocket
Fitted w/ dual-density EVA & PE foam padding
Features full suspension system
Is expandable from 35L to 42L
Cons
Integratabtle accessories cost extra
Best Outdoor Backpack: Made from a super rugged film-laminated TPU65-coated N900-denier square ripstop, the Nomatic McKinnon Camera Pack 35L is another highly-modular camera bag that can handle just about whatever you can throw at it. Sized to accommodate two-to-four day's worth of clothing and kit — plus one's camera gear — the McKinnon Camera Pack offers 35-liters of storage space that can be expanded out to 42 liters, plus the thing is capable of stashing away a 16" MacBook Pro. Equipped with / dual-density EVA & PE foam padding and an RFID-protected pocket, this camera bag is also compatible with a host of Nomatic's various camera accessories and add-ons like it s McKinnon Cube Pack and the McKinnon Tech Organizer — both of which are sold separately for an added fee, but can massively elevate this bag's camera-readiness.
Capacity: 35L (Expands To 42L)
Exterior Material: Film-Laminated TPU65-Coated N900D Square Ripstop
Laptop Sleeve: 15.5"
f-stop AJNA DuraDiamond 37L Camera Backpack
Pros
Made from f-stop's proprietary DuraDiamond material
Crafted around an aluminum frame
Can be fitted with numerous camera inserts & add-ons
Cons
Camera inserts cost extra
Best Upgradable Backpack: The f-stop AJNA DuraDiamond 37L Camera Backpack is an adventure-ready item that houses a modular internal setup that can be fitted with a host of available optional accessories and add-ons. Made from the brand's own proprietary DuraDiamond material, this entire pack is constructed around an aluminum chassis. It is worth pointing out that this backpack sells for just $350 by itself, however, for an extra $90, the company sells an Essentials Bundle that includes a pair of Gatekeeper straps, a large rain fly, and a Slope Medium modular camera cube insert. Also worth touching on is the fact that f-stop also stands behind this product with a generous 20-year warranty, guaranteeing years and years of use.
Capacity: 37L
Exterior Material: DuraDiamond
Laptop Sleeve: 16"
Mission Workshop Integer
Pros
Made in America in small batches
Also offered in X-Pac VX sailcloth version
Super modular & customizable interior
Compatible with 8 Mission Workshop add-ons & accessories
Cons
Expensive price
Would prefer to see FIDLOCK or Cobra buckle for main buckle considering price
Best USA-Made Backpack: Made in America in small batches, the Mission Workshop Integer is a thoroughly high-end take on a modern camera backpack that features the same top-shelf materials and craftsmanship that the San Francisco company is known for. Able to be configured for roll-top or flap closure use, the bag's main cavity boasts a modular camera gear housing with an internal divider system that can be separated from the bag's top compartment — as well as accessed from one of three different areas. And, while it admittedly already carries a fairly exorbitant MSRP, the Mission Workshop Integer is also produced in an even more rugged and high-end X-Pac VX sailcloth construction for an additional $70. There are also over half-a-dozen available accessories and add-ons that are compatible with the Integer.
Capacity: 24L
Exterior Material: HT500 Nylon (Or MultiCam CORDURA Or X-Pac VX)
Laptop Sleeve: 13"
The Absolute Best EDC Backpacks on the Market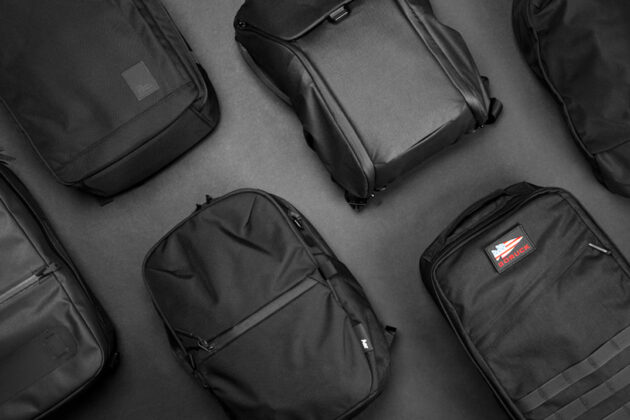 Not handling enough camera gear to justify purchasing a camera bag? Then be sure to head over to our guide to the best everyday carry backpacks for a curated selection of the latest and greatest EDC packs and carry solutions that money can currently buy.