Although coffee's been around since the 1400s, the Italian espresso didn't start popping up until the 19th century as a quicker — or express (yes, the etymology of the word points to both the words "express" and "pressed") — way to brew the beverage by using pressure (~0.75atm) rather than a percolator or drip system. The technology was patented in 1884 by inventor Angelo Moriondo, but the term wasn't coined until Luigi Bezzerra and Desiderio Pavoni first commercialized the machine a couple of decades later, thus giving birth to modern Italian coffee culture. The innovations were taken further with Francesco Illy's first-ever steamless espresso machine, which was improved upon when Achille Gaggia utilized upwards of 9atm of pressure, producing a more concentrated flavor and a crema on top that have now both come to define the drink.
Today, many homes contain an espresso machine in one form or other thanks to the boom that took place in the 1980s and '90s that led to brands like Nespresso commercializing a more streamlined and convenient way to make quality cups without much, or any, grinding or tamping. Nonetheless, espresso is still seen as a luxury compared to standard coffee due to its strength, richness, and complexity. No matter which kind of espresso machine you buy, you will end up saving a ton of money when looking at how much you shell out over time at a cafe or coffee shop. To get started, take a look at our guide to the best espresso machines to make cafe-style beverages in your own kitchen.
Best Espresso Machines Breakdown
Best for Travel

Wacaco Picopresso

Best Pod Machine

Nespresso Vertuo Plus

Best Budget Espresso Machine

Gaggia Classic Pro

Best Smart Espresso Machine

Café Affetto Automatic Espresso Machine

Best Semi-Automatic

Rancilio Silvia M

Best Manual Machine

DeLonghi La Specialista Maestro

Best Automatic

Breville the Oracle Touch

Best Barista-Quality Machine

La Marzocco Linea Micra
Types Of Espresso Machines
Each type of espresso maker has its pros and cons. For the avid drinker, a pricier machine will still save you money in the long run, while the casual consumer will still benefit from machines on the lower end, especially if they're happy enough with a less-curated, yet still delicious, flavor. Here are the different types of machines and their essential differences:
Hand Presses: From travel devices that use PSI pressure to plunge or squeeze out your brew to the newer, larger devices that feature electrical add-ons, the most bare-bones coffee makers require little to no electricity at all (although you will need a way to get hot water). Between grinding, measuring, tamping, and heating, presses take some extra time to get to the end product, but drinkers benefit from a more personal experience and tailored result without having to pay as much. And then, of course, there's the manual labor required to squeeze out the coffee. Some modern machines have pressure gauges to help you out, otherwise, you'll have to go through a lot of trial and error to get it right.
Pod Machines: Making good espresso is not easy or quick. This is why many people opt for pod machines, which only require you to pop a singular coffee grounds-filled pod into a device that uses a reservoir of water to pour out a "perfect" cup. Invented and patented by Nestle, pod machines have their benefits. For one, if you like the flavor, there's much more consistency in each pour. Likewise, the time it takes to make your brew can be as little as 60 seconds, which is great for those who just want some quick caffeine — after all, speed is one of the reasons why espresso was invented to begin with.
On the other hand, while pod machines provide you with convenience, that convenience may come with a price. When broken down and compared, the cost of the pods will be more expensive than getting larger quantities of coffee from other brands. For more advanced palates, it might not matter, since they may find the profile that comes from pod machine brew as lacking complexity. Also, from an objective standpoint, the pods themselves can create more waste for the environment and require extra work to properly recycle them.
Automatic: While previously disdained by many espresso purists, automatic machines have come a long way in recent years. Known for their ultimate convenience, they're able to grind and brew coffee with the push of a button, and also steam milk if you wish. Automatic coffee makers are not dissimilar to pod machines, although they utilize fresh coffee grounds from beans and can steam milk, and are often more expensive because of it. Where semi-automatic machines require you to dump out the basket after each use, automatics have a dreg that you only have to dump out occasionally.
Semi-Automatic: Semi-automatic machines are the most common espresso machines on the market due to their ability to balance convenience, speed, and price. Most of them feature a single boiler and a thermoblock, which can be downsides for some drinkers but shouldn't be an issue for those who are only making coffee for themselves or typically drink their espresso black. Certain machines have a built-in grinder, which is a plus.
Manual: While automatic and semi-automatic machines have a speed and convenience factor, manual coffee machines are a more intimate experience, allowing you to curate every aspect of the flavor for those who actually want to make espresso. The machines are largely home versions from cafe-specialized brands, but for the expert barista among you who have a passion for crafting quality brews, these are the ultimate grail items, thus the steeper price tags.
DOES ESPRESSO HAVE MORE CAFFEINE THAN COFFEE?
Ounce for ounce, yes, espresso has more caffeine on average. According to the Department of Agriculture, 1oz of espresso has about 63mg of caffeine, being that espresso is essentially a more concentrated form of black coffee. In contrast, coffee has about 12 to 16mg of caffeine per ounce. However, when consuming 8 to 12oz of coffee, you will be taking in anywhere between 96 to 192mg of caffeine per serving.
Wacaco Picopresso
Pros
Weighs less than a pound
Espresso tastes great
Comes with protective travel case
Easy to use
Cons
No built-in grinder; you may need to grind before you leave home
Best for Travel: If you're a true espresso aficionado, you won't want to give up your favorite beverage just because you're miles away from home or the nearest cafe. Built from stainless steel and weighing less than a pound, Wacaco's Picopresso is a great pick-up whether it's your secondary travel brewer or your primary choice at home. Seeing the process from beans (with a hand-grinder add-on) to brew, this hand-held device doesn't compromise flavor just to save you some time and space, and it's made for those with espresso-making expertise. As long as you have some hot water on hand, you can make your espresso wherever you are and it can still taste amazing, with help from the naked 52mm stainless steel portafilter basket. Whether you're going across the country or to the office, you can stow your Picopresso into the accompanying protective case.
Type: Hand press
Portafilter Size: 52mm
Nespresso Vertuo Plus
Pros
Fantastic flavor options
Good price
Makes coffee quickly
Streamlined operation is super easy
Cons
Proprietary pods can get pricey
Best Pod Machine: Nespresso machines don't just save you a lot of countertop space, but they provide flavorful and consistent cups of espresso. The Original Nespresso line was very popular in its own right, but in 2014, the company made a fancier, almost magical, updated version. Available in several sizes and upwards of 40 different blends, the new proprietary Vertuo pods each bear a barcode on the underside which the machine reads to determine how much water to infuse. It then spins the pod at around 7,000rpm while mixing the grounds and pressing the water through. The espresso shots that emerge from the machine have a smooth crema on top, while the larger 8oz cups also sport a thick layer of foam, making the experience and profiles offered by the VertuoPlus unique, to say the least. The only downside is the cost of the capsules themselves, which you can only get via Nespresso.
Type: Pod machine
Portafilter Size: No portafilter
Gaggia Classic Pro
Pros
Easy to use
Features a steam wand
Really sturdy build
Cons
Not a ton of extra features
Doesn't look as good as some others
Best Budget Espresso Machine: A good cafe-quality espresso machine can cost you a lot of money, but it doesn't have to. From the brand launched by one of the most important figures in the development of espresso, Gaggia's Classic Pro is one of the best semi-automatic machines you can buy, and for a fraction of the cost of units that don't perform quite as well. Expanding and improving on the brand's flagship Classic, which debuted in 1991 and was considered a go-to entry-level machine, the Classic Pro was introduced in 2019 to make changes to the control panel and added a new steam wand for steaming milk. Of course, the stainless steel machine brought back the rapid heating boiler, three-way solenoid valve, and 58mm commercial chrome-plated brass portafilter to help you get cafe-quality espresso in your own kitchen. It may not look as fancy as some of these other options, but what matters most is the flavor of your espresso.
Type: Semi-automatic
Portafilter Size: 58mm
Flair 58
Pros
Makes excellent coffee
Really sturdy construction
Looks great on countertop
Cons
Takes up a lot of space
Pricey
Not for those with wrist or forearm issues
Best Hand Press: Flair is the industry-defining brand for hand press lever espresso makers, largely because of its top-of-the-line unit: Flair 58. The "58" in the name refers to the 58mm portafilter size, which is now standard across the board and thus allows this lever machine to have more versatility when utilizing third-party baskets and tampers. For those who want an old-school, unequivocally espresso experience when making their brew, the Flair 58 is the way to go, since you literally do every step yourself, including pressing the water through the grounds. To help you tailor your plunge and lessen the trial-and-error just a bit, there's a gauge attached to show you how much pressure you're applying. What's more, the brand is constantly updating its models, including recent additions such as a single slot-enhanced valve plunger, a shot mirror-ready post, an angled elbow connector to minimize wiring, and a detachable preheat controller so you can use this wherever you want.
Type: Hand press
Portafilter Size: 58mm
Café Affetto Automatic Espresso Machine
Pros
Makes several types of coffee
Can be operated from your phone remotely
Quick brewing
Built-in burr grinder
Looks great
Cons
Milk frother isn't super reliable
Loud for an automatic machine
Best Smart Espresso Machine: The upside of making coffee in this modern technological age is the superb performance and convenience you benefit from it. You no longer have to sacrifice much taste with automatic machines, and Café Affetto's Automatic Espresso Machine is a case in point. By pushing a single button, this contraption will make either espresso, Americano, ristretto, hot water, or a pre-curated "My Cup" selection based on the accompanying app in just 90 seconds. You can control the machine and customize your pour remotely on your smartphone. The built-in burr grinder lets you select from five coarseness options and the milk frother gives you the option to make cappuccino and lattes as well. Aside from the convenience, the flavor profile of the beverage is superb, thanks to a gradual increase in coffee extraction up to 20 bar. Not to mention, the Café Affetto is one of the best-looking machines you can find, automatic or otherwise.
Type: Automatic
Portafilter Size: No portafilter
Rancilio Silvia M
Pros
Compact yet hefty
Removable water tank makes it easy to clean
Straightforward operation
Fair pricing
Cons
Takes some practice for beginners to make good espresso
No pressure gauge
Best Semi-Automatic: Judging by its size alone, you'd never guess the Rancilio Silvia M is well under $1,000. Debuting in 1997, the Silvia units were initially used as gifts for distributors at trade shows but were so popular that the Italian company started selling them for home use. Fairly bare-bones with only a single boiler, this user-friendly semi-automatic machine will give you the feel of a commercial unit, but at a fraction of the cost. At 11″ x 9.5″ and weighing 34lbs, the small counter footprint against its stainless steel heft keeps it in place when removing the basket and water tank. Performance-wise, it features a three-way solenoid, which gets rid of excess pressure, prevents portafilter sneezing, and lets you backflush it much easier. It also comes with a professional-grade wood-handled tamper, a single-shot basket, a double-shot basket, and a double-spout portafilter.
Type: Semi-automatic
Portafilter Size: 58mm
DeLonghi La Specialista Maestro
Pros
Best of both worlds: manual and automatic
Smart grinder and tamper removes guesswork
Built-in steam wand
Has preset options
Cons
Not as manual as some others
Small portafilter
Best Manual Machine: As we start heading into the pricier options, we'll explore barista-level machines, such as De'Longhi's La Specialista Maestro, which is very much made for the home market, albeit for coffee lovers who want a range of options not necessarily found on their automatic machines. Where automatics don't often give the user much room to explore, the La Specialista Maestro does indeed, with eight settings on the built-in proprietary grinder that uses sensors to fixate the dosage, which removes some of the trial and error out of the process. There's also the brand's Smart Tamping System, which does a bit of the same. Other features include a pressure gauge, using up to 19 bars of pressure, a LatteCrema System, and a steam wand option for milk (an auto frother is also available). A numbered dial goes up to 30 so you can select the dosage of the coffee being brewed and another dial lets you choose from six different beverage types if you want to make it easier on yourself from time to time. While technically a manual machine, this unit utilizes certain tech from automatics to help you achieve your optimal brew.
Type: Manual
Portafilter Size: 51mm
Breville the Oracle Touch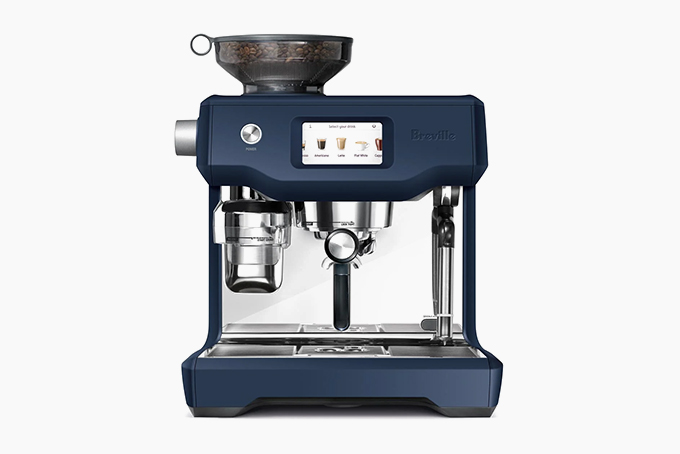 Pros
Very customizable for an automatic machine
Tons of coffee options via touchscreen
You can save 8 coffee profiles
You can adjust different elements of brew
Cons
Expensive
Long warmup time
Best Automatic: Breville is the unofficial king of home espresso machines in terms of consistency and range, and at a fair price point. Still, the Oracle Touch is also one of the more unique machines on the market as a whole. Finding a middle ground between automatic and semi-automatic — if that's even possible — the Oracle Touch lets you select options on a touchscreen while it then grinds, doses, and tamps the coffee. However, the user removes the prepped portafilter and sends it to the boiler where you select from a new set of choices on the touchscreen when it comes to the brewing itself, including espresso, latte, cappuccino, and just regular black coffee. You can also create profiles for up to 8 distinct coffee "orders," tailoring everything from coffee strength, milk texture, and even temperature. The end result is perhaps the most perfect embodiment of how far automatic machines have come in recent years.
Type: Automatic
Portafilter Size: 58mm
La Marzocco Linea Micra
Pros
Amazing tasting espresso
Small countertop footprint
Beautiful
2L water reservoir
Certain elements can be adjusted via phone
Cons
Expensive
Not for beginners
Best Barista-Quality Machine: Inventing the first dual boiler espresso machine in 1970 with the original GS (eventually used by Howard Schultz in Starbucks' nascent days), La Marzocco has become a favorite among professional baristas and hardcore home enthusiasts alike for its temperature stability and boiler capacity. With simplicity and a small footprint in mind, the Linea Micra builds on the company's legacy and offers the same excellence you've experienced in cafes all over the world, but in a unit that's made for your own home kitchen. Taking up just 12" x 12" on your countertop, the Linea Micra sports a 2L water reservoir, dual boilers, PID control, and café-grade temperature stability. The LED-lit machine also comes with an insulated steam wand and the company's new convertible portafilter, allowing you to swap between single-spout, double-spout, and bottomless. If that's not enough, you can also do things such as adjust the temperature and set up the machine's schedule via your smartphone. La Marzocco units also benefit from superb customization options on its website.
Type: Semi-automatic
Portafilter Size: 58mm
The Best Coffee Grinders to Buy
For quality espresso at home, you'll need to go from beans to grounds. Check out our guide to the best coffee grinders to maximize your brewing potential.