Traveling for endless miles all around the globe allows you to learn about yourself, communicate with people from all walks of life, and feast on the wonderful views nature provides. That's why bringing the right gear is crucial to enjoying any trip. Although many people don't pay attention to them unless they're uncomfortable, break apart, or soaked, the most important piece of gear is your shoes. Travel shoes are oddly underrated, in that they carry you around and support every bone and joint in your body all day.
The right travel shoes depend on where you're going and what you're doing when you get there, so we've compiled a list of footwear able to handle various activities and terrain. Yes, you can grab a pair of sturdy, light running shoes, but you will run the risk of looking horrible and painting a target on your back for thieves. For the most part, running shoes are for running or grabbing groceries after your workout. We love traveling and we know a pair of shoes can make or break the trip, so it's important to bring the right pair or two. While compiling this list of travel shoes, we focused on overall comfort, packability, protection against the elements, and style.
Superga 2750 Cotu Classic Sneakers
Clean enough to go with almost any outfit you have, yet sturdy enough to protect your feet on long walks, Superga's Cotu Classic Sneakers are fantastic go-to footwear. With a resilient cotton canvas upper, lace-up closure with metal eyelets, soft textile lining for an abrasion-free fit, and Superga's round-toe silhouette, these shoes are meant for all-day wear. For excellent traction, the outsoles are made with natural, crepe-textured rubber. Choose one of several vacation-friendly colorways, including vintage blue and full black.
Xero Hana Casual Canvas Comfort Shoes
Xero has made many excellent sandals, but their talent extends to creating shoes too. Their Hana Casual Comfort Shoes provide the comfort of their best-selling sandals while having a sophisticated closed-toe style. Built using Xero's 'FeelTrue' rubber sole sandal base, these shoes can handle it all. They have a natural, wide toe fit, allowing your feet to relax, and they're super lightweight so you have more freedom to move. Made with vegan-friendly materials, these shoes can be washed easily with soap and water, making them perfect for travel, especially if things get muddy. Last, but not least, the Hanas have a flexible heel, so you can step into the shoes like slides without worrying about destroying them.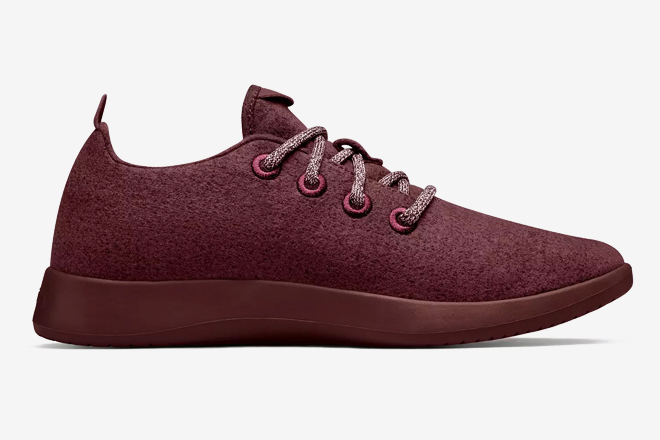 Allbirds Wool Runners
Whether you're going for a hike or hitting the bar to enjoy the town's nightlife, Allbirds are all you need. Made with a superfine coat of New Zealand Merino wool, which is turned into Allbird's own textile, these shoes feel like clouds on your feet. These temperature-regulating, moisture-wicking, water-resistant kicks have 100% recycled laces with a design inspired by nautical rope. Their padded insoles are made with castor bean oil, which cuts down carbon output compared to petroleum-based foam. Topping things off, Allbird's Wool Runners use a proprietary, low-density foam sole with a special S-curve tread to mirror the flexibility of your feet for ideal weight distribution.
Altama Maritime Assault Boots
For those heading to locations with an aggressive terrain, Altama's Maritime Assault Boots were originally made for Navy SEALs, making them ideal for tactical water operations. They have a fin-friendly fit, allowing them to fit almost any dive fin used by militaries around the world. Built with high-abrasion, quick-drying 1000-denier Cordura quarter panels, these boots can withstand constant heavy-duty use. The air mesh linings wick away water, sweat, and any other type of liquid. They're also sporting non-metallic drain ports, rust-proof lace hardware, antimicrobial 'Ultra PU' insoles, and heel pull tabs.
Sperry Authentic Original Boat Shoes
These shoes are classics and should be a part of any man's collection of footwear. Hand-sewn with premium materials, consisting of full-grain, unlined leather to deflect the damaging effects of salt and freshwater, and rust-proof eyelets, these boat shoes will serve you well. The moccasin construction molds to your feet and the '360° Lacing System' works to provide a personalized fit. And, the shock-absorbing heel cup and 'Ortholite' insoles, along with the razor-cut 'Wave-Siping' for ultimate traction, will allow you to walk with confidence during every step of your adventure.
Altra Vali Shoes
Whether you're going for a stroll on some exotic island or keeping up with your workout routine on foreign ground, Altra's Vali Shoes will protect you while you're in motion. Constructed with 'Bloom' foam insoles made from algae biomass and a single-piece knit mesh upper for incredible breathability, these shoes are as comfy as they get. The 'FootShape' toe boxes are spacious, giving you a more natural stride while the premium Ethylene-Vinyl Acetate (EVA) midsoles give you a cushiony feel you'll be thankful for after a long day on your feet. Lastly, they're finished off with full rubber outsoles for amazing traction.
Luna Oso 2.0 Sandals
Feeling the breeze between your toes is as comfy as footwear gets, which is why slides and sandals are a good idea, but only if you bring the right pair. Luna's Oso 2.0 Sandals are aggressive with their non-marking 'Vibram Megagrip' outsole coupled with a 'Vibram' midsole for excellent comfort. Check the bottoms of the sandals and you'll find Monkey Grip Technology (MGT), ensuring stability no matter what terrain you decide to trample on. In addition, there's a texture toe area for extra support toeing off, 4.55 mm lugs, beveling for self-cleaning, liquid pushers, and side hole lace protection.
Palladium Pampa Solid Ranger BR
Whether you're trekking through the urban or exotic landscape, Palladium's boots will keep your soles safe while adding swagger to your step. With an upper made from coated twill cotton, nylon used on the vamp and quarters, and rubber heels, these boots are made for more than just walking. They also have padded collars and tongues, rubber toe caps for extra protection, a breathable mesh lining, and die-cut EVA sock-liners and heel cups. For a snug fit, they have a lace-up closure. Finally, the Rangers have a removable bag made with coated twill, which is big enough to hold a driver's license, credit cards, money, and other compact gear. These military-inspired boots are ready for any mission.
Lems Boulder Boots
Comfort is everything when you're traveling, and that's Lems' main focus with their Boulder Boots. These boots are shaped for a natural fit, making them more than capable to handle any situation. Constructed using 1200-denier nylon and nubuck leather, these water-resistant boots will help you trek through the jungle on some otherworldly adventures. They also have Injection Blown Rubber (IBR) outsoles for insane flexibility so you can fold them down and stuff them into your duffle bag, saving tons of space. Speaking of space, these boots have a wide toe-box design, giving your feet the comfort and freedom they need while you're discovering the world.
Nike ACG Air Revaderchi
Nike has designed a variety of shoes for just about every activity out there and their ACG (All Conditions Gear) Air Revaderchi shoes happen to be the perfect pair for wanderlust. Featuring a combination upper and comfy, lightweight cushioning for day-long support, these shoes are tough to beat. They're made with a leather, synthetic, and textile construction for a superior, relaxing feel on your feet. Also, the foam midsole with encapsulated Nike Air provides lightweight cushioning while the rubber tread gives you dependable traction. Once you put these shoes on, you'll never think about leaving the country without them.
Scarpa Mojito GTX Shoes
These Scarpa shoes will leave your feet as refreshed as the cocktail they share their name with. The Mojito GTX is built with Gore-Tex lining and 'Spyder Trek' soles, making them waterproof and comfortable every day of the year. And, each shoe has a suede water-resistant upper for further reliability. The shock-absorbing EVA wedges at the heels provide extra support and the 'Vibram' outsoles have a sturdy construction with braking zones across the center for efficient grip when the terrain is loose. These shoes come in a variety of colors, including Atlantic Blue, Shark, and Agave Green. They're perfect for casual Sundays, various workouts, the city life, and traveling.
Vivobarefoot Gobi II
For a more formal look, Vivobafefoot has the elegant Gobi II shoes. Although they're more dashing, they are as durable as any other Vivobarefoot shoes. Tested in various locations, including the Sahara Desert and the jungles of Borneo, the Gobi II shoes never failed. These shoes are made with naturally scarred wild hide leather, removable anti-bacterial cork insoles, leather footbeds that mold to your feet, and thin TPU soles for stupendous durability. For a slick stylish look, the Gobi IIs are made with 2.2mm thick leather suede and African leather tanned by 'Pittards.'
Vivobarefoot Primus Trail Swimrun Shoes
Designed for ambitious travelers, Vivobarefoot's Primus Trail Swimrun Shoes can handle anything on land and sea. Equipped with breathable mesh to keep your feet cool, quick drain zones, water-resistant material, tough ground soles, and mount lace toggles, these shoes are ready for any obstacles you may encounter. They have a running shoe vibe, making them more suitable for hiking and backpacking adventures, but you can still rock them when you go day-drinking after a trek. Built with patented 'Pro 5' material, these shoes are five times more puncture resistant than standard soles with the same thickness.
GoRuck MACV-1 Jungle Rucking Boots
Created by ex-Special Forces soldier Jason McCarthy, the MACV-1 Jungle Rucking Boots are the toughest pair you'll find on the market. Built to survive a war zone, you'll be able to count on them to get you through any adventure you find yourself in. These full-grain leather boots are ready to go once you take them out of the box, as they don't need to be broken in. They're built with Special Forces-grade materials and triple stitched at all the stress points, allowing you to trample through any environment while staying comfortable.
Danner Vertigo 917 GTX Suede Boots
When it comes to premium hiking boots, Danner knows a thing or two about making a reliable pair. Their Vertigo 917 GTX Suede Boots are made with 'Vibram' midsoles and outsoles, full-grain leather, and waterproof Gore-Tex liners, making them efficient for exploring urban jungles across the globe. These boots also have removable Ortholite footbeds for maximum cushioning and prime support, as well as better heat dissipation and air circulation. And, they have exclusive Danner outsoles featuring an 'XS Trek' rubber compound for ideal balance, traction, and robustness.
20 Natural Wonders To See Before You Die
Now that you've settled on a reliable pair of travel shoes, it's time to choose a destination. We've compiled a list of the 20 best natural wonders to see before you die for adventure junkies.