Derived from turn-of-the-century telephone receivers, the invention of what we know today as headphones has come an enormous way since the first model was patented in the US in 1910. Since that time, drivers and components have shrunk in size and grown in quality and clarity, and the advent of Bluetooth connectivity has allowed for an increasingly untethered product space. Fast-forward to today, 110 years after the first model was released — which was consequently purchased by the US Navy — and this segment has culminated in the ultra-compact and high-tech, noise-canceling wireless earbuds.
There's nothing quite like throwing on a pair of headphones, tuning out the world, and enjoying your own personal soundtrack, however, wireless earbuds bestowed with active noise cancelation take this experience to the next level, offering total autonomy and freedom of movement, and affording you an auditory respite, regardless as to what sounds are occurring in the background of wherever you happen to find yourself. And while there's no shortage of admittedly solid offerings on the market, there are an elite few pairs that rise above the rest, so to help shine a light on these products, we've engineered this list to the best noise-canceling wireless earbuds.
The Best Noise-Cancelling Earbuds
Best Starter Earbuds

Beats Studio Buds

Best Apple Earbuds

Apple AirPods Pro

Best Earbuds for Calls

Technics EAH-AZ60M2-K

Best Comfortable Earbuds

SENNHEISER Momentum True Wireless 3

Best Earbuds Overall

Sony WF-1000XM5

Best Sounding Earbuds

Bowers & Wilkins PI7 S2
What to look for
With every item on this list being of the noise-canceling, wireless earbud variety, it might look like there isn't all that much distinguishing the different available models beyond their outward appearance, and battery life. Scratch beneath the surface, however, and you'll find that today's best models sometimes hugely vary in features and overall user experience. So, in order to help give a clear understanding of what should be considered, we've written out this guide on the factors to keep in mind before pulling the trigger on your purchase.
Earphone Type: When we hear "noise-canceling wireless earbuds," true wireless items are typically what come to mind; however, the reality is there are several styles of Bluetooth-enabled ANC-equipped earbud models. There are short-loop pairs, where wireless earbuds are tethered together, as well as a similar necklace-style of wireless earbuds. These both afford the same freedom of movement as their true wireless counterparts but are often more durable, boast easier-to-use physical control buttons, and are usually slightly less expensive.
Sound Quality: While we tend to focus on the advancements made in bells and whistles like ANC and Bluetooth connectivity, equally tremendous strides have been made in the realm of audio quality. As quite possibly the biggest determining factor in a headphone's overall quality, you should pay a lot of attention to this area — namely the driver and component types, transmission hardware, frequency range, and decibel output. Going with a brand with a proven history of great-sounding products is also a fairly surefire means of ensuring you wind up with a pair with fantastic sound.
Battery Life: One obvious downside to all wirelessly connected Bluetooth headphones compared to traditional cabled items is that they require a charge to operate. Luckily, advancements in Lithium-ion tech have allowed for increasingly potent power banks that can now provide up to several days of playback time on a single charge. True wireless headphones offer even greater battery endurance, with the ability to draw extra juice from the wireless charging case itself. When investigating a particular model's battery, it's also important to note the set of earbud's music playback time, versus talk time or standby hours.
Durability & Waterproofing: It's a lot easier to justify dropping a few bills on a high-end set of earbuds if you can be confident that they'll provide years of use, and one way you can help to ensure this is to opt for a more rugged model. An earbud's durability typically comes from its construction and materials, though water and sweat-resistance is also a major factor in an earbud's overall longevity. IP (or "Ingress Protection") ratings are denoted on the vast majority of earbud models and give a clear understanding of how well a given model stands up to the elements.
Raw Materials & Construction: Gone are the days of plastic's ubiquitous use in the wireless earbuds sector. Today's market encompasses a wide range of different materials used in the housings of earbuds, from machined aluminum alloy items to advanced composites to carbon fiber. These type of constructions not only look markedly cooler, but also make for substantially stronger earbuds, and can often afford additional qualities that can benefit an earbud's acoustics.
Fitment: Most of today's wireless earbuds are what we'd call "in-ear" headphones, and while these typically offer a fit that's plenty sufficient for general daily use, it's not always adequate for standing up to the physical rigors of working out or running. Knowing this, several companies have designed alternatives to the traditional in-ear design that are made specifically for exercise duties with items that hook around the back of the ear or provide additional support via a wing running along the crura of the ear's antihelix (the top of the inside of the ear). And, because people come in all shapes and sizes, manufacturers almost always sell their earbuds with a variety of different-sized ear-tips and wings, to allow for a more precise fit.
A.N.C. Technology: Unlike passive noise canceling, which uses the earbuds themselves to create a physical barrier to block out sound, active noise cancelation, on the other hand, relies on microphones to constantly scan the environment for low-frequency ambient noise. When detected, the technology emits a sound that's phase-inverted by 180 degrees (think of it as the "opposite" sound, if you will) that neutralizes and destroys this external noise to the listener. While all ANC tech works in the same basic way, different companies employ their different versions of this cutting-edge feature, all with varying degrees of efficiency. Spec sheets will usually cite to what dB a particular ANC is effective up to.
Additional Features: If you're the type of person who's constantly losing your keys, memory cards, jewelry, or other small day-to-day items, investing in a high-end set of small, seemingly easy-to-misplace wireless earbuds may seem like asking for trouble. Fortunately, today's market includes more than a few models equipped with built-in GPS tracking devices, for easy recovery should you lose an earbud or two. And this is just one of the slew of supplementary amenities that can be found on modern wireless earbuds, other includes AI-driven personally custom-tuned audio, smartphone apps with adjustable equalizers, integrated noise-canceling microphones, and even wireless charging cases that can double as a portable Bluetooth speaker.
Industrial Design: Now that noise-canceling wireless headphones and true wireless headphones have been around for a few years, we're starting to see more and more novel takes on the outward appearance of the wireless charging cases and the earbuds themselves. So long as it isn't the primary guiding factor in your purchase, there's nothing wrong with letting your aesthetic tastes play a role in your ultimate decision.
Is it worth getting noise-cancelling earbuds?
Much like their over-ear counterparts, noise-cancelling earbuds come at a premium compared to those without the tech. And if you're not sure if they're worth buying, you should consider how often (and where) you wear headphones in the first place. For those who work out often (especially outside or in a noisy gym), noise-cancelling earbuds are extremely useful (and you won't be subjected to whatever the gym is playing). Conversely, if you're not wearing headphones that often to begin with, you may want to consider how the noise-cancellation could help you (running, sleeping, etc.) before pulling the trigger.
Beats Studio Buds
Pros
Great price for the quality
Comes in a variety of colors
Apple design and audio quality
Durable construction
Best Budget Earbuds: Kicking us off, we have the legendary Beats with its Studio Buds, which are very capable and high-quality, even with a reasonable price tag. You get a total of 24 hours of listening time, with 8 hours on the buds alone, and IPX4-rated water resistance for a comfortable workout. Because Beats is an Apple subsidiary, these buds are super convenient to use within Apple's ecosystem, and feature a similar design and build quality that we've come to expect from the Cupertino company (as it contains the Apple H1 chip). Call quality is great too, and three included ear tip sizes allow you to get a custom fit that will feel great all day.
Battery: ~8 hours
Case Battery: 24 hours
Resistances: IPX4
Features: App connectivity, touch controls, iOS connectivity
Apple AirPods Pro
Pros
Classic Apple design and craftsmanship
Immersive spatial audio that adapts to your ears/environment
Easy to use with Apple's ecosystem
Adaptive transparency mode
Best Apple Earbuds: The latest iteration of Apple's true wireless earbud model that's widely credited for kicking off the now immensely popular segment, the AirPods Pro maintains the Northern California technology powerhouse's knack for groundbreaking innovation. The second generation AirPods pro boasts a total of 30 hours of battery life (~6 without the case), infrared earbud removal detection and automatic playback pausing, IPX4 sweat and water-resistance rating, and as always, seamless integration into the rest of Apple's leading range of products. And, in addition to active noise cancelation, the Airpods Pro's ANC processor also uses external noise to actively tweak and optimize the earbuds' EQ.
Battery: ~6 hours
Case Battery: 30 hours
Resistances: IPX4
Features: MagSafe charging case, spatial audio, iOS connectivity, touch controls
Technics EAH-AZ60M2-K
Pros
Comes with 7 earpiece sizes for a custom and comfortable fit
8 high-sensitivity mics provide crisp call quality
Comfortable design for long wearing sessions
Can connect to 3 devices simultaneously
Alexa compatibility
Best Earbuds for Calls: While countless audio hardware and equipment operations have come and gone over the last century, Technics has managed to remain at the forefront of the industry, consistently delivering professional-grade audio and sound gear. Sold in silver, black, and blue color options, the brand's EAH-AZ60M2-K features an aluminum wireless charging case with engraved Technics branding and custom-engineered and tuned drivers and graphene-coated diaphragms. IPX4-rated, the EAH-AZ60M2-K offers a total of almost 24 hours of music playback time (~7 without the case), and should you run out of juice, the Qi compatibility means you can wirelessly charge them with ease. You're also getting seven earpiece sizes included when you grab them, so you can get a custom fit that's to your liking.
Battery: ~7 hours
Case Battery: 24 hours
Resistances: IPX4
Features: Touch controls, Alexa compatibility, multipoint connection
SENNHEISER Momentum True Wireless 3
Pros
Great sound personalization options
Compact design with multiple tips and fins for a custom fit
Good choice for running
Clear call quality
Cons
Switching between ANC modes requires using the app
Best Comfortable Earbuds: Another company enormously benefitting from decades of experience in the audio business — in this case, some seven-plus decades — Sennheiser frequently takes an above-and-beyond approach to its audio design and engineering, and the German brand's Momentum 3 true wireless earbuds are certainly no exception. Aiming to outdo the industry standard, the Momentum 3 packs a collective 28 hours of battery life, and sound quality and clarity that blows much of the competition out of the water. Boasting metal housing, a technical knit fabric-wrapped case, and an IPX4 rating, the Momentum 3 manages to capitalize on what would already be impressive active noise-cancellation by supplementing the ambient-sound-mitigating tech with specially crafted earbuds that were designed to maximize the model's passive noise canceling.
Battery: ~7 hours
Case Battery: 28 hours
Resistances: IPX4
Features: Built-in EQ settings, multipoint connection
Sony WF-1000XM5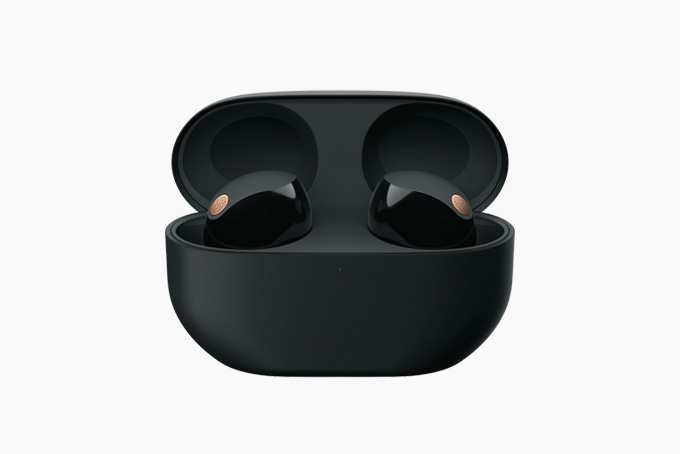 Pros
Lightweight yet powerful
AI-enhanced noise reduction
Made with recycled materials
Very high call and sound quality
Alexa compatibility
Cons
Passive noise cancellation could be improved
Best Earbuds Overall: Sony has been on a roll over the last five years, and it quickly became abundantly clear that the label's latest earbuds were well worth the wait. When using the wireless charging case, the WF-1000XM5 offers a collective 24 hours of music playback time (~8 without), though a 3-minute charge also yields another hour of battery life. Even better is the gadget's AI-based noise reduction algorithm and bone conduction sensor, which offers industry-leading noise-canceling performance and audio quality. The outside of the earbuds sport tap-and-swipe controls that include this model's "Quick Attention Mode," which deactivates ANC so conversation or other vital sounds can be heard. Built-in microphones also allow for hands-free calling and compatibility with smart assistants — which can also be summoned via the press of an external button.
Battery: ~8 hours
Case Battery: 24 hours
Resistances: IPX4
Features: Alexa compatibility, app connectivity, AI noise reduction
Bowers & Wilkins PI7 S2
Pros
Impressive high-quality sound
Improved batter life over the previous models
Super convenient for streaming music and podcasts through the B&W app
Cons
Battery life could still be a little better
Best Earbuds for Music: Bowers & Wilkins' latest and most high-end wireless earbud model, the Pi7 S2, is ultimately the result of the British brand setting out to deliver the world-famous and world-class high-fidelity sound afforded by its ultra-premium tower speakers, in a super-compact, highly-mobile package. And considering the physical size limitations, the outfit is working with, we'd say they more than succeeded in their mission, with an aptX codec sending a signal to custom-engineered and highly-developed 9.2mm dual hybrid drivers. The Pi7 S2 offers 16 hours of music playback time, plus for every fifteen minutes these B&W earbuds are plugged in, they gain an additional two hours of battery life. While battery life isn't quite where its competitors are, the sound quality makes up for it, and audiophiles will appreciate the crisp sound these buds provide.
Battery: ~5 hours
Case Battery: 16 hours
Resistances: IP54
Features: App connectivity, Qualcomm aptX
The Best Noise-Cancelling Headphones Right Now
Prefer the feeling of over-ear headphones? Our best noise-cancelling headphones guide has you covered.