While once primarily relegated to factory-backed, high-level rally competition, off-road-focused Porsche builds have experienced a major influx in popularity over the last half-decade alone. This has ultimately given way to a growing number of renowned race and customs shops that have begun offering safari-style conversion services and/or ruggedized bolt-on safari kits — primarily for the Stuttgart firm's iconic 911 range, though there have also been conversions and kits available built for other models like the 356 and 944.
Around the turn of the millennium, one could count the number of reputable customs shops that offered safari services for Porsches on one hand, though this has hugely changed in recent years, with a slew of outfits now offering off-road Porsche builds. And with the popularity of this unique segment now reaching a fever pitch, we figured it was the perfect time to shine a light on the best Porsche safari conversions and kits that you can buy. Alongside counting down our picks for the best outfits currently operating in this segment, we'll also be delving into what factors to consider when buying a safari-style Porsche, as well as the illustrious history and lineage of the off-road Porsche.
Monte Carlo To Dakar
A Brief History Of The Safari-Style Porsche
Two years after debuting the 901 at the Frankfurt Motor Show, Porsche made its rally competition debut in 1965 at the Monte Carlo Rally where drivers Herbert Linge and Peter Falk piloted a modified, factory-backed 911 to fifth place. Two years later in 1967, Vic "Quick Vic" Elford would achieve the firm's first-ever European Rally Championship — a feat that was also replicated the following year by Pauli Toivonen. From that point on, Porsche further developed its factory rally cars, slowly tweaking its road- and dirt-going 911s, though it wouldn't be until the late 1970s that the German marque would begin laying the groundwork for what would later become its most legendary rally cars of all time.
After nearly another decade of development, Porsche would unleash its 911 SC Safari upon the East African Safari Rally in 1978 where drivers Vic Preston Jr. and Björn Waldegård would secure finishes in second and third place, respectively. From there, Porsche carried out further research and development, which would ultimately give way to the 953 in 1984. Based on the 911 and also informally known as the "911 4×4", the 953 marked Porsche's first vehicle that was engineered from the ground up specifically for rally competition. With drivers René Metge and Dominique Lemoyne behind the wheel, the 300-hp 953 would win the 1984 Paris-Dakar Rally.
Despite the 953's success, Porsche would replace its Dakar racer the following year in 1985 when the company rolled out its successor with the even more capable 959. Featuring ultra-distinctive bodywork, an advanced four-wheel-drive system, and a twin-turbocharged 2.8-liter straight-six that was good for nearly 450hp and 370ft-lbs of torque, this Rothmans-liveried Group B-era monster would be piloted by Metge and Lemoyne to Porsche's second overall win at the infamous Dakar rally in 1986 — while the limited-edition road-going variant produced to satisfy homologation requirements would become the world's fastest street-legal production car at the time thanks to a top speed of 197mph.
While 1986 would mark Porsche's final Dakar victory, the 959 would nonetheless go on to set the stage for the safari-stye Porsches that we know today — and, along with the 953, would become the primary influence that today's builders draw from when crafting safari-style Porsches. This includes the modern takes on safari'd 911 concepts produced by Porsche itself, as well as the limited production 911 Safari that's expected to break cover within the next year.
Safari Shopping 101
What To Consider When Buying A Safari-Style Porsche
Safari-style Porsches are typically procured in one of two main ways: commissioning or purchasing a complete, one-off turnkey build, or buying a DIY-style bolt-on kit that can be installed yourself (or professionally by a shop). Unsurprisingly, bolt-on kits tend to be much more affordable and can be further upgraded or modified through the use of additional aftermarket parts. On the other hand, custom one-off builds usually cost substantially more than their bolt-on counterparts, but bespoke safari builds afford markedly more options on everything from bodywork to the car's running gear to the interior.
Like all custom builds, safari'd Porsches can massively vary in overall complexity, from projects comprised of a lift kit and/or basic cosmetic tweaks to full-on Dakar-grade rally raid racers — and everything in between. While a lift kit, auxiliary lights/light pods, roof racks, and crash protection (i.e. custom bumpers, skid plates, etc.) are all considered essential to any safari build, a great many of today's best safari-style Porsches take things several steps further, building out a competition-grade vehicle that's more akin to your average WRC racer than anything you'd find on the floor of your local Porsche dealership.
Complete turnkey safari builds also benefit from markedly more R&D, with carefully engineered frames and suspension setups that have been meticulously developed to work together as a whole — ensuring superior performance when off-roading. This includes elements such as upgraded torsion bars, off-road wheels shod in all-terrain tires, reinforced chassis, upgraded ball joints and bushings, sway bars, roll cages, coil-overs, strengthened gearboxes, upgraded braking hardware, and rally-spec suspension packages that afford substantially more ground clearance, a taller ride height, and markedly more suspension travel.
delta4x4 992 Kit
Representing the world's first body lift kit made specifically for Porsche's 992-gen all-wheel-drive 911 Carrera 4S, delta4x4's recently unveiled safari package is comprised of a lifted suspension setup that was developed in collaboration between the German off-road outfit, BILSTEIN, and Eibach. And, while the kit itself only consists of the aforementioned lifted suspension package, delta4x4 offers a host of other available upgrades — in the form of both custom and aftermarket parts — such as flared fenders, hood-mounted LED light pods, Delta4x4's own KlassikB modified Beadlock wheels, a Front Runner roof rack, and a one-off race livery. 
Elephant Racing Porsche Safari Kit
Based in Santa Clara, California, Elephant Racing is a state-of-the-art engineering and race shop that produces a wide range of meticulously-developed components and kits for safari-style Porsche 911s. Specializing in interactive and semi-active suspension control systems, advanced damper technology, and automotive suspension mechatronics, Elephant Racing produces a plethora of kits tailored to specific 911 years and model variants, starting with a roughly $10,000 Stage 1 Torsion Bar Kit, continuing through to a Stage 3 and 4 Coilover Kit, and topping out with ER's approximately $13.5K Coilover Urban Assault Safari kit. One factor that also makes Elephant Racing unique is the fact that it makes parts and kits for both off-road-focused builds, as well as high-performance daily drivers made specifically for rough streets of major cities. 
Emory Motorsports Porsche 356 C4S AWD
Emory Motorsports is unequivocally one of the most highly-regarded Porsche tuners on the planet, and while the Oregon-based automotive outfit typically deals in restomodded road-focused projects, the company does offer some fairly off-road-capable builds like its Porsche 356-based C4S AWD. Starting with the more modern chassis from an early '90s-era AWD 911 C4, Emory's C4S is draped in the bodywork from a 356C before being fitted with a dual Weber 48 IDA carb-fed Emory-Rothsport 2.4-liter "Outlaw-4" engine — a 200-hp mill based on the 3.6-liter dry-sump engine architecture used in Porsche's Type 964. Rounding out the build are a G64 5-speed AWD manual gearbox, a Tilton pedal assembly, an Outlaw shift knob, a MOMO Heritage steering wheel, and a custom 3D-printed roof rack.
The Keen Project
Working exclusively with 964-gen 911s, The Keen Project isn't your average customs shop. TKP's head honcho and founder, Leh Keen doesn't merely accept commissions for builds but instead does an extensive background check on his potential clients to ensure that they'll actually use, drive, and enjoy his world-class safari builds — rather than serving as a display piece or garage queen. Working hand-in-hand with the client, Keen bestows his kitted-out 964s with everything needed for off-road hooning, including multi-inch lift kits, crash bars, skid plates, roof racks, upgraded wheels, light pods and bars, and bespoke interiors. Best of all, Keen puts an enormous amount of effort into the engineering of each build to make sure everything works together as a cohesive unit, rather than a myriad of randomly-selected off-the-shelf aftermarket upgrades. 
Kelly-Moss Kit
In addition to offering an elite full-service race shop and an equally renowned driver's academy,  Madison, Wisconsin's Kelly-Moss Road and Race also represents one of the most influential and pioneering names in the world of safari-style Porsches. Harnessing its more than three decades of experience in high-level racing, Kelly-Moss's Custom Vehicle Program offers customers truly bespoke safari builds that see nearly every single inch of the car pored over and heavily revised while eschewing off-the-shelf parts. This ultimately leads to highly-unique builds that combine world-class performance capabilities with stunning interiors and race-ready bodywork. 
Marc Philipp Gemballa MARSIEN
Born out of a joint effort between RUF and Marc Philipp Gemballa — the son of renowned Porsche tuner Uwe Gemballa — the 'MARSIEN' (which is French for "martian") is an ultra-high-performance off-roader that's best described as a modern take on Porsche's Dakar-winning 959. This lifted AWD 911 Turbo S is powered by a RUF-tuned twin-turbo 3.7-liter flat-six that's good for up to 830hp and 685ft-lbs of torque. Affording a 205-mph top speed and a 2.6-second 0-60mph time, the engine also boasts an Akrapovic titanium exhaust and an eight-speed PDK gearbox. Other highlights include specially-designed forged aluminum center-locking wheels, an Alan Derosier-penned set of 959-inspired all-carbon fiber bodywork, and an ultra-advanced KW-developed proprietary suspension package with intelligent active damper control and an adjustable ride height that offers up to 9.8″ of ground clearance. Pricing for the MARSIEN starts at €495,000 (~$585,500), though very few units are being produced.
Learn More: Marc Philipp Gemballa
RUF Rodeo Concept Coupe
The RUF Rodeo Concept Coupe is another immensely-capable 911-based off-roader built by a legendary Porsche tuning outfit. Constructed around the same carbon fiber monocoque frame utilized by RUF's CTR Anniversary and SCR models, the RCC retains the tuner's ample performance prowess, albeit in a lifted and thoroughly ruggedized package. This impressive transformation features a custom suspension package that results in better ground clearance and substantially more travel, custom-designed bodywork, a RUF-designed four-wheel-drive system, and special five-arm wheels wrapped in all-terrain tires. In addition to a one-off two-tone livery and a fully-bespoke Western-themed cabin, this safari-style 911 also boasts mudflaps, an auxiliary light pod, and a custom bull bar that are all trimmed in genuine leather.
Russell Built Fabrication Safari Sportsman Kit
Russell Built Fabrication's Safari Sportsman Kit contains everything needed to turn a 964-gen 911 into a rally-grade off-roader. Benefitting from lessons learned when developing RBF's Baja Prototype, the Safari Sportsman Kit is powered by the customer's choice of either a fully-rebuilt 310-hp 3.6-liter engine, a 350-hp 3.8L mill, or a 400-hp 4.0L lump. Major performance upgrades come in the form of a reinforced, lifted suspension setup with KING SHOCKS coil-overs and billet tie rods, a custom rear subframe, lengthened 300M axles, a hydraulic hand-brake conversion, signature Fuchs-inspired BAJA off-road wheels, and a Turbo 911-style body kit protected by two front and rear skid plates and custom tube bumpers fore and aft. Completing this already impressive package are an available onboard air compressor, hood-mounted rally light pods in carbon fiber shells, Baja Designs bumper-mounted fog lights, a low-profile carbon roof rack, and a powder-coated and upholstered roll-cage. This kit is available now starting from $135,000, which includes installation, painting, and tuning — but not the 964 donor car.
Tuthill Porsche Safari Kits/Builds
Tuthill Porsche doesn't just build safari-style 911s, but rather hardcore, competition-grade vehicles built specifically to win races. An enormous slew of high-profile rally events have been won using Tuthill-built Porsches, including the Safari Classic Rally, the East African Safari Rally, the Monte Carlo Rally, Rally of the Inkas, and numerous British, Belgian, and European Historic Rally Championships. As if this were not enough, the shop's latest claim to fame was being selected by none other than Ken Block to build the YouTube-famous driver's 280-hp safari-style 1978 Porsche 911 SC for the latest running of the East African Classic Safari Rally — a feat that speaks volumes about the quality and pedigree of Tuthill Porsche's work. So, while they admittedly don't come cheap, if you're looking to commission a rally-winning safari build, then look no further.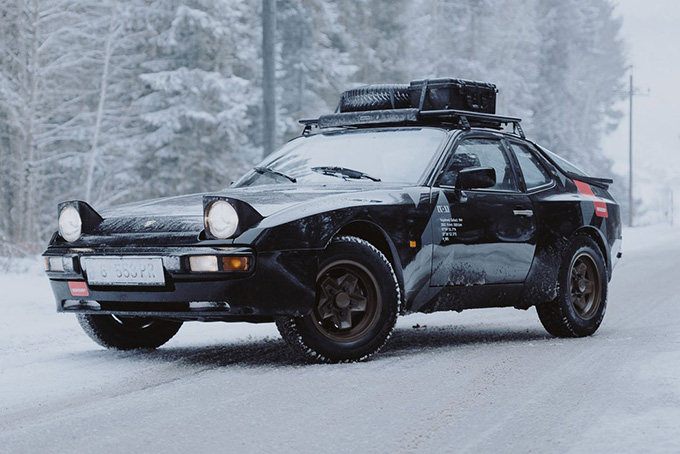 Vagabund Moto 924/944 Safari Kit
Created through a collaboration between world-renowned custom bike shop Vagabund Moto and Austrian Porsche parts producer NINE ELEVEN Outlaw, this transformative kit for the Porsche 944 (and 924) offers a more affordable path to safari-style Porsche ownership. Available now for only €13.990 (~ $14,800) — not including the '80s-era donor — this kit contains a new suspension package with a 1.57" lift, a revised rear axle and axle conversion, upgraded spring plates, new shock absorbers, a custom roof rack, rubber mud flaps, a MOMO steering wheel with a custom Vagabund horn button, a custom NINE ELEVEN Outlaw x Shark Motorsports short shifter, a rally light setup with either four HELLA Rallye 1000 units or Comet 500 lights, and the buyer's choice of either "telephone" or "cookie-cutter" wheels — including a full-size roof-mounted spare. The kit's finishing touch is a bespoke Vagabund safari graphics package set atop a blacked-out livery. The price of this kit also includes wheel alignment, installation, and all parts and labor. 
Honorable Mentions
Soon-To-Be-Available Safaris
Porsche 911 Vision Safari
Created in 2012 by Porsche, the 911 Vision Safari was a working prototype build that saw the latest 911 bestowed with lifted suspension, flared fenders, oversized custom bumpers, a custom roof rack with integrated low-profile multidirectional LED light bars, and a gutted rally-spec race cockpit with a full roll cage. And, while the 911 Vision Safari was only a one-of-one build, we are anticipating a production version of the factory-backed concept car to arrive within the next year or so. 
Singer All-Terrain Competition Study
Singer Vehicle Design is a name that needs no introduction in Porsche circles, with the California-based tuner being responsible for some of the most impressive "reimagined" 911s of all time. And while the shop's bread and butter has long been churning out fully-bespoke, ultra-high-performance road-going 911s, Singer has more recently joined forces with Richard Tuthill (of Tuthill Porsche) to deliver what's arguably the most advanced safari-style Porsche in the world with what's appropriately been dubbed the All-Terrain Competition Study. Starting out as a 1990 964-gen 911, this one-off automotive wonder now packs a 450-hp 3.6-liter flat-six engine, a five-speed sequential gearbox, a lifted five-way adjustable suspension, custom wheels, an FIA-spec roll cage, and an ultra-sleek and thoroughly modern set of carbon fiber bodywork that pays homage to both Baja-style prerunners and the fabled 959. 
12 Porsche Tuners Every Enthusiast Should Know
Want to take an even deeper dive into the world of leading Porsche customizers? Then be sure to cruise over to our feature article on the Porsche tuners every enthusiast should know for a look at a dozen of the most reputable outfits currently in operation.