It's a crazy world out there and in order to disintegrate the side-effects of our stressful lives, we all participate in our own versions of self-care. For some, this might mean a relaxing run after the workday, healthy dinner at night, or a special weekend getaway. While this might sound like a wondrous idea for the tame of heart, for others, the promised land might mean taking to the trails in a 4×4 vehicle to test their resolve — challenging the will of nature and making it to the peak of their favorite mountainous retreat. Hard work decidedly pays off, but in order to get there, you'll have to invest in some burly off-road upgrades to ensure that your trek goes as smoothly as possible. But where do you start? That's where we come in.
Aside from purely aesthetic reasoning, the majority of drivers tend to realize that outdoor-oriented additions to their vehicles are an absolute necessity — whether it be a better lighting setup for late night returns, winch capability for those tough situations where you need a little help getting out of a rut, or an upgraded suspension that will give you the travel you need to push you over that next big obstacle. The truth is, more and more brands are hopping into the industry for a shot at marketable exposure, and while an exceedingly high number of parts and modifications might seem like the best option, it takes time, effort, and research to build your first off-road vehicle exactly the way you want it. To augment this daunting process, we've compiled some of the best choices in the industry regarding the first upgrades you should make to your trail-faring truck — from enhanced suspensions and knobby tires, intense lift kits, and modular roof racks, all the way to outdoor staples like winches and lighting solutions. So step out of the realm of normality and take to the backroads with our guide to the top off-road truck upgrades for beginners — after you're done, you'll never fear a challenging ascent again.
It goes without saying that upgraded tires are an essential first piece of kit for any aspiring off-road enthusiast — not only do they provide a more burly look for your ride, they also come with a surprising amount of positive reinforcement over stock offerings. A more aggressive off-road tire means that you'll have much better traction on smooth surface obstacles and even more so on grippy, contrasting surfaces like notched rock and gnarled wood. Aside from better climbing and negotiating capabilities, your vehicle will also enjoy an expansive ride capability with less chance of mid-trip tire failure.
Perhaps the biggest killjoy during an off-road excursion comes at the expense of cheap, flimsy rubber — but beefier tread lugs, improved stress ratings, and tailored tread types will ensure that you're prepared for the specific terrain you're looking to dominate. Just remember, size doesn't necessarily matter as much here — even if you utilize the same size tire as your stock offering but with a tailored off-road layout, your vehicle will fare much better than it did before when the pavement ends. A taller tread will undoubtedly give you higher ground clearance, translating into a more capable ride, but you don't need to overshoot what your stock suspension can handle, just yet.
Goodyear Military Wrangler MT/R
Goodyear's Military Wrangler MT/R tires are the perfect middle ground between on-road performance and off-road capability, providing drivers with a light truck tire that can navigate muddy and wet terrain with ease. These tires are often purchased as direct replacements for worn-out/deteriorating truck tires and feature thick, beefy proportions that come at the cost of an 83-pound tire weight. Either way, these are the go-to offering for affordable off-road excursions, and they'll give you peace-of-mind, no matter where the trail takes you.
BFGoodrich Krawler T/A KX All-Season
BFGoodrich Krawler T/A KX All-Season tires are built to withstand nearly every ardent adversary the trail has to offer. With an unprecedented grip on rocks, mud, and dirt terrain, they've been touted as the best rock-climbing tire in the industry. They're highly punctured resistant, meaning you'll never have to worry about a rogue item piercing your rubber and leaving you stranded. They feature a customizable tread that can be carved and specially tailored to meet your off-roading needs. TriGard Plus construction, as well as dual steel belts and a dual-compound tread thrust this tire into the outdoor-oriented spotlight and promise an uncompromising ride no matter the circumstance.
Suspension
Improved Travel And Control
If you're headed off-road, changing your suspension is an undeniable modification that will need to happen at one point or another — and it's often the first step drivers take in their quest to outfit their stock vehicle with a newly acquired, aggressive look. Traditional spring and hardware setups are tested in a factory for street and road use, which means that outdoor trail-running capabilities are drastically undervalued by the original manufacturer. In order to remedy this, aftermarket manufacturers that are primarily focused on the increase of a vehicle's off-road capabilities have developed a number of upgradable packages that blend custom-machined parts, improved hardware, bushings, and heavy-duty springs to bring your truck into the realm of the reliable outdoor explorer.
While suspension systems might seem synonymous with lift kits, these packages are often performance oriented, meaning that they offer far more advantages in the field of handling, capability, and negotiation of your standard platform. As with any other integral part of your truck, a blown bushing or destroyed bolt will put a swift end to any outdoor exploration you're hoping to do — so instead, invest in an aftermarket system that focuses on key reinforcement areas and high-quality peripherals that will make your experience all the more pleasant.
Bilstein B12 Pro
BDS Suspension systems are some of the best in the industry, and while their high-quality parts are often accompanied by a performance lift kit, it's worth noting that the brand's commitment to durable, rugged modifications such as leveling kits, radius lift systems, and other packages that will improve your vehicle's off-road navigation. Pro-Ride Coil Springs, a pitman arm for steering correction, and heavy-duty radius arms pair with axle relocation brackets to provide a tailored experience for any truck you drive, while an extended radius arm system helps to create creating capable, controlled steering while off-road.
BDS Suspension
If you haven't heard of Bilstein, then you're definitely new to the suspension space. Aside from creating some of the most noteworthy suspension systems in the world, they've continuously offered one of the best performing off-road suspension setups, the B12 Pro. While the B12 suspension might be marketed toward road-faring vehicles, it goes without saying that Bilstein's exceptional build quality and durable expertise transitions nicely into the realm of off-roading — featuring gas pressure and twin-tube technology that's been crafted for stressful use. These lifting and stabilizing coil-spring setups are tailored almost specifically for FJ Cruiser and 4Runner vehicles, but it's not outside the realm of possibility to find your personal pick among the growing list of adaptable platforms.
Lift Kit
A Higher Calling
While suspension systems offer for more in terms of performance and capability, it's obvious that the higher your vehicle is off the ground, the more clearance it has, and the more obstacles you'll be able to negotiate. That's where the lift kit comes in — providing your truck with the means (and ground clearance) to navigate over obstacles that would make most stock vehicles cower in fear. Not only does the lift kit provide the perfect expandable capability for your ride, but it also warrants a nice gain in the aesthetics department, exposing the undercarriage of the vehicle and all of the awesomely upgraded suspension work that you had done prior to the addition of the kit.
Originally, stock truck and SUV suspensions were designed to be as low as possible to affect aerodynamics, fuel economy, and safety, but if you're trying to build the perfect off-road vehicle, these things often don't matter. To achieve a drastically improved look and give yourself the perfect foundation for bigger tires, an enhanced suspension system, and the ability to reach places that others can't, look no further than a simple (but effective) lift treatment.
Superlift Lift Kit
Superflift's Lift Kit is aiming to be one of the best affordable options for those who want a "no frills" upgrade to their traditional ride height. As a result, you'll get greater ground clearance for exceptionally difficult off-road navigation, bracketing, castings, and U-bolts for increased durability. And don't sleep on the aesthetically pleasing look that'll make your ride appear that much better. To back up the quality of their products, Superlift has decided to manufacture all of their parts in the USA, with each lift kit covered under a limited lifetime warranty.
Fabtech Lift Kit
Fabtech's lift kits are legendary in the industry, mostly for their custom-designed and tailored offerings for a variety of the most prominent vehicles in the off-roading space. Kits vary from two to eight inches in lift height, allowing for bigger, beefier tires and greater clearance for negotiating a variety of terrain. These systems are fabricated for direct bolt-on application for your vehicle, meaning there's no unnecessary tooling to get them to fit just right. They are constructed with thick, high-grade steel that both looks good and offers extended longevity. Tubular cross members promote additional rigidity and strength, while Dirt Logic shocks produce a fully-adjustable ride style that you can cater to your liking.
Body Protection
Armor For Your Vehicle
Body protection is one of the most overlooked additions when it comes to creating an off-road monster since most of the parts are hidden and achieve no aesthetic purpose for the vehicle. While it might be true that there is no reason to buy body protection if you're only interested in aesthetic value, it's absolutely essential should you feel the need to take your vehicle off the grid, over dangerous terrain, and run the risk of inclement damage. The last thing you want when you're trying to clear an obstacle is to destroy an important underbody component due to a momentary lapse in judgment.
In the long run, body protection will save you the hassle of having to isolate, repair, and reintroduce some of your vehicle's most important peripherals, and will give you peace-of-mind the next time you're trying to negotiate something that might be out of your comfort zone. High-quality protectors like skid plates, pans, and crossbody members will keep your vehicle rigid, protected, and in great operating condition — because getting stranded off the grid isn't the greatest thing since sliced bread.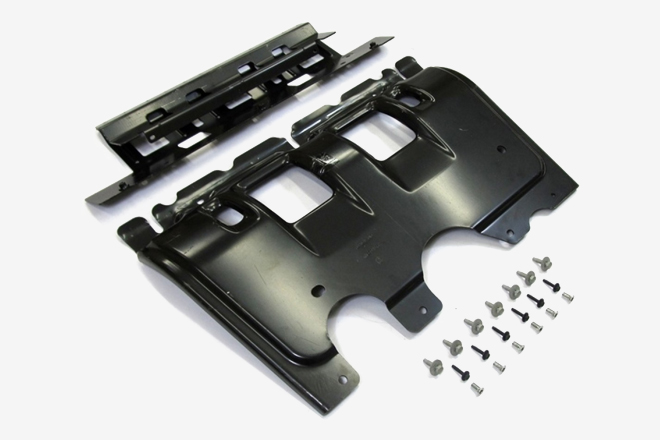 Mopar Skid Plate
Mopar prides itself on creating valuable parts at a cost-effective price point, and their underbody/oil pan-protecting skid plate kit is one such offering. Utilizing a heavy gauge steel construction and a premium black powder coated finish, this underbody kit protects your engine and suspension system with the highest quality materials.
Rock Hard 4×4 Skid Plate
Rock Hard's 4×4 skid plate setup give you the ultimate in protective underbody additions, with a black powder coated finish and high-tensile design that mounts directly to the vehicle chassis. Tapered bolt head protectors keep the fastenings safe as they come into contact with obstacles, helping to alleviate the burden of snapped bolts and stripped connectors, while an extended left side protects a converter that's normally exposed.
Bull bars are better described as brush guards, which are meant to protect the front end of your off-road vehicle as you plow through grass, brush, and anything else that stands in your way. If you can't drive over it or around it, bull bars are the best way to proceed without worrying that you'll damage the expensive front end peripherals of your truck.
While the lack of a bull bar won't put an end to your excursion, it's safe to say that the ability to keep both the bonnet and bumper area of your vehicle protected is second to none — after all, you want your vehicle to retain its aesthetic prowess, not look like a beater that you take to the trail every other day.
Aries Bull Bar
Aries is one of the most notable names in the bull bar space, and their rugged, burly offering is utilized by off-road enthusiasts everywhere. A thick, stainless-steel tubing and standard powder coated finish ensure adequate protection for your truck, while removable skid plates offer an additional line of defense. The best part: the bull bar comes with auxiliary light mounts to serve as the perfect foundation for your upgraded illuminators, which we'll talk about later on in this guide.
Westin Sportsman Grille Guard
Westin's Sportsman Grille Guard is the quintessential brush guard, protecting your lights and lower bumper area thanks to a solid one-piece welded construction. Half-inch stainless steel and seven-gauge uprights work together with thick rubber extrusions to provide adequate protection, while a black powder coated tubing is utilized for a rust-free finish.
Winches are another non-essential item for the introductory off-roader but retain their spot as one of the most useful tools for off-road excursions that introduce new levels of difficulty. If you're prone to find yourself in a number of sticky situations, the winch can be one of the most invaluable additions you can make to your vehicle.
Aside from the obvious ability to pull yourself out of deep ruts, mud-filled riverbeds, and over obstacles, the winch is also useful should you find yourself off-roading with friends or other motorists. Being able to retrieve another vehicle from the brink of disaster is always a great feeling and the more people who can utilize a cable and winch, the better.
Smittybilt 97495 XRC Winch
Smittybilt's 97495 XRC winch utilizes a 6.6 HP Amphibious motor and 3-Stage Planetary Gear System, alongside an IP67-rated, waterproof, state-of-the-art 500AMP solenoid that won't tucker out if you're in wet or moisture-ridden environments. It features a 9,500-pound load capacity, which means that most of your pulling needs will be child's play for this durable, rugged accessory.
WARN 86245 VR8000 Winch
WARN's 86245 VR8000 winch comes complete with a 12-volt electric system that's vehicle mounted and has a pull capacity exceeding 8,000 pounds. A 94-foot wire rope and waterproof Albright Contactor Control provide the ultimate in outdoor durability, while a one-piece tie plate replaces the traditional tie rods found on stock vehicles for added strength and rigidity. A planetary drive gear, automatic operation, and 457AMP draw round out the exemplary winch, ensuring an adequate pull, every time.
Roof Rack
Storage And Safety
Roof racks won't really do much for the off-road performance of your vehicle, but they will prove invaluable for storage, tool carrying, and essential gear stowage. Taking prolonged trips into the back trails of the country's toughest terrain will often leave you with an urge to carry all of the safety/utility equipment you'll need for an overnight stay — and that's where the perfect overhead roof rack comes in.
Most vehicles can carry a variety of things but different mounting styles, reinforcement locations, and rack types provide a slew of options that you can change based on your preference. The quintessential roof rack will provide adequate space for tools, camping gear, outdoor equipment, and anything else you might need while navigating the rocky trails.
ROLA 59504 V-Tex Rooftop Cargo Basket
ROLA's V-Tex Rooftop Cargo Basket is the perfect affordable storage solution for those who are looking to spend the weekend negotiating troublesome terrain. A sport-oriented, two-piece construction joins with a well-realized rough-coat finish that protects against the elements and resists scratches. It also includes easy-to-fit custom air deflector for better aerodynamic performance, while a heavy-duty steel construction provides exceptional durability.
Thule Canyon XT Cargo Basket
Thule is a well-known name within the roof rack space, and their Canyon XT Cargo Basket only solidifies their standing within the industry as one of the premier rack builders. A wedge-shaped, low-profile design pairs with tapered side walls for simplified loading and unloading, while a specialized wind fairing helps to improve aerodynamic performance over your cargo. A set of additional crossbars allow you to carry and stabilize your cargo — and the best part is that Thule's Canyon fits nearly every vehicle on the market, thanks to versatile mounting hardware.
Lighting Solutions
Illuminate The Trail
Light bars might be showing up last on our list, but that doesn't mean they aren't important. Stock headlights and alternative vehicle lighting solutions are often underwhelming in the grand scheme of things and provide a baseline luminescent rating for driving on well-lit roadways.
When you're navigating the wilds with nothing but the light reflecting off the moon, it becomes a lot harder to negotiate tough terrain — that being said, upgraded peripherals will drastically improve your ability to see, understand, and conceptualize the route you'd like to take. In most situations, this could be the difference between a damaged vehicle, becoming stranded, endangering the lives of others, and coming back home in one piece.
Rigid Industries Radiance+
RIGID Industries Radiance light bar features the brand's improved LED technology, which delivers up to 35% more lumens than other light bars on the market. Constructed using a high-grade aluminum alloy housing, the Radiance+ features a black exposed circuit board, which combines the best attributes of spot and flood beam patterns. The system even utilizes a customizable white, amber, red, blue or green backlight — ensuring that you'll be entirely visible during the dead of night.
LightForce Single Row LED
LightForce's Single Row LEDs are some of the best in the industry and feature a next-generation LED layout that's housed within a 6063 aluminum frame and finished in a UV-resistant anodized coating. The 5600-lumen bar features an IP67 rated ingress rating, ensuring adequate protection from the elements alongside a hard-coated, scratch and impact resistant polycarbonate lens that'll protect your lights should bits and pieces of dust, dirt, and rocks find themselves airborne. To round things out, a Gore waterproof membrane with mechanical seal provides unrelenting protection from the outside elements.
12 Best Off-Road 4x4s You Can Buy
If you feel like truck customization is a little outside of your comfort zone, be sure to check out our guide on the best off-road 4x4s vehicles you can buy — covering the best romp-ready road warriors you can drive straight off the lot.