One of the clearest lessons we've learned over the last year is just how fragile the exercise culture ecosystem truly is. After all, the pandemic forced a national (and, in some cases, international) shutdown of all public gyms for most of the last year. This has forced millions of people to try and figure out new and different ways to get their workouts in. And while you could turn to the latest and greatest smart home gym or try your luck out on the hiking trails, one of the most convenient ways to get in a good workout might just be in your pocket.
We're talking, of course, about your mobile devices. Or, more specifically, we're talking about the applications you can install upon said mobile devices. Fitness and workout apps are no new invention, but they've recently become more important and popular than ever — due in part to their convenient nature but also, in some cases, as an alternative to more traditional gyms. And there is all measure of options regarding the types of workouts you can accomplish via an app, so long as you track down the right one — which is what we've done for you today. Whether you're a big-time bodybuilder or you just want to get back in decent shape for summer, you'll find the perfect tech-focused option for you here on our list of the 15 best fitness and workout apps.
Disclaimer: The prices you see below are reflexive of the bare-minimum monthly rate to use these apps. As some offer a suite of free features and workouts, they are marked with a $0 starting rate. However, to access the full range of workouts, training, and support, users may have to upgrade to a paid membership.
Aaptiv
As you may already know, many of the available fitness apps require you to watch instructional videos as you exercise — with trainers (typically certified ones) illustrating proper technique. Aaptiv offers that same experience across thousands of workouts of a wide variety of exercise types. But they also offer strictly audio-focused instruction — which is perfect for those who need direction but don't necessarily have the need or ability to watch a video. Along with that, the app offers a suite of programs tailored to your specific goals, curated playlists, and a community of over 200,000 and counting.
adidas Training + Runtastic
We may be fudging the numbers a bit here, but adidas actually has a pair of fitness apps you can download on both the Apple App Store and Google Play — called adidas Training and adidas Runtastic, respectively. As you might imagine, the former is geared toward more generalized fitness regimens, whereas the latter is catered specifically to runners. Outside of that, they share numerous things in common — like stat tracking, workout-specific metrics, community interaction (you can share your workouts and push yourself and others toward success), and they're both geared toward fitness enthusiasts of all levels. If you trust adidas to make your top-of-the-line workout apparel, why would you think they're going to let you down with their training apps? Spoiler alert: they won't.
All/Out Studio
Interestingly enough, All/Out Studio is actually a mobile fitness app under the same umbrella as Men's Health magazine — yes, one of the leading periodicals focused specifically on physical and mental well-being. Our first thought was that that came loaded with high expectations. Our second was a confirmation that, by all accounts, those expectations appear to be met and, in some cases, exceeded. At a rate of $15 a month ($7.50 if you pay by the year), you'll get access to smartphone-, tablet-, and smart TV-ready versions of the app — all of which can be logged into from the same account — that host thousands of professional, tailor-made, video-based workouts with top-level professionals of varying lengths, types, intensities, etc. That means, whether you're limited to a small space with little equipment or a full-on bodybuilding gym, you'll be able to get in the best shape of your life with the help of this handy app.
Apple Fitness+
Apple made a pretty big splash in the fitness world when they announced their updated Fitness+ app — which can be accessed for $10/month or $80/year. Granted, to make the most of it, you'll want to link it to your Apple Watch. However, it also works (albeit at a somewhat more limited capacity) with the iPhone, iPad, and Apple TV. If you're already an Apple Watch owner, that's great news because this app will seamlessly sync with your wearable and offer some of the most unrivaled stat tracking around. Furthermore, the programs can be tailored specifically to your fitness and overall wellness goals — making success practically a given. And it even syncs with your Apple Music and/or iTunes accounts, so you can pump in your favorite tunes without clashing with your instruction. Honest to goodness, owners of tech in the Apple ecosystem will probably not find a better all-around fitness app, which is aided by the brand's exceptional support and community.
Centr
If anyone knows what it takes to get in tremendous shape, it's Chris Hemsworth — or The Mighty Thor, as he's more popularly known. Of course, knowing how to get yourself in shape and knowing how to encourage and train others is a different story. That's probably why Hemsworth called on a team of expert trainers, world-class chefs, and more to put together his Centr app. To be fair, this isn't really a fitness app so much as it is a lifestyle app. At $30 a month, it might seem quite expensive — but what you get for that price is absolutely impressive. That includes a huge variety of fitness programs that require little-to-no equipment, goal and stat tracking, meal planning services, diet-specific recipes, guided meditations, life hacks, expert tips and tricks, and a healthy community with 24/7 support. And you can have it all aboard that little supercomputer you're already carrying in your pocket.
ClassPass
For those who are unfamiliar, ClassPass actually started out as a fitness service for people who either didn't know the kind of exercise they were after or those who wanted to try out a wide variety of exercises without being tethered to a single gym and/or trainer. However, it has since evolved into a fully-fledged fitness app. Yes, you can still use it to find and purchase workout classes at gyms all around the world, but it also works as a standalone training app with guided video workouts (of which some are free of charge) of varying styles and intensities, fitness live streams, and more. The actual fitness app portion of this particular offering is perhaps not as substantial as some of the other app-only platforms, but that's made up by the ability to pop into actual gym classes whenever you feel the desire to try something new.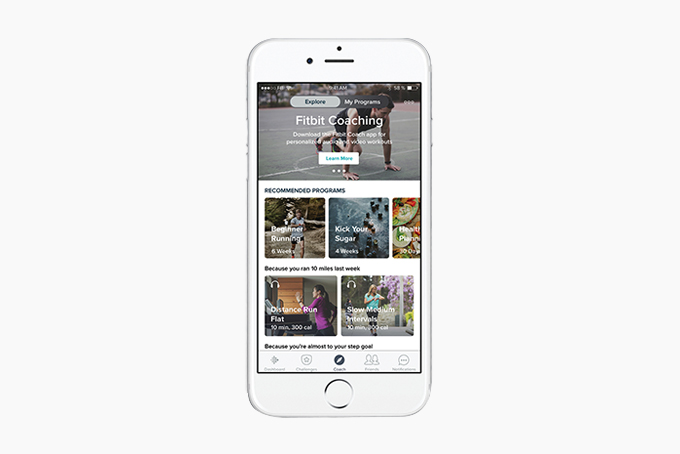 Fitbit
Technically, the Fitbit app is free to use. But there is a catch: you need to purchase a Fitbit product in order to make use of the app. That being said, Fitbit is undeniably a major player in the space — they could even be credited for revolutionizing the fitness tracking industry in its entirety — with the brand's huge suite of wearables. Apart from the standard free app, which is an exceptional stat tracker, the brand also offers an upgrade in the form of Fitbit Coach. Arranged in tiers based on price, the coaching app works in tandem with Fitbit's fitness tracking and grants users access to personalized training programs, which will change depending upon your feedback regarding intensity, difficulty, and more. It's worth noting that you don't actually need a Fitbit device to utilize the Fitbit Coach app, but it's definitely encouraged in order to give you the best possible experience.
fitbod
There are a lot of fitness and workout apps around, but none are perhaps better for hardcore bodybuilders than fitbod. In fact, in contrast to the overabundance of all-around health and well-being apps, this one is tailored specifically to building muscle through personalized, algorithm-based daily workouts. Furthermore, as you train, fitbod will learn about your abilities, goals, etc. and help push you all the way to success. It can even adapt to your available equipment and ensure that the workouts are catered to your gear. There is even a watch-compatible version of the app so you don't have to bring your mobile device along on all your workouts — giving you more freedom to push your limits. As if that's not enough, fitbod also offers expert resources to further your journey and a healthy community to inspire you.
MapMyFitness
For our purposes, MapMyFitness isn't so much a single app as it is a family of Under Armour-backed programs — namely MapMyRun, MapMyWalk, MapMyRide, and (of course) MapMyFitness — but we're grouping them together under one umbrella because they are all roughly the same in their operation and scope; they're simply catered to different types of exercise. The biggest benefit to these apps, besides their connection to one of the biggest fitness and apparel brands in the world, is that they're entirely free — giving you access to stat tracking, workout feedback, an active community, and numerous other features with no investment other than time. Honestly, for a free suite of apps, these are remarkably comprehensive and incredibly useful. We only wish that Under Armour still offered the outdoor-focused MapMyHike version for our off-the-beaten-path adventures.
MyFitnessPal
Technically, MyFitnessPal is also under the Under Armour fitness app umbrella. However, we're giving it a standalone spot on this list because of its unique approach to a healthy lifestyle. You see, while the rest of these apps focus heavily (and often exclusively) on physical activity, MyFitnessPal works as an add-on for food intake and calorie tracking. After all, fitness as a full picture isn't just about expelling energy, but also acquiring it. As such, this app will help you develop and maintain a diet that will help inch you closer and closer to your fitness goals and help prevent setbacks from poor food choices. As far as fitness and exercise are concerned, there's simply not a better diet-focused, macro-tracking app out there. We'd just suggest that users pair MyFitnessPal with a physical regimen for the best possible results.
Nike Training Club
Is anyone surprised that Nike has a fitness app or that it also happens to be one of the best around? No? Good. A repeat winner of the Apple Store's Editor's Choice award, the Nike Training Club might be better thought of as the bar for the rest of the fitness and workout apps on the market. Obviously, they have a leg-up since the app is backed by the largest and most successful manufacturer of sports-focused footwear and apparel in the history of the world — making this an instantly-recognizable option. But, even without that connection, this app would be impressive with its huge suite of workouts (including on-demand, studio style, and more), nutrition and recipe tips, and holistic expert-backed post- and pre-workout guidance. Admittedly, this app is one of the more expensive around — but it, more than any others, has the features to back up that price.
PEAR
There is no shortage of fitness- and exercise-focused apps that allow you to cater your workouts to your personal abilities, goals, etc. However, that's about where the customization stops. It's not that this is bad, it's just that there are more factors to consider — which PEAR has apparently taken to heart. While the app offers the same guided exercises, smart coaching, and smart device integration as many of the others, it stands out in one major way. You see, with PEAR, you can actually pick which trainers suit your exercise and learning style. That means, along with all the other forms of personalization, you can work more directly with trainers that suit your attitude and tastes. Better still, you can actually use the app to partake in one-on-one virtual coaching sessions, offering an even more personal touch to your regimen. For those that want hands-on personal training without the hassle of a traditional gym environment, especially during the pandemic, this might be the hands-down best option.
Peloton
With a gentle nudge (read: huge push) from the pandemic, Peloton went from an emerging exercise-focused tech company to a massive health and well-being powerhouse — to the point where the brand has a cult following amongst its members. And while they're best known for their class-focused virtual exercise bike programs, they've expanded a tremendous amount, including in the form of a fully-fledged fitness app. Yes, you're still going to be able to make the best of it if you have a Peloton bike or treadmill, but you can also utilize the app as a standalone, too. And with it, you'll gain access to a huge number of workouts across ten different exercise types — including boot camp, running, stretching, yoga, strength training, and more — all led by expert trainers. It also works on mobile devices, as well as smart TVs and smart devices (like Apple TV, Roku, etc.). And there's a measure of gameplay, as you can work toward specific achievements in conjunction with the pursuit of your baseline fitness goals.
Strava
For running and cycling enthusiasts, Strava might just be the best all-around fitness app currently on the market. At the very least, it's one of the biggest with a massive 70-million-member base (that's huge for a paid app). What that means for users is a huge amount of support both from the company itself but also a hugely active community — through which users can access challenges, share photos, follow friends, and more. On top of that, you can track your fitness stats, accurately map your routes via GPS, and keep an eye on everything from either your mobile device or your preferred fitness tracking smartwatch. This app is so good for speed freaks, in fact, that people have reported feeling addicted to it — which can be a very good thing for those in need of exercise motivation.
Sworkit
Sworkit first came to prominence after appearing on Shark Tank back in 2016 — largely before the fitness app industry was even a thing. Unfortunately, the brand's partnership with Mark Cuban fell through — but that didn't stop the company from toughing it out and pushing forward to become one of the best subscription-based fitness apps ever created. Along with being one of the progenitors of the category (which gives them a lot more experience than other competitors), Sworkit has an incredibly deep catalog of exercises — more than 400 workouts and 800 movements, to be exact — with plenty of personalization (like length, difficulty, style) and a full range of support. Whatever your goals are from maintenance to a full-body overhaul, Sworkit has got it covered and then some.
The 16 Best Smart Home Gyms
For those who have a dedicated exercise space, upgrading from an app to some genuine gym equipment has the potential for some huge benefits. That goes double if you select a tech-focused one that makes everything simpler and more effective, like one of our picks for the best smart home gyms.