As the segment has exploded in popularity over the last decade, manufacturers have steadily been rolling out increasingly capable stock adventure motorcycles. And while their marketing may suggest that these are hardcore dirt-goers, the reality is that almost all of these machines were engineered for a combination of on and off-road riding. In order to fully unlock an ADV bike's true off-roading potential, a host of upgrades and modifications are necessary. Because this is such an expansive space, we've gone ahead and broken it down to deliver this curated guide to the best adventure and off-road motorcycle upgrades you can buy.
Auxiliary Lighting
Off-Road Illumination
When biking off-road, you never know what's going to be just around the bend. Auxiliary lighting helps to ensure the trail will be fully illuminated when riding in the evenings or at night, allowing you to easily see any obstacles that may be on the trail or in your path. In addition to adding some rugged style points, these items can also be extremely helpful with setting up camp at night.
Baja Designs Squadron Pro Universal LED Lights
Backed by a lifetime warranty, Baja Designs' Squadron Pro lights are an IP69K-rated, 4,600-lumen set of active auxiliary beams that exceed MIL-STD810G standards and feature a hard-coated polycarbonate lens, a hard-anodized and powder-coated cast aluminum housing, and a machined billet bezel.
Rigid Industries 360-Series 6″ LED Pod Lights
Produced in white, red, yellow, and blue color options, Rigid's 360-Series LED Pod Lights utilize an advanced optimized beam pattern that manages to cram nearly 9,000 lumens into an ultra-rugged 6" package with aluminum housings and pressure-equalizing vents.
Denali CANsmart Plug-N-Play LED Lighting Kit
This product from Denali is another immensely potent and rugged set of auxiliary lights that offers a host of customizable settings and are sold in multiple models all ranging in shape and size. Thanks to its CANsmart Plug-N-Play setup, the auxiliary beams that comprise this item can also be controlled using a motorcycle's OEM switchgear (i.e. handlebar-mounted lighting switches).
Unlike cars, motorcycles are decidedly lacking when it comes to storage space for cargo and gear. Quality motorcycle bags and packs offer an ideal solution to this issue, providing cargo space in ultra-rugged — and more often than not, fully weatherproof — packages. On top of accomodating gear, these vessels were also designed to easily be mounted or attached to a motorcycle.
Enduristan Tornado Pack Sack
Built to handle just about anything the elements or trails can throw at it, the Enduristan Tornado Pack Sack is an ultra-rugged, fully-weatherproof bag that's designed to easily and securely mount to a bike's tail. Machine washable and easy to clean, this hardwearing bag is also offered in small (20L), medium (32L), large (51L), and extra-large (82L) sizes.
Kriega Overlander-S OS-32 Drypack
Offering 32 liters of storage space, Kriega's Overlander-S OS-32 Drypack is another insanely-rugged adventure bag that can securely be strapped to an included mounting plate. Crafted from 1,000D CORDURA, this bag boasts semi-rigid walls that maintain their form, Hypalon straps, a roll-top closure, and a waterproof liner with taped seams.
GIANT LOOP Coyote Saddlebag Roll Top
Made in America, this 39-liter roll-top bag from Giant Loop features a heavy-duty 22oz Bomb Shell vinyl-coated polyester construction that's reinforced with ballistic nylon and outfitted with ballistic webbing. In addition to a laser-cut aluminum heat shield, this bag is also sold with an included trio of RF-welded waterproof Saddlebag Dry Pods that are equipped with air purge valves.
Crash Bars
Powertrain Protection
Off-road riding is unpredictable and opens riders — and more importantly, their bikes — up to a host of abuses and rigors. Well aware of the realities of two-wheeled off-grid exploration, a host of aftermarket outfits now produce off-road-specific crash bars and cages to help fortify a motorcycle in the event of a crash or tip-over. While there are some universal crash bars, the vast majority of these items are made specifically to fit certain makes, models, and years.
SW-MOTECH Crash Bars
Offered for a wide variety of bikes, these model-specific crash bars feature a heavy-duty mild steel construction that's been engineered and calculated to offer the best possible protection in the most lightweight possible form. Removable and not requiring any permanent modifications, these bars are also powder-coated and treated for corrosion resistance.
Wunderlich Engine Bars
Anyone looking to spruce up their BMW adventure bike should always consider checking out the offerings from Wunderlich, and shopping for crash bars is no exception. Made in Germany from high-quality stainless steel, these bars were designed to evenly distribute forces across their three mounting points. Plus they don't mitigate ground clearance.
ALTRIDER Crash Bar & Skid Plate System
Designed, tested, and manufactured entirely in America, this all-in-one engine fortification system is comprised of an aluminum skid plate that's been paired with crash bars that are laser-cut on a five-axis machine before being TIG-welded by hand from stainless steel tubing. Pieced together using corrosion-resistant hardware, this product is sold with powder-coated steel mounting brackets, as well.
Footpegs
More Grip, Less Slip
While standard footpegs or rear sets are more than sufficient for regular on-road travel, off-roading typically calls for higher levels of grip and durability. Footpegs developed specifically for off-roading solve this problem, being far more rugged, and often using a toothed setup that hugely bolsters grip. Off-roading also requires riders to stand up on the bike, and as such these off-road-specific footpegs have been designed to accommodate this style of riding.
ZETA Aluminum Footpegs
ZETA's aluminum footpegs offer incredible grip and traction thanks to a 2.25" width that's supplemented via 18 strategically-placed SUS 304 stainless steel pins. Manufactured in four different anodized color options, the actual pegs themselves are precision machined from A2014 forged aluminum billet.
SW-MOTECH EVO Adjustable Footpegs
A bike-specific off-road footpeg model, SW-MOTECH's EVO pegs feature offset internal ratchet pivots that allow them to be adjusted — in 18-degree intervals — into one of 36 different positions. On top of sporting rounded edges to mitigate boot-wear and removable rubber inserts, these pegs also boast an electropolished cast stainless steel construction
Raptor Titanium Footpegs
Used by numerous top-level factory motocross and rally teams, these foot-pegs are outfitted with a 24-tooth, anti-clogging design with a 57mm (2.25") width. Foldable and backed by stainless steel springs, these top-shelf footpegs are hand-fabricated from aerospace-grade titanium, enabling them to weigh in at just 410 grams (0.90lbs).
Handguards
Hand & Finger Fortifiers
An adventure motorcycle's handlebars are the widest point on the bike, and as such are prone to clipping obstacles while out on the trail — a major problem considering these pieces are also used to control the bike. Handguards eliminate this issue by fortifying this part of the bike, protecting the rider's hands, while also shielding the motorcycle itself from damage.
Barkbusters VPS Handguard Kit
Not unlike how copiers are referred to as" Xerox machines" or tissues are referred to as "Kleenex," handguards are at times referred to as "Barkbusters" — which should give you a decent sense of this brand's dominance in its space. Its VPS model features a variable height wind deflector and a full wrap-around aluminum design with a heat-treated aluminum backbone.
ACERBIS X-Factor Handguards
A completely redesigned new generation of an already stellar pair of handguards, the ACERBIS X-Factor model was built to take on the most unforgiving terrains and conditions on the planet and as such features a 6" polycarbonate shield that's mated to a C-shaped 1.3" black-anodized anitcorodal bar and mounted with an ultra-rugged 0.75" bracket and lock-in steel bar insert. This item also comes in 10 different color options.
Cycra Ultra Probend CRM Wrap Around Handguards
Cycra's Ultra Probend CRM — or "Center Reach Mount" — handguards are a unique and cleverly-designed set of handguards that are machined from aircraft-grade 6061 aluminum using a varied bar wall thickness, and feature a rigid shield balanced with built-in flex zones that are crafted from an advanced injection-molded construction, Powergrip Bar Ends with slotted barrels, and a rise bent into the design to accommodate hoses, lines, and cables.
Hard Cases & Luggage Racks
Rigid Real Estate
An even more rugged and robust storage solution, hard cases are rigid storage boxes that can be mounted to the tail of an ADV bike, either hanging off the sides like saddlebags or located behind the seat (the latter of which is called a "top case"). The most durable means of transporting gear on a motorcycle, hard cases are usually lockable and, more importantly, can be removed, allowing them to serve as impromptu tables or chairs while at camp.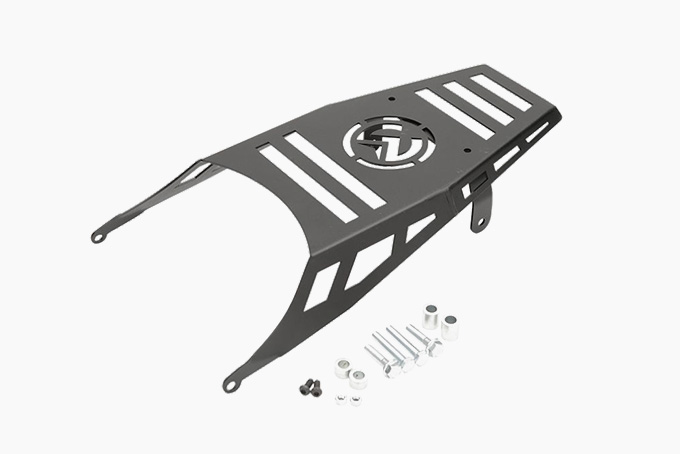 Moose Racing XCR Rear Rack
Lightweight yet rugged, the Moose Racing XCR Rear Rack is made in the U.S. from 12-gauge steel that's been treated to a black, lightly-textured powder-coated finish. Equipped with a host of slots, attachments, and tie-down points, this rack can accommodate up to 40lbs of gear. And, while it's undeniably tough enough for the trail, this product also lends itself to urban commuting applications just as well.
SW-MOTECH TraX Adventure Alu-Box 45 Liter Side Cases
Compatible with all of SW-MOTECH's Quick-Lock EVO and Pro Side Carriers, the brand's TraX Adventure Alu-Box 45-Liter Side Cases feature a robotically welded and punch-riveted construction with a corrosion-resistant finish that's backed by glass-reinforced plastic corners, all stainless steel latches, and 1.5mm embossed aluminum plates. These side cases also come with a pair of grab handles, beveled edges, and a detachable gasket-equipped recessed interlocking lid with four integrated attachment points for additional storage.
GIVI Trekker Alaska 36L Monokey Cases
Made by the undisputed leader in this space, GIVI's Trekker Alaska 36L Monokey Cases are made entirely in Italy from a rugged amalgamation of stainless steel, mechanically-finished aluminum, and reinforced technopolymer. These cases can also be detached from the bike using a proprietary turning external knob and cable system that's directly below their security lock.
Long-Travel Suspension
Obstacle Absorbers
Arguably the single most crucial modification for hardcore off-road riding, upgraded suspension setups afford the motorcycle markedly more travel, enabling them to take on harsher conditions and terrains. Available for a motorcycle's front fork or rear shock, long-travel suspension items are either sold as complete units, or as internal cartridge/spring upgrades. Alongside up-and-down suspension travel, this upgrade also increases an adventure bike's ride height and ground clearance.
Öhlins FKA100 Adventure Cartridge Kit
A long-travel cartridge kit from what is unequivocally the most respected suspension outfit on the planet, the Öhlins FKA100 kit is a model-specific, plug-and-play upgrade that drops directly into existing forks. Using Öhlins' NIX Technology, this kit boasts hard-anodized and precision CNC-machined components, is three-way adjustable for preload, rebound, and compression, hugely bolsters performance and feedback, and offers vastly improved hydraulics to mitigate hard bottoming.
Öhlins TTX36 / TTX39 Adventure Rear Shock
A Nitrogen-charged mono-shock developed from the ground up specifically for off-road exploration, Öhlins' TTX36 (and TTX39) Adventure Rear Shock is essentially the rear suspension counterpart to the fork kit above. As such it features hard-anodized, precision-machined components and full three-way adjustability. The mono-shock also uses the Swedish suspension specialist's TTX Twin Tube Technology, along with a solid-machined piston and a reinforced aluminum tube wall.
Touratech Suspension Extreme Long Travel Kit
Touratech is easily one of the best-kept secrets in the adventure motorcycle realm, producing an enormous array of genuinely world-class parts born out of decades of hardcore adventure riding experience. The industry-leading outfit's long-travel suspension upgrade kits are available for front and rear end setups, and are offered for a myriad of popular adventure motorcycle models. If you're simply looking to get the best there is, then look no further. We also recommend having your suspension tuned by an outfit like Race Tech.
Off-Road GPS
Digital Moto Mapping
Turn-by-turn directions and GPS mapping make navigating the roads substantially easier, and off-road-specific GPS systems bring this same convenience to the dunes and trails. Because these moto gadgets are designed specifically for off-grid riding, they're not only incredibly durable, but they also boast handy features such as topographical mapping, live weather reports, and the ability to track other riders in your group. Some of the more high-end off-road GPS units also sport integrated tire pressure monitoring, built-in thermometers, and live readings of RPM.
Garmin Zumo XT Motorcycle GPS
Developed specifically for off-road riding, Garmin's Zumo XT Motorcycle GPS is built around an ultra-rugged housing that accommodates an IP67-rated, glove-friendly 5.5" multi-touch TFT display. The gadget comes loaded with a host of genuinely usable amenities such as access to BirdsEye Satellite imagery, six hours of battery life, a route recorder, live traffic, weather, and incident reports, and a slew of pre-loaded off-road (and on-road) topographic maps with public land boundaries and 4×4 trails.
Trail Tech Voyager Pro Kit
A state-of-the-art motorcycle GPS system from an immensely respected off-road moto parts brand, Trail Tech's Voyager Pro Kit is equipped with a glove-compatible 4" color touchscreen display that's IP67-rated and can be easily read in direct sunlight. Alongside packing a host of off-road and topographical maps and buddy tracking for up to 20 riders, this cutting-edge system also sports included sensors that relay live readings on areas such as tire pressure, temperature, or engine RPM back to the display, turning the GPS screen into an all-in-one display.
Garmin Montana 750i
When designing its Montana 750i model, Garmin aimed to deliver more than just a GPS, and instead set out with the goal of producing the ultimate off-road moto gadget. As such, in addition to featuring "Topoactive" and land boundary maps, this device has also been bestowed with global connectivity, two-way messaging, an interactive SOS system, live weather reports, dog-tracking capabilities, an onboard altimeter, barometer, and 3-axis electronic compass, and even an 8-megapixel camera.
Rally Kits
Bolt-On Dakar Bodywork
If you're looking to build out the ultimate hardcore off-road adventure machine, rally kits are always worth considering. These bolt-on kits are made up of new full sets of Dakar-style bodywork — typically with a navigation tower and auxiliary fuel cell — that transform stock bikes into genuine rally raid weapons. While they seldom come cheap, these hugely transformative kits also typically come with a plethora of other minor odds and ends such as new headlights, skid plates, seats, and all the necessary mounting brackets and hardware.
RebelX KTM 790 Adventure Rally Replica Kit
Developed over the course of eight months with the help of multiple professional rally racers and factory riders, the RebelX kit for KTM's 790 Adventure model turns the stock Austrian ADV bike into a bonafide rally raider. Constituting this kit is a bolt-on navigation tower, a KTM Rally Replica fairing, fiberglass side panels, a headlight mask, a plug-and-play frame clamp machined from 7075 aluminum billet, a six-way fuse box, a stacked, street-legal HELLA LED high and low-beam headlight setup set behind a protective mask, and a new plug-and-play wiring harness tying the whole system together. In addition to featuring a customizable instrument panel, the kit was also designed to accommodate frequently-used gadgets such as GPS systems, tablets, and action cameras. RebelX also offers kits for a variety of other popular ADV and dual-sport moto models. 
Omega Carbon Husqvarna 701 Rally Kit
Tipping the scales at under 35lbs, this ultra-top-shelf kit from Omega Fiberglass is crafted from a combination of composite materials such as carbon fiber, kevlar, and glass fiber. Making up this incredibly transformative kit is a partially painted navigation tower and extended windscreen housing high and low-beam halogen lights, a lower skid guard, and a pair of 7-liter rear auxiliary tanks that are set in the tail of the bike and are made from an amalgamation of carbon and Kevlar. The kit also includes a new seat, a relocated fuel pump, and both a high-mount MX-style fender and a normal front tire-hugger. Omega also offers painting and installation services to interested parties. 
RS Moto Rally Kit For Honda CRF450L
Touted as being the closest the public can get to owning one of Honda's Factory HRC 450 Rally racers — which in 2020 and 2021, won back-to-back Dakar rallies, ending KTM's 18-year consecutive win-streak — this ridiculously high-end rally kit sees practically every component upgraded on the dual-sport. This includes a stacked dual-LED headlight, an FIA-approved taillight, a bigger race radiator with an electric fan, a larger clutch cover, a massive 300mm front brake disc, a carbon fiber skid-plate, a custom rally-spec wiring harness, a custom Alcantara seat that raises the seat height, an Arrow exhaust, a new oil-cooler, bespoke rally footpegs, an ICO MAX-G Tripmeter, an upgraded chain, a Scotts steering stabilizer, triple clamps machined from billet, and a set of dual 9.5-liter extended range front tanks supplemented via a set of tail-mounted 5.5-liter auxiliary fuel cells. 
Skid Plates
Protector Of Sumps
As the heart of the motorcycle, it's extremely important for a bike's engine to be protected while out on the trails. This is where skid plates — also known as "bash guards" or "sump guards" — come into play, as they fortify the front, bottom, and (sometimes) sides of the engine, should the bike exhaust its ground clearance and suspension travel. Skid plates will also often fortify the exhaust headers protruding from the engine.
Cycra Full Combat Skid Plate
A model-specific, made-in-America part, Cycra's Full Combat Skid Plate is held together via an ultra-robust and secure dual bracket system and features a rear frame tongue and an extended, full-coverage design that's form-fitted to a bike's chassis and engine case. Made from durable injection-molded plastic, this product is also easy to remove, making performing oil changes a breeze. 
P3 Carbon Fiber Skid Plate
Here we have yet another model-specific skid-plate that's made in America using a single-piece molded design, though this bash-guard is crafted from an ultra-rugged carbon fiber that's woven from a combination of biaxial glass fiber and Kevlar fiber before being treated to a high-strength epoxy finish. On top of selling other carbon skid plates, P3 also sells this model in an orange carbon version. 
ALTRIDER Skid Plate
This insanely hardwearing product is the result of ALTRIDER setting out to craft the most rugged bash guard possible, taking a spare-no-expense approach that's resulted in this absolutely bulletproof piece of engine fortification. Designed and manufactured entirely in America, this item is laser-cut from anodized aluminum before being TIG-welded by hand and then mounted using stainless steel hardware.
Fuel & Water Storage
Liquid Life-Savers
When traveling on the open road, one can easily stop at a gas station to replenish their fuel or water supply, however, the same can't be said for off-grid adventures. As a result, it's always a good idea to bring additional water and gas with you when traveling off-road, and these vessels offer purpose-made solutions to this dilemma. These items are also typically color-coded, making it almost impossible to confuse one for the other.
MSR Fuel Bottle
A tried-and-true fuel canister that's as trusted by hikers and campers as it is by adventure riders, MSR's classic Fuel Bottles are machined from a single piece of aluminum before being threaded to match all of the brand's fuel pumps. Protected by a three-year warranty, this vessel is offered in 11oz, 20oz, and 30oz sizes.
RotopaX Gasoline & Water Set
When it comes to supplementary fuel or water storage in the off-roading realm — be it with adventure motorcycles or 4×4 trucks — there is no one brand that's more respected than RotopaX. Comprised of a single one-gallon water pack and a one-gallon fuel pack, this bundled item features a rotationally-molded construction, solid thick walls, and threads with a "sure-seal" gasket — just like the world's most rugged coolers.
ACERBIS Auxiliary Handlebar Fuel Tank
Compatible with the most common handlebar sizes — both 7/8″ and 1-1/8″ — as well as cross-braced sets of bars, this auxiliary handlebar fuel tank affords riders extra autonomy between fillups thanks to a 0.6-gallon cell that doesn't interfere with the headlight or the rider's movement. This item is also sold with an included mounting kit and can double as an auxiliary tank when working on or tuning a bike's engine.
Wheels & Tires
Hoops & Knobbies
Wheels and tires are another hugely important off-road upgrade, as they're designed specifically for the abuses of off-road travel. Produced in tubeless or tube-equipped versions, spoked hoops offer more flex than cast wheels and can have individual components replaced as needed (rather than having to replace the entire wheel). Tires, on the other hand, are equally important, as knobby, off-road-specific rubber affords exponentially better traction and grip across a variety of surfaces and terrains.
Continental Twinduro TKC80 Dual Sport Tires
One of the all-time best-selling — and most universally trusted — adventure motorcycle tires ever, Continental's TKC80 tires are available in tube or tubeless versions and sport a special rubber compound and a wide block tread pattern that was engineered to maximize traction and performance across a host of terrains. Offering remarkably stable cornering even in soft terrain, these shoes are engineered for 40% on-road riding and 60% off.
Warp 9 Elite Complete Front and Rear Wheel Combo
Aiming to offer high levels of performance in an affordably-priced package, Warp 9's wheelset combo is made up of a set of aluminum hubs laced to anodized 7000 series aluminum rims using stainless steel spokes and nipples. These wheels also come equipped with NAK seals, zinc-plated Nyloc hardware, O.E.M. bearings, and stainless steel brake rotors, plus the rear wheel comes with a preinstalled 7075 T6 aluminum sprocket.
Talon EVO Front & Rear Wheel Combo
Born out of an extensive two-year research and development process — while also drawing on the brand's more than three decades of experience in the industry — Talon's EVO wheels are off-road-specific hoops engineered for maximum performance. Backed by a one-year warranty, the wheelset features a tri-bearing rear hub design that's machined from 6082 aluminum billet and laced to Talon's factory black anodized 7050-series aluminum rims via ultra-heavy-duty carbon-steel spokes and nickel-plated steel nipples. The 21" front wheel is also offered with either an 18" or 19" rear hoop. 
The 12 Best Adventure Motorcycles You Can Buy
Ready to build out a hardcore off-roader but don't yet own a proper ADV bike? Well, our guide to the best adventure motorcycles features a dozen of the finest machines currently available on showroom floors.