Motorcycles provide a number of advantages over other vehicles and modes of transportation, from their ability to maneuver through traffic to their unparalleled unobstructed views of the road and its surrounding scenery to acceleration, speed, and performance that's comparable to that of a supercar while being available at a small fraction of the price. One area where motorcycles undoubtedly fall short of the four-wheeled rides they share the road with is storage space. As a result, gear manufacturers have long produced bags and luggage specifically engineered for riding in a bid to remedy this shortcoming.
Though panniers and tank and tail-bags no doubt possess their own strengths, ultimately nothing compares to the convenience, utility, and versatility of a motorcycle backpack. And while in decades past, riders were largely forced to pick from outdoor-focused bags that vaguely lent themselves to two-wheeled commuting duties, today's market boasts an enormous selection of backpacks that are purpose-engineered from the ground up to meets the needs of commuter motorcyclists. Below, we've scoured the sector to deliver this hand-picked guide to the best motorcycle backpacks for commuting, rounding up the dozen finest bags the industry has to offer, as well as briefly touching on what factors to look for and consider when shopping for an urban commuter pack.
Two-Wheeled Storage Solutions
The Eight Factors To Consider When Buying A Moto Backpack For Commuting
If you haven't spent time trekking to and from work and the local shops on a bike, then there are likely aspects that you may not think to consider when buying a new bag for commuting. To help get you privy to some of those finer points, we've outlined the eight most crucial aspects to take into account when in the market for a moto commuter pack.
Intended Use: How you plan on using your bag should be the main factor that guides your purchase, as this will determine what amenities and features you'll likely need, as well as the size of your bag, its degree of durability, and weatherproofing, among numerous other elements. It's also important to point out that while backpacks offer unrivaled convenience for urban commuting, bike-mounted luggage tends to be a better option for motorcycle touring and long-distance use.
Size: Piggybacking off of your intended use, the size of the bag – which is typically measured in liters — that you need should be determined by the gear you plan on routinely shlepping with you to and from work. You'll also want to consider whether you plan on taking a laptop or tablet to work and the size of your device(s), in order to ensure a bag can accommodate your complete daily loadout.
Fitment & Balance: It's extremely important that a motorcycle backpack fits its wearer snugly and has its weight tightly and evenly distributed across their shoulder, sternum, and waist straps. Loosely-fitting backpacks — especially heavy ones — can pull riders in one direction and throw off their balance. The types of supplementary straps and fitment systems present on motorcycle backpacks are a big part of what separates riding bags from other types of vessels.
Materials & Construction: No matter what type of bag you're buying, it's always worth exploring the materials and construction techniques, and this is even more important when it comes to riding backpacks. If a regular backpack tears, you might drop some of your belongings, though if a moto bag breaks, you run the risk of all of your stuff spilling out across a busy freeway at 60mph+. In the event you should go down, it's also important to have a backpack that — like the rest of your gear should be able to — can survive a slide on the tarmac at speed.
Weatherproofing: Unlike cars, motorcycles provide practically zero coverage from the elements. As such, weatherproof bags are somewhat essential, especially for those that commute on two-wheels rain or shine. It's also worth exploring a particular bag's degree of weatherproofing, as these backpacks can range from being able to stand up to light rain, to being fully-submersible under multiple feet of water without letting in a single drop.
Moto Amenities: Part of designing a backpack specifically for motorcycling often means bestowing a bag with features that specifically cater to the needs of riders. This includes elements such as helmet carriers, built-in armor, rain covers, hydration sleeve compartments, action camera mounts, harness systems, and integrated (or removable) motorcycle tool rolls, just to name a few.
Mounting Options: While we personally prefer using a backpack for motorcycle commuting, there are undeniably times when a tail bag is simply a better choice. For this reason, it's more than worth looking into motorcycle commuting backpacks that have integrated tie-down straps and mounting points that enable them to double as tail, sissy-bar, or saddlebags.
Style: While shopping for a motorcycle backpack should mainly be about function and utility, there's nothing wrong with letting your aesthetic tastes play a key role in your decision-making process, especially considering that the industry currently offers a wide range of truly stellar bags in all manner of shapes, styles, and colors. And, while backpacks admittedly may not be as comfortable or practical as a tail bag in some situations, a lot of riders simply prefer the appearance of a backpack over mounting luggage onto their bike.
Alpinestars City Hunter Backpack
Despite a rather unassuming outward appearance, Alpinestars' City Hunter backpack is a highly calculated two-wheeled storage solution that's brimming with rider-specific amenities. On top of a 420D ripstop nylon construction, semi auto-locking YKK zippers, a padded and fleece-lined laptop sleeve for screens up to 15", and a fleece-lined smartphone pocket, the City Hunter also sports a built-in motorcycle helmet carrying system, a pair of waterproof external pockets, reflective decals, and a dedicated compartment that houses a high-visibility rain cover to help ensure your gear stays dry and you stay seen by other drivers on the road amidst a downpour. Produced in four unique color options, the bag also features ergonomically-optimized shoulder belts with perforated foam padding and adjustable and removable sternum and waist straps with Astars' quick release system.
Internal Space: 25-Liters
Main Construction: 420D Ripstop Nylon
Kriega Sling EDC Edition
Just big enough to accommodate all your daily essentials and rugged enough to handle just about anything you can toss at it, Kriega's Sling EDC Edition bag is a versatile and compact hybrid sling bag with an eight-liter main storage compartment that's set up to neatly organize all of your EDC. Backed by a decade-long warranty and boasting a primary Hypalon and 1,000D CORDURA construction, the bag also has a padded compartment that can house a tablet of up to 10", plus elastic loops for cable storage and an integrated key clip. An optional waist strap also provides numerous means of carrying the bag.
Internal Space: 9-Liters
Main Construction: 1,000D CORDURA & Hypalon
ICON Speedform Backpack
Poly-bonded and molded in an ultra-aerodynamic form with a super-slippery drag coefficient, the aptly-named Speedform backpack is a sleek riding bag with a hardshell chassis and a four-way adjustable, quick-release harness system. Its 20-liter's of real-estate are protected from the elements via YKK Aquaguard zippers, including a 15" laptop compartment and a fleece-lined sunglasses pocket. In addition to accepting a hydration bladder (that is sold separately), the bag also sports a sleeve to house an optional D30 Viper spine protector (also sold separately). Other highlights include welded reflective print, a genuine metal Icon badge logo, and a helmet carrying system.
Internal Space: 20-Liters
Main Construction: 600D Poly-Bonded Molded Shell
Biltwell EXFIL-60 Bag
Biltwell's EXFIL-60 bag is another hybrid offering that affords the best of both worlds as it's capable of functioning as either a generously-sized backpack and/or a universally-mountable piece of moto luggage. Its UV and PVC-treated 1,680 ballistic-grade nylon exterior guarantees maximum durability and years of daily use while its sealed roll-top closure ensures the bag's content will always be protected from the elements, no matter how nasty things get. Good for housing a whopping 60 12oz cans at once, this bag is also equipped with three rows of MOLLE webbing, weather-resistant zippers, removable and adjustable padded nylon shoulder straps, and five built-in compression straps supplemented by four additional tie-down points for endless mounting options.
Internal Space: 45.5-Liters
Main Construction: PVC-Treated 1,680D Ballistic-Grade Nylon
Dainese D-Storm Backpack
Aimed at riders that commute on two-wheels no matter the weather conditions, this Italian-made roll-top backpack features 26-liters of 100% waterproof storage space with a removable Velcro organizer that boasts an integrated 15" laptop sleeve. Designed with an aerodynamic profile, the D-Storm backpack is constructed from welded 420D nylon that's fortified via a TPU film laminate. A trio of exterior pockets with waterproof zippers also provides quick access to small daily essentials, and reflective inserts help to make sure the blacked-out bag is seen in subpar weather.
Internal Space: 26-Liters
Main Construction: TPU-Laminated Welded 420D Nylon
Merlin Ashby Waxed Cotton Rucksack
Combining vintage aesthetic designs with premium materials and modern construction techniques, Merlin's Ashby rucksack features a main construction composed of Halley Stevensons 12oz Scottish waxed cotton that's decorated with Marton Mills tartan lining panels and a distressed wax finish and reinforced with ballistic-grade nylon at the back and base panels. Sold in olive or tan with contrasting brown straps or in a fully blacked-out model, this retro-inspired bag also gets a laptop sleeve set behind a padded, diamond-quilted back pad, antique brass closure buckles, and bespoke Merlin-branded snap studs.
Internal Space: 30-Liters
Main Construction: Ballistic Nylon-Reinforced 12oz Scottish Waxed Cotton
Kriega Max28 Expandable Backpack
Though Kriega is no doubt best-known for its ultra-hardwearing adventure moto and off-road gear, the brand has more recently applied its signature rugged designs and constructions to an urban-focused commuter bag, resulting in the Max28. Made from an immensely-durable combination of Hypalon and CORDURA Lite Plus, the bag features 22-liters of normal storage, though can be expanded to 28-liters — at which points it can accommodate a full-size full-face motorcycle helmet. What's more, the Max28 is also compatible with hydration reservoirs, protected by a ten-year warranty, and boasts heavy-duty YKK zippers throughout, a guaranteed-waterproof roll-top 14" laptop pocket with a taped-seam liner, and Kriega's proprietary QUADLOC-Lite harness system that evenly distributes weight across the body while keeping the bag pressed snugly against its wearer's back.
Internal Space: 22-Liters (Expandable to 28L)
Main Construction: 420D CORDURA Lite Plus & Hypalon
Life Behind Bars x Thrive Moto Peloton Asphalt Backpack
Produced through a collaboration between custom bike shop, Thrive Motorcycles and Jakarta-based lifestyle brand, Life Behind Bars, the Peloton ASPHALT is a limited edition backpack comprised of name-brand high-end materials from top to bottom. Its main 1,000D CORDURA construction is backed by a semi-rigid polyethylene back-plate and outfitted with a waterproof TPU tarp liner, YKK Aquaguard zippers with vegetable-tanned leather pulls, EVA foam padding, Duraflex acetal buckles, mil-spec nylon webbings, and 6061 aluminum hook closures. Made in Indonesia and backed by a lifetime warranty, this bag also features a six-way adjustable compression strap system, a hidden passport pocket, a suspended pocket for gadgets and smartphones, and a floating 17" laptop pocket supplemented via an additional 15" laptop or tablet sleeve.
Internal Space: 30-Liters (Expandable to 45L)
Main Construction: 1,000D CORDURA
Trip Machine Military Duffel
Modeled after standard-issue duffel bags from WW2, this hybrid bag from Trip Machine is made by hand in the UK and can serve as a backpack or a duffel bag, plus its plethora of handles, mounting points, and straps make it incredibly easy to tack onto almost any bike. Crafted from high-end leather and accented with subtle Trip Machine branding and genuine brass hardware, the bag's cowhide exterior has been done up in a natural finish that allows the leather to form a unique patina over time. Manufactured in multiple colors, this bag is also sold with detachable shoulder straps and a full-size rain cover.
Internal Space: 24-Liters
Main Construction: Vegetable-Tanned Leather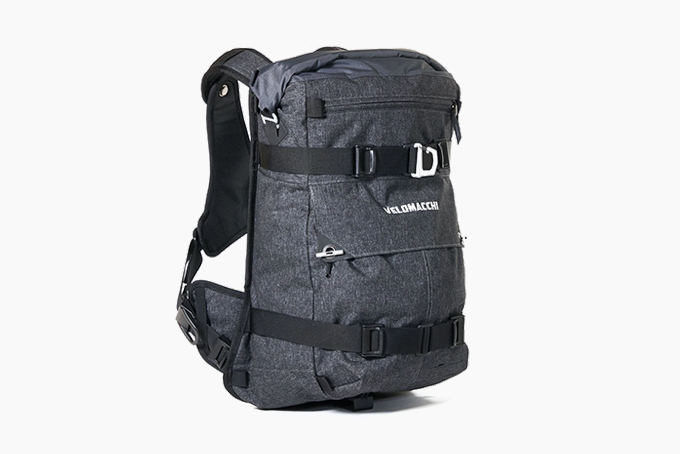 Velomacchi Speedway 40L Backpack
Though several years have passed since its release, Velomacchi's Speedway Backpack remains one of the most popular moto commuter bags in existence. Boasting a magnetic sternum coupler, a torso size adjustment cam lock system, and an action camera mounting plate, this bag's patented three-point rotating harness and shoulder strap system carries and distributes weight better than almost any other configuration on the market. Made from ACQUAFORTE 500D nylon and fitted with a ballistic quilted back panel with tuck-away shoulder straps, the bag packs a watertight main compartment with a magnetic roll-top closure and a slew of moto-specific features such as a hydration bladder compartment, a quick access first aid kit, leather gripping side stabilizing pads, a tire pressure gauge elastic sleeve, integrated tie-down anchor points, self-tailing compression straps, and an aluminum helmet carrying clip.
Internal Space: 40-Liters
Main Construction: ACQUAFORTE 500D High-Tenacity Nylon
Revival Cycles The Kilo Bag
Designed and crafted by hand, start to finish at the workshop of renowned Texas-based custom motorcycle shop, Revival Cycles, the Kilo Bag is an unmistakably high-end interpretation of a modern sling vessel. Produced in five vibrant colors, the 1.3-liter sling bag is made from USA-sourced and treated Tasman leather before being equipped with Italian-made Super Lampo T8 two-way zippers and a bespoke metal Revival badge. Inside, there is a pair of organizational pockets and an orange-coated 5.5oz Vachetta lining.
Internal Space: 1.3-Liters
Main Construction: Tasman Leather
Mission Workshop The Rhake VX
While it technically wasn't engineered specifically for riding, the VX Rhake's incredibly rugged and ridiculously weatherproof nature makes the thing beyond conducive to motorcycling. This upgraded version of the already stellar roll-top bag now features an extraordinarily lightweight and hardwearing, and 100% waterproof VX sailcloth construction and also adds a set of magnetic Fidlock buckles. Inside, the bag boasts a generous suite of organizers and compartments with 22-liters of space and a padded laptop sleeve that can accommodate notebooks of up to 17". The use of the practically-rip-proof featherweight construction also allows this full-size commuter bag to tip the scales at less than 3lbs.
Internal Space: 22-Liters
Main Construction: X-Pac VX21 Diamond Ripstop Fabric
The 21 Best Pieces Of Urban Commuter Motorcycle Gear
Still haven't finished putting together your urban ATGATT ensemble? Well, fear not as our extensive guide to the best pieces of urban commuter motorcycle gear has got you covered with a curated selection of gloves, jackets, helmets, pants, boots, and everything else you need to keep yourself protected while out on the city streets, without having to sacrifice on style.