When it comes to off-road adventure, most folks are fine tooling around in your average 4×4 — be that a truck, SUV, car, or wagon. If you're really serious about it, however, you might just gear up your ride with some extra goodies — like a rooftop tent or a winch — to make the experience even more enjoyable. You might even add some custom bits onto your vehicle of choice to up the ante even further, such as performance shocks or all-terrain tires.
Of course, if you really want the most extreme vehicular experience money can buy, four wheels might not quite be enough for you. In that case, you might be the type to opt for a 6×6. A relatively new class of vehicle, 6×6 trucks are some of the gnarliest automobiles ever envisioned — designed to laugh in the face of rough terrain and dominate even the most outlandish of trails. Despite their rarity and near-absurdism, there are actually quite a few options out there on the market — from bespoke one-offs to near production-level rides. We've done the dirty work, however, and rounded up the 10 best 6×6 trucks for your next adventure.
Arctic Trucks AT44 6X6
If you're looking for one of the beefiest, most off-road capable 6×6 trucks in existence, then it makes sense to turn to the folks who make them tough enough to traverse the beautiful yet unforgivingly punishing landscape of Iceland. We're talking, of course, about Arctic Trucks. Famously, this is the same company that customized the Hilux pickup truck the guys at Top Gear drove to the North Pole and several of their rides have traversed Antarctica. And now you can have them build one specifically for you. Powered by a 3.0-liter diesel common rail engine, she's not quick but she's a powerful all-terrain monster that can literally take you to the ends of the Earth and back.
Base Model: Toyota Hilux
Horsepower: 171
Torque: 266
Bruiser Conversions 6×6
Based on the already-impressive Jeep Wrangler JK, the folks at Bruiser Conversions have transformed this legendary 4×4 into a six-wheeled monstrosity that's about as intimidating in its appearance as a stampede of steers. Of course, appearances only go so far, so they also made sure to give it some performance to match. That can be found in the form of a Turn Key Performance LS engine that, when stock, is good for an impressive 600 horsepower and 545 foot-pounds of torque. But that, apparently, wasn't enough for them, so they also gave it a supercharger, custom exhaust, new axles, a FOX suspension, and so much more. This thing is laughably overbuilt, which is a very good thing in our opinion.
Base Model: Jeep Wrangler JK
Horsepower: 600
Torque: 545
Can-Am Outlander Max 6×6 XT
Big beefy pickup trucks aren't for everyone — especially if you're looking to keep your weight down and enjoy the outdoors with as little between you and nature as possible. If you fall into that category, then the 6×6 for you might just be the Can-Am Outlander Max XT. Think of this thing like a high-powered ATV, but with a little extra length at the tail end for more cargo-hauling capacity — 700 pounds worth, to be exact. Of course, aside from the extra axle and two more wheels, there's a good deal more that makes this thing the superman of all-terrain-vehicles. That includes a 3,000-pound winch on the front end, a shiftless and smooth transmission, dynamic power steering, a locking differential, and the ability to tow up to 1,650 pounds. This isn't your grandpa's ATV.
Base Model: N/A
Horsepower: 82
Torque: 66
Carlex Design Exy 6×6
You'll have to excuse us a bit for putting the Carlex Design Exy 6×6 on this list as, technically, it doesn't exist yet. But, we've seen what Carlex has managed in the past with a wide array of trucks, so that's led us to put enough trust in them to pull off this magnificent-looking Mercedes-Benz X-Class pickup truck redux. It is worth noting that they have confirmed that the Exy 6×6 will, in fact, be a real vehicle. What we can tell you about it at this point is that it will be getting a beefed-up suspension, a number of exterior detail upgrades (ranging from fender flares to an LED light bar and more), a winch, and tip-to-tail styling to mesh it all together.
Base Model: Mercedes-Benz X-Class
Horsepower: TBA
Torque: TBA
Ferox Azaris Advanced ATV
Calling the Ferox Azaris a truck might be a bit of a stretch. But it's not quite an ATV, either. Really, it's in a class of its own, as there is nothing quite like it out there today. That's because, while its core engine is your choice of either a gas or electric-powered rig, it also sports a quartet of in-wheel all-electric motors — driven by a liquid that's 95% water — on the back four of its six wheels. That means this bad boy is capable of a practically unbelievable amount of torque somewhere in the neighborhood of 2,000 foot-pounds. It's also said to have a horsepower rating in the mid-700s. Yes, it looks like something you might drive around on Mars. And it's got sci-fi levels of performance and tech to match that appearance perfectly.
Base Model: N/A
Horsepower: ~750
Torque: 2,000
Hennessey Goliath 6×6
Hennessey's first foray into the world of 6×6 behemoths was with the Ford Velociraptor. But they managed to follow it up with an even more monolithic offering in their appropriately-named Goliath 6×6. Based on a Chevy Silverado Trail Boss, this leviathan of a pickup truck is less like a motor vehicle and more like a skyscraper tipped on its end and loaded with an engine. That engine, by the way, is capable of producing 705 horsepower — and that's just the baseline figure. With the right amount of scratch, however, you could probably convince them to up the ante even more with engine upgrades. Of course, you'll have to be very fluid if you want one, however, as the base price for this beastly brawler is $375,000. If money is no object, this is the top dog in the world of 6×6 trucks.
Base Model: Chevy Silverado Trail Boss
Horsepower: 705
Torque: 675
Hennessey VelociRaptor 6X6
It might be bold to say that Hennessey Performance is the only brand on this list deserving of two spots. But it also might be true. Don't take our word for it, however, as the VelociRaptor 6×6 — based on the Ford F-150 of the same name — speaks for itself. Despite its gargantuan size, this truck is also rather nimble, courtesy of a twin-turbo engine upgrade that garners the truck over 600 horsepower. And that's only the start of things. It also comes with the option for Brembo brakes, beefier wheels and tires, a bespoke interior, upgraded LED lighting, and even armoring systems. In the words of Hennessey themselves, the VelociRaptor 6×6 is "pure aggression on wheels – all six of them."
Base Model: Ford F-150 Velociraptor
Horsepower: 600+
Torque: TBA
Kahn Design Flying Huntsman 6×6
There's no denying the fact that the Land Rover Defender is an all-around automotive icon. But the folks at Kahn Design thought they could squeeze a bit more out of it. So they, along with a staff of forty designers, spent thousands of man-hours to transform it into something else entirely: the Flying Huntsman 6×6. Maintaining the Defender's signature styling, this beefed-up behemoth benefits from a special six-wheel drive system with pneumatic actuation, LED lighting, retro alloy wheels, a 2″ lift, a wealth of comfortable cabin upgrades, and more. And the whole thing is powered by a beastly 6.2L V8 gas engine. The 6×6 pickup isn't the only Flying Huntsman Kahn makes, but it is our personal favorite.
Base Model: Land Rover Defender
Horsepower: 430
Torque: TBA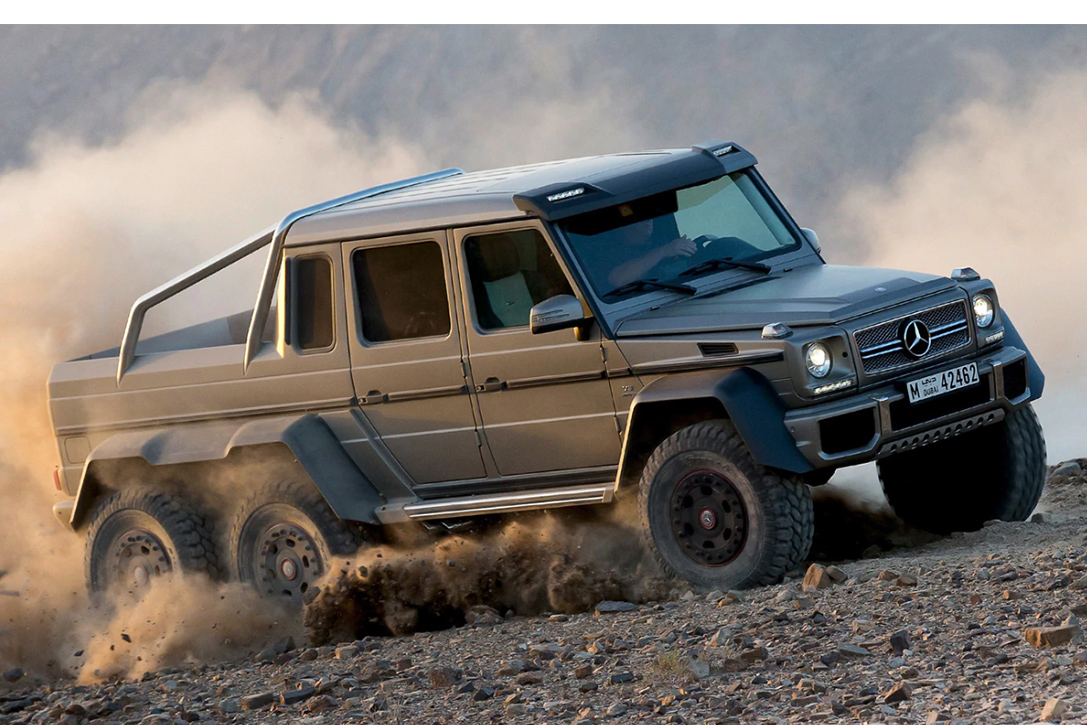 Mercedes-Benz G 63 AMG 6×6
Whereas most of the other options on this list are aftermarket builds, the Mercedes-Benz G 63 AMG 6×6 comes directly from the manufacturer, which gives it some major legs-up. For instance, that means this vehicle didn't have to be torn down in any way to get into its present form. Rather, it was always intended to be a six-wheeled leviathan. That also means it has the benefit of the brand's in-house tuners, who spruced this bad boy's 5.5L biturbo V8 up to the tune of 544 horsepower and 561 foot-pounds of torque. That powerhouse is also accompanied by some tech not found on any other option seen here — including a tire pressure system that can tune the front axle and rear axles separately. Mate that to a laundry list of other features ranging from integrated LED lighting to a massive amount of ground clearance, and it's understandable that this ride is at the top of the range.
Base Model: N/A
Horsepower: 544
Torque: 561
Patriot Campers LC79 Megatourer
Proof positive that not all 6×6 trucks are built to the same standards, the Aussies at Patriot Campers have pulled out all the stops with their LC79 Megatourer. That started with their choice of base vehicle: a Toyota Land Cruiser, which is already renowned as one of the greatest off-roaders of all time. But it's also because of all the amazing overlanding-ready features they built right in — like air-assisted lift for increased ground clearance, a 70L freshwater tank, central-locking storage for all your gear, compatibility with the brand's canopy tent systems, and the list just keeps right on going. Whereas most of the other 6×6 trucks on this list are fun for a short jaunt across nearby trails, the Megatourer is more like a mobile base camp you can live out of for months at a time.
Base Model: Toyota Land Cruiser LC79
Horsepower: 354
Torque: ~1,000
What's The Difference: Torque vs. Horsepower
When it comes to any kind of automotive performance, the two most-sought-after metrics are undoubtedly torque and horsepower. Learn everything you need to know about them and the ways in which they differ on our ultimate torque vs. horsepower guide.