Being punctual sounds easy on paper, but it's a difficult trait to utilize. In a world where smartphones can do just about anything, the wristwatch is still a tried-and-true piece of EDC gear that's beneficial to organize the time in your busy day. If you're a modern adventure-hungry pioneer, you'll need one that's tough-as-nails to survive a normal day on the grind or a weekend in the great outdoors. One of the most hardwearing watch lines out there is Casio's G-SHOCK label.
Known for their brutish designs, G-SHOCK watches are perfect for adventurers, blue-collar workers, military personnel, and hungry athletes. They are some of the toughest watches on the planet thanks to sturdy 10-layer construction that protects the quartz movement. G-SHOCK is always the right choice when you're looking for an efficient timekeeper that's suitable for the apocalypse, but there's an overwhelming amount of models available. Analyzing 40 years' worth of products, we've compiled a list of the best G-SHOCK watches available today.
Best G-SHOCK Watches Breakdown
G-Shock GM2100CB-3A Utility Series

G-SHOCK Master of G Rangeman GW9400-1

G-SHOCK Full Metal GMB2100D-1A

G-SHOCK Frogman GW8230NT-4

G-SHOCK Full Metal GMWB5000BPC1

G-SHOCK Master of G Mudmaster GWGB1000-1A

G-Shock MR-G MRGG2000R-1A

G-SHOCK MR-G Frogman MRGBF1000R1A
A Brief History Of G-SHOCK
The idea for the G-SHOCK line was conceptualized in 1981 when Casio engineer Kikuo Ibe accidentally dropped the pocket watch he received from his father. A trio dubbed "Team Tough" was chosen to create a rugged timepiece for everyday dings and drops. Ibe was enlightened to learn that a rubber ball's center doesn't suffer a shock when the ball is bounced, leading him to incorporate that idea into the first-ever G-SHOCK timepiece. He also wanted to make the watch water-resistant up to 100m, drop-resistant up to 10ft, and have a battery life of one decade. In April of 1983, the G-SHOCK DW-5000C was unveiled, and a TV news station tested out the watch live, including whacking it with a hockey stick, as if it were a puck. The G-SHOCK timepiece survived, and the world was introduced to the legendary line.
G-SHOCK Terms to Know
When diving into the world of this legendary Japanese watchmaker, it can seem daunting to learn about all the different types of watches and series that come out –– sometimes combined into a single release. Here, we've listed some key terms to know:
Frogman: Known for its asymmetrical shape, the Frogman series is purpose-built for divers and swimmers and is ISO 6425-compliant. Popular amongst its 1000 Series, there are Frogman watches in the 8200 and 6300 lines as well.
Mudmaster: Mudmasters are adventure-oriented G-SHOCKs known for their supreme ruggedness against the elements and resistance to mud. The analog-digital Mudmasters are notably different from the digital-only Mudman watches.
Rangeman: Originally the first G-SHOCKs to get the Triple Sensor tech (compass, altimeter/barometer, thermometer), Rangeman watches are fewer and farther between and are no longer guaranteed to have GPS capability.
CasiOak: Debuting in 2019, the 2100 Series was notable for its "mature" design ethos, octagonal bezel, and digital-analog display. Fans refer to these as CasiOak models for their eight-sided resemblance to Audemars Piguet's Royal Oak luxury watches.
MOVE: In 2020, G-SHOCK debuted its MOVE series, which took after the growing trend of smartwatches while still falling in line with the brand's ethos. These models have included heart monitoring, GPS, step tracking, and a selection of sports apps.
Full Metal: Last year, the brand began giving its most popular models like the 2100 and 5600 the Full Metal treatment. While G-SHOCK watches have featured metal cases and bezels in the past, they were largely, if not mostly, using resin materials. Full Metal watches use metal in their entirety.
Master of G: Master of G is a series of releases from G-SHOCK appointed to introduce new and innovative features. Past Master of G models have debuted tech such as moonphase, Tough Solar charging, GPS navigation, and pulse sensors.
MR-G: MR-G encompasses G-SHOCK's high-end selections. These timepieces often use premium materials like titanium, advanced technologies, and innovative concepts.
G-SHOCK GBD800UC
Why It Made the Cut
A formidable hiking companion, this ultra-rugged POWER TRAINER can also track steps and log 200 laps.
A popular model in the POWER TRAINER sports lineup, and it will help you crush your fitness goals while also being a formidable hiking companion. The G-SHOCK GBD800UC features a 3-axis accelerometer that tracks your steps, 20 timer combinations with memory for up to 200 laps, and an accompanying app that lets you organize step count logs with up to five exercise levels. With this timepiece, you'll be able to calculate calories burned, so you can keep your body lean and mean.
Dimensions: 54.1 × 48.6 × 15.5 mm
Best For: Hiking, Fitness
G-SHOCK GA700SK-1A
Why It Made the Cut
Aside from the throwback '80s see-through case and band, this stylish piece balances form and function as well as the best G-SHOCKs out there.
Peel back the skin of the timepiece with G-SHOCK's GA700SK-1A watch, featuring a clear skeleton aesthetic. It's made from semi-transparent resin and metallic colors, which is inspired by '80s style and modern fashion. The stylish shock-resistant timekeeper is water-resistant up to 200 meters if you happen to go overboard and is packing a Super Illuminator LED light, so you can stay punctual when the sun goes down. For a more retro-futuristic look, pick up this timepiece.
Dimensions: 57.5 × 53.4 × 18.4 mm
Best For: Style, Swimming
G-Shock GM2100CB-3A Utility Series
Why It Made the Cut
G-SHOCK added a NATO strap to its mature CasiOak model for this Utility Series, urging wearers to take it outdoors.
Despite its highly affordable price and supreme durability, the 2100 Series, also known as the "CasiOak," has never been synonymous with the outdoors, per se. In fact, if you own one of these timepieces, chances are you're using it as your everyday watch, reserving your more robust G-SHOCK, like the 5600 or 800, for activities like hiking or climbing. However, this year, the brand came out with a Utility Series of CasiOaks, swapping in a NATO fabric strap in the place of the rubber or stainless steel bands. We love the unique touch added to the lineup, reminding fans that, like their adventure-focused models, the 2100 can also be taken anywhere.
Dimensions: 49.3 × 44.4 × 11.8 mm
Best For: Hiking, Climbing
G-SHOCK MOVE DWH5600-1
Why It Made the Cut
G-SHOCK's MOVE smartwatch added a fitness tracker and four sports modes to its retro digital watch from 1983.
Released earlier this year, the DWH5600-1, part of the MOVE Series, isn't G-SHOCK's first fitness tracker. However, the watch is significant for its uniqueness and low price point. With nostalgia and simplicity on its side, the timepiece is based on G-SHOCK's first-ever digital watch from 1983 and, while not as technologically capable as other competing smartwatches on the market, can do quite a lot for just $300. Slightly bigger than the standard 5600 watches, this timepiece features an optical heart rate monitor, an accelerometer for counting and tracking steps, smartphone connectivity for accurate readouts and notifications, and GPS for use with its four sports modes: running, walking, gym workouts, and interval training.
Dimensions: 51.1 × 44.5 × 17.4 mm
Best For: Fitness, Running, Swimming, Everyday
G-SHOCK GW5000U-1
Why It Made the Cut
This is a super faithful reissue of G-SHOCK's first-ever timepiece and brings some nice updates in terms of material and function.
Inspired by the DW5000C, which is the first-ever G-SHOCK model, this modern take on the classic is a faithful reissue with some modern updates for the brand's 40th anniversary. Instead of a resin back, the stainless steel screw-back protects the steel core for more rigidity and reliability. Likewise, the GW5000U-1 bumps the water resistance up to 200m and swaps in a solid stainless steel case. Of course, the timepiece also utilizes the Multi-Band 6 system for more accuracy thanks to the radio-controlled time adjustment from six global frequencies. Almost indistinguishable from the original, this recreation is a great way to celebrate the history of this iconic brand.
Dimensions: 48.9 × 42.8 × 13.5 mm
Best For: Everyday, Style
G-SHOCK Master of G Rangeman GW9400-1
Why It Made the Cut
This Rangeman serves as a greatest hits of G-SHOCK's adventure traits to your wrist, such as Triple Sensor, mud-resistance, and temperature-resistance..
Tough enough to survive in the jungle, snow peaks, or desert, the G-SHOCK Master of G Rangeman timepiece is built to live outdoors. It packs advanced survival features, including solar operation and Triple Sensor technology (capable of keeping altitude, barometric pressure, temperature, and compass readings). Water-resistant up to 200 meters, this timepiece also does well in mud and low temperatures as well. If you're looking for a timekeeper that's meant for modern thrill-seeking pioneers, this watch has everything you need to keep up with your adventures.
Dimensions: 55.2 × 53.5 × 18.2 mm
Best For: Outdoors, Hiking, Climbing, Mountaineering
G-SHOCK GB001MVE-9
Why It Made the Cut
This modern take of the '90s classic lets you swap the bezel and straps with ease for a variety of aesthetics.
Often overshadowed by its 5600 watches, the DW-001 digital watch is nevertheless an icon in its own right. The line first came out in 1994 and became an entry point for young watch fans looking for a fashionable yet utilitarian timepiece to wear on their wrists. Recently, G-SHOCK debuted the G-B001M Series, which played off the originals but with some updates, including smartphone compatibility and a swappable case structure. The revamped bezel gives you unique style choices and the option of changing colors or materials entirely (choose between urethane and metal) and even swapping the straps with ease.
Dimensions: 50.3 × 47 × 18.7 mm
Best For: Style, Everyday
G-SHOCK GBD-H2000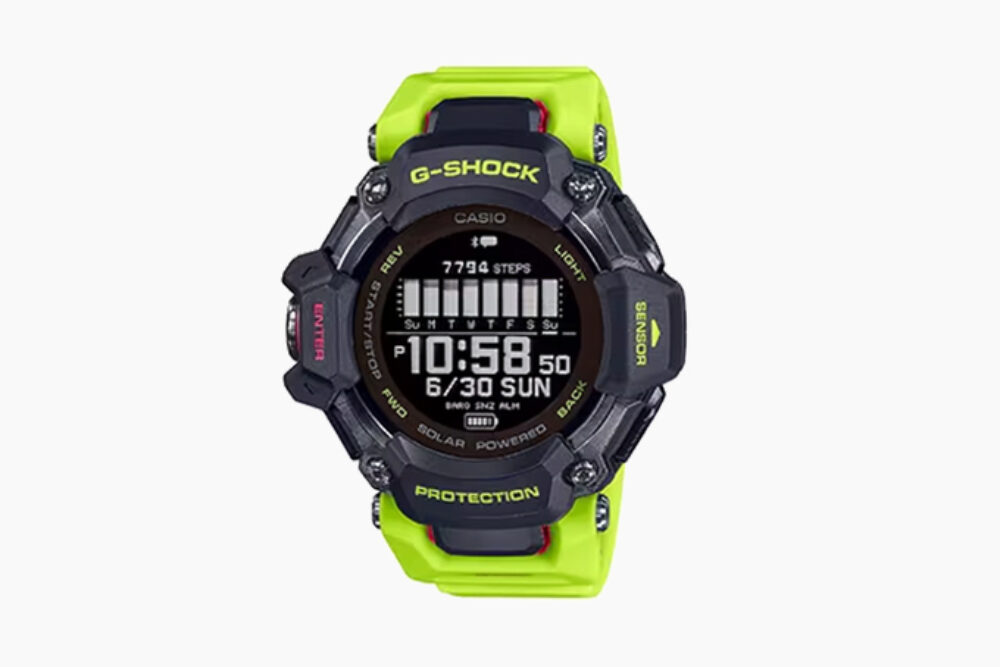 Why It Made the Cut
G-SHOCK recently updated its flagship GPS fitness tracker which can now monitor swimming, lifting, and cyclilng, among other things.
G-SHOCK's first fitness tracker, the H1000, debuted in 2020 and marked a big watershed moment for the Japanese brand. It recently gave the watch a big update with its second-generation H2000, which boasted all the same features for in-depth running and walking analysis while adding a gyroscope for better movement tracking, widening the spectrum of activities that it can monitor, such as swimming, weightlifting, and cycling. Paired with the accompanying smartphone app, the H2000 delivers real-time results for these sports while also giving more info for running, such as pitch and stride. Other features include SWOLF score and stroke count for swimming, cardio load, altitude gained, blood oxygen level monitoring, and built-in GPS satellite antenna that's been expanded to include Galileo and Beidou systems.
Dimensions: 59.6 × 52.6 × 19.4 mm
Best For: Fitness, Sports, Running, Cycling, Swimming
G-SHOCK Full Metal GMB2100D-1A
Why It Made the Cut
This Full Metal CasiOak is the most high-end 2100 available and offers a touch of class to your adventure watch.
Released in 2019 and using the octagonal form of the clean classic DW-5000C, the 2100 Series has become the de facto "king" of the G-SHOCK line with its sleek and simple design, as well as its resemblance to the Audemars Piguet Royal Oak –– earning it the unofficial nickname "CasiOak" among fans. In 2021, the brand added a Full Metal flair to the CasiOak (previously offered in a resin/steel combo), bringing a fully-stainless steel case and bracelet to the line to elevate it even further. It features a slender 12.8 mm case, which is one of G-SHOCK's slimmest cases to date, a solar quartz movement, and analog-digital timekeeping. The trusty shock-resistant watch has a Super Illuminator double LED light and is water-resistant up to 200 meters, in case you take a dip in the ocean or get caught in heavy rain pour.
Dimensions: 49.8 × 44.4 × 12.8 mm
Best For: Style, Dress
G-SHOCK Frogman GW8230NT-4
Why It Made the Cut
G-SHOCK celebrated the 30th anniversary of the Frogman with this revived favorite from 2000 with a titanium case and some homages in the design.
2023 marks the 40th anniversary of the G-SHOCK brand but also the 30th anniversary of the legendary Frogman watch. When it debuted in 1993, it was their first-ever ISO 6425-certified diver with 200m of depth rating (versus the 100m of previous models). However, it was its 2nd-gen models that debuted a few years later that gave us the unusual asymmetrical design and bolstered rugged construction. In 2000, we got the bright red DW-8200NT, which was recreated this year. Commemorative engraving on the caseback and the frog outline on the LED backlight are just a couple of homages, but this timepiece is a robust addition to your adventures with or without the retro nods. As the smallest Frogman in the current lineup, the GW-8230NT-4 boasts a titanium case, 200m of water resistance, and bio-based resins for the bezel and band. It can also log your past ten dives and features tide graphs and moon phase data.
Dimensions: 52 × 50.3 × 18 mm
Best For: Diving, Swimming, Surfing, Hiking
G-SHOCK Full Metal GMWB5000BPC1
Why It Made the Cut
This Full Metal version of the 5000 watch adds black-colored steel and a cool color gradation effect around the dial.
If the GW5000U were a celebration of the brand's past, the Full Metal series GMWB5000BPC1 shows how far the brand has come, even within the simple confines of its 5000 Series. Adding retro flair to the Full Metal lineup for the first time, the black-colored stainless steel timepiece has the same vintage square case design but changes it up on the dial with a color gradation effect that goes from blue to green in certain angles. Also benefitting from 200m of water resistance, shock resistance, Bluetooth phone linking, Super Illuminator, and G-SHOCK's Tough Solar charging, the GMWB5000BPC1 is one of G-SHOCK's most aesthetically appealing watches.
Dimensions: 49.3 × 43.2 × 13 mm
Best For: Everyday, Style
G-SHOCK Master of G Mudmaster GWGB1000-1A
Why It Made the Cut
This new-gen Mudmaster is made from a high-rigid carbon compound and improves upon the model's durability and mud-resistance.
Coming from the Master of G Series, G-SHOCK's Mudmaster series is built to survive in harsh land environments. Recently released in its latest generation, the watch is given a wider diameter, a lighter weight, and a more protected crown. Made from high-rigidity carbon material called Carbon Core Guard to protect the watch from damage and deformation, the case is given mud-resistant construction with cylindrical guards on all the buttons, while the shafts are given gasket linings. It also has a bezel made from three layers of superior resin with carbon fiber inserts. The durable watch is shock and mud-resistant and features a quad sensor and dual Super Illuminator LED light, making it ideal for rough and dirty terrain.
Dimensions: 58.7 × 52.1 × 16.2 mm
Best For: Hiking, Mountain Biking
G-Shock MR-G MRGG2000R-1A
Why It Made the Cut
A solid travel watch, this titanium timepiece features a worldtimer and chronograph to the dial, with a soft rubber strap as well.
G-SHOCK doesn't have a lot of watches that come close to the $3,000 mark but its innovation-focused MR-G line is host to its priciest models. This particular 2000 Series timepiece features a titanium case for lightweight and bolstered strength. Featuring worldtimer and chronograph functions, the analog watch has a shock-resistant all-metal design with a Dura Soft Fluoro rubber band to help it withstand adventures wherever you roam. The extremely durable watch also has Bluetooth GPS radio-controlled solar-powered timekeeping for immense accuracy.
Dimensions: 54.7 × 49.8 × 16.9 mm
Best For: Diving, Travel
G-SHOCK MR-G Frogman MRGBF1000R1A
Why It Made the Cut
Among G-SHOCK's most luxurious models, this MR-G is the first analog Frogman made from titanium and also pairs with your phone to log your dives.
Speaking of expensive G-SHOCKs, this MR-G Frogman is not only one of the brand's most robust and visually striking timepieces but one of its most expensive ever. As one of just three times the Frogman has been featured in the top-shelf MR-G line, this year's MRGBF1000R1A combined elements from its predecessors to make the most luxurious Frogman so far. With both a titanium case and bezel (the first for an analog Frogman), along with a digital-analog display, the new sports watch is highlighted even further with the press-fit sapphire crystal caseback with blue vapor deposition and dual-sided laser engraving for beautiful results. Blue details carry over to the rest of the watch, including the outer seconds track and subdials. The timepiece also works in tandem with your smartphone via Bluetooth for logging dives and keeping track of intervals.
Dimensions: 56 × 49.7 × 18.6 mm
Best For: Diving, Outdoors, Exploring
The Toughest Watches on the Planet
Looking for a good survival timepiece? Check out our guide to the toughest watches you can buy for any adventure.