Putting together a robust home bar is one of the best (and most fun) ways to improve your living space. Not only is it great for mixing yourself a drink when the need arises, but a well-stocked home bar also transforms you into a stellar host whenever you have guests over. But buying up an assortment of bottles at your local liquor store can get expensive in a hurry, especially if you don't really know what you're doing. Lucky for you, we've put together a list of the essential bottles you'll need to start your home bar, so you can spend your money wisely.
For this guide, we're covering all of the alcoholic bottles you'll need for your home bar, though it goes without saying that you'll also want to keep a variety of juices, fresh citrus, sodas, garnishes, and maybe some bar syrups around, too. But your biggest and most important expense when it comes to your home bar is the booze. Our essential bottles are split between spirits, liqueurs, bitters, and vermouths, and if you stock your home bar with all of them, you'll have everything you need to make most major cocktails you're likely to encounter. So take a look below and get ready to build the best home bar on the block.
What Are Spirits?
Spirits, also known as liquor, form the basis for all cocktails, and they are the backbone of any home bar. All types of whiskey (or whisky), rum, gin, vodka, tequila, absinthe, and brandy are classified as spirits. So what does that mean? For one, a spirit must be distilled, and the majority are distilled from fermented grains or fruit. The distillation process yields a much higher concentration of alcohol than fermented forms of alcohol like beer and wine, and spirits are almost always at least 40% alcohol by volume (ABV), or "80 Proof." Secondly, spirits do not contain any added sugar — but that's a topic for later on in this guide. Below, we'll be discussing the main varieties of liquors that you'll need for your bar.
Absinthe has a bit of a reputation, though it probably isn't deserved. The anise-flavored liquor was outlawed in the U.S. and much of Europe for the bulk of the 20th century over concerns — later proven to be false — that the wormwood contained in the spirit was toxic and/or psychoactive. Absinthe bans in the western world have been lifted over the past 20 years, and it's now possible to imbibe in this mysterious spirit once again. Absinthe typically has an ABV that's higher than other spirits, often in the 120 to 140 proof range, along with a strong licorice flavor that masks its potency. It's used in some very old cocktails like the Corpse Reviver No. 2 and, naturally, the Absinthe Drip.
St. George Absinthe Verte
Best Absinthe: When the U.S. ended its Absinthe ban in 2007, St. George was the first American brand out of the gate to start producing the notorious spirit again — and they're still at it today. Rather than using a generic grain alcohol as its base, St. George opts for fine brandy, imparting a bit more complexity to its absinthe that also contains star anise, hyssop, fennel, and — of course — wormwood in its mash.
ABV: 60%
Tasting Notes: Anise, citrus, grassy, menthol, pepper
Bourbon
Corny (In A Good Way)
By far the best-known American style of whiskey, bourbon is widely associated with the state of Kentucky — though not all bourbons originate in the Bluegrass State. All whiskeys are distilled from a grain mash and aged in a wooden vessel, and bourbon has specific rules that dictate how this must be done. In order to be categorized as a bourbon in the U.S., a whiskey needs to be distilled from a mash that is made up of at least 51% corn, and it needs to be stored in new, charred oak barrels. An extremely popular tipple in the U.S., bourbon is known for its sweeter taste in comparison to rye and scotch (we'll get into those later), and it's the base spirit for classic cocktails like the Whiskey Sour and Mint Julep.
Elijah Craig Small Batch Bourbon
Best Bourbon: There are a ton of bourbons out there at a ton of different price points, and the territory between $30 and $50 is especially stocked with bourbons that are excellent for mixing. Long underrated as a brand, Elijah Craig is fast becoming more popular thanks largely to this bottle. Crafted in small batches, this superb budget whiskey is renowned for its subtle blend of smoke and sweetness.
ABV: 47%
Tasting Notes: Vanilla, nutmeg, smoke, mint
Brown-colored brandy may look like whiskey, but it's made in an entirely different manner. Brandy is distilled from wine rather than a grain mash, but it is still aged in oak casks, which is why the end product looks similar to whiskey. Brandy can be made anywhere, but the most renowned types come from France: Cognac and Armagnac. Each of these must be made in their eponymous French regions, and they utilize different grapes, production methods, and aging techniques to achieve their final products. All brandies, especially Cognacs and Armagnacs, are known for their complexity and richness, and while they're frequently sipped neat, they also star in cocktails like the Sidecar and the Brandy Alexander.
H By Hine Cognac VSOP
Best Brandy: Most Cognac connoisseurs would scoff at the idea of putting a VSOP (that's Very Superior Old Pale, a brandy that's been aged for at least four years) in a cocktail, but this is not your ordinary VSOP. Hine created H specifically to be used in cocktails, and while it is a bit pricey for a mixing brandy, it's well worth the cost. Made from a blend of 20 eaux-de-vie from Grande and Petite Champagne grapes, this brandy boasts light fruitiness and a short finish that plays well with others.
ABV: 40%
Tasting Notes: Apricot, jasmine, spice
Moving away from the brown stuff for a bit, we have gin. Gin is a clear spirit distilled from various grains, but what makes it gin comes after the distillation when botanicals are added for flavor. In order to be classified as a gin, the most prominent of these flavors must be juniper berries, which give gin its unique, lush green flavor. There are several varieties of gin, but the most popular is London Dry, which must be at least 80 proof and have no sugar added. Gin appears in many cocktails, with the two most prominent being the most simple: the Martini, where it is mixed with dry vermouth, and the Gin & Tonic, which is self-explanatory.
Tanqueray
Best Gin: Tanqueray is one of the most famous and popular gins for a reason — it's a great product. While many modern gins stray too far from the formula by amping up the other botanicals, Tanqueray keeps things old-school with their very juniper-heavy London Dry. It's also high-proof at 94.6, meaning it'll give your Martini a nice kick. Robust and full-flavored without overcomplicating things, this is what a gin should taste like.
ABV: 47.3%
Tasting Notes: Juniper, citrus, spice
Of all of the base spirits, rum has the most variety within its ranks. There are clear rums (called white or silver), gold rums, and dark rums. There are rums that originate in Puerto Rico, Jamaica, Haiti, and the Demerara region of Guyana — and they all have their own distinct taste and properties. There are spiced rums that add a number of spices to the mix (and are often very artificial-tasting, at least among mainstream brands), and there are overproof rums that are sold at a whopping 151 proof. But what unites all rums is that they are distilled from sugarcane, either the sugarcane juice itself or byproducts like molasses, making all rums sweet to some degree. Every home bar should stock both a light and a dark rum, with dark rums forming the basis for most tiki drinks like the Mai Tai and Zombie and lighter varieties featuring in classic cocktails such as the Daiquiri and Mojito.
El Dorado 12 Year Rum
Best Dark Rum: While not always the case, you can often get very aged, high-quality rums for a lot less money than equivalent Scotches or Cognacs. Case in point: this Demerara darling that can be had for under 40 bucks. Demerara rums are known for a distinct aromatic smokiness that accompanies their caramelly sweetness, and those qualities are expressed beautifully in this dark golden rum that's been aged for at least a dozen years in oak casks.
ABV: 40%
Tasting Notes: Cocoa, caramel, prunes, spices
Flor de Caña 4 Year Extra Seco
Best Light Rum: Without naming names, we'll just say that many of the mainstream light rums on the market that originated in Puerto Rico or the Virgin Islands are best to be avoided, as they are too mass-produced and taste of chemicals. But what should not be avoided is this "extra dry" silver rum out of Nicaragua. Slightly spicy and exceptionally smooth, this will change how you feel about light rums.
ABV: 40%
Tasting Notes: White chocolate, orange, vanilla, almond
Another traditional American whiskey, rye had fallen out of favor for years but has experienced a massive resurgence over the past two decades. Rye differs from bourbon in that its mash must be made from at least 51% rye (a grain related to wheat and barley) instead of corn, which results in a spirit with less sweetness and more of a spicy kick than its closely-related countryman. Canadian whisky (no "e") is sometimes called "rye," but this has more to do with tradition and does not necessarily refer to the makeup of the mash. American rye is the traditional main ingredient in arguably the two greatest whiskey cocktails — the Old Fashioned and the Manhattan — though many will substitute bourbon instead.
Bulleit Rye
Best Rye: Although a rye's mash needs to contain only 51% rye to be labeled as such, the best ryes go well above that number. Bulleit is one such rye, with a mash made up of an impressive 95% percent rye. This makes for an extremely spicy rye that helps to further distinguish it from bourbon to earn a place on your shelf. Bulleit Rye is also bottled at 90 proof and packs a pretty good punch, and consuming it may or may not put hair on your chest.
ABV: 45%
Tasting Notes: Tobacco, black cherry, peach
Scotch
Malt And Catch Fire
Our third and final whiskey, er, whisky, is the grandest of them all. Scotch, as the name suggests, derives from Scotland, and any spirit made outside the UK country cannot be classified as such. There are loads of rules and regulations that dictate the production of Scotch, but the basics declare that it must be distilled from a mash containing malted barley, it must be aged in oak barrels for at least three years, and this entire process must take place within Scotland. Different regions of the country produce different types of Scotch — some are smokier, some are sweeter, some are peatier — but the main types of Scotch to keep straight are single malt and blended. Single malt Scotches are made entirely in a single distillery using only malted barley in the mash. These are often expensive and are generally consumed on their own (or with a few drops of water). Blended Scotches are just that, blends of various Scotches of varying ages from different distilleries. Cheaper and considered (usually) to be lower in quality, blended Scotch is mixed in cocktails like the Rob Roy and the Rusty Nail.
Monkey Shoulder
Best Scotch: If you're going to get a blended Scotch, Monkey Shoulder is the way to go. The brand basically invented the idea of a premium blended Scotch, and it's one of the few blended Scotches that you could drink neat if you desired. That's because it's crafted in small batches from a mix of three fine Speyside single malt Scotches, resulting in a smooth and complex whisky that you'll be reaching for again and again.
ABV: 43%
Tasting Notes: Honey, apricot, butterscotch
Tequila
South Of The Border
While you may associate tequila with pounding shots in your college days, the signature Mexican spirit is far more deserving of your respect. Tequila is distilled from a mash made from the sugary heart of the blue agave plant, and there are three main types. Blanco, sometimes called silver, is unaged; reposado is aged in oak barrels for two to twelve months, and then there's añejo, which is aged for one to three years (less common "extra añejo" is aged for over three years). The more aged a tequila is, the smoother it becomes, and añejos are often consumed neat rather than mixed in cocktails like the Margarita or Tequila Sunrise. One more note on tequila: no matter which variety you opt for, always choose one that's made from 100% blue agave. "Mixto" tequilas add other sugar sources in addition to blue agave in their mash and are a surefire recipe for a hangover.
Espolòn Reposado
Best Tequila: When it comes to mixing, you can go wrong with a reposado tequila. They're smoother than a blanco while still retaining enough bite and funkiness to show through in a cocktail. And for a solid and affordable reposado, it's tough to beat Espolòn. Made from 100% blue agave, of course, this has been aged in lightly charred, new American oak barrels that give off just a touch of distinct woody flavor. Plus, the Dia de Los Muertos-inspired bottle art will look great on your shelf.
ABV: 40%
Tasting Notes: Plantains, tropical fruit, vanilla, cooked agave
Vodka
Water, But Make It Boozy
Our final base spirit is also the simplest and least complex — but that doesn't mean you should skip it. Unlike whiskeys and rums which are prized for their flavors, the sign of a good vodka is a distinct lack of flavor. Distilled from almost anything — including fruit or potatoes — most vodka is distilled from grain, and in the USA it is frequently filtered through charcoal to remove impurities. A good vodka should be clear and largely odorless and tasteless — save for the smell and taste of alcohol. But be wary of "premium" vodkas, as the difference in quality between a $15 and $50 bottle of vodka is typically negligible at best. While vodka is traditionally consumed ice cold and neat in Russia and Eastern Bloc nations, it is also extremely popular in cocktails distinctly because its lack of taste allows it to disappear amongst other ingredients. It features prominently in drinks like the Moscow Mule, Bloody Mary, and Screwdriver.
Tito's Vodka
Best Vodka: Texas may be just about the last place you think of when you think of good vodka, but Tito's is changing that perception. Barely two decades old, Tito's is quickly becoming almost too trendy — it has surpassed Smirnoff as America's most popular vodka — but that's ok, as it's still being made the right way in old-fashioned pot stills from a corn-based mash. The result is a multi-award-winning vodka that pulls off some Houdini-level disappearing acts in cocktails.
ABV: 40%
Tasting Notes: Slightly sweet, cracked pepper, grain
Liqueurs, Bitters, And Vermouths
Additives & Additions
Now that you've got your spirits sorted, you're going to need some mixers — additional ingredients that combine with your base spirits and are required for making cocktails. And while you should of course keep non-alcoholic mixers on hand like tonic water and club soda, fresh fruit juices, and some flavored syrups, you're also going to need some alcoholic mixers. There are three main categories of alcoholic mixers that we'll be discussing: liqueurs, bitters, and vermouths. All of these are essential to making cocktails, and you're going to want a healthy mix of each of them on hand in your home bar. Take a look below to find out more about each of them.
Bitters
An Acquired Taste
Bitters typically begin their life as a spirit that has had numerous herbs, spices, and botanicals steeped in it. They use little if any sugar, hence the name, and rely on their specific mix of additives to achieve their signature bitter taste. Bitters can be broken down into two main categories: cocktail bitters and aperitifs/amaros. Cocktail bitters are not considered a beverage, and they are only used in very small quantities — typically "dashes" — to add depth and flavoring to a cocktail. Aperitifs/amaros are more palatable in larger quantities, and in some cultures are consumed on their own before a meal to whet the appetite. They also feature in many cocktails and are used in the same manner as liqueurs, which you'll learn about later on.
Angostura Aromatic Bitters
Best Aromatic Bitters: Think of your Angostura Bitters bottle as the salt shaker of your home bar. It makes everything taste better, and you'll be using it constantly. The most important bottle of bitters to own by far, this distinct little bottle with the oversized label is sold practically everywhere, from grocery stores to Amazon. Its complex blend of spices and botanicals is the secret weapon of an untold number of cocktails, and its cost of entry is basically nothing.
ABV: 44.7%
Tasting Notes: Vanilla, spice, fruit
Regan's Orange Bitters No. 6
Best Orange Bitters: If you only get one bottle of bitters, get Angostura. But if you get two, make an orange bitters your second choice — specifically this one. Regan's is the most popular orange bitters around, and it does an excellent job of imparting fragrant citrus oil flavors to your cocktails. While not as ubiquitous as Angostura Bitters, orange bitters are coming back into fashion, and they show up fairly often in classic cocktail recipes.
ABV: 45%
Tasting Notes: Orange, cinnamon, cloves
Campari
Best Aperitif: The best-known aperitif in the world, Campari is one of three ingredients required to make the uber-popular Negroni cocktail. But that's not all it's good for. Frequently consumed on its own prior to meals, Italian-made Campari has a distinct — some would say "acquired" — taste that is extremely bitter and somewhat reminiscent of orange peel. It's a beautiful drink in the right setting, but it isn't for everyone. If you find that Campari is a little too bitter for you, then you should check out Aperol, a similar and slightly less bitter Italian aperitif.
ABV: 48%
Tasting Notes: Bitter, orange, floral
Liqueurs, not to be confused with liquor, are spirits that have had sugar and additional flavorings added to them. This results in a sweeter, stronger-flavored, and (usually) less alcoholic drink, with most liqueurs containing 15 to 30% ABV. The base spirit can be anything — there are liqueurs made from whiskey, rum, gin, you name it — and the flavorings are almost limitless as well. Some of the most popular styles of liqueur are flavored with fruits, nuts, or a mix of herbs. Five of the most important styles to have on hand are below.
Kahlúa Coffee Liqueur
Best Coffee Liqueur: For as popular as they are, coffee liqueurs — and particularly Kahlúa — are wildly underrated. Not only is this an essential ingredient in the Big Lebowski-approved White Russian and its non-movie star cousin, the Black Russian, but it's also versatile enough to take the lead in everything from the basically-ice-cream Mudslide to the coffee lovers' Espresso Martini to fun layered shots like the B-52. It's a surprisingly versatile bottle, it's dirt cheap, and it's sold everywhere. The Dude abides.
ABV: 20%
Tasting Notes: Coffee, vanilla, caramel
Cointreau
Best Orange Liqueur: By far, the most essential liqueur to keep stocked in your home bar is an orange liqueur. They come in many varieties — curaçao, triple sec, brandy-based Grand Marnier — but all accomplish basically the same thing. The original triple sec, Cointreau is clear, sweet, and strong, with a prominent orange flavor and an impressive 40% ABV (we're talking spirit levels of booziness). It's been around forever and will be around forever because it's simply the best at what it does, and what it does is make great cocktails.
ABV: 40%
Tasting Notes: Orange, cinnamon, nutmeg
Green Chartreuse
Best Herbal Liqueur: One significant category of liqueurs is the bizarre and ancient herbal liqueurs. These can trace their histories back hundreds of years to when they were used as medicines and are typically made from a secret blend of dozens of herbs and botanical extracts by some European order of monks. There are a handful of great liqueurs that fit this description, such as Bénédictine, but the best and most important is Chartreuse. Available in green and yellow varieties (green being the stronger and more intense of the two), Chartreuse has been made by Chartreuse monks in France since 1737 from a recipe hundreds of years older than that. It contains 130 plants and flowers in its recipe, and only two monks know what they are at any given time (yes, really).
ABV: 55%
Tasting Notes: Citrus, mint, pine sap, bittersweet tea
Amaretto Saliza
Best Amaretto: It's good to have a sweet liqueur on hand for those who like dessert drinks and lighter cocktails, and almond-flavored amaretto is a longtime crowd-pleaser. The liqueur's reputation has suffered a bit since its '70s heyday, due in large part to the proliferation of lower-quality amarettos that have never been anywhere near a real almond. Italian-made Saliza, however, is a rare true amaretto. It's made from crushed almonds — no apricot kernels or artificial flavorings here — and boasts a strong natural toasted almond flavor that will elevate your Amaretto Sours and Godfathers into the stratosphere.
ABV: 28%
Tasting Notes: Toasted almond, orange
Luxardo Maraschino
Best Maraschino: For a while, maraschino liqueur was a somewhat forgotten cocktail ingredient from the pre-Prohibition era, but it has come roaring back into popularity in recent years. Distilled from sour marasca cherries, maraschino liqueur doesn't actually taste like cherries. It's a clear and sweet liqueur with a unique light, fruity, and nutty taste. Italian-based Luxardo, with its distinct straw-wrapped bottle, makes the best and most popular version, and it's a key component in classic cocktails like the Aviation and the Last Word. Break this out when you want to impress your guests.
ABV: 32%
Tasting Notes: Cherry, nutty, dark chocolate, vanilla, orange marmalade
Vermouth
Bona Fide Fortified
Unlike liqueurs and bitters, vermouths contain no distilled spirits. Instead, they are what's known as a fortified wine. Herbs, spices, and botanicals are added to a base wine to create a new drink with its own unique flavor and a longer shelf life. But vermouth is still wine, at the end of the day, which means it's less alcoholic than other bottles on this list. So put it in the fridge after you open it, and toss it after a few months or it will go bad. There are two main kinds of vermouth: French/dry vermouth, which is a translucent light yellow in color and slightly tangy, and Italian/sweet vermouth, which is dark red or brown, more opaque, and slightly sweet. Both kinds feature prominently in some of the most iconic cocktails in history, including the Martini (dry vermouth) and Manhattan (sweet vermouth).
Dolin De Chambery Dry Vermouth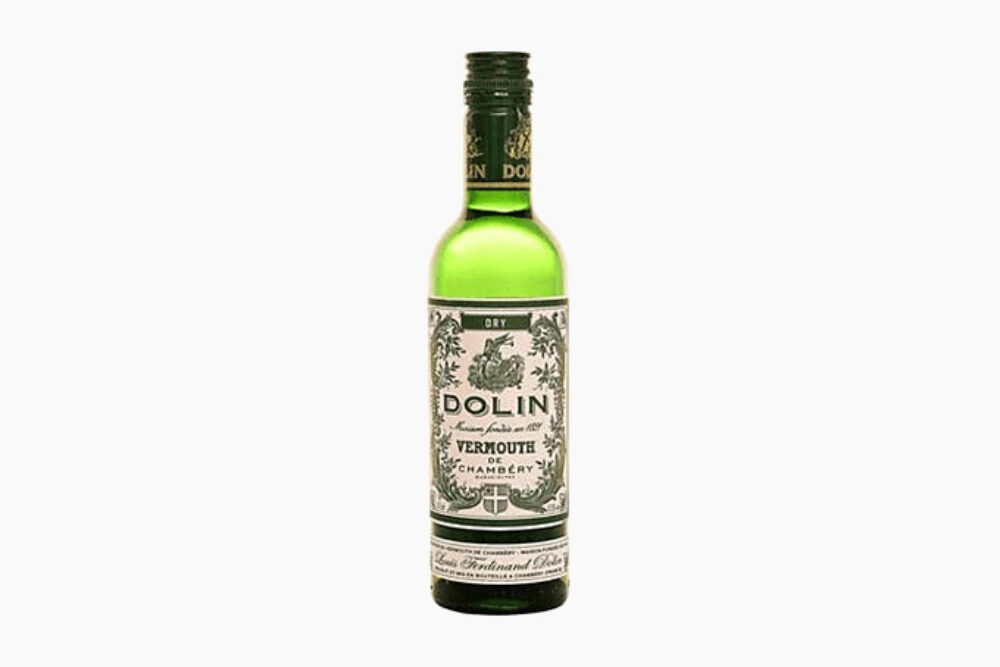 Best Dry Vermouth: The consensus choice for a quality affordable French vermouth, Dolin is made from a mix of 15 secret botanicals that have been macerated in a white wine base. The result is a complex, mostly dry fortified wine with vague notes of citrus bark, mint, and stone fruit. It's an absolutely essential cocktail ingredient and even works well on its own as an aperitif in a pinch.
ABV: 17.5%
Tasting Notes: Floral, citrus, pine
Carpano Antica Formula Vermouth
Best Sweet Vermouth: Like Dolin, this is basically everyone's pick for its respective category of vermouth. Carpano Antica has a history that stretches back to 1786, and it's a far cry from the sickly sweet vermouths you're probably used to. That's mostly because it isn't that sweet, at least not compared to most other brands. Made from a mix of Italian white wines and a secret blend of botanicals, Carpano Antica is bittersweet with a vanilla-forward flavor that's accented by notes of dried fruit, citrus, and spices. If you think that sounds like it'd make a dynamite Manhattan or Negroni, you'd be correct.
ABV: 16.5%
Tasting Notes: Vanilla, dried fruit, orange, cocoa, saffron
The Absolute Best Gins to Add to Your Home Bar
Dive deeper into one of the most versatile base spirits around with our guide to the absolute best gins you can buy.