For many drinkers who are used to cut-and-dried alcohol types such as bourbon, wine, and gin, rum may seem inscrutable. True, it's arguably the most difficult to pin down out of all the liquor categories due to its lack of regulations in most countries, but that's also what makes it the most fun to dive into. And while rum can't possibly be fully grasped in one single article without going out and tasting the stuff for yourself, we've put together a rudimentary guide to help make understanding the rum spectrum as easy as possible.
Whether mixed in a tiki drink or sipped neat, rum is easily the most versatile liquor in the world. Its sugar base allows it to mix well in cocktails, as does its variety of flavor profiles. Rum can be sweet, earthy, fiery, and everything in between. It can serve as the light base for refreshing drinks like mojitos, or it can be the highest potable liquor on Earth with the heavy 151-proof styles. But before you buy some for yourself, take a gander at our complete guide to rum styles.
What Is Rum
How Sweet It Is
Rum is produced globally and each country and region has its own unique ways of making the liquor according to its own rules and standards — or lack thereof. However, one thing remains a constant no matter where you are: Rum comes from sugar of some kind. Be it molasses, sugarcane, or sugarcane juice, rum is fermented and distilled from sugar byproducts and often aged in oak barrels. Typically around 40% ABV minimum, rum largely goes by unspoken guidelines that range from region to region rather than actual government-enforced regulations.
While variations of rum-like spirits have been around in some form or another since the 14th century, rum, as we know it today, is thought to have begun in earnest in 16th-century Brazil, which was then spread to Barbados, along with sugarcane, a century later. Slowly, the liquor began spreading to the rest of the world, notably France, North America, and England until different styles and methods started developing as well, which then made their way back to a lot of the islands and countries that first discovered it.
Rum Regions
Island Hopping
Rum is arguably the most sprawling type of liquor in the world, not just because of its lack of regulations in most countries but because of how much it varies from region to region. It begins with the sugar, but similar to wine, that sugar produces different profiles depending on where it's grown and, of course, how it's distilled and aged (or not). There are traditionally three main styles: French, Spanish, and English — largely made in the West Indies and Central America. But even within those categories, there's a lot of variation and even obfuscation of the rums' characteristics.
French-Style
As sugar prices rose in the early 1800s, French Caribbean sugar factories found a necessity for other ways of making money and thus began fermenting fresh sugarcane juice. Literally translating to "sugarcane juice," Rhum Agricole is the style of choice in French Caribbean islands such as Martinique, Guadaloupe, and Haiti. Because of how it's made, Rhum is often a bit earthy and tastes more like the cane itself, and is more expensive than molasses-based rums. Of these locales, Martinique is the only one granted a protected designation of origin under French law, and the only non-brandy region to receive such status. Regulations also require it to be aged for at least 3 months.
Spanish-Style
Of the countries and islands formerly owned by Spain, Puerto Rico and Cuba are the most notable, producing a majority of light rums in the world. However, Spanish-style rum is produced in locales such as the Dominican Republic, Venezuela, and even the Philippines, and often uses molasses as its sugar base. Ron añejo, meaning "aged rum," is considered a premium in these regions. As a good example of the differentiation among regional styles, the Canary Islands makes honey-flavored molasses rum, which is given a protected geographical designation and is much darker than the light rums typically found in Spanish-speaking areas.
English-Style
The British West Indies plays a big role in the mythos of rum when it has to do with piracy and monetization of the spirit. Known for its darker rums made from molasses, along with spiced and overproof varieties, island nations such as Jamaica and Barbados, among many others, have led the way in a certain kind of profile that's much more powerful and heavy than the rest of the world's styles, but within this region, there is some deviation as well.
Barbados: "Barbados water" is another nickname for rum, largely stemming from the roots of the liquor, which can be traced back to the Caribbean island where African slaves first began experimenting with making the stuff. Rum really took off following its popularity in the island nation in the 17th century, becoming a launching pad for its spread to the rest of the world and is still home to Mt. Gay, the oldest rum distillery in the world. Barbados rum often blends the full-flavored liquid from pot stills with the lighter, spicy liquid from column stills.
Jamaica: Given its own geographical indication back in 2016, Jamaican rum — also called "funk" — is often full-bodied, fruity, and intense. Often fermented for an extended period, the spirit can be characteristic of the stillage for a process that's similar to sour mash whiskey, where the sediment at the bottom of the still is used in the following batch. Another popular ingredient is muck, which is essentially an acrid-smelling amalgamation of bacterial acids that go into the mash during fermentation.
Demerara: Demerara is a region in the South American nation Guyana that's known for the sugarcane grown along the Demerara River. There is only one distillery left, Demerara Distillers Ltd., but it produces several of the rum world's most notable brands such as El Dorado and Lemon Hart. Demerara Distillers is also home to the world's only wooden column still, which contributes greatly to Demerara rum's renowned smoky notes.
Light rum, or white rum, gets somewhat of a bad rap for its lack of nuance and unaged quality. Although many, if not most, light rums are aged for at least three years in oak, giving them a golden color, then charcoal filtered to return them to their clear hue. Of course, cheaper rums will typically be unaged and translucent, hence the stigma. A popular style in Puerto Rico, white rums do, however, feature more mellow and sweeter profiles, with tropical fruit notes tending to surface, allowing these to crop up in a myriad of cocktail recipes, most notably mojitos and daiquiris.
Flor De Caña 4 Year Extra Seco
Often considered the best budget light rum, Flor De Caña's 4 Year Extra Seco has been aged, like all of its rums, in ex-bourbon casks for — you guessed it — four years for a uniquely spicy aroma and dry profile of wood, orange peel, and herbal hints, finishing big with a peppery kick. Based in Nicaragua right by the San Cristóbal Volcano, this distillery has been going strong since the late 19th century and today has the largest reserve of aged rums globally. This particular bottle goes great in mojitos and fruit cocktails or can be sipped neat.
Banks 5 Island Rum
In an industry that wears its region or nation like a badge of honor, Banks 5 Island Rum destroys all of those notions, and to great success. Blending 20 different rums from Trinidad (this distillery's home), Jamaica, Guyana, Barbados, and Indonesia, 5 Island manages to bring out complex characteristics from each locale, from the funk of Jamaica to the spice of Barbados, with a secret ingredient in arrack — a red rice-based rum from Indonesia. Banks' native Trinidad is also represented in the base of this British-style concoction to prove that white rum still has a lot to say.
Gold
Looks Can Be Deceiving
Although not always true, the color of the liquor often has to do with the length of aging. As such, gold rum, aged between 3 and 5 years, begins to take on the qualities of the oak casks in which they've matured. But don't be fooled! Just like many distilleries will charcoal-filter golden rum to give them a clear color, some will add coloring to light rum to give the impression of aging — and this goes for dark rums as well. Did we mention a lack of regulations in this spirits category? Not as strong as dark rum, but also more flavorful than light rum, true gold rum is lightly aged and a favorite for many due to its medium-bodied profile and palate accessibility.
Appleton Estate Signature
When it comes to Jamaican rums, we should look to Appleton as the benchmark. Amongst an array of labels that include its flagship aged dark rums, the Estate Signature gold rum is perhaps its most underrated and objectively more affordable. Blending several 5- to 10-year-old rums together in oak casks which are then aged for a few more months, this Estate Signature is an incredible pick for any budget and possesses complex notes of citrus and nuts, with a mild sweetness and a creamy and dry finish.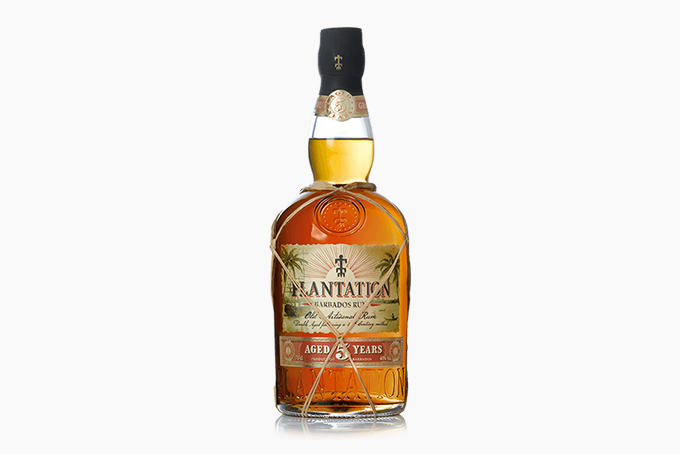 Plantation Rum 5 Year
Rum is so much fun because many of the top-shelf selections can still be found well under $30. Barbados-based distillery Plantation is a favorite among rum connoisseurs everywhere, but this 5 Year bottle might be its most versatile. Aged between three to five years in ex-bourbon oak barrels and then finished in French Château de Bonbonnet Cognac casks for an additional year or two, this gold rum is not just a paradigm of style but of the spirit as a whole, with notes of chocolate, orange, and almonds.
Dark
The Old Guy In The Rum
As you start to learn which brands to look out for, you'll begin to understand the variation within each category. For our purposes here, dark rum refers to aged rum, the maturation time typically listed on any label where it matters. The longer a rum is aged, the better it is for sipping neat. You also wouldn't want to waste these higher-aged bottles in cocktails since their nuanced flavor profiles would be diluted and obfuscated among other ingredients. Dark rums shouldn't be confused with black rums or blackstrap rums, which add molasses to the finished product, making them a great deal sweeter. Rum enthusiasts typically tend to steer clear of blackstrap unless, of course, they are making themselves a dark and stormy cocktail.
El Dorado 15 Year
If you wanted to compare Demerara to Scotch, you wouldn't be judged at all. Known for its highly-matured expressions, El Dorado is easily the biggest distillery in the region. Considered by some to be the best readily-available rum in the world, this 15 Year dark rum refers only to the age of the youngest liquid in the blend, with some as old as 25 years, all of which have been distilled in wooden heritage column stills and aged to perfection in ex-bourbon barrels for a smoky bouquet that's characteristic of this Guyana spirit. Notes of caramel, brown sugar, and toffee then grace the palate, with a long spice-filled finish. This dark rum is best sipped neat.
Foursquare Indelible
For the 18th release in its Exceptional Casks Selection, Barbados darling Foursquare unveiled Indelible, which combines 11-year-old rums from either ex-bourbon barrels or ex-zinfandel barrels, which were married together and bottled at a higher-than-average 48% ABV. The red wine aging approach isn't new to the distillery, but this particular expression is indicative of why rum fans go nuts over this English-style spirit. Tasting notes include a balanced profile of toasted vanilla, cherry, jam, and chocolate.
The more aged rum you drink, the more of an aversion you'll have to the spiced variety. However, this type of spirit is far too popular to overlook and is a solid entry-level style to the rum category as a whole. There are still some good versions of spiced rum out there if you know where to look and need some solid mixing ingredients for basic cocktails. Typically using light or gold rum as a base, distilleries will add spices such as cinnamon, clove, cardamom, anise, and rosemary to the potion, as well as caramel at times too. Spiced rum is most commonly found on the islands of the British West Indies.
Cardinal Spirits Lake House
If you're an avid rum drinker who despises spiced rums, then just know Cardinal Spirits is right there with you. Disowning many of its contemporaries, the Indiana-based distillery has made its Lake House for rum purists, with a craft identity in small batches using high-quality ingredients. Taking its base Tiki Rum, which is fermented from both molasses and sugarcane juice, but also hefeweizen yeast and wild yeast found on wild sugarcane, Cardinal then uses botanicals such as orange peel, vanilla, and cardamom for flavoring.
Chairman's Reserve Spiced Rum
Chairman's Reserve makes arguably the best spiced rum you can find and starts a good case for this style — if only they could all be this delectable. Based on a small island in the eastern Caribbean, this distillery is incredibly thorough when describing its rum-making process. For this Spiced expression, it begins with its base spirit, which is aged in ex-bourbon barrels, steeped with a local Caribbean bark, and then placed for an additional six months in oak vats where its given flavors such as cinnamon, clove, nutmeg, vanilla, allspice, lemon, and orange peel.
Flavored
Watch For Posers
Another popular, yet partially-disdained category, is flavored rum. Most of the flavored "rums" you'll find in stores aren't actually rums at all — they're sweetened rum-based liqueurs marketing themselves as rum (most "coconut rums" are guilty of this). If you're looking to avoid the ire of rum enthusiasts, you're better off skipping these and sticking with true flavored rums infused with fruits like coconut, pineapple, or banana that aren't loaded with extra sugar and still boast a proper ABV of 40%. We've picked out a couple of favorites below that meet the criteria for aficionado-approved flavored rums that are of a higher proof and can be consumed neat.
Plantation Stiggins' Fancy Pineapple
Charles Dickens' first novel The Pickwick Papers featured a character named Reverend Stiggins who loved pineapple rum. Although, we're sure he never had anything as fantastic as this Plantation expression for which he serves as its namesake. After infusing its own Original Dark rum with Victoria pineapple for three months and its 3 Stars rum with the pineapple's rind for the same amount of time, the Barbados-based distillery then puts them together for a true pineapple complexity that would knock the socks off Stiggins or any of those syrup-imbued bottles by brands that shall not be named.
Kōloa Kaua'i Coconut Rum
There's coconut rum and then there's Kōloa Kaua'i's Coconut Rum. Utilizing two of its home state's most abundant resources — sugar cane and coconuts — this Hawaii-based distillery doesn't focus on cloying sweetness, but on nuanced complexity for this unbelievably mixable rum. Where more common coconut-flavored "rums" are far below 40% ABV, Kōloa Kaua'i's is right where it should be proof-wise, distilled in vintage copper stills before being cut down to 80 proof with water from the Mount Waiʻaleʻale volcano.
Rhum Agricole
Showcase Of Soil
Like champagne or Scotch, Rhum Agricole is the style of a spirit specific to, albeit not named after, its region. French-speaking nations such as Haiti and Martinique specialize in this sugarcane juice-based spirit, which, unlike molasses-based rums, showcases the profile of the terroir. Because of that, Rhum Agricole possesses a grassier profile informed by the sugarcane itself. Not typically consumed neat, this style of rum is an excellent cocktail ingredient because of its unique palate.
Clément VSOP Rhum Vieux Agricole
After the eruption of Mt. Pelée near the turn of the 20th century, a doctor from France named Homère Clément became the mayor deputy of Martinique and got the nation out of financial despair by pushing for rum made from sugarcane juice rather than molasses. It worked, earning him the nickname the Godfather of Rhum Agricole. His distillery still thrives today, 100 years after his death, and this classy VSOP expression is evident of the kind of quality you can get in the rum world for around $40. The palate embodies the cane profile, with notes of cocoa and black pepper.
Rhum J.M XO
Bearing the Martinique AOC designation, Rhum J.M is a well-oiled machine working with over 175 years of experience at the foothills of Mt. Pelée, the soil of which impacts the Rhum Agricole, which has much less sugar content than standard rum. Bottled at 45% ABV, this XO consists of liquor aged for 5 years in ex-bourbon barrels and then an additional year in French oak casks. The nose picks up dried fruits, honey, and spice, while the palate contains notes of orange zest, dates, and gingerbread, but also quince paste and tonka bean.
Navy Proof & Overproof
Get Out The Gunpowder
Where the standard rum ABV is 40%, Navy Proof will be above 57% or above according to British specifications. Adding gunpowder to the Royal Navy's rations was done in order to test its proof prior to the 19th century. If the gunpowder ignited from the heat of the sun through a magnifying glass, it meant it was of proper proof. Nowadays, Navy Proof rum isn't quite as popular as overproof rum, which stands at the almighty 151 proof (75.5% ABV). While not necessarily consumed neat by the average drinker, overproof is an excellent cocktail ingredient, not just for bumping up the alcohol content, but because the other ingredients will help bring out the flavors of this fiery rum as well. But skip the stuff at your local grocery store — that's really only suitable for lighting drinks on fire, while our picks below are best when actually drunk
Plantation O.F.T.D. Rum
Plantation gathered together seven global rum experts — helmed by Master Blender Alexandre Gabriel and including two of our favorites, Jeff "Beachbum" Berry and Martin Cate — to come up with the perfect overproof rum: O.F.T.D., which unconventionally blends the likes of molasses-based rum from Jamaica, Guyana, and Barbados together for this relatively-mild overproof at "just" 69% ABV. An acronym for Old-Fashioned Traditional Dark, O.F.T.D. is excellent in cocktails, with a complex and smoky palate of caramel, chocolate, vanilla, cinnamon, and oak giving way to a long finish with chocolate, clove, and caramel.
Lemon Hart 151 Rum
Considered the quintessential overproof rum, Lemon Hart's 151 is hot… to say the least. The Demerara staple is also irreplaceable in many tiki drinks that call for it and actually stopped shipping to the States for some time in 2014 after supply couldn't meet demand. Luckily, this overproof legend 200 years in the making is back and our zombies and 151 swizzles can go down the way they're meant to. If you can manage to sip this thing neat and live to tell the tale, you'll notice a profile of vanilla, coffee, and caramel on the palate, but it truly thrives as a key ingredient in cocktails.
15 Tiki Drink Recipes You Should Know
Once you've stocked up on rum for your home bar, head over to our guide to the quintessential tiki drink recipes you should know and put your bottles to good use.