Americans are no strangers to corn-based bourbon whiskey or even Scotch whisky. And while Irish whiskey has always remained in our sphere of knowledge, many of us have never even tasted it. What was once at the top of the alcoholic beverage "food chain," Irish whiskey saw a plummet like no other, to the point where only two distilleries remained by the 1970s. A variety of factors caused the spirit to fade into near obscurity. Until, that is, a couple of decades ago when the revival began.
Today, Irish whiskey is thriving better than it has in over a century and has become a niche liquor of sorts. With over 40 distilleries across the island nation, and more popping up each year, the selection is getting harder to sort through. That's why we've compiled a guide to introduce you to and help you understand this enigmatic spirit while also providing you with the names of just a few of the best Irish whiskeys out there.
Best Irish Whiskeys to Drink
Best Cheap Irish Whiskey

The Sexton

Best Single Malt

Bushmills 21 Year

Best Single Pot Still

Powers John's Lane

Best Cask Strength

Redbreast 12 Year Old Cask Strength

Best Single Grain

Teeling Single Grain

Best for Cocktails

Method & Madness Single Grain

Best Newcomer

Writers' Tears

Best Cask-Finished Whiskey

Clonakilty Bordeaux Cask Finished Irish Whiskey

Best Blended

Jameson Bow Street 18 Year Cask Strength
History Of Irish Whiskey
To talk about the history of Irish whiskey is to talk about the history of whiskey in general. Existing around a century earlier in Ireland than in Scotland, potable whiskey (with or without the "e") first popped up in record books in the early 1400s (though it was likely around even earlier) after some wise Irishmen transmogrified the technique of distilling perfumes practiced by Irish monks a couple of hundred years earlier. It would be another 100 years or so before whiskey really took off — and, boy, did it take off!
In 1608, the first distillery license was granted following a regulation Act passed by Parliament, which was hoping to cash in on the rampant popularity of whiskey at the time. The liquor produced back then would likely be indistinguishable from what we drink today, as it was flavored with herbs such as mint and thyme, and also unaged (aging became a byproduct of storing surpluses of liquid in barrels, likely perpetuated by the Scots in the mid-1800s). Diluting with water also helped keep costs down. However, Parliament began prohibiting added "ingredients" in 1759.
In 1779, there were 1,228 distilleries in Ireland, but a new law that tightened up tax regulations caused many brands to fold. In just over a decade, the number of distilleries plummeted to 246, and there were as few as 32 by 1821 — although some estimate that there were still around 800 illicit whiskey-makers thriving at the time in northern regions alone. Somehow sales continued to soar and Irish whiskey continued its run as the world's most popular spirit until the late 19th century.
The advent of the Coffey still came about when an Irish inventor Aeneas Coffey perfected a way to continuously distill liquor, as opposed to distilling in pot stills, which were only capable of single batches at a time. The Irish at the time wanted nothing to do with this, as it affected the flavor of the whiskey. And so, Coffey took his business elsewhere — mainly to Scotland. Scotland had been wanting in on the whiskey action for some time, but Ireland essentially dominated the global market.
Derived from the Gaelic word meaning "water of life," whiskey was spelled with or without the "e" prior to the 19th century. However, the Irish permanently kept the extra letter as a way to distinguish between their whiskey and what they perceived as inferior, Coffey-distilled Scotch whisky. The new column still allowed Scotland to yield more liquor, but this was only part of the reason for Irish whiskey's decline at the beginning of the 20th century, giving way to Scotch's supremacy.
Aside from Ireland's refusal to change their technique to appeal to the evolving tastebuds of the public, who now leaned more towards blended whiskeys, the industry's decline was also in part due to American Prohibition (60% of whiskey sales in the U.S. came from Ireland), a civil war in the 1920s and a trade war with Britain a decade later. Fast forward to 1972 and there were only two distilleries left in Ireland: Bushmills and New Midleton, both owned by the same company.
However, just two decades later, Irish whiskey began its resurgence thanks to a number of enthusiasts, as well as the experimentation that could take place due to the less stringent regulations for the spirit. Between the 1990s and the 2010s, Irish whiskey became the fastest-growing liquor in the world, with over 40 distilleries in Ireland today, some of which are revivals of old brands.
Irish Whiskey Standards
Aside from the taxing and dilution regulations established centuries prior, there hasn't been much strictness in Irish whiskey throughout its history. However, last decade, new regulations were put in place for the spirit to call itself Irish whiskey. For one, it must be distilled and aged in either the Republic of Ireland or Northern Ireland. Also, its mashbill must contain, in part, malted cereal grain, it must be fermented by yeast, and must be distilled at no more than 94.7% ABV before entering the barrel for aging.
Despite popular belief, Irish whiskey doesn't need to be triple distilled, but it does have to be aged for a minimum of three years in wooden casks no more than 700mL in volume and must be bottled at 40% ABV or more. There are some other rules about how the smell and color have to be representative of the distillation and aging process (i.e., you can basically only add water and caramel coloring).
Irish Whiskey Styles
Of course, other rules are established for the four individual styles of Irish whiskey, which have essentially stemmed from the traditional malted barley mashbill pot still. It's also important to note that the term "single" in three of the following styles is referring to a single distillery, not as a descriptor for the words after it.
Single Malt: While the first written record of whiskey came from Ireland in 1405, the first mention of whiskey made from malted barley was in a Scottish text. As per regulations, single malt Irish whiskey must be made from a single distillery, distilled in pot stills from a mashbill composed entirely of malted barley. Single malt is noticeably smoother than its single pot still counterpart.
Single Pot Still: What was once the preeminent way to make whiskey had become all but extinct by the end of the 20th century. Although it's found somewhat of a resurgence in recent years, the single pot still variety arose in the 18th century as a way to avoid taxes imposed on malted barley. The rules here state that it must be made from a single distillery, distilled in pot stills (of course) from a mashbill that contains at least 30% of malted barley and 30% unmalted barley, with up to 5% of other cereal grains. Pot still whiskey is noticeably spicier and creamier than other styles.
Single Grain: Single grain whiskey refers to any whiskey distilled in a column still rather than a pot still. Its mashbill can also be no more than 30% malted barley. The result is something with higher alcohol content, yet less flavorful. As a result, single-grain whiskey is largely used for blended varieties rather than bottled by itself, although there are some exceptions.
Blended: Beginning as a way to derive the spirit at a cheaper cost, blended whiskey combines two or more of the previous styles — typically combining higher quality liquor with lower quality liquor. Most mainstream Irish whiskeys, such as Jameson and Tullamore Dew, also happen to be of the blended variety.
The Sexton
Best Cheap Irish Whiskey: Encased in a beautiful hexagonal bottle, The Sexton single malt looks and tastes like a top-shelf spirit, but it's actually the most affordable one in this guide — let alone within a subcategory that boasts some of the most expensive Irish whiskey out there. Fairly new to the game, this distillery has already risen to be the best-selling single malt in the U.S. despite only having one expression under its belt. Aged for four years in casks previously used for Oloroso sherry, the liquor possesses a silky profile of oak, fruit, honeycomb, and a hint of spice.
Style: Single Malt
ABV: 40%
Tasting Notes: Oak, fruit, honeycomb, spice
Bushmills 21 Year
Best Single Malt: The oldest licensed distillery in the world (across all spirits), Bushmills has endured since 1784, lasting through the near-extinction of Irish whiskey in the 1970s as one of two remaining distilleries. This 21 Year single malt is its premier expression, triple distilled and aged for 19 years in either former Oloroso sherry casks or bourbon barrels, and then finished for an extra two years in Madeira casks. The result is a big profile bursting with fig, mango, caramel, cherry, and apricot, giving way to a sweet finish.
Style: Single Malt
ABV: 40%
Tasting Notes: Fig, mango, caramel, cherry, apricot
Powers John's Lane
Best Single Pot Still: Due to its 200-plus-year pedigree, Powers has built up a reputation for being mainstream. However, John's Lane is among its lesser-known labels, named after the location of its old distillery, where it held production beginning in the early 19th century until 1975. While becoming instrumental in the industry embracing blended whiskey in the mid-20th century, Powers returned to the pot still style with John's Lane. The whiskey's maturation in bourbon barrels and finishing in Oloroso sherry casks help impart a profile of leather, tobacco, wood, dark chocolate, and toffee.
Style: Single Pot Still
ABV: 46%
Tasting Notes: Leather, tobacco, wood, dark chocolate, toffee
Redbreast 12 Year Old Cask Strength
Best Cask Strength: Redbreast has several highly popular expressions, including its Lustau and its 15 Year, but the 12 Year Old Cask Strength is arguably its most beloved. The barrel-proof factor not only allows the flavors to become deeper and bigger but brings out the true essence of Irish whiskey in a way that few other bottles can do — and with the age-old single pot still label no less. At 116 proof, this spirit takes you on a flavorful ride of oak, buttery pears, cinnamon apple, baking spices, caramel, and vanilla.
Style: Single Pot Still
ABV: 58%
Tasting Notes: Oak, buttery pears, cinnamon apple, baking spices, caramel, vanilla
Teeling Single Grain
Best Single Grain: Opening in 2015, Teeling is the first new distillery in Dublin — a city that was once the most bustling distilling mecca worldwide, churning out 10 million gallons per year — in 125 years. However, Teeling has some pedigree behind it, first opening in 1782 until it was closed in 1923. The current owners possess the Teeling family name themselves, and today, they put out one of the most versatile ranges of Irish whiskeys, including the rare single grain. Similar to bourbon, it's made with a corn-dominant mashbill where it's then aged in former cabernet sauvignon wine barrels for a dynamic profile that ranges from cranberries to butterscotch to the typical sweetness of bourbon whiskey.
Style: Single Grain
ABV: 46%
Tasting Notes: Cranberries, butterscotch, sweet
Method & Madness Single Grain
Best for Cocktails: A prime example of the innovation brought on by this new golden age of Irish whiskey, Method & Madness is part of the micro-distillery offshoot at New Midleton Distillery. It launched just a few years ago as a way to think outside the box when it comes to the aging process. Tapping into an underutilized sector, the brand came up with a single-grain spirit that's aged in first-fill bourbon barrels and finished in virgin Spanish oak. The result is one of the most flavorful single grains around, with notes of oak, spice, and grapefruit with a clove and mint finish. Drink this one straight, but it also tastes excellent in a cocktail.
Style: Single Grain
ABV: 46%
Tasting Notes: Oak, spice, grapefruit, clove, mint
Writers' Tears
Best Newcomer: Redolent of the era when both whiskey and literature thrived in Ireland, Writers' Tears is another product of Irish whiskey's new age. A label under the Walsh Whiskey umbrella — the only independent distillery to make all three non-blended styles under one roof — this blended spirit combines single pot still and single malt varieties. Aged in American bourbon barrels, this whiskey boasts a dynamic profile of citrus, especially lemon, honey, black pepper, and floral notes, giving way to a long finish that includes dark chocolate.
Style: Blended
ABV: 40%
Tasting Notes: Lemon, honey, black pepper, dark chocolate, floral
Clonakilty Bordeaux Cask Finished Irish Whiskey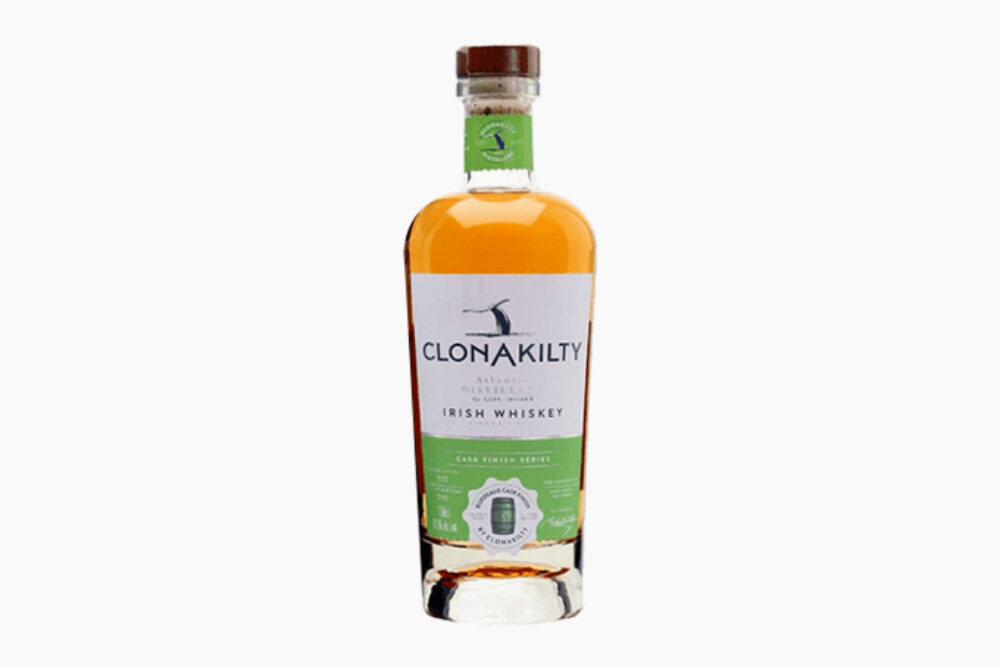 Best Cask-Finished Whiskey: While cask finishing is something that's caught on big in the American whiskey market, Irish whiskey only has a handful of good offerings. One such distillery that's leading the way is Clonakilty, whose Cask Finish Series has won awards up and down the list, from blends to single malts to single grains, since opening its doors back in 2019. This particular expression uses the distillery's single-grain whiskey, which is aged for nine years in oak barrels before spending a short period inside hand-selected casks that formerly held Bordeaux red wine, imparting notes of fruit, like strawberries, to a palate consisting of vanilla, honey, and wood spice.
Style: Single Grain
ABV: 43.6%
Tasting Notes: Vanilla, strawberry, honey, wood spice
Jameson Bow Street 18 Year Cask Strength
Best Blended: One of Irish whiskey's most storied distilleries put out its rarest release in 2018 and has done so once a year since. The historic Bow Street distillery was in full operation for nearly 200 years until it closed in 1976 and eventually got turned into a museum. Back in 2016, Jameson opened up the warehouse for barrel finishing its special new release named after the old haunt. Jameson's Bow Street 18 Year Cask Strength is the king of all blended whiskies, combining both pot still and grain varieties. Bottled at barrel proof, this expression has nice toffee, oak, and leather notes, along with vanilla and sherry.
Style: Blended
ABV: 54.5%
Tasting Notes: Toffee, oak, leather, vanilla, sherry
The Absolute Best Scotch Whiskies to Drink
If you're thinking of comparing Irish drams to that from Scotland, grab some bottles from our guide to the best Scotch whiskies.