The world of whiskey is a vast and ever-changing one, with a huge number of old standards, new releases unveiled seemingly daily, and limited runs that disappear almost as fast as they're released. With all of that variety, it can be really hard to keep up — even for the most dedicated whiskey enthusiasts. But don't fret; all is not lost.
If you find yourself frequently sipping on this superb spirit, there's a way to expand your palate and try whiskeys you might not otherwise be able to get your hands on. We're talking, of course, about whiskey subscription boxes. These recurring services will deliver your favorite spirits right to your door — whether your preference is Bourbon, Rye, Scotch, or whatever else. And the eight best are all collected here in the following guide.
How Whiskey Subscriptions Work
Benefits & Drawbacks
First and foremost, it's important to point out that whiskey (or whisky) subscription services are not for everyone. They're a luxury often with a price to match that's really only suitable for those who are dedicated to craft spirits. That's not to say that you have to be an expert to enjoy it — in fact, it's a pretty excellent way to become more acquainted with the liquor style — but you should be prepared to incur an appropriate cost for the habit. For the most part, these services will bill you (typically automatically) either monthly or quarterly and, depending upon your choices and preferences, can cost up to hundreds of dollars, if you're not careful. As with any membership service, you'll want to read the fine print to ensure you're aware of what you're getting yourself into.
That being said, the benefits are numerous — especially for the truest of whiskey fanatics. Again, the benefits are going to depend on the specific service you choose (and the specific subscription and its subsequent price), but there are a few commonalities. Typically, these whiskey subscription boxes will arrive at your door with a specially-curated selection of drams or bottles with literature outlining their story — including the origins, ingredients, the year they were distilled, etc. You can, of course, choose to go straight to the whiskey and ditch the literature, but we implore you to do the reading because you might like what you find. This is partially important because it will give you a greater appreciation of the liquor, its story, and the people who made it, but also because instructions are sometimes included that let you know the proper way to drink these spirits and/or tasting notes that can be of great help. Whatever the case, the core of the service is the whiskey delivered to your door (in whatever quantities you've selected) each month/quarter.
It's important to remember, however, that the deliveries don't stop just because you still have whiskey left over in a previous bottle. Each month/quarter, more will be sent your way — barring you opting out manually. That means, if you're not consistently imbibing the offerings, you're going to start collecting the leftovers en masse. Especially with monthly subscriptions, this can get out of hand rather quickly. So unless you really are a dedicated drinker, you might be better off taking a trip down to the liquor store and picking up a bottle here and there, instead. Of course, you could also curb this possibility by sharing your spoils with friends. Whatever the case, just understand that a whiskey subscription is an investment in money, time, and consumption.
Best Whiskey Subscriptions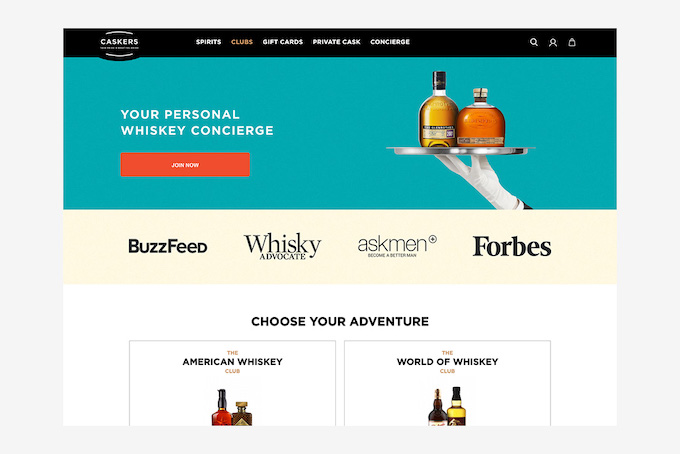 Caskers Whiskey Club
Catering exclusively to whiskey drinkers, the Caskers Whiskey Club is broken down into two specific offerings — American Whiskey and World of Whiskey. As you might expect, the American Whiskey subscription earns you access to an elite and curated selection of bourbon, rye, and more — all from the United States of America. Similarly, the World of Whiskey follows a similar format, except with a focus on spirits from Japan, Ireland, Scotland, and anywhere else there's good whisky to be had. Whichever Caskers option you choose, each shipment grants you not one but two full-size bottles of hand-selected whiskey, along with a custom digital tasting card that tells the story behind each spirit, and the promise that they will never send you a repeat bottle. If you're going to share your whiskey with friends and family, this is one of the best subscription box options out there.
Frequency: Quarterly
Specialty: American & International Whiskey
Bitters & Bottles Club B&B
If you're fond of American whiskey, you like the prospect of exclusivity, and you don't mind getting your hands on new spirts every quarter (as opposed to monthly), then the Bitters & Bottles Club B&B subscription service might be right up your alley. For less than $100 a quarter, this service will grant you access to not just superb whiskey, but one-to-two bottles of the stuff each quarter that you can only get through Bitters & Bottles. If cocktails are your pleasure, however, Bitters & Bottles still has you covered. This is because, as an alternative to their normal whiskey club, they have one called the Old Fashioned Club. Not limited exclusively to old fashioned cocktails, this option will still get you a bar-size bottle of whiskey, but also comes with recipes for new and interesting drinks with each box. With a subscription, you'll also get access to a members page and store, so you can stock up on even more than just what comes in your box. Furthermore, they're promising an expansion of their club offerings into the realm of gin, rum, and more soon.
Frequency: Quarterly
Specialty: American Whiskey & Cocktails
Craft Whiskey Club
A happy medium between monthly subscriptions and quarterly ones, the Craft Whiskey Club is one of the only worth your cash that will send you a box every two months. More manageable than every month but without leaving you high-and-dry as a three-month club might, the Craft Whiskey Club will deliver a full-size bottle (or two) of whiskey, food delicacies (snacks to pair with your liquor), and information on the contents of the box every 60 days. And while the whiskey and snacks are probably reason enough to join up, there's another secondary benefit for the long run. You see, each time you purchase a subscription box, the money goes toward helping the Craft Whiskey Club connect with their distillery partners and allows them to focus on making new and interesting spirits for your future consumption. As an added bonus, if you're not quite ready for a monthly commitment (or you're just looking to send a good gift to a friend or family member), they have pre-curated boxes you can order without signing up for repeat billing.
Frequency: Bimonthly
Specialty: Limited Edition Whiskey
Flaviar Whiskey Subscription
As the saying goes, variety is the spice of life. It also appears to be Flaviar's policy when it comes to their subscription service. You see, this particular brand has rounded up a catalog of over 15,000 bottles of spirits — including whiskey, whisky, bourbon, gin, cognac, rum, and more. And yes, while they specialize in whiskey, this membership service does grant you access to those other spirit categories, as well. This is also a direct result of their aforementioned ethos, as they consider it their personal goal to put distilleries in the spotlight that might not otherwise get the recognition they deserve. Unlike your average liquor store, Flaviar believes that Jameson and Jack Daniel's have already had their time in the sun. With that in mind, they hope to give their subscribers access to the other 99% of brands out there. Their service also hinges on lower prices and smaller samples — 1.5-ounce tasters, to be exact. That way, you can learn about ones you enjoy and pick up full-size bottles and not have a ton of leftovers when they send you something of which you are not fond.
Frequency: Quarterly
Specialty: Variety
Master of Malt Dram Club
With most whiskey-of-the-month clubs, you're offered either a single full-size bottle or 1-3 smaller offerings. While that's plenty for some folks, there are others who want a bit more variety and options out of their whiskey subscription boxes. If you fall into that crowd, then the Master of Malt Dram Club is probably for you. With a wide variety of sign-up options — including three different levels of whiskey subscriptions, a gin club, and a rum club — each one garners you five drams (0.125 ounces each) of unique spirits per box. This particular club also has a number of different subscription levels, ranging from a monthly recurring subscription to just three months' worth, so you can cater your subscription type to your commitment level. Plus, on top of each box of five drams, you also get a welcome pack with two taster glasses and a free gift dram every three months (which varies between the subscription levels). The one downside with this particular service is that, at this point in time, it's only available in the U.K. The upside is, they're working toward expanding the service around the globe — so stay tuned to find out about future availability.
Frequency: Monthly
Specialty: Variety & Small Samples
Pour More Whiskey Package
Most whiskey clubs come with one-to-three different types of subscription boxes — offering a baseline amount of variety in the type and/or amount of whiskey on which you can get your hands. But Pour More's package offerings put them all to shame just by the sheer variety of options. You see, they offer eleven different subscription types that include nine different whiskey options (whiskey, bourbon, and scotch with three selections for each category), a rum package, a tequila package, and a "Bartender Package" designed to help you round out your home bar. And within each of those different packages, there are even more sub-options for however many months you wish to sign up. That way, not only can you select the spirits that are right for you, but you can customize your commitment level to make sure you're not getting in too deep. Once you've got you selection picked out, you just pay for it and Pour More will send you a full bottle for each month you've signed up, along with tasting notes and a history of each selection.
Frequency: Monthly
Specialty: Variety
The Scotch Malt Whisky Society
In every group of friends, there's a staunch purist who doesn't have any interest in Japanese whiskey, American bourbon, or Canadian rye. For these folks, only one distilled spirit will do: scotch. If in your group of friends that person is you, then you're in luck because The Scotch Malt Whisky Society focuses exclusively on the spirits of Scotland. With a catalog of whisky from over 100 different scotch distilleries — mostly out of Scotland but with a select few from elsewhere — this is the ultimate whisky subscription services for lovers of peat. And while a subscription will give you access to spirits selected by an expert tasting panel, it also gets you a few other goodies. For instance, you'll get to partake in Society events across the United States, gain the ability to call up the company's staff for personal recommendations, and even get a quarterly magazine subscription to the brand's "Unfiltered" publication. You'll even get exclusive access to a pair of tasting rooms in Edinburgh and London. For scotch fanatics, there's no better option.
Frequency: Monthly
Specialty: Scotch
Taster's Club
With nine different club options that include boxes for whiskey, bourbon, scotch, tequila, gin, rum, vodka, and wine, Taster's Club has a subscription box for any drinker's preference. They even offer a broader "Stock The Bar" option that encompasses them all, if that's more your speed. Of course, we're most interested, in this case, in their trio of whiskey options. Whatever the case, each subscription garners you access to a full 750ml bottle per month, specially selected by their expert staff. On top of that, the beverage comes along with tasting notes, historical information, and the distillery's story. And while the entirety of their curated offerings is superb, it's especially enticing that they sometimes get exclusives you won't find elsewhere. Straightforward, yet no less comprehensive, this is a tremendous no-fuss whiskey subscription box — or rather a tremendous subscription service for whatever spirit you choose.
Frequency: Monthly
Specialty: Variety
What's the Difference: Whiskey vs. Whisky
While it might not be immediately discernible when strolling through the liquor store, there is actually a difference between the words "whiskey" and "whisky." And we've outlined it in our handy whiskey vs. whisky guide.