Whiskey, in all its facets, can be a pretty immersive experience — if you're open to it. That starts at the beginning, trying out the different varieties for the first time and figuring out what you like and don't like, what works and what doesn't. Then, once you've sorted out the basics, you get to start refining your tastes and learning about the other parts of whiskey — things like the aromas, how exposure to the air can allow the bouquet to flourish, different cocktail recipes, etc. It's at this point you're probably going to want to start putting together a little collection of your favorite bottles.
Of course, while the whiskey inside is of the utmost importance (you wouldn't want to drink cheap swill or serve it to your guests), there's also something to be said for the presentation of that whiskey. If you're going to have a large collection, however, keeping all your different options in a decanter simply isn't feasible or reasonable. As such, you might want to seek out spirits that come in bottles you can be proud to display. And that's what we have for you today: a collection of 15 of the best-looking bottles you can buy with whiskey — be that bourbon, scotch, rye, or otherwise — inside them that you'll actually want to drink.
Our Criteria
What Makes A Whiskey Bottle Worthy?
Design: Obviously, this is the most important of our metrics. And while it's hard to pin down exactly what makes a design good, you know it when you see it. For us, that means a combination of the bottle itself and the accompanying label. What we're looking for more specifically is an understanding of design, uniqueness, and careful consideration. A bottle should not be considered beautiful simply because the whiskey inside is exceptional — they're just not mutually-exclusive.
Availability: The purpose of this guide is moot if you can't actually go out and get your hands on the whiskey being promoted. As such, we wanted to make sure we were focusing on at least moderately available spirits — either year-round offerings, brands that share their bottle design across more than one release, etc. A one-and-done expression that was released sometime in 2013 probably isn't going to still be on any store shelf, especially if it was worthy of making this list in the first place.
Drinkability: A beautiful bottle is one thing, but it doesn't mean much if the whiskey inside isn't worth your hard-earned cash. As such, we made sure to sift through anything we wouldn't be happy and proud to sip. After all, this collection of whiskey bottles is intended to be the best of the best, not just lip service to long-standing brands.
Basil Hayden's
It's interesting that Basil Hayden's bottles are so beautiful, as their silhouette is actually quite basic. However, the careful and unique paper label and how it attaches to the bottle is what puts this offering over the top. It's clear that there is vintage inspiration aplenty in the offerings from this Kentucky-based distillery, and the brand's entire catalog boasts similar styling (even the rum) — meaning they're all just as beautiful. You don't have to put this whiskey on display, but you almost definitely will want to — especially if you have a good bar cart on which to place it.
Blanton's Bourbon
From its distinct, faceted, grenade-shaped bottle to the racehorse stopper that tops every bottle, there's no mistaking Blanton's for its competition. And that styling is consistent across the entirety of the brand's offerings, albeit with minor changes like the color of the label and/or the orientation of the tiny little equestrian creature and its rider. Pair that with the beautiful script upon the label and, of course, the exceptional spirit within the bottle and this is a find you'll want everyone who enters your home to gaze upon.
Booker's Bourbon
Proof positive that there's something to be said for heritage, tradition, and — perhaps above all things — simplicity, Booker's is a pleasing, eye-catching, vintage-inspired whiskey bottle to behold. And like so many on our list, the simplistic styling — marked by mock-handwritten labels (modeled after the scrawling of the label's namesake and 6th-generation master distiller, Booker Noe) and wax seals — is shared across the brand's full suite of offerings. That means, whichever bottle you end up with, you're still probably going to want to have a good look at it while you carefully and quietly sip the liquid gold you've poured into your rocks glass.
Colonel E.H. Taylor, Jr.
There's a good reason that bottles of Colonel E.H. Taylor, Jr. look like they wouldn't be out of place in a western action flick or an old-timey war movie: because the brand's namesake (Colonel Edmund Haynes Taylor, Jr.) was actually a Colonel during the American Civil War and, as a result, was also a founding father of American bourbon. As you might imagine, the bottle is meant to pay homage to the Buffalo Trace sub-brand's heritage and history and has changed little, if at all over the years. And all 11 of the brand's current expressions share similar, unmistakable styling.
Cutwater Spirits Devil's Share
As we said earlier, there are two specific criteria that we use to determine the beauty of a bottle: the silhouette and the label. Sometimes, as with this Cutwater Spirits offering, that's more about the latter than the former. In this case, Devil's Share was put over the top by its combination of a distinct (if simplistic) silhouette alongside a memorable label design — marked by a screen-printed piece of artwork depicting a cloven-hoofed devil hoarding a barrel of whiskey. That bottle design is, of course, aided by the fact that there's an award-winning 4-year 92 proof bourbon sloshing about inside.
The Dalmore
Though it's not completely unheard of, not every whiskey distillery utilizes design language inspired by their heritage. Then again, not everyone has a history that dates back to King Alexander III like the Dalmore. For reference: way back in 1263, Colin of Kintail, Chief of the Clan Mackenzie, rescued the king from a charging stag. It was after this event that the king granted Clan Mackenzie permission to use the 12-pointed Royal stag emblem on their coat of arms — and they've been using it ever since, especially upon their sunburst-colored bottles of whisky. Truly, there are few scotches with a bottle as iconic as those produced by The Dalmore.
Four Roses Single Barrel Bourbon
Four Roses is another whiskey brand that has earned a sterling reputation and, honestly, their entire suite of offerings comes in a handsome array of bottles. However, their Single Barrel Bourbon just edges out the competition for its uniqueness and elegance. That's aided by the brand's embossed icon above the logo, the subtle angular decanter-like shape, the secondary labeling around the bottle's throat, and the angled stopper. And for those more interested in the liquor inside: it's 100 proof, aged a minimum of 7-10 years, and has won a slew of awards.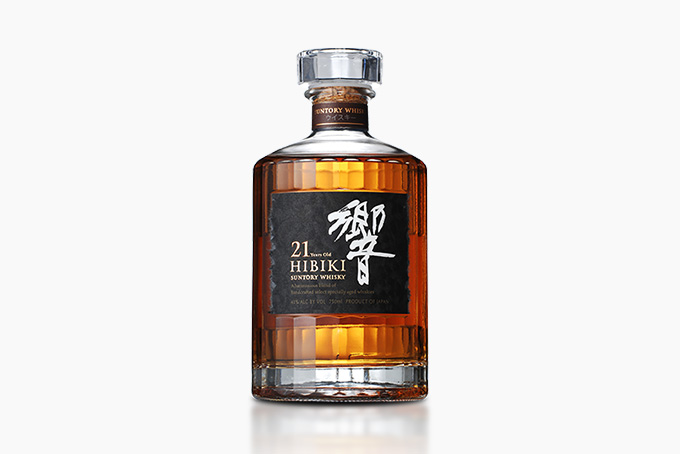 Hibiki Whisky
It would be asinine to suggest that there's a clearcut winner for the best-looking whiskey bottle on our entire list. However, we also wouldn't argue with anyone that suggested that Suntory's Hibiki sub-brand is the overall champion. From its stout silhouette, faceted sides reminiscent of old-school rocks glasses, and the matching glass stopper, this is the kind of bottle you will always want out in the open. Marked by elegance and subtlety, this bottle isn't a bombastic shout; it's a knowing whisper — the kind of whisper that somehow quiets a whole room, just so that everyone can be in on the conversation. And every expression of Hibiki comes in a similar vessel.
High West Whiskey
There's definitely something to be said for bottles that stand out amongst their competition. And it's fair to say that, on most shelves, High West's offerings tower above the rest — a symptom of the brand's tall, thin bottles. Of course, height isn't the only thing this whiskey has going for it. The bottles are also subtly embossed with the brand's logo and the labels are all reminiscent of Americana and the Old West. This is the kind of bottle you might see in an old shoot-em-up western action flick and you wouldn't think twice about it. That is unless your second thought was, "I'd sure like to drink some of that."
I.W. Harper 15-Year Bourbon
Born in France just before WWI, the Art Deco movement in the arts, fashion, and architecture would go on to change the world as we knew it — resulting in one of the most timeless stylistic movements of all time. It's from that movement that I.W. Harper borrowed their gorgeously-faceted geometric bottle design. Like a liquid time capsule from the era of flappers and The Great Gatsby, this stunning vessel — which just happens to be filled with a tasty Tennessee whiskey — is a must-have for those who appreciate vintage styling in their furniture, clothing, etc.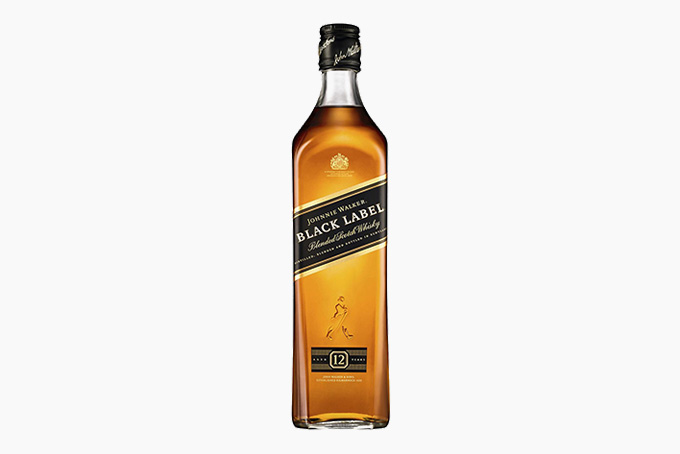 Johnnie Walker
As previously mentioned, name recognition does not guarantee a spot on our list — even when the spirit inside the bottle is exceptional. That doesn't mean, however, that no big-name brands are deserving of a spot. In fact, we'd happily make the argument that Johnnie Walker — the world-famous scotch brand that's been making distinct spirits since 1867 — also has one of the best-designed, most-iconic bottle silhouettes and labeling of any whiskey brand ever. And it's that that has earned them a well-deserved spot on this list. It's worth noting: not all of their bottles are beautiful. In fact, some of their specialty releases are downright gaudy (we're looking at you, Game of Thrones series). But their year-round offerings and many of their higher-end rarities are undeniably handsome.
Nikka From The Barrel Whiskey
Back in the time of Prohibition, bootleggers didn't have access to fancy factories any more than they did to fully-equipped distilleries. As such, they usually just used bottles they could find to repurpose, leading to a kind of minimalist aesthetic that undoubtedly inspired the design behind Nikka's gorgeously simple From The Barrel Whiskey. Even if we're making a connection that isn't really there, it's clear that this flask-style bottle with its unique screw-top closure is a looker. And, like the silhouette, the label is clean and simple — letting the whiskey speak for itself (which it very much does).
Pinhook Bourbon
They're not markedly well-known, but Pinhook is well on their way to becoming a more household name with their uniquely stylish take on whiskey. Across the entirety of their offerings, the bottles are all quite similar — more like wine bottles than those that traditionally contain whiskey — and every label is marked by the brand's signature racehorse. Furthermore, the wax closure is a nice addition, as is the matching chevron designs on the dual labels. This isn't your average Kentucky whiskey in design or recipe — it's much more special.
WhistlePig The Boss Hog
This one is a little tough because every year that WhistlePig releases a Boss Hog expression, they redesign parts of the bottle — namely the icon atop the stopper — to represent that particular expression. That being said, the overall styling of the bottle and even the pewter icon at the top all retain the same base styling, which is why we're including this not as a one-off release, but rather a series. Just keep in mind: these stunningly beautiful bottles of rye whiskey are as rare and sought-after as they are gorgeous — so you should expect to pay quite a premium if you can track one down.
Wolves Whiskey
Let us say this one more time for the people at the back: there is beauty in simplicity. Rather than gilding the lily, so to speak, California distilling brand Wolves Whiskey has opted to keep their offerings as minimalist as possible — bearing only the necessary markings on their label to identify the different expressions (and a bit of play with the label colors). There's not much to the design, but that's a big part of what makes it so great. These bottles are simple, to be sure, but they're also instantly recognizable — and it's that combination of things that helps them stand apart and earns them a spot on this list.
The 12 Best American Bourbons You Can Buy
A good-looking bottle isn't everything, even if it does make a nice addition to your bar cart. If you're less concerned with looks and more concerned with the liquor inside, you'll definitely want to take a gander at our list of the best American Bourbons you can buy.