Named after an Italian general over 100 years ago, the Negroni certainly isn't for everyone. Utilizing the Campari apéritif as one-third of its composition, the cocktail possesses a bitter profile that requires both an acquired palate and astute mixology to appease the person drinking it. While equal parts gin and sweet vermouth round out the recipe, the Negroni might still be the antithesis of a gateway gin cocktail. However, if it's made properly, it's one of the most refreshing and delectable concoctions you can order in a barroom.
Like most classic cocktails, the beauty of the Negroni is found in its simplicity. Using only three ingredients, the beverage finds balance from its equal helpings of sweet, bitter, and dry, each helping to highlight the other — that is, if you pick the right gin. With the juniper spirit on a rapid rise over the past two decades, it's become more and more difficult to find an expression that allows you to strike perfect harmony in your glass. This guide should give you a good place to start as we provide some insight and explore the best gins for making a Negroni cocktail.
What Is A Negroni?
Bitter Goodness
Made from equal portions of its three ingredients, the Negroni is a bittersweet cocktail that could simply not be made without the inclusion of the Italian apéritif Campari, a red-colored bitters (originally dyed red from cochineal beetles) made from a top-secret blend of a few dozen different botanicals. First launched in 1860, Campari was used early on for the Milano-Torino cocktail, which blended the bitters with equal parts Punt e Mes vermouth. Quickly, the Milano-Torino transmogrified into the Americano — said to originate in Gaspare Campari's own bar — swapping the bitter Punt e Mes for sweet vermouth and adding soda water and lemon garnish as well.
It wasn't until 1919 when French General Pascal Olivier Count de Negroni was visiting Florence, Italy and asked bartender Fosco Scarselli for a stronger version of his favorite drink, the Americano. Scarselli made the cocktail with gin instead of soda water (stirred, not shaken) and included an orange garnish. While similar and identical recipes existed prior to the 20th century, the Negroni is the one that caught on, especially after getting cosigned by one Orson Welles a few decades later.
Today, the International Bartenders Association suggests you mix 1oz of each Campari, sweet vermouth, and gin into a chilled old fashioned glass over ice, stir with a spoon and add half a slice of orange or orange peel to the rim. However, you're always welcome to use less or more of certain ingredients as per your own palate.
What To Look For
The Perfect Gin
For the sake of our recipe, we're going to use Dolin Sweet Vermouth due to its ubiquity on store shelves, fair price point, and classic profile, which blends well against the Campari baseline and adapts to most gins. Although, you can opt for Cocchi Vermouth di Torino if you want to lean on the sweeter possibilities of vermouth.
Because the ratio of ingredients is 1:1:1, you'll typically want to find a gin that balances flavors nicely with the Campari and sweet vermouth. In order to accomplish that, ditch the more subtle spirits — those will get buried underneath the flavors of their components. Instead, a bigger profile will be your best bet — think big, juniper-forward London Dry gins or ones with heavy citrus notes (although there are some exceptions). Likewise, gins with higher alcohol content (around 43% and above) will do well to match the bitterness of the Campari and herbal sweetness of vermouth.
If you're okay being less traditional about your Negroni and prefer to taste more of the gin, labels that use a complex blend of botanicals might be your preferred option. Ultimately, your taste buds will be the deciding vote when picking the best bottle. Just make sure you don't bury any of the ingredients in the process (otherwise, why use them?).
Fords Gin
Known and made for its versatility in cocktails, Fords Gin is an obvious choice for those who want to experiment with a Negroni without breaking the bank. It was reverse engineered from cocktails themselves to figure out which botanicals needed to be included so that it wouldn't just taste great, but could be the ultimate boozy ingredient. Not only budget-friendly, this London Dry gin soars with its nine-botanical blend, which includes the likes of the Negroni-friendly orange peel, lemon peel, orris root, jasmine, and coriander seed, all going along with the big juniper profile. The unique bottle itself was designed to be a convenient and ergonomic tool for bartenders to hold when grabbing and pouring.
Perry's Tot Navy Strength
At 57% ABV, this overproof gin is perfect for a traditional Negroni, favoring the bitterness many are looking for in the cocktail while bringing out some of the herbal profile from the sweet vermouth, which usually plays 3rd fiddle. Ultimately yielding a well-balanced drink that shines with complexity, Perry's Tot Navy Strength is one of the few American Navy Strength gins, hailing from Brooklyn's own New York Distilling Company, which crafts its gins and whiskeys by looking back to pre-Prohibition tradition.
Roku Gin
It's no secret anymore that the Japanese are capable of making some of the best whisky in the world, so it's no surprise that they also lay claim to what's becoming a new favorite in the realm of gin. Launched just five years ago, Roku Gin boasts six unique botanicals from Japan (roku is Japanese for "six") — sakura flowers and leaves (cherry blossoms), sansho peppers, yuzu peel, sencha tea, and gyokuro tea — which are then married with traditional gin botanicals such as juniper and coriander. This creates a truly dynamic profile that pairs magnificently with Campari and vermouth in your cocktail.
Tanqueray No. Ten
One of the beautiful things about gin is how even mainstream (and inexpensive) offerings can often hold up to craft expressions. Case in point, Tanqueray has been dominating the gin world for nearly a century, and in 2000, the distillery offered a top-shelf London Dry expression that's now become a favorite of both seasoned connoisseurs and gin newcomers everywhere. Quadruple distilled in the smallest copper pot stills, Tanqueray No. TEN is then infused with the grapefruit, lime, orange, and chamomile flowers for a refreshing citrusy profile that makes for an unbelievable Negroni.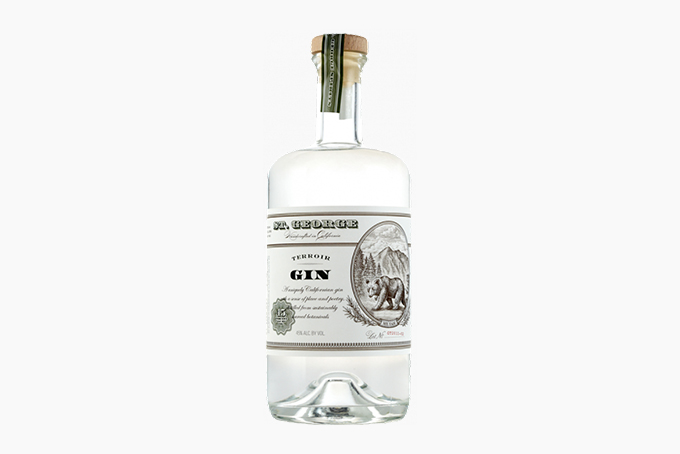 St. George Terroir
They say at least 75% of taste comes from our noses. That explains the approach of Northern California-based St. George Spirits when it crafted Terroir, a cult-favorite gin — especially among Negroni lovers — that instantly transports you into the lush forests of the Golden State itself. There are few gins as "big" as Terroir, made with 12 botanicals that include Douglas fir pine, California bay laurel, coastal sage, and wild fennel. This expression has a very unique presence and yields an equally-unique experience no matter what cocktail you decide to bless with it.
Barr Hill Gin
The sweetness in Barr Hill Gin is never cloying because it comes from the brand's own raw honey from its own bees, which is added right after infusion with the juniper. The result is subtle and addicting; a big and bold profile of juniper and meadow flowers that allows this new-wave spirit to pair perfectly with so many cocktails such as Negronis and gin & tonics. Coming from the Vermont-based distillery Caledonia Spirits, Barr Hill also happens to be one of the most decorated gins in the world, its straightforward spirit earning it over 50 medalled awards over the past decade.
Oxley
Experimenting with making gin seems to be a never-ending vocation for many a distillery. And England-based Oxley is no stranger to trial and error. Its flagship gin is the result of 38 different recipes before finally landing on a blend of 14 botanicals that have been macerated together for 15 hours, resulting in a peppery spirit that's heavy on juniper, coriander, and citrus. What's more, the gin-making geniuses use a patented process called vacuum distillation which allows the spirit to boil at a super-cold 23°F, preserving the quality of the botanicals.
Drumshanbo Gunpowder Gin
No, Drumshanbo's Gunpowder Gin doesn't use actual gunpowder as an ingredient, but it does use gunpowder tea — a type of green tea popular in some Asian countries. It's one of 12 unique botanicals in this Irish-born spirit, which also includes juniper, cardamom, meadowsweet, kaffir lime, and Chinese lemon, combining both pot distilled and vapor infused methods. The powerful profile of the gin packs a punch that seems almost born to be paired with the likes of Campari and sweet vermouth.
Plymouth Navy Strength
Plymouth is both a style of gin and the name of the last of the distilleries from the town in southern England. At 57% ABV, the overproof spirit from the oldest operating distillery in the nation trades the citrus of London dry for earthier tones. Notes include dried herbs, pine needles, orange blossoms, and flowers to blend seamlessly with the juniper for a balanced, yet big gin that can give any cocktail an extra punch in both flavor and alcohol.
Sipsmith V.J.O.P.
Sipsmith V.J.O.P. is arguably the most juniper-heavy gin on the market and is a favorite for Negronis for that very reason. Standing for "Very Junipery Over Proof" and bottled at 57.7% ABV, V.J.O.P. hits the mark on two levels and is a celebration of the botanical that makes this realm of spirits possible, adding juniper to three separate distillation stages. Launched back in 2009, Sipsmith was the first new London-based distillery to use copper pot stills in nearly two centuries.
The Complete Guide to Gin Styles
If you love Negronis and want to learn more about the juniper liquor that helps make them, check out our complete guide to gin styles.