The rise and prevalence of smartphones have added an enormous and utterly game-changing amount of convenience, functionality, and connectivity to our lives, making an unprecedented and near-unlimited number of resources instantly available at our fingertips. As we've become increasingly reliant on our devices, it's become more and more crucial to keep these mobile gadgets charged and at the ready — two areas that the introduction of Apple's MagSafe charging system has addressed in spades.
Between their effortless magnetic coupling and wireless fast charging, MagSafe-compatible docks and stands unequivocally stand head and shoulders above traditional phone mounts and charging cables. A myriad of third-party manufacturers have capitalized on the advent of the new system to deliver a range of MagSafe-compatible accessories, and while the lion's share of these is intended for the home and office, a select group of companies has introduced offerings that bring the unparalleled convenience of the MagSafe system into your ride. And it's this emerging segment that we'll be exploring today in this guide to the best MagSafe car mounts.
The Best MagSafe Car Mounts
The Best Ball-&-Socket Mount

Nite Ize Steelie Dash Ball

The Best CD Slot Mount

iOttie Easy One Touch 5 CD Slot Mount

The Best Budget Vent Mount

Spigen Mag Fit Phone Holder Car Mount

The Best Upgraded Vent Mount

Moment Car Vent Mount

The Best Apple-Approved Mount

Belkin Car Vent Mount PRO With MagSafe

The Best Dash Mount

Peak Design Car Mount

The Best Overall Mount

Otterbox Wireless Charger Vent Mount
Mobile MagSafe Minutia
The Finer Points To Consider When Buying A MagSafe Car Mount
Originally introduced by Apple Computers in its first form on technology powerhouse's 2006 Macbook Pro as a magnetic charger, the MagSafe system has more recently been bestowed upon the iPhone, allowing the leading gadget to automatically couple with cardholders, camera attachments, chargers, or mounts through the use of internally-embedded magnets. This system lends itself incredibly well to use in cars, making for some of the most effective and easiest-to-use mounts. And while every MagSafe-compatible mount will perform the same basic task of conveniently holding your iPhone at an ideal, easy-to-view angle, there are a handful of factors to consider before deciding on your ultimate purchase. Below, we'll briefly touch on the half-dozen most important elements one should factor in when buying a MagSafe car mount.
Charging Capabilities: The first, and arguably most important thing to take into account before buying an iPhone car mount is whether or not you want the mount to have wireless charging abilities. This does undeniably add value and it helps to keep your phone charged while on the go, however, it does come at the cost of having to run a physical cable to the base of the mount and charger. And, because the majority of these items boast genuine Fast Charging voltages, it probably won't come as a surprise to hear that the charging mounts tend to cost significantly more than their unpowered counterparts.
Style: While almost entirely subjective, the aesthetic of a car charger is of ample importance, especially if you're driving a vehicle with a beautifully designed cabin. As you'll likely glean from the items that comprise this list, MagSafe car mounts are already being produced in a wide variety of colors, shapes, and styles, with offerings available to suit practically any taste — and more importantly, jive with the interior of your car. There are also incredibly compact mounts that do a good job of neatly blending into their surroundings.
Mounting Location: The next main aspect to consider is where you'd like the mount to be located on or around your dash, as different mounts are designed for use in different areas. The most common types of iPhone car mounts attach directly onto the top of the dash itself or mount onto one of the air vents, though there are also specialty mounts such as ones that use a car's CD slot or items that sport moving arms and hinging and pivoting phone mounts.
Manufacturer: With so many of today's MagSafe compatible products made by lesser-known tech companies, it can be tricky to get an overall sense of quality for a particular item. These "no-name" brands often make decent products for fair prices, though buying from a completely unknown brand does come with some risk. One method of ensuring that you get your hands on a quality product is to opt for a mount that's made by a larger, more reputable manufacturer — such as any of the brands carried by Apple. Obviously, this route does cost a bit more, though it assures peace of mind.
Size: MagSafe car mounts come in a wide range of sizes, and while it may seem like the most obvious choice would be to opt for the smallest available item, it's worth noting that the more diminutive mounts — which admittedly tend to be less distracting and less of an eye-sore when not being used — also lack some of the functionality of their larger counterparts, such as the ability to freely pivot the angle of the screen. Some of the larger devices also feature a more robust array of magnets, making for easier and more efficient coupling (as well as wireless charging, depending on the mount in question).
Price: Just like with most other tech or smartphone accessories, when buying a MagSafe car mount, you tend to get what you pay for. There are super minimalist items that require very little material, and these do tend to be on the affordable side, however, by and large, the MSRP of any given MagSafe-compatible car mount will have a direct bearing on its overall quality.
The Best MagSafe Cars Mounts for Your iPhone
Nite Ize Steelie Dash Ball
Pros
Offers 360°-adjustable angling
Benefits from a stainless steel construction & a silicone center
Mounted using 3M VHB adhesive
Cons
Not the most aesthetically-pleasing design
Best Ball-&-Socket Mount: Taking inspiration from the hitches on campers and trailers, the Nite Ize Steelie Dash Ball is an insanely minimalistic means of mounting an iPhone, consisting of a 360-degree-rotating steel socket ball sitting on a base that's lined with 3M VHB adhesive for easy mounting to practically any surface of a car's interior. In addition to coupling with any MagSafe-compatible iPhone cases, the Steelie Dash Ball is also compatible with Nite Ize's other Steelie magnet offerings.
iOttie Easy One Touch 5 CD Slot Mount
Pros
Occupies an outdated piece of tech
Uses a patented Easy One Touch mechanism
Features a magnetic cord organizer
Finish designed to complement modern car interiors
Cons
Protrudes further from the dash than other mounts
Best CD Slot Mount: If you're still driving a car with an in-dash CD player, there's a pretty decent likelihood that said CD player is getting little to no use (a likelihood furthered by the fact that you're currently reading an article about smartphone car mounts). iOttie's Easy One Touch Mount takes advantage of this, utilizing the CD slot opening to brace itself, rather than blocking the heat or AC from your vents. As the name would suggest, this phone mount is easily operated with just one hand, comes equipped with a magnetic cord organizer, and the ability to mount your phone in portrait or landscape mode.
Spigen Mag Fit Phone Holder Car Mount
Pros
Made from durable polycarbonate
Features a locking rotating design
Silicone ring bolsters grip
Soft finished mounting piece prevents scratches to phone or vents
Cons
Just a holder, requires separate MagSafe charger
Best Budget Vent Mount: Simple, sleek, and affordable, Spigen's MagSafe car mount is a compact yet effective means of displaying your iPhone in the cockpit of your vehicle. The low profile design offers up 360-degree viewing capabilities, and thanks to the included residue free tape, installation is a breeze and non-permanent. You will need to provide your own USB-C charger, however. At under $20, it's hard to beat the value proposition of Spigen's offering here.
Moment Car Vent Mount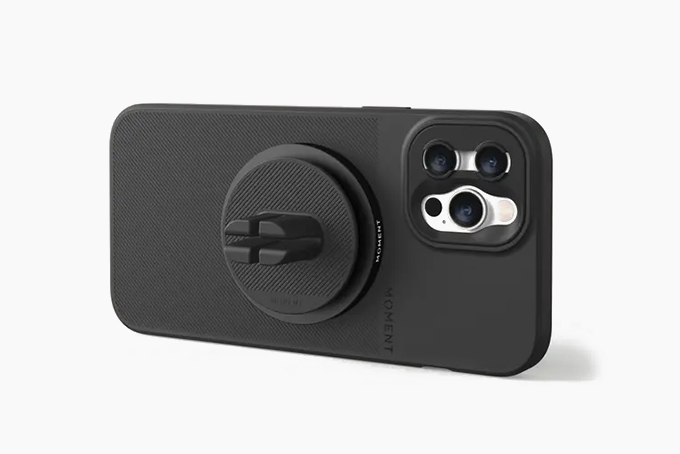 Pros
Uses a proprietary (M)Force magnet array
Boasts premium materials & finish
Features a simple rubberized press-fit attachment
Compatible with Moment's Stick-on adapter
Best Upgraded Vent Mount: Upon Apple's unveiling of its new MagSafe system, technology accessories firm Moment was one of the first companies to come out of the gate with a wide array of top-shelf MagSafe-compatible offerings, very much including the plainly-named Phone Car Vent Mount. Compatible with all iPhone 12 models with or without a protective case, this minimalistic yet high-end item had padded contact points and feature's Moment's proprietary (M)Force magnet array and grip pad, allowing for even more efficient coupling and increased strength.
Belkin Car Vent Mount PRO With MagSafe
Pros
Rotates on a ball joint
Sleek low-profile design
Features an integrated cable management system
Cons
Only offered in a white finish
Best Apple-Approved Mount: Belkin is one of the most eminent tech accessories brands, carried by practically every big-name department store as well as by the Apple Computer brand. Belkin's Car Vent Mount PRO with MagSafe puts a more premium spin on your regular magnetic car mount, with a pivoting and rotating ball joint system — that allows phones to be displayed in portrait or landscape modes — and a clever cable management system hidden at the base near where the mount clips to a car's vent. You do have to purchase the actual charging cable separately, though this item is sold with an included two-year manufacturer's warranty.
Peak Design Car Mount
Pros
Features anodized aluminum construction
Versatile mounting options
Benefits from SlimLink technology
Cons
Mount only, doesn't offer charging (though is available in a charging version)
Best Dash Mount: Born out of a successful Kickstarter campaign in late 2020, Peak Design's Car Mount is a simple yet highly versatile automotive phone mounting solution that's crafted from legitimately high-end materials. The magnetic mount sports a fully padded face linked to a ball-joint-style arm — all of which is crafted from anodized aluminum. The clever design allows this offering to be mounted to horizontal, vertical, or diagonal surfaces. This item also boasts an unmistakable top-shelf fit and finish — a rarity on sub-$50 items.
Otterbox Wireless Charger Vent Mount
Pros
Features a proprietary glowing ring
Protected by a lifetime warranty
Durable materials
Best Overall Mount: Otterbox is a name that needs no introduction. They've built their name on the backs of products designed to protect your technology, and the Otterbox MagSafe vent mount is no exception. Backed by the brand's lifetime warranty, and outfitted with a proprietary glowing ring for better low light mounting assistance, we'd be hard pressed to find a better quality option at any price point. It's also available in a dash and window mount if you'd prefer to go that route.
The Best MagSafe Accessories For Your iPhone
Want to check out some other fantastic magnetic-coupling accessories for your late-generation Apple smartphone? Then be sure to head over to our guide to the best MagSafe accessories for your iPhone for a curated list of stands, wallets, chargers, grips, docks, power banks, and more.