Stop a random person on the street, ask them to empty their pockets and/or bag, and you're probably going to find at least one Apple product — be that a smartphone, earbuds, laptop, tablet, accessories, or some combination therein. Their suite of offerings is so ubiquitous, in fact, that some people use the word "iPhone" as a synonym for "smartphone." Truly, they're a tech powerhouse unlike any we've seen before — but perhaps examining the brand's place in this world is a can of worms for another time.
Today, what concerns us is the suite of offerings that have vaulted Apple from a tiny garage startup to the household name it is today. The company has swiftly created some of the most well-designed, user-friendly devices ever envisioned and, if their consistent releases are any indication, they're not even remotely at risk of slowing down. The guide you are about to read can be thought of as a kind of cheat sheet for all things Apple — or at least all their offerings that are up-to-date and presently available. This is the complete buyer's guide to Apple products.
A Brief History of Apple
Garage Startup to Tech Giant
All the way back in April of 1976, a pair of men named Steve — who both happened to be college dropouts — founded a computer company out of a small garage in Cupertino, California. Their intention was to craft personal computers that were small enough for normal people to fit them in their homes or offices, as computers up to this point were often massive, unwieldy machines — sometimes as big as buildings themselves. The Steves, Jobs and Wozniak, could not have possibly known the events they had set in motion — leading, inevitably, to Apple becoming the tech titan we know today.
Of course, it wasn't all sunshine and rainbow for the small startup. Yes, the pair teamed up to create the now-legendary Apple I and Apple II computers, the former representing a sea change in the computing industry and the latter marking the first color display for a PC. But they were also fraught with frustration and downturns. In fact, Wozniak left Apple in 1983 and, after hiring PepsiCo's John Sculley to be president, Jobs also left the company. Apple did well at first, even posting its highest profits to date in 1990. However, thanks in large part to competition with another company known as Microsoft, Apple began to decline.
Then, in 1997, Apple purchased Steve Jobs' follow-up venture, NeXT Software, and elevated Jobs into the role of CEO. This strange merry-go-round ended up being a huge boon to the company, as it marks the moment Apple began to turn itself around — resulting in the introduction of the iBook, iPod, iTunes, and more. The brand's fate was seemingly sealed for certain in 2007, with the release of the original iPhone propelling the tech company to the top of the industry, where they have comfortably remained since.
Today, it's difficult to find a person, company, and/or household that doesn't utilize at least one Apple product. And while it's clear that the brand is dominant in their field, they haven't remained that way by resting on their laurels. Rather, it is by constant and consistent innovation and development that has allowed Apple to succeed. In fact, just last year, Apple announced the next big step forward for themselves in the form of their house-developed M1 chipset.
Apple's M1 Chip
Taking Tech In-House
Since the brand's inception, Apple had to rely on chipsets — in laymen's terms: the tiny computer parts that make your devices work — for its Mac lineup of devices from outside designers and manufacturers, especially those made by Intel since about 2006. However, last November, Apple introduced a game-changer. Like their iPhones, iPods, iPads, and Apple TV have been using since their inception, their entire lineup of Mac computers would finally be using Apple's own in-house designed M1 chipset.
It's worth noting that many of Apple's offerings are still in the transitional period and, therefore, are not necessarily equipped with the M1 chip. As time progresses, though, Apple will likely move away from using any chipsets other than those they have designed themselves. This is a pretty spectacular development, both for the brand and its customers, for a couple of significant reasons.
For starters, the M1 — which includes a CPU, GPU, RAM, and so much more — has been praised by amateurs and experts around the world for its efficiency, performance, etc. Truly, from soup to nuts, every device this chipset is put into benefits from better overall specs — which is to be expected from over a decade of research and development. This includes figures like 3.9x faster video processing, 7.1x better image processing, a 16-core neural processor capable of a whopping 11 trillion operations per second, onboard machine learning (meaning it will help improve itself), significantly improved overall power consumption, and the list just keeps going.
But there is a secondary long-term benefit to this technology: consumer savings. Bringing the entire operation in-house means that Apple doesn't have to pay outside vendors for their services and products. This means that the technology is immediately less expensive — estimated to save the company about $2 billion — which Apple has baked into the prices of their new M1-equipped technology. In fact, some of the new products cost the same as the outgoing older models and that's only going to improve as time progresses. To say that the M1 chipset is a game-changer might actually be underestimating its overall significance.
iPhones
Industry Standard Smartphones
In spite of Apple's long company history (relative to computer tech), the product that undoubtedly raised the stakes is the iPhone. First introduced in 2007, this pocketable powerhouse has since become the longtime industry standard for smartphones. And, with regular improvements and upgrades, this does not appear to be changing anytime soon. The following section goes over the brand's current suite of offerings — those which can be purchased from Apple directly.
iPhone 12 Pro
The current top dog in Apple's iPhone lineup, the 5G-compatible 12 Pro represents the pinnacle of the brand's current array of technologies — at least in regards to their mobile devices. It comes standard with a stainless steel body, 6.1″ HDR display, a 128GB capacity (upgradeable to 512GB), compatibility with MagSafe wireless chargers (a newly reintroduced tech Apple is banking on), a magnificent HD triple-camera array (alongside the forward-facing camera), and so much more. Of course, if you're willing to spend just a bit more, you can upgrade to the 12 Pro Max with its 6.7″ display, better battery life, and some other handy photo-focused upgrades. Until the next generation, this iPhone reigns supreme.
iPhone 12
At first glance, the iPhone 12 doesn't seem all that different from the Pro model. They even share the same A14 processor chip. And, truth be told, most casual users probably won't actually notice much of a difference, lending credence to picking up a 12 for far cheaper than the Pro version. However, it does differ in some key ways. For starters, the Pro has a somewhat higher maximum display brightness (800 nits versus 625). Furthermore, the body of the 12 is made from aerospace-grade aluminum (as opposed to the 12 Pro's stainless steel body). But the biggest alterations are in the camera array — the 12 utilizes a two-camera system, as opposed to the Pro's triple-camera system, and it can film in 30fps whilst the Pro films up to 60fps. There are a few other differences but, unless you're a professional photographer or obsessive content creator, you're likely not going to be able to tell with normal usage. It's also worth noting that there is a mini version of the 12, which features most of the same specs in a smaller package — boasting a 5.4″ display and a more palm-friendly silhouette.
iPhone SE
You can think of the iPhone SE as the brand's most compact, budget-friendly model in their present lineup. Not only does it have the lowest overall introductory price, but it also looks and functions the most like older models of Apple's iPhone — it even has the old front button below the display. While the tech is a touch dated compared to other models, the SE still has plenty of features that allow it to stand up alongside many other current-gen smartphones. That includes Apple's last-gen A13 Bionic chip (the same one used in the iPhone 11), a durable aluminum body with a scratch- and drop-resistant glass 4.7″ Retina HD display, a single-camera system that still offers the brand's famed Portrait mode, 4K video capabilities, up to 256GB of onboard storage, and more.
iPhone 11
In spite of the fact that Apple's iPhone 11 is now approaching 1.5 years of being available, it still stands up and may still be the best Apple option for some customers — especially those that want to save money with sacrificing too much tech. Like the iPhone SE (which was based on the 11), this phone boasts an A13 Bionic chipset that, while older, is still nothing to scoff at. It also comes with 64-256GB of onboard storage, a high-def dual-camera array, IP68 waterproofing, a 6.1″ LCD Multi-Touch display, and six different handsome colorways. It might not be the fanciest, shiniest new toy in Apple's collection, but it's definitely no slouch and still puts much of the competition to shame — which isn't half bad for a now-older, budget-friendly smartphone.
iPhone XR
Now the oldest model in Apple's present iPhone lineup, the XR (pronounced "Ten-R") still holds up surprising well — despite the fact that it was originally released all the way back in 2018. Though not quite as inexpensive as the iPhone SE, this model pays dividends for its higher price in several ways. For starters, it is available in six distinct colorways (to the SE's three) and comes with your choice of 64 or 128GB of onboard storage. It also comes equipped with a 6.1″ Liquid Retina HD display, battery that's good for up to 16 hours of continuous video playback, Face ID compatibility (not available in the SE), IP67 waterproofing, and a single-camera array that still offers Portrait Mode and compatibility with numerous other photo modes and technologies.
iPhone Accessories
As an added bonus to the spectacular iPhone lineup, Apple also offers several different in-house accessories users can choose from. They include things like MagSafe-compatible silicone or leather cases, a MagSafe-compatible wallet attachment, and the MagSafe Duo Charger (which can charge your phone and Apple Watch simultaneously). Of course, for a bit more money, you could theoretically consider the brand's AirPods as an iPhone accessory — but we'll get deeper into the audio options in the sections to come.
Mac Computers
Desktops, Laptops, & More
Despite the overall popularity and ubiquitousness of the iPhone, it was the Mac computer (formerly Macintosh) that actually gave the company its start and put them on the world's radar. While the 1990s saw a bit of a rocky period, the ship has since been righted and now Apple's suite of offerings can be found in homes and offices around the world. And now that they're building future models with in-house chipsets, things are almost certain to just keep getting better. Here's what they currently have on tap:
MacBook Air
While the MacBook Air functions as the brand's introductory laptop computer, we assure you it is no slouch in the realms of tech and capabilities. In fact, it actually shares a few features with its bigger, "better" brother, the MacBook Pro. For instance, it's offered with a 13.3″ Retina display, 8-core Apple M1 chip, up to 16GB of unified memory (in place of a more traditional RAM system), up to 2TB of onboard storage, battery life good for up to 18 hours per charge, and more. While it doesn't have the brand's handy and convenient Touch Bar, it does allow users access via fingerprint-based Touch ID. As mentioned, this is an entry-level laptop — but it is far from being cheap or limited in its capabilities.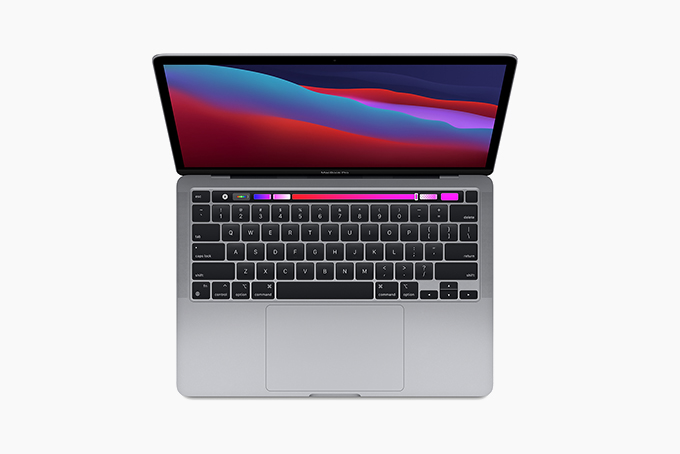 MacBook Pro
The next step forward in Apple's current laptop lineup, the MacBook Pro is available in two different versions — the 13-inch and the 16-inch — but the pair differ in more than just their sizes. To start, here are the biggest things they share in common: a Retina display and Apple's Touch Bar with Touch ID. Yep, that's where things start to branch. To continue with the 13-inch, it also comes with an M1 chipset, up to 16GB of unified memory, up to 2TB of storage, and a whopping 20-hour battery life. Unfortunately, the 16-inch has yet to make the switch to the M1 chipset — offering an Intel Core i9 processor in its stead — and it only has up to 11 hours of battery life, but it does outshine its brethren elsewhere. That includes a larger display, up to 64GB of memory, up to an eye-bulging 8TB of storage, and more.
iMac Pro
Think of the iMac Pro like the highest level trim of a vehicle — except, in this case, it's Apple's all-in-one desktop computers we're talking about and not something with wheels and an engine (although this machine can certainly haul, so to speak). It comes standard with a crystal-clear Retina 5K display measuring 27 inches, is offered with up to an 18-core Intel Xeon W processor, 256GB of memory, 4TB of storage, and more. Not to mention, it's equipped with a trio of Radeon Pro Vega graphics cards to keep all your work (design or otherwise), games, TV and/or movies, etc. looking sharp, smooth, and beautiful. Plus, the cherry on top of the high-performance cake, it comes in a sharp-looking Space Gray case — which you can't get with the standard models. It's not quite on the level of the Mac Pro, but it is definitely nothing to scoff at — not by a long shot.
iMac
There are actually three different models (or trims) of the iMac, which vary seemingly only slightly — but are different in several ways that will definitely matter to those in the market for a new all-in-one desktop computer. So, we'll start from the bottom and work our way up. The first is an older 21.5″ model with a 2-core Intel Core i5 processor, up to 16GB of memory, and up to 1TB of storage. The next (big) step up is another 21.5″ model that offers up to a 6-core Intel Core i7 processor, 32GB of memory, 1TB of onboard storage, a Retina 4K display, and a trio of Radeon Pro graphics units. Finally, the big daddy of the group is a 27″ with a 5K Retina display, up to a 10-core Intel Core i9 processor, up to 128GB of memory, and a potential 8GB of storage. Of course, those figures are all the highest-end options for their models, but these all-in-ones all have merits of their own — from relative affordability to peak performance in their class.
Mac Pro
If you're in the market for a full-sized, powerhouse desktop computer that has the potential to last through the next few generations of PCs without losing its appeal or capabilities, then the Mac Pro might just be the offering for you. Its specs include an array of hard-to-beat features like an ultra-capable 28-core Intel Xeon W processor, up to 1.5TB of memory, up to a gargantuan 8TB of hard drive space, a top-of-the-line graphics array (made up of at least five different high-end modules), support for up to (and this is not a joke) twelve 4K displays or six 5K/Pro Display XDRs (depending on the configuration) — do we need to keep going? We wouldn't go so far as to call this sleek steel tower future-proof, but it definitely ranks amongst the best-of-the-best professional-level PCs presently available — plus you get Apple's legendary support and suite of software to go along with it.
Mac Mini
For reference, Apple has been making the Mac Mini for some time, but we're primarily concerned with the latest model, which we'll go over here. The smallest Apple computer by a wide margin (this little device is about the size of a dinner plate, if not slightly smaller), this tiny titan is an impressive bit of tech. In fact, it already features the new M1 chipset alongside up to 16GB of unified memory, up to 2TB of hard drive storage, and up to 6K display support. One thing to keep in mind, however, is that this computer does require that users purchase their own display, keyboard, and mouse — none are included. However, the savings are otherwise unmatched and that is more than enough for some users.
Mac Accessories
There are numerous Mac-focused accessories worth your hard-earned cash — although some of them are obviously more impactful than others. That starts with the company's standalone monitor, the Pro Display XDR. Dreamed up to go with the Mac Pro (but works with the full suite of computers), it's the world's first 32-inch Retina 6K display, offers up to 1600 nits of brightness, and has a mind-boggling 1,000,000:1 contrast ratio. The brand also offers alternative and/or replacement keyboards and mice, trackpads, a multi-port adapter, laptop cases, extra cables and wall plugs, and so much more. They even sell some accessories in the Apple store that are approved for use with the brand's products — although they aren't made by Apple themselves.
iPads
The Tablet That Changed Everything
For anyone looking for a more streamlined computational experience with more portability than even a laptop, Apple's tablet — the iPad — is a superb alternative option. Again, this is a device category that Apple has dominated and the beloved iPad is, far and wide, the preferred platform. Despite the fact that this is one of the brand's newer categories, they still offer numerous options, which we've outlined below. Keep in mind, Apple does offer some older models for sale still, but we're interested in the most up-to-date offerings here.
iPad Pro
In truth, the iPad Pro is almost like an iPhone 12 in a lot of ways — just much bigger. In fact, it can be purchased as a WiFi-only device or can be bought with cellular capabilities — meaning you can browse the web and use apps and/or even make calls without an internet connection. Furthermore, it comes with the same camera array as Apple's latest-generation phones (12MP Wide and 10MP Ultra Wide cameras) for all your photographic exploits. Then, on top of that, it's offered with a 12.9″ Liquid Retina display, an A12Z Bionic chip
with Neural Engine, and up to 1TB of onboard storage. If you want the best of the best tablet and no others will satisfy, this is the one for you.
iPad Air
A solid middle ground between the high-priced iPad Pro and the standard iPad, the iPad Air might just be the best of the three for all-around, day-to-day usage. And the specs really drive that point home. This tablet sits between the two sizes with a 10.9″ display, A14 Bionic chip with Neural Engine, compatibility with the Magic Keyboard and 2nd generation Apple Pencil, up to 256GB of hard drive space, a 12MP camera rig, and the ability to choose between a WiFi version or one with cellular connectivity. Truly, this is like a hybrid of its big and little brother — both in its appearance and overall functionality — but this middle child definitely deserves some love.
iPad
The tablet that started it all, the original iPad is actually still in production — although it is now in its 8th generation and is vastly different from the first-released base model. Now, you can get it as either a WiFi-only model or one with cellular capabilities; it comes standard with a 10.2″ display, A12 Bionic chip, 8MP camera, and a Lightning connection port; and it can be purchased with up to a 128GB hard drive. If you're interested in pairing it with the brand's Apple Pencil, however, just remember that this version only works with the 1st generation offering. Furthermore, it is compatible with the brand's Magic Keyboard.
iPad mini
Now in its 4th generation, the iPad mini is by far Apple's smallest, most EDC-friendly tablet — measuring up with just a 7.9″ display that makes it nearly pocketable. Honestly, it's almost more like an oversized iPhone than a smaller iPad tablet. And while it does have compactness on its side, that comes with some downsides not found in its larger brethren. For starters, this is the only iPad model currently available that isn't compatible with the Smart Keyboard — although it will work with other Bluetooth keyboards. It's also, in similar fashion to the standard iPad, only compatible with the 1st-generation Apple Pencil. Furthermore, it comes with an A12 Bionic chip with a Neural Engine, up to 256GB of hard drive space, an 8MP camera, and more.
iPad Accessories
As mentioned several times above, the two primary accessories offered for Apple's suite of iPad tablets is the Apple Pencil — of which there are two generations, each compatible with specific models (make sure to check before buying) — and the Magic Keyboard — which is also not compatible across-the-board. Beyond that, the options are surprisingly scarce, mostly including covers and cases. It's worth noting, however, that both the Apple Pencil and Magic Keyboard are worth looking into if you're a frequent iPad user, as they can make the experience much simpler and more approachable.
Apple Watches
Revolutionary High-Tech Wearables
A few years ago, smartwatches were little more than a novelty. Yes, many existed, but they were inelegant and often frustrating in their limitations. As they are wont to do, Apple changed the game with their simply-named Apple Watch. Now in its 6th overall iteration, this wearable is a magnificent piece of tech that puts Dick Tracy's signature wrist communicator to shame. Here are the ones that Apple presently offers for purchase:
Series 6
The culmination of the last five years (and however long the brand was working on the project before its initial release), the Apple Watch Series 6 is the pinnacle of Apple's wearable sector, and it boasts the most comprehensive suite of built-in tech therein. Available in either GPS or GPS + Cellular versions (meaning you can make calls and access apps independently of your iPhone), this impressive smartwatch comes with your choice of a 44 or 40mm case in aluminum, stainless steel, or titanium; it offers a wealth of fitness and activity-focused sensors and tracking apps; it can track your heart rate and even has a baked-in ECG app; and can even detect your blood-oxygen levels. Pair that with waterproofing solid enough that you can swim with it and an always-on Retina display and you can see why this is the current standard in the smartwatch sector.
SE
As is the case with similarly-named Apple products, you can think of the Apple Watch SE kind of like the "light" version. It's more approachable from a budgetary standpoint, but that also comes with a more limited array of features in exchange. Of course, that doesn't mean it can't stand up against its competition — it very much can. In fact, it has the same larger display as the Series 6, it's also swim-proof, and it has a Retina display that's 30% larger than the Series 3. Other highlights include accident detection, an always-on altimeter, a full suite of fitness- and health-tracking apps and sensors, access to emergency calling and a built-in Emergency SOS system, and so much more. Don't go thinking that the "budget-friendliness" of this watch exempts it from formidability, as it definitely doesn't.
Series 3
The oldest and most inexpensive model available through Apple, the Series 3 is still no slouch — as it is still an Apple-designed and -backed wearable. For significantly less than its brethren, you can get one in your choice of 42mm or 38mm with a Retina display, swim-proofing, heart rate monitoring, fitness apps, an Emergency SOS mode, and a built-in altimeter. Granted, it doesn't have some of the fancier upgrades of its newer siblings, but it still has a suite of tech that stands up against and beats many of the other similarly-priced options made by other brands. As an entry-level smartwatch, the Apple Watch Series 3 is hard to beat.
Special Editions
There are two "Special Edition" Apple Watches presently available through the brand's site — one from Nike and the other from Hermes. Functionally, the watches are mostly the same as standard Apple Watches, although the Nike edition comes pre-loaded with the Nike Run Club app, exclusive faces with run-focused complications, fitness-focused straps, and a Nike Twilight Mode that brightens your watch screen for increased visibility while out on the road. The Hermes version also comes with exclusive faces and, more importantly, stylish specialty straps — which attach to the watch via new Attelage connection bars — that harken to Hermes' own high-fashion offerings.
Apple Watch Accessories
As you might imagine, the primary grouping of accessories offered through Apple for their Watch comes in the form of an array of different straps — some with a focus on activity, others with a focus on fashion and appearances. This includes the standard bands offered at purchase, as well as braided cloth versions, sport bands in rubber or nylon, leather straps, the Nike Sport Band and Sport Loop, and metal bracelets of varying styles. Of course, you can also pick up a wireless charger and numerous partner accessories offered through Apple but not made by Apple themselves.
Apple Audio
AirPods, Smart Speakers, & More
Apple's foray into the music world, initially stunted by their former qualms with Apple Records (the label responsible for bringing The Beatles to the world), has been a vastly different journey than many of their other categories — the ones they either revolutionized or straight-up created themselves. However, with the growth of iTunes and the creation and development of the AirPods and their subsequent follow-ups, this is another tech category in which Apple is a real contender — and that only looks like a continuing trend.
AirPods
Due to the brand's ubiquitousness, it can be hard to recognize its overall impact. But if you pay attention to some of Apple's newer products, you can start to see just how dominant they truly are. With this goal, we present the Apple AirPods, which didn't exist until 2016 but now are the industry standard for true wireless earbuds. Now in their 2nd generation and equipped with the brand's powerful Apple H1 headphone chip, these "automatically on and always connected" earbuds have built-in Siri voice control, a speech-detecting accelerometer, an available wireless charging case, up to 24 hours of listening time with the included case (5 hours without), and offer 3 hours of listening on a 15-minute charge. For the price, these entry-level 'phones are still a great deal.
AirPods Pro
For a decent price bump, Apple's AirPods Pro offer a pretty significant upgrade from the base model. The biggest difference therein can be found in the fact that this version has real-time active noise-canceling technology built-in — which can be used to block out surrounding noise, but also offers Transparency Mode for better spatial awareness. They also offer a customizable fit, custom drivers, wireless charging (with an hour of listening in just five minutes), seamless integration with Apple's suite of other devices, and more. And that's in conjunction with all the other features offered by the base model. If you can swing the price increase, there's no reason not to upgrade to these true wireless earbuds.
AirPods Max
While we're not sure we'd say it was an earth-shattering release, the announcement of Apple's first over-ear headphone model definitely sent ripples through the tech and audio industries — and it was such a positive reception that the AirPods Max sold out almost immediately. And if you look closely at the specs, it's pretty easy to see why. For starters, these headphones have an utterly sleek design marked by a stainless steel frame, knit mesh headband, telescoping arms, anodized aluminum cups — which look as good as they are durable — and mesh-covered memory foam ear cushions. However, it's what you can't really see — the tech on the inside — that really sets them apart. That includes a clever touch control wheel for precise and seamless control (like adjusting volume and/or skipping songs), active noise-canceling tech and Transparency Mode, high-end drivers capable of producing a full range of hi-fi sounds, "Spatial audio with dynamic head tracking," and loads more. Yes, they're the most expensive of the bunch, but they're also the most impressive.
iPod Touch
Believe it or not, Apple actually still offers a version of their portable music player for purchase. Unfortunately, it no longer features the satisfying wheel of the earlier models, but it's still a pretty handy and fun bit of tech — which also happens to look suspiciously like an older model iPhone (likely because it was based on iPhone architecture). This portable device — which can connect to the internet via WiFi, but does not have cellular connectivity — is available with up to 256GB of storage, works seamlessly with Apple Music, has a 4″ Retina HD touch display, and can even function as a messenger, photo/video device, and even allows users to play games via downloadable apps including Apple Arcade. It even has a camera array for use with AR apps and games. Simply put: this ain't your daddy's iPod.
HomePod
There are numerous smart home speakers available on the market from big-name brands, and Apple is happily amongst them with their simply-named HomePod. We can say, however, that this is not one of the categories where Apple has pulled away from the rest of the pack. That is to say: the HomePod is a neat piece of tech but isn't particularly special when compared to its competitors. It offers room-filling 360-degree hi-fi audio, Siri voice controls, "real-time studio-level processing" that's said to offer exceptional sound across the spectrum, easy connectivity with Apple's full suite of tech, and more. It's not particularly groundbreaking at this point, but it is still an all-around solid smart speaker, especially for anyone with an existing Apple ecosystem.
HomePod mini
Another newer offering from the Cupertino brand, the HomePod mini is, well, a more compact version of the HomePod. It boasts much of the same tech as its larger sibling — including room-filling 360-degree audio, Siri voice control and connectivity, dynamic drivers, and similar styling — but in a much more compact package with a significant price drop. What's perhaps even cooler is that, if you have two HomePod minis, you can actually sync them together to function as a single stereo system for better spatial audio. In all honesty, this might actually be a better investment than the full-sized version.
Apple Audio Accessories
The first thing to note regarding the closing of this section is the existence of Dr. Dre's Beats brand — which was acquired by Apple in 2014 and, we must assume, paved the way for Apple's own in-house audio gear. We are mentioning them now because you can buy Beats products through Apple but, because they're a separate sub-brand, we're not including them as an "Apple product." It is also worth pointing out the existence of Apple Music — the brand's streaming service that qualifies as somewhat of a paid-for extension of iTunes, allowing users to stream a whopping 70 million songs from artists around the world, young and old. Outside of those, Apple also offers an array of cases for the headphones, a few adapters, replacement ear cushions for the AirPods Max, and AirPod tip replacements.
Apple TV
Streaming Entertainment
Apple's foray into television comes on two fronts: a pair of pieces of hardware to plug into your television that grants access to numerous streaming services and its own branded service — all of which, with slight variation, are called simply Apple TV. For all intents and purposes, the two Apple TV devices are mostly the same — although one offers baseline HD quality and 32GB of hard drive storage, while the other supports higher-quality 4K streaming and comes in either 32GB or 64GB. Following that, the service — also called Apple TV — also comes in two tiers. There's the free Apple TV app, which functions like many of the big-name streaming apps and allows you to stream, rent, and buy bits of entertainment. And then there's the upgrade to Apple TV+, which grants users immediate access to all of Apple's original movies and television shows for a monthly fee — alongside whatever other services, channels, etc. you have. While this is not a high-focus area for Apple right now, there is reason to believe Apple will put more focus on developing the TV side of its business in the coming years.
The 12 Best Apple Wireless Chargers
Chances are, unless you're slacking on upgrades, at least one of your Apple products currently supports wireless charging. In that case, you're going to probably want to invest in one of the best Apple wireless chargers. After all, even if you don't have a wirelessly-charging iPhone now, your next one will be.