Since the release of the very first iPhone back in 2007, smartphones have increasingly become vital and integral parts of our daily lives, affording the ability to digitally hail a ride, order food, unlock your door, online shop, pay bills, and so on. Between the immense functionality of smartphone software and apps and the inclusion of other key daily essentials such as a camera, calendar, one could argue that the iPhone is something of the ultimate EDC essential.
The latest iteration of Apple's smartphone, the iPhone 12 range, takes its already-impressive array of functionality to new heights, with the dual-SIM, 5G-compatible smartphones boasting improved camera setups, MagSafe charging, Super Retina XDR OLED displays, and the company's cutting-edge A14 Bionic chips, amongst numerous other noteworthy elements. Because of the tremendously important role they play in our tech-laden day-to-day lives, it's absolutely crucial to protect your iPhone from scratches, the weather, drops, impacts, and other hazards. With this in mind, we've extensively scanned the market to bring you this guide to the 15 best iPhone 12 cases.
Apple Smartphone Fortification 101
What Aspects To Take Into Account When Purchasing An iPhone 12 Case
While the newest iPhones are markedly more rugged than their predecessors—offering four-times better drop-resistance than the outgoing model largely thanks to a new "ceramic shield" and an aluminum-edged housing—they're still far from impervious to damage.
Fortunately, modern smartphone cases do a fantastic job of protecting these mobile devices, and, despite the fact the iPhone 12 range has only been on the market for a brief time, there's already been a surprisingly large number of cases and accessories produced for Apple's current smartphone lineup, both from third-party manufacturers and Apple itself. Below, we'll examine some of the finer points of contemporary iPhone cases, as well as what factors to consider when shopping.
Materials: What a case is made of plays an enormous role in its overall quality and efficacy. More high-end and hardwearing materials will provide better protection, and often do so while weighing less than some of the more budget-friendly materials. Modern iPhone cases are routinely composed of materials like titanium, carbon fiber, aluminum, and polycarbonate, just to name a few.
Construction & Design: On top of the materials utilized, another area that plays a pivotal role in determining a case's level of protection is its design and construction. The use of special shock-absorbing elements or dual-material configurations enables some cases to afford much more robust protection without the additional bulk that's typically associated with cases at the more rugged end of the spectrum. What's more, many iPhone cases feature textured exteriors that provide additional grip.
Impact Protection: This is probably one of, if not the single most important aspects to take into consideration when buying a smartphone case, as it protects against the most common way iPhones are damaged, the dreaded drop. In an effort to give a more clear objective sense of a case's ability to protect against impacts, many manufacturers will cite a specific "drop rating" that denotes from what height a phone can be dropped without breaking. There are also phones backed by MIL-SPEC ratings that give additional info on a case's level of protection.
Weather Fortification: While the last few generations of iPhone have become increasingly resistant to the elements, it's still nice to have the reassurance of knowing that, should your phone be dropped and get submerged, left out in the rain, or otherwise exposed to water, no harm will come to it. And while waterproof smartphone cases previously comprised the gadget's functionality, modern waterproof cases very seldom negatively impact the phone's usability.
Size: Every protective phone case is obviously going to add some heft and bulk to your otherwise "naked" iPhone, though the dimensions (and weight) of modern cases can hugely vary. It is worth noting that the larger and thicker cases do tend to afford more robust protection, though there are plenty of impressively compact phone cases that can still do a superb job of shielding your phone from potential harm.
Charging Compatibility: Having to remove your phone's case for charging isn't just annoying, but it also presents a short window of time in which your phone is susceptible to damage. For this reason, it's important to opt for a case that can remain on your phone while still fitting into charging docks. And, with Qi charging increasingly becoming the new norm, you'll also want to go with a case that allows the phone to receive a charge wirelessly without needing to be removed.
MagSafe Charging: Of the many advancements and novel features to debut on the new iPhone 12 range, one of the most noteworthy is undoubtedly its MagSafe charging capabilities. As the first smartphone to be bestowed with this technology, you'll likely want to be able to utilize this feature and as such it's important to go with a case that supports MagSafe charging. Capable of delivering lightning-fast charges at speeds of up to 15W, the MagSafe system can also accommodate a range of magnetic iPhone 12 attachments and accessories.
Additional Functionally: Regardless of a case's style, size, or manufacturer, all iPhone cases perform the same basic task of protecting your phone from damage. That said, quite a few modern iPhone cases incorporate additional features or functions into their respective constructions. Cases with integrated elements such as wallets and cardholders, built-in phone stands, internal stash/storage vessels, and on-board battery packs not only provide the case with markedly more utility, but they're also often able to eliminate the need to carry a wallet or battery pack, making your EDC load out all the more minimalistic and compact.
Style & Aesthetics: Most smartphones look pretty similar, and as such don't offer much of a chance for self-expression. Cases, on the other hand, not only protect your phone but provide you with a means of making it your own. And despite them mostly taking the same basic shape, cases can actually vary pretty significantly in terms of appearance. Some cases are even specifically designed with exteriors that are made to take on a unique patina over time.
Manufacturer: Though, this isn't a hard and fast rule that's always going to be true across the board, the vast majority of the time the reputation of a manufacturer—and the quality of their previously-released products—should help to give you a better sense of the overall product, especially in terms of attention to detail, quality control, and fit and finish. It might not seem necessary to shell out the extra money it costs to opt for a more high-end brand, though this will help to ensure you're getting the best possible case for your iPhone 12.
Pelican Protector Sling
Bestowed with the same level of protection as Pelican's rugged bags and gear, this iPhone 12 case is made from thermoplastic polyurethane with an interior TPR rubber lining that helps take the brunt of impacts. Backed by a lifetime guarantee, this case also features angled edges that transfer energy from impacts away from the screen and is equipped with a built-in sling strap that provides stellar grip, this case can easily be mounted onto belts, bags, and other attachment point systems.
iPhone 12 Clear Case with MagSafe
Though it admittedly lacks a bit of the "cool factor" offered by other cases, for those looking for a basic no-frills case that they can trust, it's hard to go wrong with a product from the makers of the iPhone itself. This Apple-made clear protective case utilizes a hardwearing polycarbonate exterior reinforced with softer internal components. Built-in magnets also allow for both Qi and MagSafe charging, as well as compatibility with other MagSafe magnetic accessories.
Mujjo Full Leather Wallet Case
Mujjo's Full Leather Wallet Case has long been one of our favorite protective vessels for previous generations of the iPhone, and the latest iteration of the Apple gadget is no different. This case maintains the same full-grain vegetable-tanned leather construction—offered in a myriad of vibrant colors—and external card slot, while not coming in sizes that fit the entire iPhone 12 range from the Mini-spec all the way up to the 12 Pro Max.
Moment iPhone 12 Case With MagSafe
One of the first MagSafe-compatible cases to hit the market, Moment's iPhone 12 Case provides ample protection through the use of a clever dual-compound construction that absorbs impacts in two phases. Offered in walnut or black on black canvas, this phone is protected by a lifetime warranty, rated for drops as high as 6', and is fitted with Moment's proprietary M(Force) magnet array for connection to magnetic accessories and MagSafe charging.
Tech21 Eco Art For iPhone 12
A truly unique protective case with upgraded camera protection and a characterful design, the Eco Art case is adorned in a colorful mosaic-inspired pattern penned by tech21. Despite its decidedly unique appearance, this case is rated for drops from as high as 10' and is fully MagSafe charging compatible. Best of all, this case is 100% biodegradable, so when it is time to buy a new case for your theoretical iPhone 13, your old case won't be related to rotting away in a landfill.
OtterBox Aneu Series Case with MagSafe
OtterBox has rightfully developed a well-deserved reputation for producing some of the best protective cases for smartphones, and though the company traditionally traded in rather bulky items, this particular case is remarkably thin while still affording plenty of protection. Made from a combination of OtterBox's proprietary SoftTouch material and TPU, this case sports grippy edges, weighs in at just 1.28oz, and is fully MagSafe charging compatible.
The Ridge The Card Case
Though the company is best known for its popular lineup of EDC wallets, the Ridge also produces some fantastic EDC phone cases, such as the simply-named Card Case. Weighing just half-an-ounce, this compact case is constructed from oil-waded full-grain leather—offered in black or cognac—and includes an RFID-protected compartment for housing two cards.
URBAN ARMOR GEAR Monarch Carbon Fiber Case
Using an advanced five-layer protection system with a shock-resistant core, polycarbonate sheer plate, and carbon fiber exoskeleton—all held together with all-metal alloy hardware–this UAG case provides an enormous amount of protection, meeting the military drop-test standard (MIL-STD 810G 516.6) twice over. Despite the robust nature of this case and its ample levels of protection, it still allows for wireless charging.
Speck Presidio2 Armor Cloud
The most advanced and protective case from a highly-reputable manufacturer, the Presidio2 Armor Cloud offers a widely impressive drop rating of 16'—the most on our list by a substantial margin. The case uses what's described as "an internal airbag system" to absorb impacts, plus it features Speck's Microban antimicrobial protection that reduces bacteria growth by 99%. A lifetime warranty also speaks to the level of confidence Speck has in this product.
NOMAD Rugged Folio
An attractive, elegant, and understated offering that combines a modern phone case with a classic leather cardholder, the NOMAD Rugged Folio boasts internal shock bumpers that afford it a drop rating of 10'. Compatible with wireless charging, this case provides room for a trio of cards and a few bills and is made from genuine Horween leather that will slowly develop a unique and charming patina over time with daily use.
Bellroy Phone Case 3 Card
Produced in seven unique colors, this Bellroy iPhone 12 case features a premium, eco-tanned leather and polymer construction backed by a soft microfiber lining with chamfered edges that provides stellar protection from impacts. Protected by a three-year warranty, the case has room for three cards, though it is worth noting that this case is not compatible with MagSafe or regular Qi wireless charging.
Mason Supply Co. iPhone 12 Case
Made from a rugged Aramid-reinforced carbon fiber, this ultra-lightweight and low-profile case affords solid protection despite a sub-0.5oz weight and a thickness of only 0.60mm. Unsurprisingly, the ultra-thin construction allows for wireless charging, while also making for a less bulky and more pocketable option compared to most other modern cases.
Rimowa Aluminum Groove Case
Inspired by the German brand's iconic grooved hard luggage, Rimowa's Aluminum Groove Case for the iPhone 12 is a sleek and decidedly modern phone case, made from a lightweight aluminum alloy. Intended to pair with other grooved Rimowa offerings such as the company's signature suitcases, this smartphone case's interior features a TPU lining that absorbs impacts that make it through the outside aluminum fortification.
Golden Concept Divided Carbon Edition iPhone Case
Offering extreme levels of protection, this case from Golden Concept is made from a highly-durable amalgamation of 316L stainless steel and carbon fiber—the latter of which is available in blue and red weaves, as well as the standard black and gray color. Grooves milled into the body afford extra grip as well as a few extra style points, while the thin carbon and steel construction allows this case to be MagSafe (and Qi) charging compatible.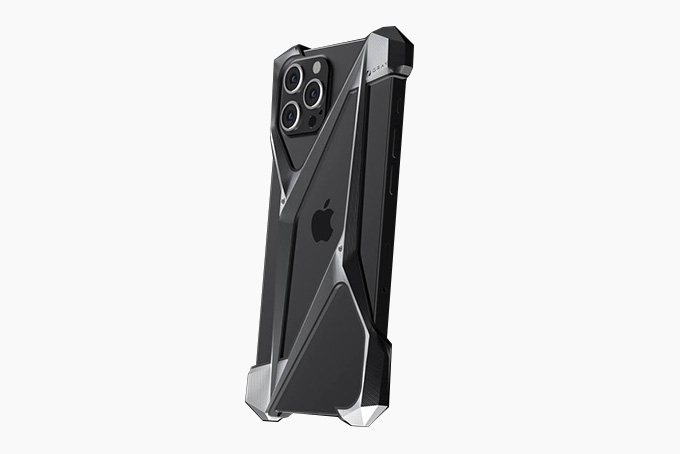 ALTER EGO Titanium iPhone 12 Case
Few if any cases on the market make a statement quite like this item from ALTER EGO. The case is comprised of an exoskeleton that's been precision-machined from aerospace-grade titanium—a process that takes a full 12 hours per unit—and is backed by a black silicone lining. A mechanically-textured finish makes this already incredibly unique case all the more idiosyncratic.
The 12 Best Apple Wireless Chargers
Now that you've got a case picked out, why not upgrade your charging situation? Our guide to the best Apple wireless chargers is packed with today's latest and greatest means of Qi-charging for you iPhone, as well as the rest of your Apple devices.
HiConsumption is reader-supported. When you buy through links on our site, we may earn an affiliate commission. Learn more