Paper money is dying off — a result of our increasing reliance on technology and a much wider availability of credit- and debit-based payment options. And, for many of us, our everyday carry is beginning to reflect that reality. Traditional and once-ubiquitous bifold wallets are going the way of the dodo in favor of sleeker, smaller, and more interesting cash and card carriers. In fact, some folks have done away with carrying cash entirely.
If you count yourself a member of that crowd, then we've got some great news for you. We've rounded up a number of the best wallets specifically geared toward hauling your pocket plastic around. That's not to say that none of these wallets have the ability to carry cash (a good number of them do), but rather that their primary function does not include stashing paper money. Whether you're tired of having a beefy honking bunch of leather taking up space in your back pocket or you just want to streamline your non-cash carrying, these are the best cardholder wallets available now.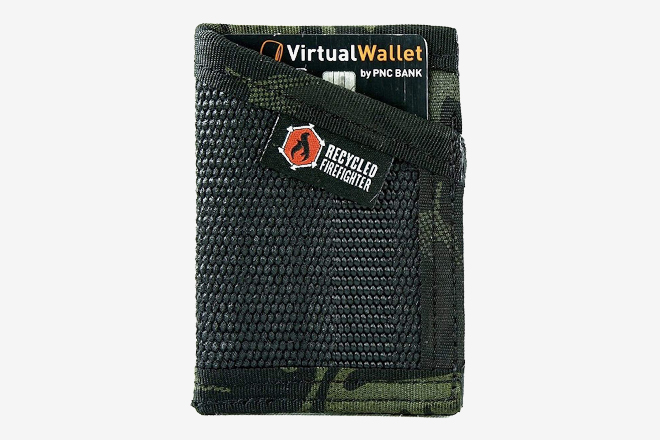 Recycled Firefighter Money Clip Wallet
Made from actual recycled decommissioned fire hoses and sewn with a nylon thread that offers up a 15-pound breaking strength, the wallets made by Recycled Firefighter are some of the toughest and most unique out there. And while they're made to haul up to eight cards, they also boast a built-in money clip, so you can still carry cash. All that and these cash and card carriers are still plenty slim enough to fit in your front pocket.
Capacity: 4-8 Cards
Material: Decommissioned Polyester Firehose
Size: 5.5″ x 4″
Supr Good Co. Slim Wallet
Available in two options — a more budget-friendly all-elastic version or a much more stylish smooth grain leather one — the cardholder wallets made by Supr Good Co. are some of the slimmest on the market, measuring up only barely larger than the plastic you'll put inside them. Yet they still have the ability to expand to fit up to ten cards inside of them, so you still don't really have to worry about cutting down on your wallet's contents.
Capacity: 1-8 Cards
Material: Elastic or Smooth Grain Leather
Size: 3.4″ x 2.2″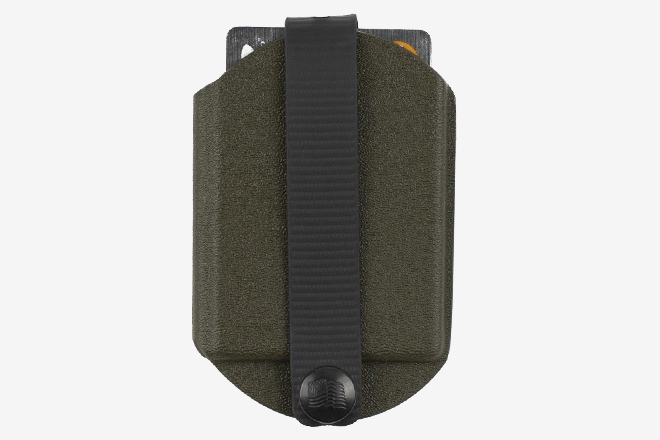 Armatus Vita Kydex EDC Wallet
With one of the widest varieties of colorway options, Armatus' Vita EDC wallets are easy to customize to your carry. They even have ones made to mimic the natural appearance of leather. Yet all of them are still made from super-durable and naturally waterproof Kydex — a thermoplastic material used heavily in mil-spec outdoor gear. These wallets also boast military-grade snap button closures and straps to keep all your wallet contents secure.
Capacity: 1-8 Cards
Material: Kydex
Size: 4.2″ x 2.7″
American Bench Craft The Caliber Clip Wallet
If you want to imbue your minimalist carry with a bit of traditional styling, that's still very much an option, so long as you pick up something like American Bench Craft's Caliber Clip Wallet. It's built from a combination of full-grain vegetable-tanned leather and titanium, which is as beautiful as it is reliable and tough. And it still boasts a four-card capacity (plus extra room for some cash). It doesn't hurt, either, that this offering is entirely handmade and guaranteed for life.
Capacity: 3-4 Cards
Material: Titanium & Full-Grain Leather
Size: 3″ x 3.25″
Spine Titanium Minimalist Wallet
Most cardholder wallets are pretty minimalist to begin with, but few cut down and simplify things quite as much as the Spine titanium minimalist wallet. Consisting exclusively of a single plate of titanium and a sturdy elastic band, this is perhaps the ultimate way to un-clutter your carry. Yet it still boasts a 10-card capacity, has a built-in bottle opener, and is made here in the USA.
Capacity: 1-10 Cards
Material: Titanium
Size: 3.43″ x 2.185″
Trove Wallet
Made by a group of Brits out of high-quality Italian top-grain leather and durable elastic, the cardholder wallets from Trove strike a perfect balance between minimalism and satisfactory functionality. Each can carry up to ten cards, they're reversible for a bit of stylistic versatility, they're handmade in England, and they're remarkably small — perfect for front-pocket carry.
Capacity: 1-10 Cards
Material: Full-Grain Leather & Elastic
Size: 3.5″ x 2.19″
Hitch And Timber Flat Jacket Wallet
Classic and reliable leather exteriors are commonplace amongst larger, bulkier wallets — but they're not exclusive to non-minimalist wallets. Case in point: Hitch and Timber's Flat Jacket is made from gorgeous American-made high-quality leather. Yet it's still slim enough to easily slip in your front pocket, all while offering space for up to eight cards. Handmade in the USA, these cardholder wallets fit into the heirloom category without being bulky back-breakers, like your grandpa's old bifold.
Capacity: 1-8 Cards
Material: American Leather
Size: 4.25″ x 2.75″
TGT Deluxe Wallet
It's no easy task to imbue iconic styling into everyday carry gear — even less so if you want to avoid brutalist materials like metal and plastic. But the folks at TGT have managed it brilliantly with their Deluxe Wallet. Handsome and timeless, these cardholder wallets are slim and super easy to carry, but still feature interesting build materials — like premium Italian lambskin leather and robust, colorful elastic. They're also made in America, which is an added bonus.
Capacity: 1-8 Cards
Material: Lambskin Leather, Canvas, & Elastic
Size: 2.75″ x 2.25″
Bellroy Card Sleeve
The Aussies at Bellroy are no stranger to building superb everyday carry gear. In fact, their catalogue of wallets represents some of the best in the world — minimalist, bifold, or otherwise. So it should come as no surprise that they made our best cardholder wallet list with their Card Sleeve. Built from environmentally-certified leather, this gorgeous card-carrier boasts dual quick-access card slots, an eight-card capacity, and features a quick-access pull tab in the main compartment.
Capacity: 2-8 Cards
Material: Environmentally-Certified Premium Leather
Size: 4.06″ x 2.8″
Madera Poquito Slim Wood Wallet
When thinking of EDC wallets, most people envision textiles, like leather and even canvas. The folks at Madera, however, think you should consider wood — even if you're in search of a minimalist cardholder wallet. And with offerings like their Poquito slim wood wallet, it's easy to see why this is worth your consideration. Made from North American-sourced hardwood, each of these wallets has an eight-card capacity, a rubber cash strap, and even a hidden compartment for coins or a house key.
Capacity: 1-8 Cards
Material: North American Wood
Size: 4″ x 2.5″
Machine Era Ti5 Titanium Slim Wallet
Titanium is one of our absolute favorite construction materials for its unique strength-to-weight ration. And the folks at Machine Era have done a wonderful job in using it to build their Ti5 slim wallet. Machined in the USA, these wallets boast RFID-blocking technology, a built-in bottle opener, and an eight-card capacity. Minimalist, durable, and beautiful, these wallets are top-tier.
Capacity: 1-8 Cards
Material: Titanium
Size: 3.4″ x 2.25″
Fantom F10 Wallet
One of the bigger issues with many minimalist front-pocket wallets and cardholders is that they lack an effective means of getting to specific cards. Usually, you have to thumb through every time to find the one you need. The folks at Fantom have done away with that annoyance thanks to their clever ejection system, which fans out your cards for easy and quick-access. Their F10 wallet also boats, construction of either anodized aluminum or carbon fiber, has a 10-card capacity, and can be fitted with a titanium money clip.
Capacity: 6-10 Cards
Material: Aluminum or Carbon Fiber
Size: 4.6″ x 2.8″
Pioneer Carry Molecule 10XD Card Wallet
It took literal years for the folks at Pioneer Carry to develop their 10XD ripstop fabric, but if their Molecule wallet is any indication, it was all worth it. Light as a feather, but 10-times stronger than steel, this magnificent wallet can hold up to six cards across its three slots, is reinforced for extra durability, offers up natural water-resistance, and will conform to your carry over time. We're not sure we'd call Pioneer Carry's offerings revolutionary, but they're not far off.
Capacity: 4-6 Cards
Material: 10XD Ripstop Fabric
Size: 4.25″ x 2.76″
Ezra Arthur No. 2 Wallet
Another exemplary argument for cardholder wallets is the No. 2 Wallet from Ezra Arthur. Made by hand in the USA and boasting a lifetime guarantee on the stitching, this front-pocket wallet is made from superb and sturdy Chromexcel leather from the folks at Chicago-based tannery, Horween. And its beauty pairs up perfectly with the minimalist design, eight-card capacity, and construction that's completely free of any kind of lining, rubber, or glue.
Capacity: 1-8 Cards
Material: Horween Chromexcel Leather
Size: 3.7″ x 2.7″
Dango D01 Dapper Wallet
Most of the picks on our list fall somewhere in line with the preferences of the stylish and/or urban crowd — but that doesn't mean that folks who appreciate a bit of tactical gear are left out completely, as the Dango D01 has just the right amount built into it via a sturdy aluminum frame. This wallet also boasts RFID blocking, compatibility with the brand's removable stainless steel one-piece multi-tool insert, a 12-card capacity, and an integrated bottle opener. There's even a silicone band for carrying cash and the whole thing was made here in the states.
Capacity: 1-12 Cards
Material: Leather & Aluminum
Size: 2.625″ x 4.375″
The Ridge Wallet
When it comes to minimalist, front-pocket, cardholder wallets, really nobody does it quite as well as The Ridge. Their offerings are about as gorgeous as they come (with a number of excellent color options), made from a number of different materials — aluminum, carbon fiber, titanium — and are available with your choice of a cash strap or money clip. And that's on top of their 12-card capacity, RFID blocking, included replacement hardware, and T5 Torx driver.
Capacity: 1-12 Cards
Material: Aluminum, Carbon Fiber, or Titanium
Size: 3.4″ x 2.2″
Form Function Form Architect's Wallet
While a card-carrier wallet does help slim down your carry, it doesn't have to be at the expense of your other EDC tools. For instance, if you want to haul around a pocket notebook and an EDC pen, you can manage that along with still keeping your wallet on the minimalist end of the spectrum with Form Function Form's Architect's Wallet. Made from gorgeous Chromexcel Horween leather, this wallet can hold up to 10 cards, comes with two Moleskine notebooks (and fits one), and even has a pen holder slot with a Fisher Space Pen included. Oh yeah, and they're made in the USA by hand.
Capacity: 3-10 Cards
Material: Horween Chromexcel Leather
Size: 4.75″ x 3.5″
DPTR Liquid Wallet
Beautiful, simple, straightforward, and handy are all words that might be used to describe the DPTR Liquid wallet. Made from Horween leather and boasting a super-smooth pigskin interior lining, this American-made wallet can hold up to six cards and a bunch of cash — secured by a sturdy elastic band. It also features a handy quick-access pull tab so you can get to your cards without any trouble. If simplicity is your game, this cash and card carrier is your best bet.
Capacity: 1-6 Cards
Material: Horween Chromexcel Leather
Size: 4″ x 3.25″
Pillbox Baseball Glove Leather Wallet
There are a surprisingly high number of cardholder wallets on the market, so it can be hard to find something unique that stands out from the crowd. But these offerings from Pillbox are about as unique as it comes, as they're actually made from retired baseball mitt leather — meaning they're high quality, but also completely individual depending on the part of the glove used in each one's construction. They're also made in the USA, which lends even more desirability to these remarkably handsome pieces of pocket everyday carry.
Capacity: 4+ Cards
Material: Vintage Repurposed Baseball Mitt Leather
Size: 3.25″ x 2.88″
Trayvax Contour Wallet
With one of the most tactical-inspired stylings of any cardholder wallet on our list, the USA-made Trayvax Contour is a minimalist powerhouse, boasting a construction of CNC-machined stainless steel and top-grain leather. It also features a PVD coating for extra durability, a 13-card capacity (plus cash), an integrated bottle opener, an adjustable sliding clasp, and comes with a lifetime warranty. If you want the best of the best out of your everyday carry, this is it.
Capacity: 1-13 Cards
Material: Stainless Steel & Top-Grain Leather
Size: 3.8″ x 2.4″
25 Best Minimalist Wallets For Men
If you haven't quite found what you're looking for amongst these cardholder wallets, we bet you'll have better luck on our collection of the best minimalist wallets for men.