With the vast majority of everyday carry and work backpacks already coming equipped with a dedicated laptop pocket, a supplementary laptop sleeve may seem like a superfluous and unnecessary piece of kit. However, when you consider the reality that a great many of us rely on these devices for our livelihoods, it suddenly becomes abundantly clear why we feel it's worth investing in some extra insurance and protection for our laptops.
With laptops now being so widespread and essential in today's employment ecosystem, it's frankly unsurprising that hundreds of protective cases and sleeves have come to market over the last few years alone. And while this gives buyers more options to pick from than ever before, it can also make it difficult to sort through the abundant number of available offerings in order to hone in on the few standout models in the segment — the latest and greatest of which we've rounded up in this guide to the best laptop sleeves.
Video Guide: 5 Best Laptop Sleeves
Interested in getting a more in-depth look at our top choices for the best laptop sleeves on the market? Then be sure to check out our 4K video review for a hands-on review of the best protective sleeves for your MacBook.
Notebook Protection 101
The Four Main Areas To Consider When Buying A Laptop Sleeve
Though they all serve the same purpose, laptop sleeves come in a wide variety of different shapes, sizes, and styles, each with their own unique constructions and protective capabilities. Below, we'll briefly touch on some of the most important elements to factor in when shopping for a new laptop sleeve.
Construction: Like most other carry solutions, the materials used to make a laptop sleeve play a pivotal role in determining its overall quality, while also playing a major role in the item's appearance. With today's laptop sleeve market being so abundant, these protective products are now offered in an enormous variety of styles and constructions. Alongside a sleeve's primary construction, you'll also want to look into secondary constructions — such as liner material, as well as hardware like buckles and zippers.
Impact Protection: Considering the primary purpose of a laptop sleeve is to protect your device, a laptop sleeve's ability to soak up impacts and abrasions is of utmost importance. To better fortify these sleeves, many manufacturers bestow their respective laptop sleeves with foam and other padding to help absorb drops, bumps, and other blunt forces.
Weatherproofing: Though it isn't essential, it's nice having the peace of mind knowing that, should your laptop and sleeve be exposed to the elements, your device won't be destroyed. Knowing this, a handful of companies have bestowed their laptop sleeves with varying degrees of water resistance — as well as full-on waterproofing.
Accessory Storage: While the main function of a laptop sleeve is to fortify one's notebook, it's sometimes nice to have additional storage in the sleeve for accommodating peripherals like flash drives, dongles, earbuds, power bricks, and charging cables. Though less minimalistic, quite a few laptop sleeves on the market feature storage and organization for laptop and tech accessories.
The Best
The Top 5 Laptop Sleeves On The Market
Matador Laptop Base Layer
Though designed for urban commuting, the Matador Laptop Base Layer is tough enough to take on even the most hostile off-grid conditions. The sleeve is crafted from a UTS-coated, 420-denier nylon and features an inner drybag liner and an adjustable foldover hook and loop closure that affords the sleeve an impressive IPX6 rating — meaning it's practically impervious to any weather and can even handle a non-sustained total soaking. Capable of housing notebooks ranging from 13" to 16", the Laptop Base Layer also boasts a zipper-secured Powermesh front accessory pocket for stashing away wireless mice, charging cables, and other tech essentials.
Bellroy Laptop Sleeve
Made with a focus on sustainability and style, the Bellroy Laptop Sleeve is a minimalistic item that has a few clever tricks up its sleeve. Made from recycled woven fabric, Bellroy's Laptop Sleeve sports a slim design with a magnetic bumper entry that opens to reveal a quilted microfiber lining. This item also features a main opening with a side slit that allows laptops to be charged while still inside the sleeve. Backed by a three-year warranty, this laptop sleeve is also offered in 13", 14", 15", and 16" sizes — as well as in seven different color options.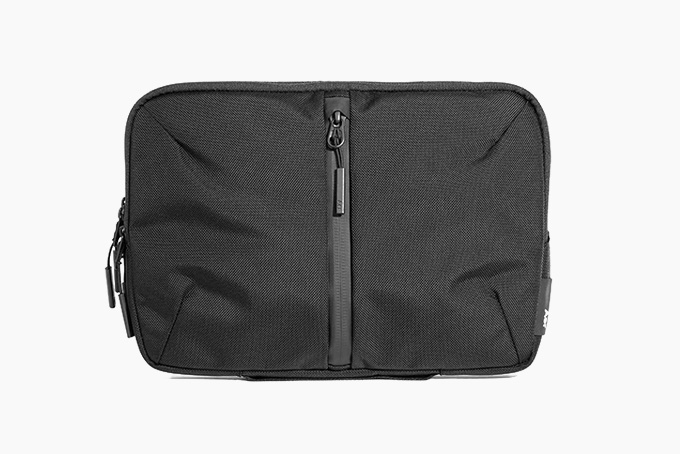 Aer Tech Folio 13"
Whenever shopping for carry and organization solutions for tech, Aer's extensive catalog is always worth checking out — as evidenced by items like the San Francisco-based brand's Tech Folio 13". Weighing in at just 1lb, this heavily-padded laptop sleeve is capable of serving as its own standalone laptop carrier and storage solution. Crafted from ultra-rugged 1,680-denier CORDURA, this ballistic-grade laptop sleeve also features YKK zippers, a separate compartment for organizing and storing tech peripherals, and both a padded quick-grab top handle for briefcase-style carrying and a bottom webbing handle for under-arm carrying. Aer also produces a larger 16" size version of the Tech Folio.
Black Mile Laptop Sleeve
Constructed from a 2.2oz proprietary nylon known as HEX70 XL, the Black Mile Laptop Sleeve is an incredibly lightweight yet rugged item that's also immensely versatile. The sleeve features heavy padding throughout to help protect from drops and bumps, plus boasts a front accessory pocket that, like the main laptop compartment closure, is secured via YKK zippers. Another major part of what separates this product from other laptop sleeves is its removable black Petzl carabiner, which allows the item to be used as an over-shoulder pack. On top of being able to fit notebooks as large as 16" — including Apple's latest MacBook Pro — this laptop sleeve is also compatible with a myriad of other packs and bags — including Black Mile's own Mile One or Daypack models.
NOMAD Leather Sleeve
A unique blend of modern tech and old-world craftsmanship, the NOMAD Leather Sleeve is another minimalistic option that boasts an unmistakably premium look and feel. The sleeve is constructed around a USA-sourced Horween leather shell that conceals a compression-molded EVA foam interior. The main laptop compartment closure is also secured via a series of embedded magnets, though even when closed, NOMAD has still bestowed the sleeve with a USB-C port for charging access. Easily, one of the most noteworthy parts of NOMAD's Leather Sleeve is the fact that each unit will slowly form its own unique patina over time with regular use (shown above). NOMAD also sells this sleeve in black or brown color options, plus offers a larger 16" version.
The Rest
Ten More Stellar Laptop Sleeves
DSPTCH MacBook Case
A military-inspired take on a laptop sleeve, the DSPTCH MacBook Case offers solid protection for your notebook in a lightweight package. The sleeve is made from a ballistic mesh that's lined with nylon packcloth. Supplemented via a tech accessories and cables pocket with an elastic entry, this item's main closure is also secured via a series of Velcro patches. What's more, this DSPTCH sleeve is also protected by the brand's lifetime guarantee.
Topo Designs Laptop Sleeve
Offered in five color choices, the Topo Designs Laptop Sleeve is a surprisingly rugged item despite its unassuming appearance. Made from recycled materials, Topo's take on a laptop sleeve features a 1,000-denier nylon shell that's mated to a 210-denier nylon liner and reinforced via foam padding throughout. Topo Designs has also treated this laptop sleeve to a gear pocket for housing cables and tech essentials, as well as a sturdy paracord loop and toggle closure setup that keeps notebooks firmly in place, even when on the move.
Native Union Stow Lite Sleeve
Despite its accessible price, the Native Union Stow Lite Sleeve affords ample protection for your MacBook — or other laptops. Boasting a form-fitting design made specifically for Apple's notebooks, the Stow Lite Sleeve features a canvas shell that's backed by a padded interior and decorated via genuine leather accents. Upping this sleeve's protection from the elements are an exterior coating and water-resistant zippers. Sold in a trio of color options, this item is also offered in versions that fit 12", 15", and 16" MacBooks.
Chrome Industries Large Laptop Sleeve
Chrome Industries has long been one of our favorite carry solution companies — and with offerings like the Large Laptop Sleeve, it's not hard to see why. Designed to be carried inside a work backpack or by itself, the Chrome Industries Large Laptop Sleeve is made from a 1,050-denier nylon and sports a tricot liner. Capable of fitting notebooks of up to 15" — including the latest MacBook Pro — the sleeve also boasts a dual-zipper setup and a slide-thru handle that affords ample grip even in inclement weather. Chrome Industries also sells an optional attachment item for use inside the brand's popular messenger bags.
Tom Bihn Cache
Compatible with both laptops as well as tablets, the Tom Bihn Cache is an unassuming-looking laptop sleeve that boasts some impressive specs and features under the surface. Equipped with #5 YKK coil zipper with plastic sliders, the sleeve boasts a 0.25" foam padding set between a laminated heavy-duty knit polyester and a brushed tricot liner. And, because this sleeve is available in an enormous slew of different sizes, there's practically guaranteed to be a variant that fits your laptop or tablet like a glove.
Incase ICON Sleeve with Woolenex
As its name suggests, the Incase ICON Sleeve with Woolenex is made from a combination of 300-denier and 600-denier Woolenex — a proprietary construction comprised of two interwoven layers of polyester fabrics that affords incredible tensile strength that's directly comparable to ballistic-grade nylon. Secured via a magnetic closure, this sleeve also sports molded and sewn-in bumpers at all four corners, plus a faux fur lining. On top of being produced in a trio of color choices, Incase also makes this laptop sleeve in numerous sizes.
Snow Peak Multi Storage Laptop Case
Offered in just one size, the Snow Peak Multi Storage Laptop Case boasts the same level of style and durability that the Japanese outdoor brand is known for. Constructed around a polyester and neoprene fabric shell, this sleeve sports a primary compartment — that fits notebooks of up to 13" — that's been supplemented via a trio of tech-focused storage pockets for stashing away pens, documents, charging cables, and other peripherals.
KILLSPENCER Laptop Sleeve
An ultra-premium take on the segment, the KILLSPENCER Laptop Sleeve is crafted by hand in Los Angeles from some of the finest materials available. This made-in-America item features a full-grain leather construction that's been lined with ultra-plush black Eskimo fur, fortified via foam padding, and outfitted with Swiss-made antique silver Riri zippers. In addition to offering customizable three-character monograms for this item, KILLSPENCER also sells its top-shelf Laptop Sleeve in some nine different sizes — all of which are custom-fitted for specific Apple notebooks including MacBook Air and MacBook Pro models.
Hardgraft 50/50 MacBook Pro Sleeve
Another thoroughly top-shelf take on a notebook sleeve, the Hardgraft 50/50 MacBook Pro Sleeve is as minimalistic as it is premium. The 50/50 sleeve gets its name from the fact that its shell is composed of half grey felted wool and half rich tan leather — the latter of which has been locally-sourced in Italy. Subtly decorated via an embossed logo, the sleeve is also secured via a snap closure-reinforced zipper with custom matching leather zipper pulls. Hardgraft also sells this sleeve in three other sizes (14", 15", and 16"). What's more, the craftsmanship and fit and finish on this laptop sleeve is also truly exceptional.
RIMOWA Never Still Flat Pouch
Capable of housing notebooks of up to 16", the RIMOWA Never Still Flat Pouch is an Italian-made sleeve that's been designed using a spare-no-expense approach. Part of the hard luggage brand's travel-focused Never Still Collection, this laptop sleeve boasts a canvas and full-grain leather shell that sits over a heavily-padded main compartment. Adorned in a bespoke metal RIMOWA logo, this notebook sleeve also sports a luggage handle pass-through, Palladium-colored hardware, and a textile lining. Weighing in at under 1lb, this sleeve also comes protected by a two-year warranty.
Honorable Mention
One Final Pick
Urban Armor Gear Plyo Series
Offering the most protection of any entry on this list — and by a significant margin — the Urban Armor Gear Plyo Series Laptop Case meets military drop-test standards — meaning it had to be dropped onto concrete 26 times, fall from a height of at least 48 inches, and hit every corner and edge over the course of its testing period in order to receive certification. Made from a composite comprised of polycarbonate and thermoplastic polyurethane, this laptop case is fortified via an impact-resistant soft core and a set of air-cushioned corner bumpers. The case also features a clever locking mechanism setup with a dual-locking closure and security tabs at all four corners, as well as strategically-placed side recesses for charging ports and headphone jacks and bottom vents to bolster cooling.
The 12 Best Laptop Bags You Can Buy
As helpful as laptop sleeves are, we always recommend a dedicated laptop backpack whenever commuting to and from work with your tech. So, if you don't already own a modern tech pack, our guide to the best laptop bags contains a dozen of the latest and greatest notebook-specific packs on the market.
HiConsumption is reader-supported. When you buy through links on our site, we may earn an affiliate commission. Learn more