While there are some stellar tech-driven items on the market, shopping in this space can be a little tricky. Not only are there dozens of different types of devices, but there are also proven, high-quality gadgets as well as cheap imitations that fail to deliver the same level of functionality or performance. So, with this in mind, we've thoroughly scoured the tech and devices sector to deliver this handpicked guide to the best high-tech everyday carry gear and essentials.
Our Selection
Everyday carry gear has traditionally been comprised of modern takes on existing items such as knives, wallets, and keychains; however, as technology continues to play an ever-more-crucial role in our day-to-day lives, quite a few gadgets and devices have increasingly started falling under the EDC umbrella. Like regular pieces of EDC gear, these high-tech items lend themselves to daily use and provide convenience and/or utility to help streamline one's daily grind. Our publication has been passionate about EDC gear for over a decade now, and the picks in this guide are backed by our team's collective experience getting hands-on with the stuff and testing it out in the field.
What to Look For
Durability: No matter what the gear is, getting something that's durable and built to handle your everyday routine is one of the most important factors to consider. Stuff built with material like stainless steel, aluminum, and rugged plastic are a safe bet.
Size: Since you'll be carrying this gear around with you everyday, it's best to keep things at a size that's easy to carry around, but doesn't detract from the user experience.
Power: Some of these gadgets may be powered, if that means an interanl power source, it'll usually come with a compatible charger. If it's powered with removable batteries, then take note and stock up.
Resistance: Besides build quality, a lot of EDC gear earns its rugged status through weather, dust, and sweat resistance. If you find that you need some extra protection, go for gear that's equipped with these resistances (usually denoted by an IP resistance rating).
SAMSUNG BAR PLUS 128GB USB FLASH DRIVE
Why It Made the Cut
This rugged hardrive is waterproof, shockproof, and can withstand temps as low as -10°F.
Best Flash Drive: While most people are now storing the majority of their documents and files on the Cloud, a thumb drive is still an incredibly handy piece of tech to possess. Offered in Titan Gray or Champagne Silver color options and in 64GB, 128GB, and 256GB sizes, Samsung's BAR Plus is a sleek and rugged USB 3.1 flash drive that's capable of transferring 400MB per second. Equipped with an alloy body with an integrated key ring, this flash drive is waterproof, shockproof, x-ray-proof, magnet-proof, and capable of withstanding extreme temperatures as low as -10°F.
Storage: 64 GB, 128 GB, 256 GB
Hardware Interface: USB, USB 3.0, USB 2.0
Features: Dust Proof, Temperature Proof, Water Resistant
Write Speed: 200 Megabytes Per Second
APPLE AIRTAG
Why It Made the Cut
As one of the most reliable GPS trackers, Apple knocked it out of the park with the AirTag.
Best Tracker: Best described as a more advanced Tile tracker on steroids, the Apple AirTag is a state-of-the-art GPS tracking device that pairs with the tech giant's Find My app. This Apple device is not only splash-proof but also boasts a battery that not only lasts for around a year but is also easily replaceable. On top of offering free custom engraving, Apple also sells four packs of the AirTag for $99, as well as a myriad of different keychains, cases, and other AirTag accessories.
Diameter: 1.26 inches
Height: 0.31 inch
Weight: 0.39 ounces
Resistance: IP67
Battery: About a year
NOMAD USB-C TO LIGHTNING CABLE
Why It Made the Cut
Nomad always delivers when it comes to sleek and reliable tech accessories, like this reinforced Kevlar charging cable.
Best Charging Cable: Apple MFi-certified, the NOMAD USB-C To Lightning Cable is unquestionably one of the most hardwearing charging cables that money can buy. Equipped with USB 2.0 data transfer capabilities, the cable features a reinforced Kevlar central core, custom-designed metal connector plugs, a fire-resistant PVC jacket, and an RF Shield — all wrapped in an ultra-rugged double-braided Kevlar 29 aramid fiber outer sheath. And, with 18-watt fast-charging speeds, this cable can juice an iPhone up to 50% charge in only half an hour. In addition to being sold in multiple lengths, this cable is also offered in USB-A and USB-C versions.
Material: Kevlar
Cable Length: 7.08 feet
Connector Type (End 1): Lightning or USB-C
Connector Type (End 2): USB Type C
BELLROY TECH KIT
Why It Made the Cut
Bellroy has perfected minimalist packs and bags, and their Tech Kit is purpose-built for carrying cords, devices, and other tech.
Best Organizer: With smartphones, tablets, laptops, smartwatches, and headphones and earbuds all becoming increasingly integral parts of our lives, cable management is more important than ever before. Well aware of this reality, Bellroy has delivered its Tech Kit — a purpose-built tech organizer pouch made specifically for accommodating cords and other tech peripherals. Sold in eight different color options, the Tech Kit features a body made from recycled woven fabric, and smooth-action zippers that open to reveal a bevy of organizers, loops, and pockets, including a magnetic slip designed for housing power banks.
Material: Recycled and water-resistant woven fabric
Size: 5 inches x 9 inches x 2.8 inches
URBAN ARMOR GEAR PLYO SERIES LAPTOP CASE
Why It Made the Cut
Between the cushioned bumpers and core, mil-spec drop standards, and closure system, this rugged laptop case from UAG is built to handle anything.
Best Laptop Case: Made from a composite comprised of polycarbonate and thermoplastic polyurethane, the Urban Armor Gear Plyo Series laptop case is a wildly rugged case that thoroughly fortifies your notebook. The case features an impact-resistant soft core, a set of air-cushioned corner bumpers, and a cleverly designed dual-locking closure mechanism that uses security tabs at all four corners. Best of all, the Plyo Series laptop case has been certified to mil-spec drop standards, meaning it had to not only withstand being dropped onto concrete 26 times but also falling from a height of at least 48 inches and hitting every corner and edge in the process.
Models: MacBook Pro 13″ Case 2020-2021 M1, 2022 M2
Features: Bumpers, impact-resistant core, drop-resistance
NITECORE T4K FLASHLIGHT
Why It Made the Cut
Weighing just 3 ounces, this bright flashlight comes with five adjustable modes, an OLED display, and up to 67 hours of life.
Best Flashlight: Measuring just 3.24" in length. the Nitecore TK4 is a tremendously potent and high-tech EDC flashlight that packs a whopping 4,000-lumen output and a maximum throw of 685'. Tipping the scales at under 3oz, the TK4 is equipped with four CREE XP-L2 V6 LED emitters and also features an OLED display that shows battery life and which of the five modes it's in. The flashlight is also powered by an internal USB-C-rechargeable battery that takes 1.5 hours to fully charge and offers up to 67 hours of burn time.
Length: 3.24″
Emitters: Four CREE XP-L2 V6 LEDs
Display: OLED
Battery: 67 hours
PHONESOAP PRO UV SMARTPHONE SANITIZER
Why It Made the Cut
Your phone is super dirty, and having a quick solution like this UV cleaner is perfect for traveling.
Best Phone Cleaner: Considering how often we use and touch our smartphones, it's not hard to see why a dedicated smartphone sanitizer is so important in today's world. This particular model from PhoneSoap features built-in charging capabilities and utilizes a patented and clinically proven UV light disinfector to effectively eliminate some 99.99% of germs and bacteria. What's more, not only does the PhoneSoap Pro UV Smartphone Sanitizer offer 360-degree disinfection, but it also sterilizes and cleans the entire device in just 5 minutes. Equipped with manual and automatic cleaning modes, the device can also sanitize earbuds, smart watches, and any other gadgets that fit inside its disinfection bay.
Interior Dimensions: 7.13 x 4.38 x 0.72 in
Connection: USB-C
URBANISTA LOS ANGELES HEADPHONES
Why It Made the Cut
These unique headphones use solar cell material to become self-charging (you heard that right); they also feature active noise cancellation and on-ear detection.
Best Headphones: The Urbanista Los Angeles is a cutting-edge pair of wireless ANC headphones that are completely self-charging. The headphones' perpetual battery life is owed to its headband being lined with Exeger Powerfoyle solar cell material which allows the over-ear cans to charge in any light — even when indoors. The advanced ANC tech and solar charging aren't the Los Angeles' only tricks, however, as the headphones also feature ambient sound mode and automatic on-ear detection, too.
Battery: 80 hours
Drivers: 40mm dynamic
ANC?: Yes
GOAL ZERO SHERPA 100 PD QI POWER BANK
Why It Made the Cut
With a low profile and added 15W wireless charging capabilities, this is one of the most convenient portable chargers you can get.
Best Power Bank: Despite a compact footprint of only 7.5" L x 3.7" W x 1" D, the Goal Zero Sherpa 100 PD Power Bank offers the ability to juice up your mobile devices from practically anywhere. The gadget's internal battery enables it to recharge a smartphone up to 7 times, a tablet up to 3 times, and a laptop up to 1.5 times. Airline-approved, this EDC-friendly power bank also features wireless Qi charging capabilities, as well as a pair of 2.4A USB ports and an ultra-fast 60-watt USB-C power delivery port.
Connectivity: Qi wireless charging (15W), two 2.4A USB ports, USB-C port
Power: 60W in and 100W out
AER TECH PACK 2
Why It Made the Cut
Aer, an SF-based bag company, consistently comes through with futuristic and dependable backpacks like the Tech Pack 2.
Best Backpack: Accurately described by Aer as being the "ultimate tech backpack," the Tech Pack 2 is a 17-liter backpack that's been designed from the ground up to accommodate gadgets, devices, and tech accessories. Weighing 3.8 lbs, this second-gen tech and laptop backpack features a carbonate polyurethane-coated 840-denier nylon face paired with 1,680-denier CORDURA ballistic nylon sides. The Aer Tech Pack 2 comes outfitted with YKK AquaGuard zippers for all of its main compartments, a suspended laptop pocket, a luggage handle pass-through, padded top and side grab handles, Duraflex hardware, a padded mesh back panel, an exterior water bottle pocket, a soft-woven lining, and a quick-access top pocket.
Capacity: 17L
Exterior Material: 840D nylon with DWR finish
Laptop Sleeve: 16″
ANALOGUE POCKET
Why It Made the Cut
While you may have to wait in-between drops, the Analogue Pocket is one of the coolest retro handhelds you can get, and capable of running over 2,700 classic Game Boy titles.
Best Handheld: A modern homage to retro handheld gaming devices, the Analogue Pocket features an HD 1600×1440 resolution 3.5″ LCD screen and the ability to play more than 2,700 titles from Game Boy, Game Boy Color, and Game Boy Advance. Interestingly, the Pocket also comes loaded with a separate mode that turns it into a synthesizer and sequencer. Analogue also sells a variety of optional accessories for the Pocket, including a tempered glass screen protector, a hard case, and a fast-charging dock — the latter of which boasts 18-watt fast-charging capabilities and an HDMI output that allows you to play on your TV. This gadget is also compatible with wireless controllers from 8bitdo.
Screen: 3.5-inch backlit LTPS LCD
Battery Life: ~8 hours
Games: 2,750+
DANGO T02 TACTICAL TITANIUM WALLET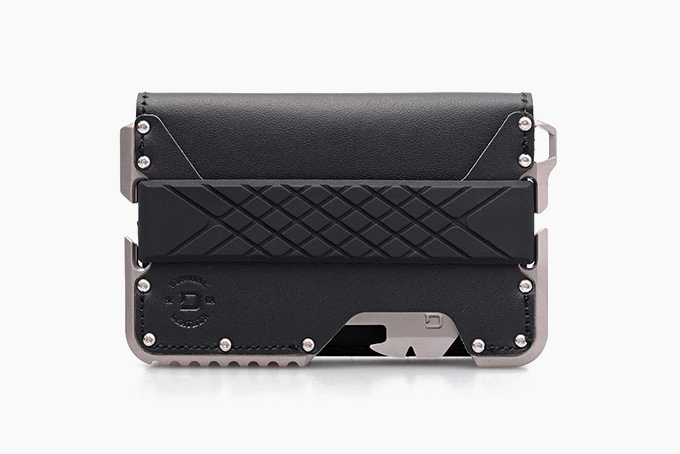 Why It Made the Cut
Made here in the States, Dango's T02 wallet is yet another tactical piece of gear from the EDC mainstay, with RFID-blocking capabilities and a MT02 multi-tool.
Best Wallet: Dango makes genuinely impressive tactical EDC wallets, such as the T02. Alongside its RFID-blocking capabilities, what makes this American-made wallet "high-tech" is its construction — with a frame and back plate that have been precision CNC-machined from raw titanium billet. Additionally, the wallet features an integrated bottle opener and is sold with an included slide-out 14-function MT02 multi-tool.
Card capacity: up to 12 cards (less with multi-tool)
Dimensions: 4.375″w x 2.75″h x .75″thick
Material: Genuine leather, silicone wallet band, Titanium wallet frame, stainless steel multi-tool and screws
Weight: 6oz
OURA RING GENERATION 3
Why It Made the Cut
A Smartwatch is super convenient, but can be a little cumbersome in certain situations. In comes the Oura Ring, a fitness-tracking ring that can connect to Apple Health and Google Fit.
Best Lightweight Fitness Tracker: Though fitness tracking rings were fairly lackluster when they first came to market, these wearable devices have made major technological leaps and bounds in the intervening years and now deliver the same level of performance as today's most cutting-edge fitness watches and trackers. Weighing between 4 and 6 grams, the Oura Ring Generation 3 features a titanium construction with research-grade sensors, up to seven days of battery life, a water resistance rating of 328', and all the health, fitness, stress, and sleep-tracking abilities one would expect on a state-of-the-art wearable. The third-gen Oura Ring is also offered in four different finishes.
Battery Life: Up to 7 days
Material: Titanium
Connectivity: Google Fit and Apple Health
Ray-Ban Meta Headliner
Why It Made the Cut
Ray-Ban dropped these AI-powered sunglasses earlier this year with Meta, and they allow you to make calls, take pictures, and listen to music.
Best Smart Sunglasses: Born out of a collaboration between Ray-Ban and Meta, the Meta Sunglasses resemble your average pair of Ray-Bans, though conceal a host of tech and functionality. Produced in nearly a dozen different lens and frame color options, the Ray-Ban Meta Glasses are crafted around an acetate and polycarbonate frame and feature an integrated microphone, speakers, a pair of 12MP cameras, and AI-powered voice assistance— allowing their wearer to record media, take calls, or listen to music.
Camera: 12MP
Connectivity: Meta View App
Battery Life: 4 hours
Features: AI voice assistance, built-in speakers, charging case
LACIE 4TB RUGGED SSD PRO THUNDERBOLT 3 EXTERNAL SSD
Why It Made the Cut
LaCie's hard drives are known to be some of the toughest in the game, and this one here is incredibly tough, with IP67-rated resistance and 9.8 feet of drop protection.
Best Hard Drive: An ultra-potent and insanely durable external hard drive, the LaCie 4TB Rugged SSD PRO Thunderbolt 3 External SSD offers data transfer speeds up to 2800MBs per second and an absolutely bulletproof construction. Not only is the soft-coated hard drive IP67-rated for dust and water resistance, capable of withstanding a 9.8' drop and two tons of crush resistance, but LaCie also gives owners even more peace of mind with five included years of Rescue Data Recovery Services and a half-decade warranty. LaCie also sells the Rugged SSD PRO external hard drive in smaller 500GB, 1TB, and 2TB sizes.
Capacity: 500GB, 1TB, 2TB, 4TB
Connection: Thunderbolt 3 Interface
Transfer Speed: Up to 2800 MB/s
Resistance: IP67, drop resistance
THE JAMES BRAND THE BARNES
Why It Made the Cut
We're big fans of The James Brand's minimalist approach to crafting knives, and this premium pick features a 3.5″ drop point blade crafted from Böhler M390 steel.
Best Folding Knife: While one might not typically think of folding knives as being high-tech, there's a decent argument to be made for The James Brand's Barnes model. Created on a five-axis CNC machine, this premium integral folding knife features a mono-construction handle that's been precision-machined from a solid block of 6AL-4V titanium billet before being treated to a frame lock and a ceramic ball-bearing pivot. It doesn't end there, however, as the Barnes' 3.5" drop point blade is not only crafted from Böhler M390 steel — an ultra-top-shelf martensitic chromium blade steel created using advanced powder metallurgy technology — but has also been treated to a physical vapor deposition coating.
Blade Length: 3.5″
Blade Material: Bohler M390 stainless steel
Handle Material: 6AL-4V titanium
Nothing Phone (2)
Why It Made the Cut
Not only is this a unique, see-through alternative to the smartphones on the market today, the UI and UX is equally as sleek.
Best Alternative Smartphone: In this second iteration of Nothing's unique, see-through smartphone, the device's performance gets a significant boost thanks to the powerful Snapdragon 8+ Gen 1 chip. It's equipped with a 6.7-inch 1080p 120Hz LTPO OLED display, with a peak brightness of 1,600 nits. As for the cameras, it comes with 50 MP dual rear cameras and a 32 MP front camera, capable of recording 4k video at 60fps. In terms of battery life, you get a 4,700mAh battery that easily lasts all day with regular use and can be fully charged in just 55 minutes.
Display: 6.7-inch 1080p 120Hz LTPO OLED
Chip: Snapdragon 8+ Gen 1
Cameras: 50 MP dual rear cameras, 32 MP front camera
Battery: 4,700mAh
APPLE WATCH ULTRA 2
Why It Made the Cut
Apple updated it's outdoor-focused smartwatch with the latest S9 chip, new gestures, and a brighter display.
Best Smartwatch: The top-of-the-line version of Apple's latest and greatest Series 8 smartwatch, the Apple Watch Ultra 2 is touted by the Cupertino company as being "the most rugged and capable Apple Watch ever." This outdoor-ready smartwatch is crafted around a 49mm titanium case and the new S9 chip, and features up to 72 hours of battery life, precision dual-frequency GPS, IPX6 dust resistance, an integrated antenna, dual speakers, an 86-decibel siren, a three-microphone array backed by an adaptive algorithm, a digital crown, an onboard depth gauge, a slew of health tracking features and capabilities, and an always-on 3,000-nit Retina display that's the biggest and brightest Apple Watch display ever.
Features: S9 chip, 3000 nits max brightness, precise GPS, Modular Ultra watch face
Case Sizes: 49mm
Resistances: 100M water-resistant, MIL-STD810H, IPX6 dust resistance
Chip: S9
Battery: 36 hours
APPLE IPHONE 15 PRO MAX
Why It Made the Cut
Now sporting a new titanium construction, the iPhone 15 Pro Max sports the latest A17 Pro chip and an updated camera system.
Best Smartphone: Apple's latest and greatest, top-of-the-line smartphone raises the bar in its space once again with a host of noteworthy upgrades. Offered in titanium and in 256GB, 512GB, and 1TB sizes, the Apple iPhone 15 Pro Max comes outfitted with an always-on 6.7" display, Apple's A17 Pro chip, a satellite emergency SOS feature, the most secure smartphone facial authentication on the market, and all-day battery life with up to 29 hours of constant video playback on a single charge. Capable of recording 4K HDR video, the latest iPhone also gets a triple camera setup with a main 24mm 48MP unit with a seven-element lens and a quad-pixel sensor, a 77mm telephoto lens with 3x (or 5x) optical zoom and a six-element lens, and an ultra-wide 13mm camera with a 120° field of view and a six-element lens with lens correction.
Features: A17 pro chip, titanium body, Pro zoom, customizable action button, USB-C port
Cameras: 48MP main camera, 3x or 5x telephoto camera, Ultra Wide camera
Video Playback Time: 29 hours
Dimensions: 6.7″
Available Storage: 128GB, 256GB, 512GB, 1TB
APPLE MACBOOK PRO M3
Why It Made the Cut
Hot off the heels of Apple's 'Scary Fast' event, they announced a new M3 chip and a new lineup of MacBook Pros, like this 14-inch option.
Best Laptop: Running a cutting-edge laptop is crucial as it allows you to work faster and more efficiently without being bogged down by long wait and load times when rendering media or running programs. And when it comes to mobile Mac notebooks, it doesn't get any better than the latest Apple MacBook Pro. The Pro-spec MacBook features Apple's M3 chip coupled with an 8‑core CPU, 10‑core GPU, and 16-core neural engine. The laptop also boasts 8GB of unified memory and 512GB of SSD storage as standard, a Retina display with True Tone, Touch ID, a backlit Magic keyboard, and a Force Touch trackpad.
Screen: 14-inch Liquid Retina XDR
Chip: M3
Battery: Up to 22 hours
Memory: 8GB, 16GB, 24GB
LEICA SL2-S MIRRORLESS CAMERA
Why It Made the Cut
Take Leica's legendary image and build quality and add a Gorilla Glass-fortified LCD, a weather-sealed magnesium alloy case, and !P54-rated resistance, and you get this rugged full-frame mirrorless camera.
Best Camera: The Leica SL2-S is a well-rounded full-frame mirrorless camera decked out in the German brand's traditional design language. IP54-rated, the SL2-S is crafted around a weather-sealed magnesium-alloy case that's splash-proof, dust-proof, and freeze-proof. Offering both DCI and UHD 4K recording at up to 60p, the SL2-S features a 24.6MP Full-Frame BSI CMOS Sensor paired with a Maestro III Processor, an object detection autofocus system, a 3.2″ 2.1m-dot touchscreen LCD fortified behind Gorilla Glass, separate photo and video menu systems, a 1.28″ top status LCD, an EyeRes EVF high-resolution 5.76m-dot OLED finder, sensor-shift image stabilization, dual UHS-II-compatible SD memory card slots, and a BP-SCL4 rechargeable lithium-ion battery that's rated for approximately 510 shots per charge.
Lens Mount: Leica L
Sensor Resolution: 24.6 MP (6072 x 4056)
Image Sensor: Full-Frame CMOS
Image Stabilization: Sensor-Shift, 5-Axis
ISO Sensitivity Range: 50 to 100,000 in Auto Mode
The Best iPhone Accessories Right Now
We included a few iPhone-friendly gadgets in this guide, but if you're looking for more, then be sure to check out our best iPhone accessories guide.