While this may come as a surprise to some people, the tech world is dictated by more than what the latest Apple product is. In the modern-day market, there is a new gadget worth mentioning daily — a fact of which our regular readers are no doubt aware. With countless conglomerates and startups to keep up with nowadays, it's grown exceedingly difficult to pin down which one is manufacturing the best products, as well as whether they are genuinely worth your time and money. That's why we've compiled this mega-list of the best gadgets to buy this year.
As a result of the endless number of noteworthy electronics to pick up every year — and to avoid becoming obsolete due to the sheer speed at which technology moves these days — it's necessary to provide a thorough annual update laying out the best gadgets. Whether you're looking to keep things prim and proper through your Zoom meetings or walk around with the most state-of-the-art smartphone in your pocket, we've compiled a heavyset list chock-full of the absolute best gadgets for men to buy.
Tile Mate
While Tile may have been overshadowed by similar products in the past few years, it's hard to go wrong with those who began manufacturing the neat little tracking devices before anyone else. The Northern California-based brand's Mate tracker is water-resistant, offers up to 250 feet of range, and is conveniently small.
Rocketbook Fusion Smart Notebook
Various media have gone to show that the written word is not dead, but there are very few items on the market that have proven the case more so than Rocketbook's Smart Notebook. Thanks to the neat, eco-cognizant tech employed here, writers can send 42 pages worth of handwritten notes over to any of their cloud services, be it Google Drive or iCloud.
Amazon Fire TV Stick 4K
The Fire TV Stick 4K has become one of the most popular streaming devices, and for good reason. With a wide variety of services to choose from, crystal-clear quality, and a remote that even a child can get the hang of, it's simply elementary as to why Amazon's handy gadget has entertained countless households.
Lacie Rugged Mini External Hard Drive
Lacie's orange-clad hard drives have proven to be a fixture in the average gadgeteer's tech organizer thanks to their sturdy composition, seamless portability, and water resistance that guarantee that your documents are in no harm's way. Plus, they come available in large storage capacities ranging between 1TB and 5TB, ensuring that there's no shortage of memory of which to take advantage.
Backbone One Mobile Controller
Mobile gaming has progressed like few could have ever expected over the past few years. Luckily, you can take full advantage of your Apple Arcade account in a more traditional gamer way with this top-of-the-line mobile controller that practically morphs your smartphone into a handheld console.
Apple Pencil
While we did mention that Apple is not the end-all, be-all in the tech world, it still calls a lot of the shots and will make several appearances in this guide. First up, the Cupertino geniuses manufacture quite the impressive stylus that is well-equipped for both artists and contemporary notetakers to make use of on their iPads.
Amazon Echo Show 8
Amazon's Echo Show 8 is a borderline tablet with smart home capabilities, which should come as no surprise from the universal conglomerate that's managed to implement Alexa devices into a plethora of homes around the world. Thanks to a 13-megapixel camera and 8″ touchscreen, video chatting is only made bigger and better courtesy of Amazon.
Apple TV 4K
The Apple TV 4K has been the premier at-home streaming device choice for a few years now, and the latest rendition's revamped remote only managed to help separate itself further from the pack. Thanks to its A12 Bionic chip and the inclusion of Dolby Atmos tech, this is as great as a performance can get when watching the latest movies or your favorite shows.
FORM Smart Swim Goggles
These unique goggles are ideal for the average swimmer looking to move a couple of classes up, or for the pros who take the sport seriously as it is. The Smart Swim Goggle's translucent display allows you to keep up with your pace, time, calories, and even heart rate whenever you find yourself getting those laps in.
Beats Fit Pro Earbuds
The famed Apple subsidiary's latest release hit the market merely two weeks after its parent company had unveiled its latest generation of AirPods. While this came as quite as a surprise to see come about so fast, the run that Beats managed to give Apple for its money was well-warranted. The Fit Pro Earbuds offer noise-canceling, dynamic head-tracking, and a comfortable in-ear fit by way of their adjustable wing-tips. These are another great choice for those looking to embody their inner athlete, and they sound incredible, too.
Bose Frames
The Bose Frames are genuinely one of the coolest gadgets you can imagine. It's a pair of high-quality headphones embedded into a pair of rather stylish sunglasses — seriously, what could be cooler than that? While wireless earphones have ultimately managed to overflow the market, the Frames' innovative use of open-ear audio allows you to hear your surroundings without any obstruction. And while it's strange to imagine a pair of sunglasses having a designated battery life, these are capable of streaming music for over three hours.
AnkerWork B600 Video Bar
This all-in-one video bar is the ultimate choice for those still working from home and looking to tidy up their workspace. AnkerWork's recent release is equipped with a built-in 2K-resolution webcam that delivers lifelike colors, dual speakers with a silk membrane, and VoiceRadar technology to shut out any background noise you're looking to avoid in your next big meeting.
Analogue Pocket
Nostalgia is a fickle beast. At times, companies manage to pull it off well, while others simply get a bit too gimmicky. Luckily, Analogue manages to pull off the former with flying colors. The third-party console creators have crafted a gorgeous homage to Nintendo's iconic portable console of yesteryear, packing this sleek, LCD-clad handheld with over 2,750 built-in games from all three Game Boys. On top of that, it features a digital audio workstation that allows owners to morph sounds and record live audio.
Bose Sleepbuds II
Struggling to get a good night's sleep is something we've all experienced before. Luckily, Bose's second generation of Sleepbuds has provided further assistance to those looking to bring an end to restless tossing-and-turning through clinically-proven technology and relaxing soundscapes. Capable of lasting up to ten hours, they look to ensure a full night's sleep and, even though you're only wearing them to bed, they look good doing it.
TheraBody TheraGun Prime
TheraBody's catalog of massage equipment has been endorsed by the likes of doctors and physical therapists thanks to their relieving percussive therapy. This comes courtesy of the TheraGun's impressively quiet motor that delivers up to 30 pounds of force. Plus, if the doctors' word isn't good enough for you, then several noteworthy NBA stars may be able to convince you of just how great these massage guns are (though you should really listen to the doctors).
BioLite FirePit+
Starting a fire can be a tall task, but BioLite is an outdoor brand that's here to make it easier on all of us. The manufacturer's FirePit+ is powered by a rechargeable battery that can burn either wood or charcoal to create an efficient fire that can easily be controlled by your smartphone. This is a great piece of equipment to take out to your favorite camping grounds or even worth tossing in the backyard, seeing as it's also able to double as a grill if you've got a grate on hand.
Nintendo Switch OLED
The Nintendo Switch is truly the ideal console for everyone from wistful, 8-bit gamers to modern-day Mario platformer enthusiasts, so it comes as no surprise that the handheld hybrid system makes an appearance here. Seeing as the Japanese giant's revamped rendition of its highest-selling home console makes incredible use of an OLED screen when used in its portable form, it's just as fun as it is a state-of-the-art technological showcase.
Garmin inReach Mini 2 GPS Tracker
This is a great pick for the outdoorsy gadgeteer. Thanks to Garmin's 24/7 emergency response team, hikers, campers, and climbers needn't fear getting caught in a sticky situation when out on the trails. On top of that, you can even send messages to your friends in case one of them hasn't shown up to the tent after a suspiciously long time.
Sonos Beam 2 Smart Soundbar
If you're looking to make an enriching upgrade to your home theater system, an overlooked element is often an incredible sound system. Luckily, Sonos has consistently offered some of this field's premier choices for quite some time, and the speaker manufacturer's Beam 2 Smart Soundbar is a great choice that keeps the contemporary household in mind, as it comes equipped with built-in Amazon Alexa and Google Assistant, as well as seamless AirPlay 2 compatibility.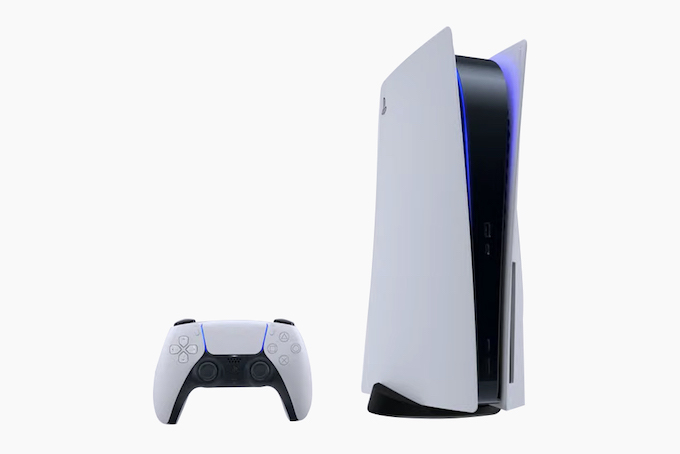 Sony PlayStation 5
If you are a console gamer, it doesn't get any better than this. Sony's successor to the beloved PS4 is a marvel amongst men, which is why it's been nearly impossible to find since its release in 2020. Maxed-out 8K resolution, a surfeit of games, and power like no other is what to expect from PlayStation 5, and we wish you luck trying to pick one up for yourself.
Vive Flow Headset
There are several virtual reality headsets on the market, but the majority of them are geared toward gamers. Luckily, HTC has developed a headset that is built to provide some much-needed R&R through a plethora of wellness apps. On top of a mind-easing, immersive experience, the goggles boast a sleek design that will surely come in handy if you find yourself needing some extra rest on a flight.
GoPro Hero10 Camera
Whether you're a fan of doing parkour or you're looking to grab some action shots of yourself ripping through sand dunes, the GoPro Hero10 is simply the best action camera to pick up. Capable of shooting an eye-popping 5.3K video and taking 23-megapixel photos, the cloud-connected camera is capable of uploading footage to your other devices the second you put it on the charger.
Anker Nebula Solar Portable Projector
Hosting a movie night in your backyard couldn't be easier than with the help of Anker's mightily powerful Nebula Solar Projector. Its dazzling resolution translates well on practically any flat surface you aim it toward, and it's beyond capable of turning any plain old night at home into an outdoor filmgoing experience. With over 5,000 apps to choose from, you can practically watch whatever you want, wherever you want.
Osma Pro Espresso Machine
If you can't live without your morning coffee, then here's the device for you. Osma's Pro Espresso Machine is excessive in its minimalism, practically serving as a gorgeous addition to any kitchen from a design standpoint alone. However, its unique brewing mechanism paves the way for a wide spectrum of flavor and robust drinking experience like no other.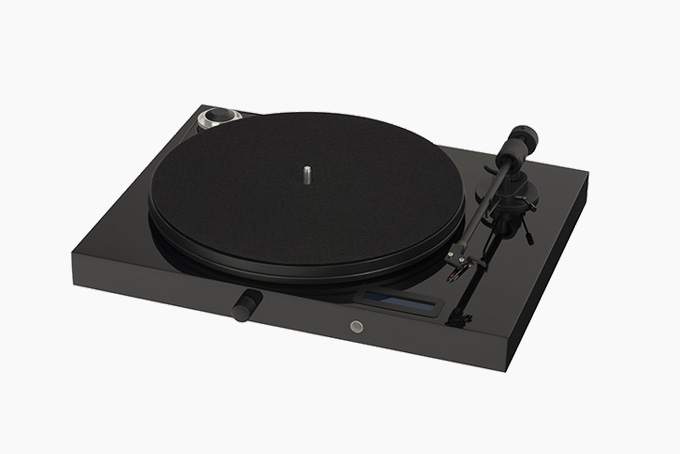 Pro-Ject Jukebox E All-in-One Turntable
Pro-Ject's Jukebox E is anything you want it to be. The all-in-one turntable serves as a fashionable record player, a Bluetooth receiver for an easy listening experience, a line preamplifier, and a power amplifier — in other words, it's as good a turntable as you can find. And while all of this may sound intimidating, it offers a rudimentary setup process. Lastly, the Jukebox comes available in three different colors and is handmade in Europe, only managing to add to its sleek craftsmanship.
Astell & Kern A&norma SR25 Hi-Fi Music Player
While the iPod Touch may not be the hot commodity it was back in the late 2000s, the portable digital music player is far from dead, a fact which has been stupendously proven by audial wizards like Astell & Kern. Looking cool is merely one aspect of the A&norma SR25 worth mentioning, as what stands head and shoulders above that is its Hi-Fi playback capability and over 20 hours of battery life. Make the most of your favorite albums by taking a trip back to the 2000s with this contemporary, audiophile-tailored device.
Bang & Olufsen Beoplay H95 Headphones
Bang & Olufsen's wide array of sound equipment sets the standard from both a design and sonic perspective. The Danish manufacturer's flagship over-ear headphones, the Beoplay H95, are powered by a pair of powerful 40mm titanium drivers for an unrivaled listening experience, as well as a 38-hour battery life when activating its dynamic, active noise-canceling capabilities. To top it off, they are rounded out by an uber-sleek look, as many have touted these high-end muffs as the most luxurious headphones money can buy.
Samsung The Frame 4K Smart TV
With so many incredible shows to watch nowadays, it seems as though a handful of options can already be mistaken for art. Be that as it may, Samsung has got things covered in case you're not looking to watch anything at all aside from digital artwork or photos of you and yours. The gorgeous television's Art Mode will automatically select from its collection if you don't add any images of your own, and its catalog still serves as an equally solid addition to any living room.
Korg microKORG S Synthesizer and Vocoder
If you're looking to channel your inner musician, then any of Korg's products will surely do the trick. Standing out among the rest, though, is this remarkably versatile synthesizer. Equipped with well over 50 sounds, an 8-band vocoder, and a sleek design, there's no room for error if you're trying to whip up some hard-hitting mixes.
Samsung Freestyle Projector
There is truly no shortage of projectors on the market, but none of them level up to Samsung's latest reveal. The Freestyle was shown off at CES this past January and garnered a fantastic reception, primarily for its portability and incredible visual capability. To sweeten the pot, it doubles as a smart speaker with 360-degree sound for an immersive sonic experience. Lastly, its minimalist, 180-degree design allows for seamless Point and Play that almost makes it too easy to watch anything you choose.
Apple iPad Pro (Wi-Fi+Cellular)
Is there any tablet on the market more noteworthy than the iPad? Virtually the only tablet that people are still buying in large numbers, Apple dominates this space perhaps more than any other — and rightfully so. The latest-generation Pro model is somehow built to take on even more than your iPhone can, as it is powered by Apple's next-level M1 Chip for blistering performance and boasts a gorgeous liquid retina XDR display — really, what more do we need to say?
Samsung Flip Z 3
It's hard to pinpoint exactly when the once-ubiquitous flip phone went out of style, seeing as the gradual transition to touchscreens was interrupted by open-faced keyboarded options like the recently discontinued Blackberry. As a result, the touch of nostalgia connoted with the dated foldable cellulars is enough of a reason to include Samsung's high-end smartphone on our guide — though it also doesn't hurt that it's one of the market's best choices thanks to a handful of standout features, like its ability to open up two apps simultaneously.
Garmin quatix 6X Solar Titanium Smartwatch
While the Apple Watch may serve as the go-to choice for some, there is an abundance of other smartwatches to choose from. Garmin's gorgeous, solar-powered timepiece boasts a 21-hour battery life, as well as up to three additional days of runtime tacked on depending on how much time it gets in the sun. This is an unparalleled option for those whose hobbies pertain to the big blue sea, as it is equipped with built-in Autopilot Control, allowing boat owners to engage pattern steering and more directly from their wrist.
Cotodama Lyric Canvas Speaker
If you're looking to add a bit more life to your favorite songs, then this is the gadget for you. Cotodama's unique speaker makes use of its patented Lyric Sync Technology to have any song's lyrics dance across the screen by automatically managing to estimate each specific line's duration. As an added touch, it even captures the song's intensity by displaying accurate motions depending on its speed.
DJI Mavic 3 Drone
DJI's updated flagship drone boasts some incredible specs and an even more noteworthy composition. Thanks to its 4/3 CMOS Hasselblad camera, the Mavic 3 is capable of catching up to 46 minutes of absurdly high-quality flight time. For additional accuracy and safety, its omnidirectional obstacle sensing allows it to dodge almost anything in its way en route to crafting a route all for itself. Plus, the upgradable Cine option provides an even better picture due to its capability to support Apple ProRes 422 video recording.
Razer Blade 15 Advanced Gaming Laptop
When it comes to Razer, we are all familiar with its gamer-certified keyboards decked out in customizable RGB lighting. Well, it should come as no surprise that the same brand responsible for making these computer accessories so popular is just as great at manufacturing actual computers, too. The SoCal-based gadgeteers' high-end gaming laptop offers high-speed performance across the board, as well as excellent VR-ready capabilities for those looking to take their gaming to a new level — or better yet, a new reality.
Apple MacBook Pro 16-Inch
The latest MacBook Pro is practically unparalleled, and even that may be an understatement. Whether you decide to roll with the stock option M1 Pro chip or the bewilderingly powerful M1 Max upgradable option, you are getting a laptop that is guaranteed to withstand the test of time and then some. It's quite the looker, too, as it is highlighted by a gorgeous liquid retina XDR display.
Mayku Multiplier
Mayku's Multiplier may be a niche product, but it sure is cool. This advanced piece of machinery revolves around the industry-grade manufacturing process of pressure forming, allowing you to utilize it in your own home. With the ability to make incredibly detailed molds by way of compressed air, the Multiplier is capable of honing the pressure of 4 atmospheres to construct the material necessary to build the molds you need in a matter of no time — one minute, to be exact.
Sony Z9J Bravia XR 8K TV
While it seems like you may have only recently made the switch over to 4K, the tech world couldn't care less about your latest purchase as it urges you to upgrade your home theater once again. Sony's premier 8K television is ready to provide an immersive, nearly unparalleled viewing experience no matter which size (75″ or 85″) you decide is right for you. Plus, it has the power to upscale all of your favorite shows, so even the episode you may have seen dozens of times already will look better than ever.
Leica M11 Camera
Rounding out this list is easily the coolest camera around, which just so happens to be Leica's latest in its M line. The M11's functional capabilities are unmatched, as is the case with roughly anything the German brand puts forth. Whether you're an adept photographer or someone looking to make the big leap into the hobby, there's genuinely no better place to look than Lecia's revamped flagship (provided you have the budget for it). Plus, it's packed with a whopping 64 gigs of internal storage, so there's no shortage of photos to snag without having to worry about a memory card.