The iPhone has undeniably been one of the most game-changing inventions and innovations in recent history, hugely impacting an enormous number of aspects in both the way businesses operate and the way we lead our personal lives. While right out of the box these devices already offer an insane amount of utility — an area furthered by the sea of available iOS apps on the market — there exists a selection of products that manage to bolster the capabilities of Apple's smartphone, taking its performance to the next level.
And it's this group of items that we'll be exploring today in this handpicked guide to the best iPhone accessories you can buy. So, whether you're looking to ruggedize your Apple smartphone, amplify its recording capabilities, or streamline your iPhone EDC loadout, this list has got you covered with more than two dozen of the latest and greatest accessories for the newest generations of Apple's profoundly game-changing mobile device. 
PrimeCables Lightning to HDMI Digital AV Adapter
Perfect for traveling and vacationing, this handy little item allows you to project whatever is on the screen of your phone directly onto a high-definition television, monitor, or projector, enabling you to stream your favorite shows from anywhere with an HDMI port-equipped screen. Offering resolution of up to 1080p, this adapter is also Apple MFi-certified.
Apple AirTag
With Apple's AirTag, gone are the days of misplaced or lost keys or wallets as the compact tracking device enables users to effortlessly find small items using ultra-precise GPS locating. In addition to Apple offering a free engraving service for all new AirTags purchased on their site, there's also a wide array of great AirTag cases and accessories that are already on the market.
OtterBox Amplify Glass Glare Guard
With the iPhone 14 starting at $799, we'd advise any owners of the latest generation of the smartphone to invest in a quality shield for the gadget's Super Retina XDR OLED display. Fortifying the phone's already tough Ceramic Shield setup, OtterBox's Amplify Glass Glare Guard is ultra-resistant to scratches, glare, and impacts — so much so, in fact, that this item comes recommended by Apple itself.
Clutch V2 Lightning Charger
At only 0.16″ thick, this 3.5″ x 2.5″ credit card-sized mobile power bank allows you to carry an extra charge for your iPhone no matter where the day takes you. Weighing only 2oz, the second generation Clutch Charger features a metal housing that's equipped with an LED battery level indicator and a potent 3,000mAh battery cell.
Dango S1 Stealth Phone Pocket + MT03 Bundle
An ultra-hardwearing iPhone accessory, Dango's S1 Stealth Phone Pocket + MT03 Bundle is comprised of a three-card phone wallet case that's crafted from Dango's highly-durable and water-resistant DTEX material and the brand's MT03 ten-function, TSA-compliant multi-tool — the latter of which fits in the S1 pocket and is made from high carbon stainless steel.
PITAKA MagSafe Compatible Car Phone Mount
Crafted from a rugged amalgamation of thermoplastic polyurethane and genuine Aramid carbon fiber, PITAKA's MagSafe car mount is a 15W wireless charging pad that can juice up an iPhone through MagSafe-compatible cases. This item is also sold with (and powered by) an included USB-C cable.
Master & Dynamic MC100 Wireless Charge Pad
Though Master & Dynamic's MC100 Wireless Charging Pad was technically designed for the American audio brand's absolutely stellar MW08 Sport earbuds, the top-shelf charger is also compatible with all iPhones generations 8 and onward. Offering 10W wireless charging speeds, the MC100 is constructed around a beautifully-machined aluminum chassis that comes adorned in black or gray-coated canvas.
Pelican Shield Kevlar iPhone 14 Case
MagSafe-compatible, the Shield Kevlar model is Pelican's most robust and protective case for the iPhone 14. Exceeding military test standards, the Shield Kevlar iPhone 14 Case provides unparalleled levels of protection in a surprisingly thin and compact package thanks to the use of a five-layer setup comprised of a combination of hard polymers, soft impact-absorbing rubbers, and Aramid carbon fiber.
Apple MagSafe Battery Pack
Whenever shopping for iPhone accessories, it seldom hurts to check out the products made by Apple itself, as the company tends to deliver some pretty top-notch peripherals, and the tech giant's MagSafe Battery Pack is no exception. Capable of delivering 20W cabled charging speeds or 15W wireless charges, this magnetic mobile power bank contains a 1,460mAh battery.
Bellroy Mod Phone Case + Wallet
Backed by Bellroy's three-year warranty, this bundled item features one of the renowned EDC brand's Mod Phone Cases and an accompanying hard-shelled card carrier that attaches to the leather and polymer phone case via a magnetic "ModRails" system. Produced in half-a-dozen different attractive color options, this item is also MagSafe-friendly.
Sandmark Compact Edition Tripod
With a 12MP camera system with telephoto, wide, and ultra-wide lenses, a LiDAR-enhanced night mode, portrait lighting with half-a-dozen different effects, dual optical image stabilization, True Tone flash, and sensor‑shift optical image stabilization, the iPhone 13 Pro (and 13 Pro Max) are capable of some seriously impressive photography, and this compact yet durable tripod allows you to further capitalize on the smartphone's cutting-edge camera array with a quick-adjustable aluminum frame and an included ball-head iPhone mount.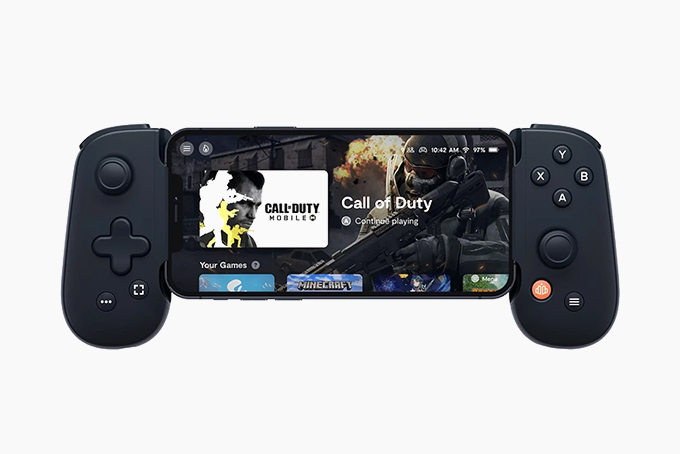 Backbone One for iPhone
Between its game-changing A15 Bionic chip, and Super Retina XDR OLED HDR display with a 120Hz refresh rate, the latest iPhone stands as a thoroughly capable and state-of-the-art gaming machine. However, to take full advantage of what the iPhone 13 has to offer, you'll need a purpose-built gaming controller — one of, if not the very best of which is undoubtedly the Backbone One with its low latency connection, pass-through charging, and ergonomic design.
PhoneSoap Pro UV Smartphone Sanitizer & Charger
Considering how often we touch them — and the fact that we're currently experiencing an ongoing global pandemic with no immediate end in sight — you really should be sanitizing your phone on a regular basis. The PhoneSoap Pro UV Smartphone Sanitizer makes this task a breeze, as it cleanses your device of germs and grime while simultaneously delivering a wireless charge.
Shure MV88 Portable iOS Microphone
Despite coming equipped straight from the factory with onboard microphones embedded into the phone's front, bottom, and camera array, the latest iPhone's audio recording capabilities still leave a lot to be desired, though the Shure MV88 Portable iOS Microphone solves this problem with incredible simplicity, with the condenser microphone plugging directly into the phone's Lightning port.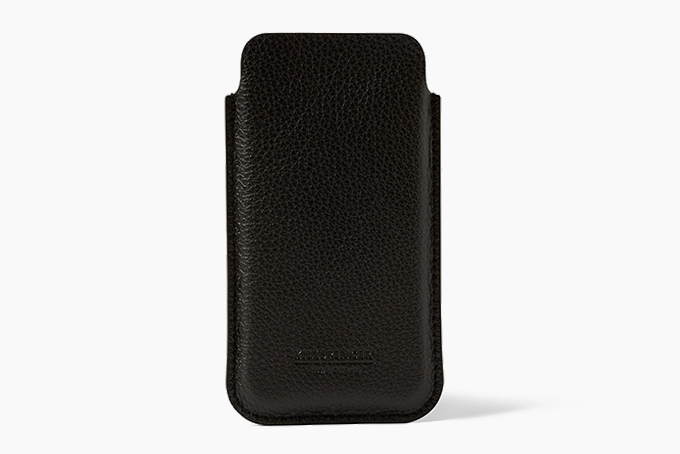 KILLSPENCER POUCH For iPhone
A decidedly premium yet minimalist affair, KILLSPENCER's iPhone Pouch is an elegant and beautifully-crafted phone sleeve that's made from top-shelf black full-grain leather. KILLSPENCER also produces this case in a variety of different sizes for numerous generations of the iPhone going all the way back to the 7.
Grovemade Wood MagSafe Stand
Boasting an unmistakable level of quality that you can quite literally see and feel, Grovemade's Wood MagSafe wireless charging stand was designed from the ground up specifically for the MagSafe system. Built atop a steel base, this charger is made from hand-sanded walnut and comes decorated in vegetable-tanned leather accents. Also available in brass and maple constructions, this charging dock can accommodate an iPhone in both portrait and landscape modes.

Courant CATCH:3 Classic
Currently offered in five separate color options, Courant's CATCH:3 Classic isn't just one of the finest EDC valet trays that money can buy, the Italian leather-bound item also packs a three-coil wireless charging cluster for juicing up your iPhone, Apple Watch, or Airpods.
Apple AirPods Pro 2nd Gen
Since their debut in October of 2019, Apple's AirPods Pro have set the standard in the premium true wireless earbud market, with MagSafe-compatible Qi-charging capabilities, a collective 24 hours of battery life, an IPX4 water-resistance rating, spatial audio with dynamic head tracking, active noise cancelation supplemented via a Transparency mode, and seamless connectivity and pairing with the rest of Apple's suite of products and mobile devices.
FLIR ONE Pro Smartphone Thermal Imaging Camera
An ultra-high-tech iPhone add-on, the FLIR ONE Pro turns your Apple smartphone into a thermal imaging camera. Capable of delivering temperature readings between -4°F and 752°F, this gadget — which pairs with the free FLIR ONE iOS mobile app — comes equipped with MSX and VividIR enhanced image processing and video capabilities.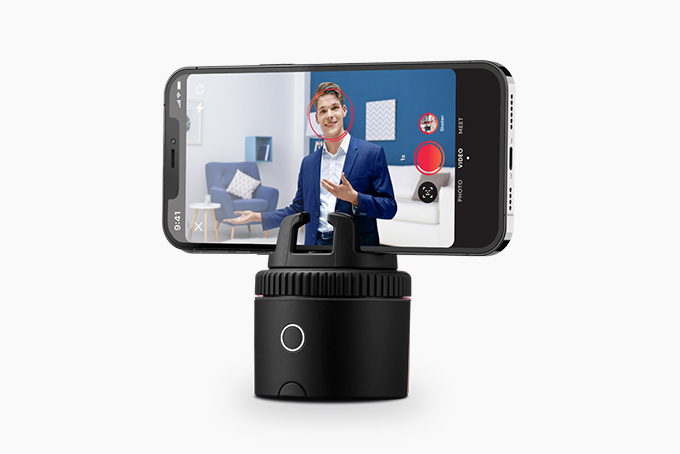 Pivo Pod Black
The Pivo Pod Black is a thoroughly cutting-edge motorized smart 360-degree iPhone tripod that's perfect for 3D tours, presentations, and live streaming. Sold with an included remote, this gadget features auto-tracking, auto smart zooming, 360-degree image production, and an array of preset presentation modes.
SeaLife SportDiver Underwater iPhone Housing & Sea Dragon Light
The SeaLife SportDiver turns your iPhone into a high-performance underwater camera that's capable of operating at depths of as low as 130' thanks to the item's cam-lock sealing mechanism. Should you exceed that depth, the camera boasts pressure alarms to notify you. This particular version of the SeaLife SportDiver cam also comes equipped with the company's ultra-bright 2,500-lumen Sea Dragon COB LED Light.
Apple Watch Ultra
The Apple Watch very well may be the single best iPhone accessory under the sun, and while the inaugural model was a watershed piece of technology, the smartwatch has only grown better with each new generation. The latest, eighth-generation version of the Apple smartwatch is the most capable, feature-laden, and utilitarian iteration yet, plus it's now available in the Ultra version .Rated up to 100m complete with depth gauge and water temperature sensor – along with a slew of other features like Emergency SOS and up to 60 hours of use under low power mode – you'd be hard pressed to find a better adventure watch out there.
The Best AirPods Accessories
Want to check out an additional array of add-ons to help make the most of your Apple devices? Then be sure to cruise over to our guide to the best AirPods accessories you can buy for a handpicked array of earbud upgrades.