Since its debut in WW1, the trench coat has become a staple of men's style, dominating the street sides of the world's most fashionable cities, appearing on the cover of the industry's most prolific magazines, and braving the elements with a poise that's remained relatively unmatched. The garment's storied beginnings as a military work coat serve as a staunch reminder of its lineage, and even today, manufacturers adhere to its strict characteristics as an homage to the battle-worn icon.
Although today's stylish variations are a bit more fashion-focused, they retain many of the garment's most popular attributes, from its double-breasted front closure and two-row button layout, all the way to its mid-thigh and knee-length orientation. But to bring the coat in-line with the modern market, manufacturers have decided to outfit the fashion icon with a number of high-end fabrics, like GORE-TEX, Cashmere, and weatherized polyester, while still keeping the trench strikingly close to the look of the original. Below, we'll run through a handful of our favorite offerings, helping you to wade through the endless torrent of great-looking coats that you'll see this holiday season.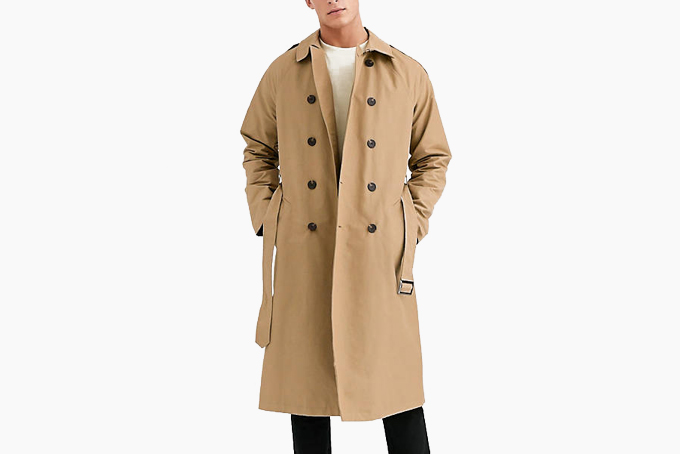 River Island Mac
River Island is a household name when it comes to fashion-forward attire, and with a company like Asos at its back, the Mac trench coat easily exudes an aura of timeless style. While it's the perfect garment for use within mildly-cold environments, this spread-collar variant is essentially a slimmed-down version of a true trench, encompassing a lightweight, double-breasted design, buttoned front, and belted waist. That doesn't mean it's short on utility, however; you'll still be privy to a set of deep side pockets, a storm placket, and durable fabric construction to keep it performing its best for years to come.
Topman Check Double-Breasted Mac
Topman specializes in the creation of affordable options for every taste and style, but when it comes to high fashion, they're a cut above the rest. Take the company's Check Double-Breasted Mac, for instance — this classic double-breasted example is one of the best looking variants in the industry, and thanks to its polyester/viscose construction, it's ready to take on everything that the city has to offer. It retains much of the Mac's iconic silhouette, including its traditional button fastening, a belted waist, and tasteful collar.
Indochino Cobalt Blue Trench
A truly-great trench coat list isn't complete without Indochino; and, as such, the company's standout Cobalt Blue variant reserves a spot deep within our hearts. This exceptionally-tailored garment boasts a soft, water-resistant twill cotton construction, a casual belted waist, and a hidden hood that can be pulled from its collar whenever inclement weather decides to show its face. Aside from the Cobalt's unique weatherization, it remains decisively fashionable, thanks to its Bogart-savvy silhouette, simplistic design, and affordable price point.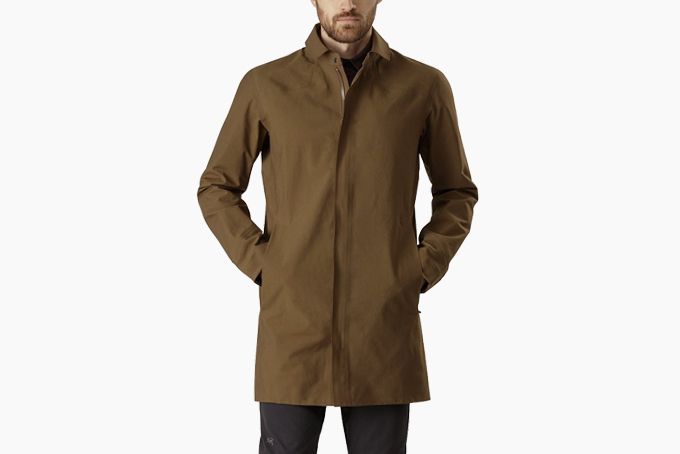 Arc'teryx Keppel
It might seem abnormal to include a company like Arc'teryx on a list of the industry's best trench coats, and honestly, you'd be right to question us for such a choice. But the technical brand's expertise is certainly robust, making the Keppel coat a one-of-a-kind offering that we couldn't pass up. This modernized take on the classic trench coat has been inundated with performance-oriented GORE-TEX fabric, giving it a waterproof, windproof, and breathable silhouette, while the company's recognizable design terminology shines through. A sleek exterior gives way to the coat's subtle back vent and two-way zippered front, giving wears the freedom of movement and stylish gumption that's become synonymous with Arc'teryx since it's conception.
A.P.C. Cotton-Twill Trench
A.P.C.'s Cotton-Twill Trench is an authentic take on the tasteful style staple, bringing the recognizable silhouette straight out of its mid-century roots, and into the present day. As such, the company's attention to detail remains subjectively unmatched, thanks to the trench's classically-tailored ergonomics, it's iconic beige twill, and a medium-weight orientation that's as close to the original as you'll find. A full satin lining on the coat's interior makes it a quintessential piece for seasonal layering.
Brooks Brothers Single-Breasted Trench
Brooks Brothers has a knack for the recreation of history's most lauded clothing, and the trench coat is no exception. The company's Single-Breasted coat arrives from the archives with a durable, yet comfortable, pure cotton construction, which has been built to resist moisture and rain. On the interior, a removable split-quilted wool lining has been implemented alongside the company's signature tartan detailing, giving the single-breasted offering a refined look that's perfect for mid-range style connoisseurs.
Aether Polar Trench
Aether doesn't skimp when it comes to technical outerwear, so why would that be any different for their Polar Trench? This fully seam-sealed variant is both waterproof and wind-resistant, bringing buyers a great-looking garment that's both fashionable, and functional. Inside, you'll find a hearty helping of dependable PrimaLoft Gold insulation, keeping you cozy through the winter's harshest periods. To integrate the three-layer Polar Trenchwell into your daily wardrobe, Aether has created each example with accommodating shoulders and sleeves crafted for use alongside blazers and suits, making it an attractive proposition for urban users looking to marry stylish outerwear with a more tasteful silhouette.
Acne Studios Relaxed
Acne Studios' Relaxed trench coat is an odd departure from the styles of old, but it's outlandish enough to earn it a spot on our quintessential list. Not only does the Relaxed coat sport many of the same design choices as the original, like a buttoned front closure and two storage-savvy pockets at its sides, but it's made with a comfortable combination of wool and cashmere fabrics to give it a premium look and feel unmatched by other offerings. Better yet, it's completely unlined, meaning that it's great for those transitional seasons when lightweight wear is something that buyers take kindly to.
Aquascutum Bogart Trench
Aquascutum's Bogart Trench is a true icon in a sea of unoriginal remakes; and, as such, it commands a level of respect within the outerwear community. Much like the classic variant worn by Humphrey Bogart on the American silver screen in the 1940s, this tasteful peripheral has been carefully crafted down to the very last stitch and boasts military-inspired raglan sleeves, a traditional double-breasted design, and a signature club check collar to give it a persona all its own.
Mackintosh Carbeth
If you're looking for one of the most authentic offerings on the market, Mackintosh's Carbeth should fit right in with your expectations. This versatile garment pays homage to the trench's original styling, thanks to its staunch attention to detail. But where the Carbeth differs is in its construction; each example is created with black rubberized cotton, giving it an inherent water-repellent finish, and making it more durable as any offering you'll find elsewhere. It's also reversible, allowing you to transition from a business-savvy silhouette into a head-turning yellow and black style piece in a heartbeat.
Burberry Kensington Trench
Burberry's Kensington Trench is perhaps the most recognizable variant on this list, and rightfully so. As the golden standard by which the industry abides, the company's Kensington is an amalgamation of unadulterated style, calling upon the original's handsome silhouette, and elaborating on its strengths with a signature weatherproof gabardine construction, squared shoulders, and 100% cotton fabric. On the exterior, the trench's closure buttons come adorned in authentic buffalo horn, while a premium calf leather buckle, double-breasted orientation, and mesmerizing epaulets round out the iconic English garment.
Vetements Black New Classic Trench
Vetements' Black New Classic Trench is certainly a modern reinterpretation of the legendary outerwear piece, bringing a long sleeve cotton poplin construction and an attractive spread collar variant to the industry's most fanatical connoisseurs. Luckily, it's not all aesthetic; an integrated storm flap and durable raglan sleeves keep you protected from inclement weather, while an adjustable pin-buckle belt and hard-wearing welt pockets bring an aura of stylish class to the shadowy garment. A central vent at the Classic's back hem keeps air circulating throughout the day, making it an attractive variant for those transitional seasons where fully-encapsulated clothing might seem like overkill.
The 20 Best Pieces Of Military-Inspired Gear
It's no secret that the trench coat is one of many iconic pieces of military apparel, so if you feel the need to delve deeper into the realm of technical style, head over to our guide on the best military-inspired gear.