It can be hard to find the perfect travel garment, but in an attempt to track down the best around, we've compiled a guide to travel jackets that will adhere to any destination in which you find yourself. If you already thought traveling was a multi-layered process, then you might as well add one more layer that could change your whole trip for the better.
Best Travel Jackets Breakdown
Best Starter Jacket

Lululemon Warp Light Packable Jacket

Best Anorak

Triple Aught Design Aerie SX Anorak

Best Hybrid Jacket

Patagonia Nano-Air Light Hybrid Jacket

Best Waterproof Jacket

L.L.Bean Waterproof PrimaLoft Packaway Jacket

Best Down Jacket

Fjallraven Expedition Pack Down Jacket

Best Lightweight Jacket

Relwen Windzip Jacket

Best Hoody

Arc'Teryx Solano Hoody

Best GORE-TEX Jacket

Marmot GORE-TEX Minimalist Component 3-in-1 Jacket

Best Premium Jacket

Canada Goose Armstrong Hoody
Why should you wear a travel jacket?
With countless minor tasks to keep up with beforehand and countless hurdles to jump through the airport, getting on a plane nowadays has become an obstacle course unto itself. Nevertheless, your trip starts from the moment you start packing, and there is almost nothing worse than filling your suitcase to the brim only to realize the lack of space for any potential souvenirs or gifts you plan on bringing back. Scenarios like this are where the convenience behind packable jackets comes into play, as these compact pieces of outerwear can make a huge difference in your luggage.
What is a travel jacket?
Coming in a variety of styles, shapes, and sizes, the packable travel jacket is quintessential for any vacation. The ability to go from providing lush warmth to folding into itself and becoming an inconspicuous accessory is practically the epitome of convenience. However, with so many options on the market, it's difficult to find one that checks all the boxes: a lightweight carry, seamless storability, and, most importantly, optimized warmth and protection from the elements. So we've narrowed it down to light, intuitive, and reliable jackets from trusted labels to help you out. Whether they be hoodies or anoraks, as long as they're easy to pack away and provide enough weather protection, they can be used as a travel jacket.
what to look for
Material: When you're traveling, you want a jacket that's lightweight and ready for anything. That means materials like GORE-TEX, nylon, and polyester will be best because they're light and weather-resistant.
Insulation: Temperatures can vary across the world, so a jacket with a removable liner can be convenient for a variety of climates.
Waterproof: Luckily, most packable jackets are made with a water-resistant material (or finish), but if you need more protection, get one that's waterproof and not just water-resistant.
Weight/Packability: Some jackets may come with attachable/built-in bags to stow away in, but as long as you have your own bag and the jacket can bunch up easily, you can travel easily.
Lululemon Warp Light Packable Jacket
Pros
4-way stretch
Really nice, lightweight rain jacket
Good for working out in as well
Best Starter Jacket: lululemon's two-way stretch jacket is hard to go wrong with and makes a solid home for itself as yet another garment in their expansive On the Move catalog. Crafted from lulu's trademark WovenAir mesh fabric, this water-resistant, windproof jacket is built for getting active, with enough movement and protection to handle whatever the weather report calls for. The Warp Light is then finished off with two exterior pockets and a hidden phone sleeve, allowing for lightweight transportability.
Material: WovenAir mesh fabric
Insulation: None
Waterproof?: Water-resistant
Triple Aught Design Aerie SX Anorak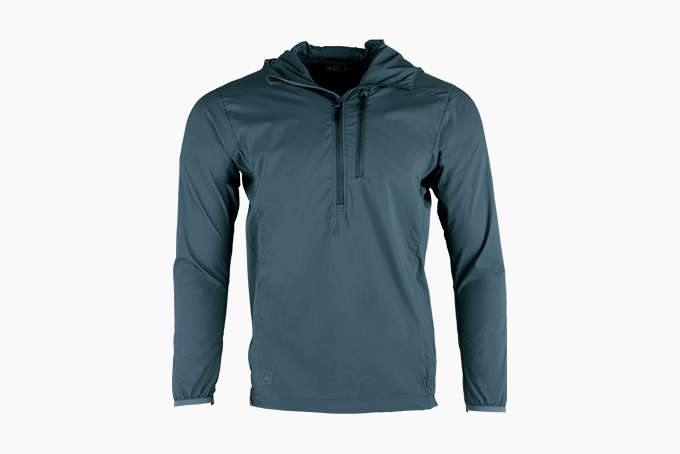 Pros
DWR finish
Made with recycled ripstop nylon
4-way stretch for added movement
Best Anorak: Built with the intent of ensuring simple, lightweight, weather-resistant outerwear, the American-bred brand's anorak is as practical as they come. Thanks to its DWR finish, this jacket sheds water like nobody's business, and throwing it on and off is a breeze, even if you find yourself in heavy winds. While the jacket does not offer a slot to pack into itself, it folds into a rather non-existent makeup that could fit in your back pocket — or one of Triple Aught Design's own small-scale pouches.
Material: 66g/m2 100% recycled nylon
Insulation: None
Waterproof?: Yes
Patagonia Nano-Air Light Hybrid Jacket
Pros
Warm yet super breathable
Handwarmer pockets
Made in a Fair Trade Certified facility
Cons
Runs a little small in the chest
Best Hybrid Jacket: If you tend to overheat in jackets, then Patagonia's got you covered with the Nano-Air Light's unique ventilation system. The jacket's dual-zippered closure allows you to vent as needed, and Patagonia assures nothing short of an ideal hybrid jacket for when you simply don't know what the weather report has planned for your week out of the office. Impeccably light with 40-gram FullRange insulation and a cool name to boot, this sleek piece from the SoCal-based heritage brand is Fair-Trade Certified and is solely available in an eye-popping blue.
Material: 1.6-oz 30-denier 100% recycled polyester
Insulation: 40-g FullRange 100% polyester
Waterproof?: Water-repellent
L.L.Bean Waterproof PrimaLoft Packaway Jacket
Pros
Comes in regular or tall fits
Easy access to the stowaway pocket
Insulated hood
Best Waterproof Jacket: In case the rest of your travel gear is already weighing you down, L.L.Bean decided to develop their sleek Packaway Jacket from the world's lightest material – literally. While this particular jacket lacks a down lining, the American heritage brand makes up for it with plush layers of lightweight, NASA-developed Aerogel and its 60-gram PrimaLoft Gold insulation that is highly capable of keeping you warm should you find yourself snowed in near Bean's Maine headquarters. Finished off with a bevy of handy pockets, its most convenient one will prove to be the easily accessible stowaway pocket.
Material: 100% nylon ripstop
Insulation: 60g PrimaLoft
Waterproof?: Yes
Fjallraven Expedition Pack Down Jacket
Pros
Made with sustainably-sourced materials
Packs into itself
Padding on the shoulders
Best Down Jacket: Built for the outdoorsman, Fjallraven's packable down jacket is ethically produced and serves as a brand essential. Lined with recycled polyamide and filled with 90/10 down, the brand ensures nothing short of a great piece to take on a frigid winter, no matter where you find yourself. Available in a quartet of bright colors, rest assured that no one will be missing you if you find yourself out on the slopes while wearing this on your next ski vacation.
Material: 100% polyamide (recycled)
Lining: 100% polyamide (recycled)
Insulation: 90% goose down, 10% feather
Waterproof?: Water-resistant
Relwen Windzip Jacket
Pros
Insulated with down
Solid year-round choice
Surprising amount of storage
Best Lightweight Jacket: It's hard to pin down the exact style of this one, but that's certainly by design. Relwen took the best from a bit of everything and designed this hybrid jacket to be lightweight, wind-resistant, water-resistant, and super warm. It's filled with 60g of down insulation and an outer shell made of nylon and spandex for a stretchy fit. This is a great travel jacket because it's very lightweight, making it a solid year-round choice as well.
Exterior: 94% nylon, 6% spandex
Lining: 95% polyester, 5% spandex jersey
Fill: 100% polyester, 60 gram down-alternative
Waterproof?: Water-resistant
Arc'Teryx Solano Hoody
Pros
Liner is made with recycled material
Doesn't get too hot
DWR finish
Best Hoody: Like all other Arc'Teryx pieces, the Solano Hoody is a minimalistic piece of technologically advanced outerwear that lives up to the Canadian brand's world-class standard. Equipped with windproof GORE-TEX INFINIUM fabric, the hoodie remains lightweight and willing to tackle the outdoors thanks to its windproof and water-repellent design. Its easy-going composition boasts no flaws. and at the end of the day, this is a lightweight hoody that's impossible not to love.
Material: 2L GORE-TEX INFINIUM WINDSTOPPER
Liner: 100% recycled polyester knit jersey
Insulation: None
Waterproof?: Water-repellent
Marmot GORE-TEX Minimalist Component 3-in-1 Jacket
Pros
Removable insulated jacket liner
Solid snow jacket
Kind of a two-for-one deal
Cons
Can be tight in the shoulders
Best GORE-TEX Jacket: With a GORE-TEX makeup and the capability to carry along through the great outdoors, this 3-in-1 Marmot jacket is an ideal fit for the outdoorsman. Thanks to its adaptability, you may not even need to take another jacket with you on your trip, as the Minimalist Component is a multi-layered piece of wear that is only minimal on the eyes and surely maximized in all other aspects. Taking a rather unorthodox approach, this DWR-treated garment is capable of rolling up into its hood with no qualms, making for a supremely easygoing traveling companion.
Material: GORE-TEX Paclite, 100% recycled polyester
Insulation: Thermal R
Waterproof?: Yes
Canada Goose Armstrong Hoody
Pros
Made in Canada
Convenient adjustable hood
Comes with a lifetime warranty
Best Premium Jacket: While their story starts up north, Canada Goose has practically become a staple brand within the States, as well. Thanks to their East Coast prominence and dominance on Hollywood film sets, the brand has managed to deliver impeccable garments across the continent, and their Armstrong is a shining example of what Canada Goose is capable of. This puffy piece of outerwear has exquisite insulation thanks to a 90/10 fill down, and the exterior boasts Cordura panels in the most vital places, ensuring that your pricey investment will last a good, long time. Equipped with a drawstring hood, a pair of internal pockets, and the brand's patented Recessed Power Stretch cuffs, the comfort that this jacket gives off is harmoniously portable, as it's able to zip directly up into its hood.
Material: 100% nylon ripstop
Insulation: 750 fill power down
Waterproof?: Water-repellent
The Best Sling Bags for Everyday Carry
While having a packable jacket is ultra-convenient when out and about, it is just as handy to have a sling bag when the scenario calls for it. Luckily, our guide to the best sling bags on the market is here to help you accessorize even further.