Out of all the fibers that we use to make our clothes, cashmere is by far one of the most luxurious. The cashmere sweater is a sartorial milestone that signifies a level of refinement and sophistication in a man's wardrobe. Cashmere's feel, look, and status evoke a sense of confidence in its wearer, classing up any outfit it graces. We believe that everyone should have one of these luxurious garments without having to sell an organ to afford one, so we scoured the internet and found a handful of the best cashmere sweaters that virtually every budget. But before we get into our list of the best affordable cashmere sweaters for men, let's quickly examine what makes cashmere so expensive and why it's become more affordable recently.
Best Cashmere Sweaters Breakdown
Best V-Neck

Quince Mongolian Cashmere V-Neck Sweater

Best Color Choices

Naadam The Original Cashmere Sweater

Best Lightweight Sweater

J.Crew Cashmere Crewneck Sweater

Best Hoodie

Banana Republic Ugo Cashmere Sweater Hoodie

Best Mongolian Cashmere Sweater

Everlane The Grade-A Cashmere Crew

Best Soft Sweater

Wills Classic Cashmere Crewneck Sweater

Best Sustainable Sweater

Patagonia Recycled Crewneck Sweater

Best Crewneck

Todd Snyder Cashmere Crewneck

Best Premium Sweater

RRL Shawl-Collar Ribbed Recycled-Cashmere Cardigan
why is cashmere expensive?
Cashmere wool comes from the cashmere goat, which is native to parts of Asia, most notably Mongolia and the Himalayan Region (which includes Kashmir, its namesake – and one of the best Zeppelin songs). Its fibers are incredibly light and delicate, yet due to their tubular build, they excel at insulating while remaining breathable. On top of its versatility, cashmere is one of the softest and most luxurious fabrics in the world, which also makes it one of the most sought-after. This combination yields an incredible demand for the wool, which has to be combed out of the goat by hand rather than sheared. On top of the laborious nature of sourcing cashmere wool, it is also a scarce fiber, with the average cashmere goat producing around only 200 grams of wool each year.
is "cheap" cashmere good?
Due to the goats' remote location, the intensity of labor to source their wool, the scarcity of the wool itself, and the ravenous demand for it, cashmere has been one of the most expensive fibers on the planet for some time now. However, as new labels began producing affordable sweaters and production expanded outside of Mongolia, there's now a whole new market of sub-$300 sweaters, and even sub-$150 sweaters, that are still high quality (with big names entering the space as well).
what to look for
Material: Cashmere may sometimes be graded based on thickness and fiber length (A being the highest and C the lowest). Usually, a 100% pure cashmere construction is best (often denoted with a tag), and you want to make sure the sweater isn't itchy, as a good cashmere sweater should be super soft.
Style: Cashmere sweaters come in a variety of styles like turtlenecks, V-necks, and cardigans. Whatever you choose is up to your personal preference, but if you want something safe, a crewneck is always versatile and lowkey.
Fit: Depending on the style you choose, your sweater may fit differently. V-necks are naturally a bit more relaxed than a turtleneck, and some sweaters may come in a tailored fit for a more slim look.
Origin: The real deal stuff is from Mongolia, so if that's what you want, then make sure the material in the sweater is from there. Good cashmere can certainly come from other countries, however.
Weight: As with any other sweater, a lighter one will be easier to layer with, and a heavier one will give you more warmth.
Quince Mongolian Cashmere V-neck sweater
Pros
Grade-A Mongolian fiber for an insanely reasonable price
Sleek style
Ethically-sourced
Best V-Neck: Quince is a modern-day brand that challenges the notion that luxury quality must necessitate luxury prices, and it has defied all naysayers by creating a line of premium clothing that doesn't break the bank. The brand is best known for its line of cashmere sweaters, which are all made of 100% Grade A Mongolian cashmere. This 12-gauge, 2-ply knit material is ultra-soft to the touch, stretches easily while retaining its original shape, and will last you for years. The designs are as timeless as they are good-looking and will elevate any casual outfit to which you add them.
Material: 100% cashmere
Fit: Regular
Origin: Grade-A Mongolian
Naadam The Original Cashmere Sweater
Pros
Sustainably-sourced Mongolian wool
Comes in 14 different colors
Machine washable
Best Color Choices: Naadam has made quite the name for itself as one of the go-to brands for affordable cashmere. Rather than using brokers to procure its cashmere, Naadam goes straight to the Gobi Desert in Mongolia itself to source its premium wool in the most sustainable ways possible. What results is a streamlined model that allows the brand to sell gorgeous sweaters in a spattering of shades. Naadam's Cashmere Sweater comes in 14 different colors and looks so good you'd think they forgot to put a "0" at the end of the price tag. It's soft to the touch, durable, and offers a relaxed silhouette that you can wear over a button-down or just by itself.
Material: 100% cashmere
Fit: Classic
Origin: Mongolia
J.Crew Cashmere Crewneck Sweater
Pros
Works with a foundation that improves the working conditions of farmers and farmworkers in Mongolia
Really good layer
Cons
A little prone to pilling
Best Lightweight Sweater: J.Crew has long been a staple brand due to its lineup of unreasonably good-looking garments. While the New York-based company has already made a name for its collection of cashmere sweaters, it has upped the bar even more in recent years with an updated variety of softer, higher-quality, and more stylish sweaters. Its cashmere sweater is particularly handsome, featuring a 100% cashmere construction. And to add an extra level of sustainability to this great product, J.Crew partnered with the Aid by Trade Foundation to promote eco-friendly agricultural and textile sourcing practices while improving working conditions for Mongolian farmers.
Material: 100% cashmere
Fit: Regular
Origin: Mongolia
Banana Republic Ugo Cashmere Sweater Hoodie
Pros
Soft yet durable
Pouch pocket on the front
Best Hoodie: The cooler, more stylish, and better-dressed brother of GAP, Banana Republic should be a brand with which all men are familiar. Its high-end sweaters are one of its best-known and most well-received garments in its stalwart lineup, which is a feat unto itself. Banana Republic's cashmere sweater hoodie is the sartorial equivalent of chocolate, it just goes well with everything. Though a hoodie, this garment can be dressed up with a jacket for an upscale casual lunch or worn on its own while you hang out at home. Regardless of your needs, this versatile and durable hoodie is a worthwhile inclusion to anyone's sartorial repertoire.
Material: 100% cashmere
Fit: Standard
Origin: Not listed
Everlane The Grade-A Cashmere Crew
Pros
Unlikely to pill
Grade-A Mongolian fiber from Inner Mongolia
Cons
Slim fit may call for a size up
Best Mongolian Cashmere Sweater: Everlane is another contemporary standout that's committed to making premium clothes with transparent pricing in a sustainable manner. Not only does Everlane strike that balance, but it does so while making clothes that are impossibly cool, as well. True to form, the Bay Area brand sources only the finest Grade-A cashmere from Inner Mongolia, employing literally the finest fibers they can find. Measuring at 35 millimeters in length and only 15 microns thick, Everlane's ultra-fine cashmere is the foundation for fashionable sweaters that pill less, feel great, and last years. Its sub-$200 price tag proves that some things really aren't too good to be true.
Material: 100% cashmere
Fit: Slim
Origin: Grade-A Mongolia
Wills Classic Cashmere Crewneck Sweater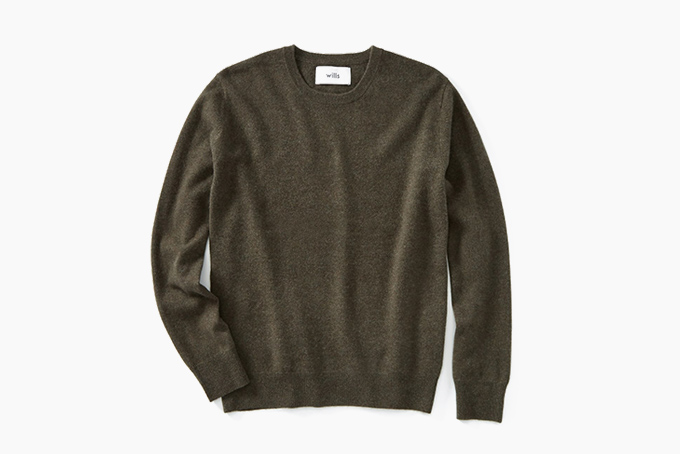 Pros
Versatile weight and design
Ribbed cuffs and waist
Best Soft Sweater: Leave it to the folks over at Huckberry to find a no-frills brand that specializes in finding premium materials to make luxurious clothes that don't cause your bank account to hemorrhage. Wills excels in crafting high-quality sweaters that look incredible and somehow feel even more incredible. While it's difficult to choose just one standout product in Wills' collection of sweaters, its Classic Cashmere Crewneck is one of those garments that will never go out of style. Its high-quality fibers reduce the likelihood of pilling and are highly breathable, so you don't overheat. Moreover, the sweater's premium quality allows it to fold and store without wrinkling, which makes it ideal for traveling.
Material: 100% cashmere
Fit: Regular
Origin: Not listed
Patagonia Recycled Crewneck Sweater
Pros
Contrasting color on the neck for a unique style
Sustainably-made
Rib-knit trim on the collar, cuffs and hem
Best Sustainable Sweater: It's all right; we also had to do a double-take when we saw that Patagonia sells a cashmere sweater for under $200. The Ventura-based outdoor staple has been producing high-quality gear for nearly 50 years and is one of the trailblazers in sustainable sourcing. Patagonia leaned into its Earth-first ethos by making a dapper sweater made of 95% recycled cashmere and 5% wool. Despite its nuanced materials, Patagonia's recycled cashmere crewneck sweater looks, feels, and dresses like a bonafide, classic sweater due to its ribbed-knit cuffs and ribbed crewneck. If you're looking to dress smart while also cutting down on your carbon footprint, this is the sweater for you.
Material: 95% recycled cashmere and 5% wool
Fit: Regular
Origin: Recycled
Todd Snyder Cashmere Crewneck
Pros
Comes in 10 colors
Ribbed cuffs
Nice medium gauge
Best Crewneck: When it comes to timeless staples made through a contemporary lens, it's hard to beat Todd Snyders's clothing. The NYC standout has been designing stellar garments for just over a decade and has already become part of the men's fashion lexicon. The brand's Cashmere Crewneck is made with 100% cashmere yearns knit in a medium gauge, making it lightweight, breathable, and perfect for those living in warmer climates. Aside from its ultra-soft wool, the sweater also has fine details like ribbed cuffs and tubular stitching at its hem for a subtle, textured look.
Material: 100% cashmere
Fit: Not listed
Origin: Not listed
RRL Shawl-Collar Ribbed Recycled-Cashmere Cardigan
Pros
Made with recycled cashmere
Sophisticated look
Versatile mid-weight
Best Premium Sweater: RRL makes outstanding garments that are palpably stylish and as high-quality as they come. The Ralph Lauren sub-label may be best known as a go-to destination for men looking to buy American-inspired classics, but it's also a fantastic place to go for sweaters. In particular, its shawl-collar cashmere sweater is the luxurious and dressy piece that your wardrobe is missing. Every detail of this specimen of a sweater is executed with the utmost care and detail, from its eco-friendly construction to the ribbed hems and cuffs to the stitching around the neckline. This sweater is proof that sometimes, the classics can't be beaten.
Material: 60% recycled cashmere, 40% cashmere
Fit: Regular
Origin: Not listed
The Best Wool Sweaters Right Now
If you're still on a sweater kick but aren't requiring something quite as opulent and cozy as cashmere, check out our guide on the best men's wool sweaters for more winterwear staples.