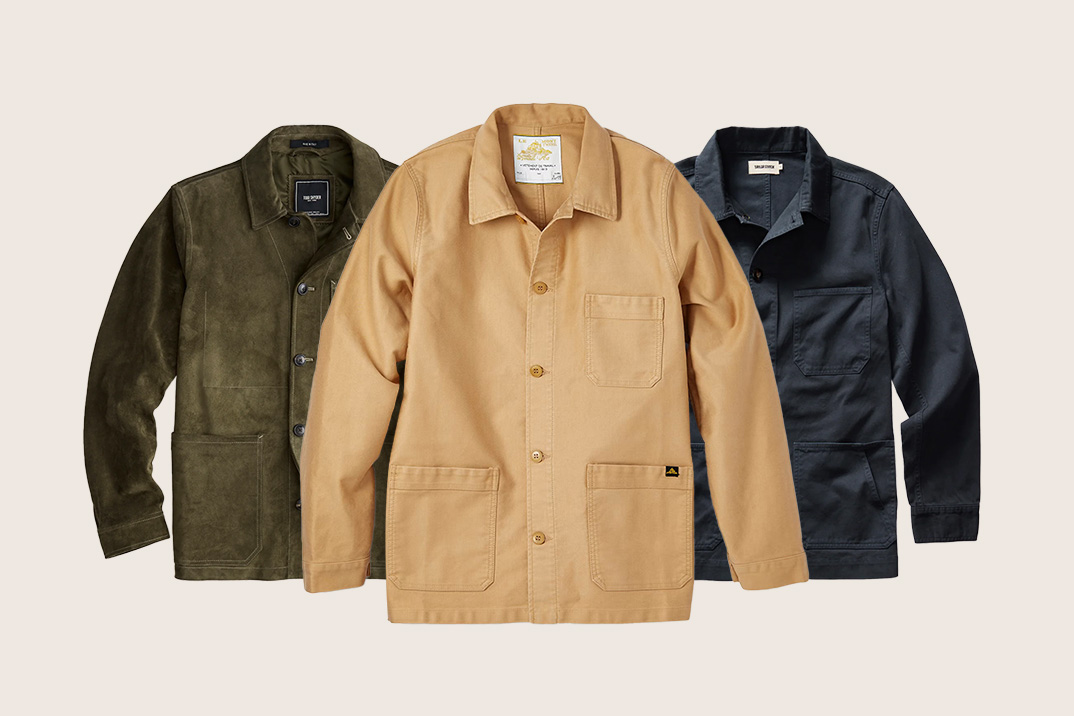 When people think of outerwear, they normally think of big, warm coats or hyper-stylish jackets, but there's an overlooked garment that has long been one of the most useful pieces of outerwear in the modern era. We're not talking about field jackets, we're not talking about trucker jackets, we're talking about the humble chore coat. This lightweight yet durable garment is about as purpose-built as purpose-built gets.
While it got its start as a genuine workwear garment, the chore coat, like many articles of clothing, evolved to become a fashion staple. It's versatile, comfortable, great for transitioning between seasons, and durable as all get-out. To celebrate this time-honored garment, we put together our best chore coats for men guide.
Best Chore Coats Breakdown
The Budget Pick

Lee Men's Chore Coat

The Best Winter Coat

Carhartt Men's Loose Fit Firm Duck Blanket-Lined Chore Coat

The Sustainable Pick

Patagonia Men's Iron Forge Hemp Canvas Chore Coat

The Best Coat Overall

Taylor Stitch The Ojai Jacket

The Best Layer

Wellen The Maker's Stretch Chore Jacket

The Best Felt Coat

Buck Mason Felted Chore Coat

The Best Moleskin Coat

Le Mont St Michel French Moleskin Work Jacket

The Best Wool Coat

Knickerbacker Wool Chore Shirt

The Grail Pick

Todd Snyder Italian Suede Short Coat
What exactly is a chore coat?
The chore coat, as we know it, is one of the first-ever purpose-built jackets. We can trace the chore coat's lineage to nineteenth-century France, when outdoor laborers such as farmers and railroad workers needed a warm, light, oversized jacket to throw on over their workwear. To this day, chore coats are still made with heavy twill, denim, or canvas fabric, and almost always from cotton. Chore coats typically also have one to two chest pockets, two oversized hip pockets, a pointed collar, and a button front closure. You'll find different variations on the form here and there, but these are the primary characteristics we looked for when curating our list of best chore coats.
What to look for
Material: The traditional chore coats are made from cotton, but modern options include leather if that's what you prefer. Most chore coats made with a cotton fabric are still solid, but if you want a different look, then leather can provide that. And if you want a cold-weather jacket, materials like wool and cashmere are the best choices.
Style: Generally, chore coats will have the iconic two oversized hip pockets and one or two chest pockets, meaning the differences in style come down to the material used and the patterns. So it's best to determine whether you want the old-school look or something with a modern approach.
Chore coats vs. field jackets
Since chore coats were designed to be worn over workwear after a long day, layering over a quality t-shirt and wearing one with boots is a tried and true look. Chore coats are already quite versatile, but with higher-end options made with material like leather, you can elevate them with chinos and other dressier choices.
Lee Men's Chore Coat
Cons
Some may prefer snap buttons
The Budget Pick: When you've been making quality garments for over 130 years, you develop an iron reputation for craftsmanship. Such is the case for Lee Jeans, which makes a chore coat that's as timeless as the brand itself. With a vintage style dating back to the 1920s, it's safe to say that this coat's design transcends generations. Everything about this chore coat is classic, from its four large front pockets to its triple stitching to its available sherpa lining. This coat epitomizes purpose-built utility while offering enough style points to amp up virtually any wardrobe.
Carhartt Men's Loose Fit Firm Duck Blanket-Lined Chore Coat
Pros
Warm duck lining
Great daily driver (for colder climates)
The Best Winter Coat: It's criminally difficult to pick just one example of Carhartt's stellar workwear, but as far as chore coats are concerned, its Duck Chore Jacket is far too iconic to pass up. This rugged jacket is one of the premier offerings from the brand, featuring a 100% ring-spun cotton duck construction and quilted lining in the body and sleeves to keep you warm, cozy, and insulated. Its corduroy collar with under-collar snaps provides a nice level of textural contrast, while the four front pockets offer both the classic design and useful storage that make this jacket a winner.
Patagonia Men's Iron Forge Hemp Canvas Chore Coat
Pros
Abrasion-resistant fabric
Fair Trade Certified sewn
The Sustainable Pick: Most people don't think of Patagonia when they think of traditional workwear, but it's an undeniable truth that if the Ventura-based company is going to make a garment, it will knock it out of the park. Such is the case with its Iron Forge Hemp Canvas Chore Coat, which, aside from having the coolest name ever, is one of the best chore coats on the market. This functional work of art is made from 12.9-oz Iron Forge Hemp canvas, which is "25% more abrasion resistant than conventional cotton." What's more, the coat also contains recycled polyester for a welcomed touch of sustainability. Add in its left drop-in pocket on its chest, the two front snap-fastened pockets, zippered interior pocket, and two hidden side-entry pockets, and you have a wondrous piece of workwear.
Taylor Stitch The Ojai Jacket
Pros
Double-needle stitching
Washed for a softer feel
The Best Coat Overall: Taylor Stitch built a well-earned reputation by reinterpreting timeless classics through a modern, rugged lens, and its Ojai Jacket is proof the brand has mastered its craft and then some. This handsome piece of workwear features a washed organic cotton construction that feels broken in on its first wear. While the Ojai is definitely faithful to classic chore coats, its dual-entry front patch pockets, and dapper ring-back buttons are subtle yet nuanced additions that add style and versatility to this staple garment. Simple in concept and masterful in execution, the Ojai Jacket truly elevates the chore coat.
Wellen The Maker's Stretch Chore Jacket
Pros
Lightweight and versatile
Cons
Might be too stretchy for some
The Best Layer: Wellen makes clothes inspired by laid-back days on the beach, and crafts them with sustainability in mind. Just like this chore jacket that's made with soft organic cotton and just a touch of spandex for some stretch and comfortability. This jacket will look great on its own, but given the versatility of the fabric and design, it works as the perfect layer. It has two classic front pockets, and one of the chest pockets has been left open so you can easily store your shades and the like.
Buck Mason Felted Chore Coat
Pros
Very warm
Real horn buttons
The Best Felt Coat: Leave it to Buck Mason to reinvent the chore coat while also staying faithful to its roots. Its Felted Chore Coat is one of the heaviest picks on this list, sporting a 340 GSM felted merino wool construction for comfort, durability, and warmth. The California brand designed the cut to be leaner in the arms and more billowy in the chest, giving it a modern fit, and the three patch pockets provide ample storage with heavy cover-stitching around them to ensure that they'll never burst at the seams. To top it off, the real horn buttons add textural and visual contrast to complete this fantastic garment.
Le Mont St Michel French Moleskin Work Jacket
Pros
Classic workwear style
Made in France
The Best Moleskin Coat: Since 1913, the French label Le Mont St Michel has been crafting durable clothing for farmers and craftsmen. One of the label's most notable garments is this work jacket right here, which is made in France with sturdy moleskin and tightly woven, providing a natural water-repellent effect. With this pick, you're getting a certifiably classic jacket down to Le Mont St Michel's label of authenticity and the hand-written numbers. And since the original chore coat hails from France, you know that this is the real deal.
Knickerbacker Wool chore Shirt
Cons
Some may want more pockets
The Best Wool Coat: Knickerbocker began in 2013 with modern menswear inspired by Americana and American-made quality. Although this jacket has been around the world, made in a Portugal-based family-owned factory with fabric woven in Italy, it still has a modern style that will look great in any country. It's made with 100% wool as well, so if you're looking for another winter option, then this jacket is a good choice.
Todd Snyder Italian Suede Short Coat
Pros
Made in Italy
Horn buttons
Cons
Special leather care only
The Grail Pick: Todd Snyder is one of the great designers of the modern era, creating fashionable yet understated twists on everyday American classics. His Italian Suede Chore Coat is effortlessly fashionable and can raise the style quotient of any casual ensemble to instantly become more upscale. This dapper chore coat is made of Italian calf suede for a rugged yet elevated design, and it features classic bleu de travail design cues such as its two large patch pockets, chest pocket, and buttoned cuffs. Snyder added his own flair to this timeless classic with the addition of an interior pocket for a phone or wallet, along with a locker loop on the back for tools.
The Best Engineer Boots for Men
Much like the chore coat, engineer boats began as workwear and became more fashionable over time. And our best engineer boots guide highlights the ones you should know about.