The all-white shoe is a surefire wardrobe staple, and for good reason: it's pairable with almost everything. If you're a fashion-minded shoe aficionado who's looking to step their game up when it comes to stylish shoes, you need to have at least one pair of all-white sneakers in your arsenal. Below, we'll outline a well over a handful of our favorites, and give you some insight into their time-tested lineage.
The Best White Sneakers Across the Board
The Safest Bet

Vans Authentic

The Safest Bet

Converse Chuck 70 Vintage Canvas

The Upgrade

New Balance NB550

The Premium Pair

Salomon XT-6

The Best White adidas

Adidas Stan Smith

The Best White Nikes

Nike Air Force 1

The Most Overlooked White Sneaker

Reebok Club C

The Best Japanese-Made White Sneaker

Shoes Like Pottery Low Canvas Sneaker

The Best Sustainable White Sneaker

Thousand Fell Court

The Best White Sneaker for the Office

Common Projects Achilles Low Leather Sneakers

The Best Designer White Sneaker

Maison Margiela Replica Leather and Suede Sneaker
What To Consider
Are They Built To Last?
Materials: If you're still reading this, it's clear you already know what shoe color you're looking for, so congrats, that's usually the first step. Secondly, although just as important, is considering what they're made of. As with any shoe, better materials suggest that they'll last longer, albeit there are caveats to that based on how you treat them. This is nothing short of common sense, so we'll keep it simple: if you want a pair of all-white shoes to wear around for a year or two before they start to get beat up, by all means, go for an affordable, canvas-constructed classic. On the other hand, if you want footwear that'll last you longer, but is bound to get just as dirty, shoot for a pair made with leather, mesh, or, in the case of our guide, kiln-fired rubber with a trustier feel.
How to Clean White Shoes
Keeping Them Fresh
It seems obligatory to include something about keeping your white shoes clean — but it's more important to remember that they're bound to get dirty. Either way, how you'll need to clean them is all based on the shoe's material.
Leather: If you're trying to scrape scraps off your leather steppers, our best recommendation would be to use a quality leather cleaner alongside the one and only Mr. Clean's Magic Eraser.
Mesh or Canvas: On the other hand, if you're dealing with stains on more traditional options made of canvas, mesh, or anything remotely sporty, you can never go wrong with some trusty sneaker cleaning solutions from Jason Markk or Reshoevn8r are bound to do the trick.
Vans Authentic
The Starter: Vans' Authentic sneaker has been around for longer than we can remember, and over time, it's become as much of a cultural symbol as it is a piece of fashionable, affordable footwear. The Authentic has become synonymous with skate and surf culture due to Vans' long-running lineage in both sports, and while they've implemented up-to-date fabrics, support, and reinforcement into a number of their modern silhouettes, the overall formula remains the same. A low-cut top, durable canvas, and tasteful metal eyelets round out the classic shoe, giving it a look that's served to transcend the sneaker world's evolutionary mindset.
Materials: Canvas and rubber
Converse Chuck 70 viNTAGe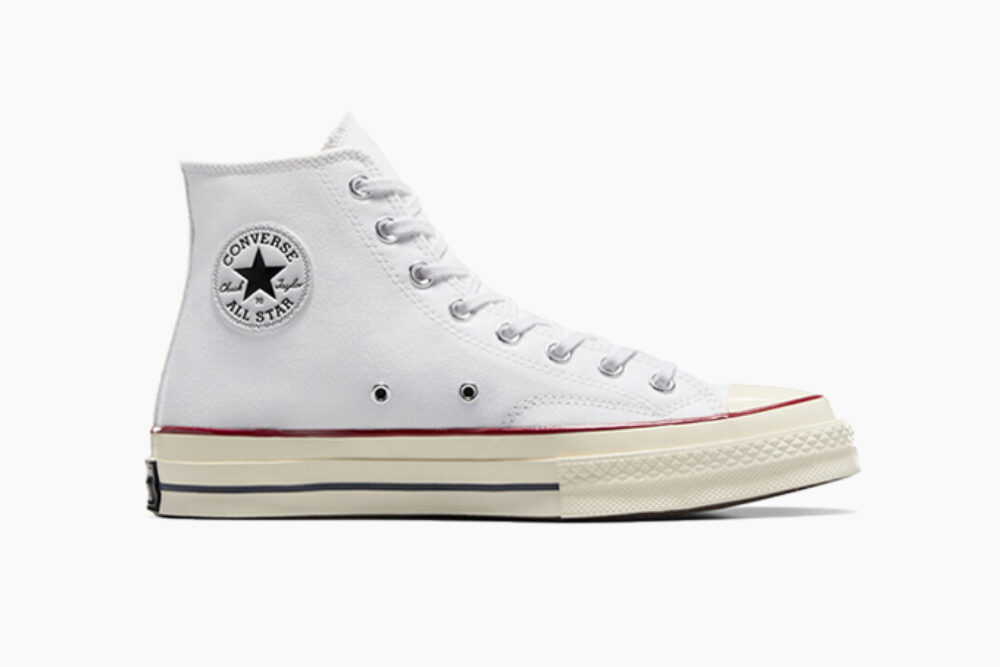 The Safest Bet: As one of the most transcendental shoes ever made, this high-top wonder has been updated countless times since its release all the way back in the 1970s and continues to refine the tasteful silhouette for modern wear. The sneaker's newest iteration is chock full of interesting upgrades, including additional cushioning, improved canvas, and premium materials that bring it into another echelon when it comes to fashionable function. On the interior, you'll find a supremely plush insole, which has been upgraded to offer enhanced arch support and stability, alongside the standardized implementation of an all-new 12-ounce canvas and wing tongue stitch.
Materials: Canvas and rubber
nEW bALANCE bb550
The Upgrade: Whether it's due to constant collaborations, a roster of notable celebrities, people growing tired of wearing the same pair, or all of the above, there's no denying New Balance sneakers have been having a moment for the past couple of years. Style-wise, the famous sportswear brand's lifestyle silhouettes stand out compared to the majority of its catalog, with the BB550 offering the ideal blend of retro appeal and assured longevity, making them about as timeless as any pair here. This colorway celebrates Lunar New Year 2023, so grab it while you can.
Materials: Leather and rubber
Salomon XT-6
The Premium Pair: What's there to say about Salomon's XT-6 that has yet to be made clear in recent years? While the technical marvel only turned 10 years old this year and is practically a baby compared to the age-old names we mentioned thus far, it's become a sensation for a good reason. From its undeniably futuristic look to an onslaught of premium trail-approved elements, the French brand's world-renowned silhouette has practically changed the game, and its lightweight construction will only convince you of that each time you throw them on to run errands or just go on a walk.
Materials: Textile and rubber
adidas Stan Smith Low
Best White adidas: Adidas' Stan Smith is about as iconic as it gets. It's been a part of the company's established lineup for over 40 years, making it one of the oldest silhouettes in production today, and proving its worth as one of the sneaker industry's most influential variants. While modern-day Stan Smith's don't replicate the originals, detail for detail, their minimalist styling, classic colors, and subtle branding harken back to the retro sports shoe that helped to form Adidas' future offerings. As a precursor to the iconic three-stripe design, this all-white example boasts a specialized Trefoil cutout, premium leather upper, and nostalgic lineage.
Materials: Leather and recycled rubber
Nike Air Force 1 '07
Best White Nikes: Nike's Air Force 1 is a legendary shoe that continues to grow in popularity, thanks to its iconic lineage. Over the tenure of the sneaker, the silhouette hasn't changed all that much — it still features a leather, synthetic, or textile upper, depending on which style you buy, encapsulated Air cushioning, and a non-marking rubber outsole to ensure adequate grip from the court to the blacktop. At the shoe's collar, you'll find reinforced padding to promote a snug, comfortable fit, making the Air Force 1 a genre-bending variant that bridges the gap between bulky athletic sneakers, and their street-styled counterparts.
Materials: Leather, rubber, and EVA foam
Reebok Club C
Most Overlooked White Sneaker: Reebok's Club C 85 is an iconic replica of one of the brand's most iconic shoes, implementing a handful of modern textiles, an improved support system, and refined design choices to make it stand out from the crowd. It features a molded sock liner, durable rubber outsole, and a cushioned midsole to ensure a day's worth of comfortable wear. On its exterior, supple leather construction pairs with Reebok's timeless window box logo to create a unique look that's oddly simplistic, but undeniably great.
Materials: Leather, rubber, and EVA foam
Shoes Like Pottery Low Canvas Sneaker
Best Japanese-Made White Sneaker: Shoes Like Pottery couldn't be much truer to its name. The brand's gorgeous sneakers are made in adherence to an ancient Japanese technique called ka-ryu, where each shoe is kiln-fired for over an hour to help meld the rubber sole and canvas together. As you can expect, this process ensures nothing short of longevity, in addition to making the shoes far more flexible and comfortable. Sure, red-bottomed shoes might be a much bigger deal, but these baby blue bottoms are still worth your attention.
Materials: Kiln-fired canvas and rubber
Thousand Fell Court
Best Sustainable White Sneaker: While most brands we already mentioned have begun implementing recycled materials in some capacity, Thousand Fell doesn't skimp on the matter. The brand's latest silhouette features a breathable, recycled upper that's finished with a stain-proof, water-resistant coating to ensure it's built to last. Additionally, the Court sits on a plush recycled rubber insole and is accented with unique details made using coconut, sugarcane, and palm. And, yes, the Brazilian-made shoes clearly fit the bill style-wise, but their positive impact makes them all the more favorable.
Materials: Recycled textile, recycled rubber, coconut, sugarcane, palm
Common Projects Achilles Low Leather Sneakers
Best White Sneaker for the Office: Common Projects' Achilles Low is one of the most renowned contemporary sneakers in the industry, and for good reason; its minimalist construction, clean lines, and simplistic design have enamored sneaker lovers around the world, helping to make the brand something of a fabled namesake. They feature a supremely white silhouette, leather lining, and insole, complimented by unique coding that demarcates the color, code, and size of your specific example. A tonal rubber sole unit acts as the perfect foundation for the Achilles, offering wearers comfortable support, gratuitous padding, and an unmistakable poise that sets the bar for the genre's other offerings.
Maison Margiela Replica Leather and Suede Sneakers
Best Designer White Sneaker: When it comes to keeping things precise, Maison Margiela is the pinnacle, as its high-quality ethos trickles all the way down to its footwear. While the Parisian house's Tabi silhouette typically garners all the attention, its refined Replica lineup has served as a premium alternative to those who could never see themselves rocking the split-toe — to each their own. Crafted using a blend of supple suede and buttery leather and then placed atop rubber soles, this pair is made to last but looks even better once you give them their much-needed character.
Materials: Leather, suede, and rubber
The Best Men's Sneakers To Wear All Spring
Assuming you're eyeing a white pair of kicks because the season's changing, your best bet is checking out the best shoes to rock all spring.