Do you remember that episode of Seinfeld where Jerry bought a jacket that practically changed his life? That's how we feel anytime we pick up a new piece of outerwear. Sure, you might have your go-to, but those that have stood the test of time are often backed by more than what you have to say about what's sitting in the closet. Be it a rich heritage, celebrity co-signs, or an iconic design principle that has kept them prominent throughout the years, there are several options every man should consider adding to his wardrobe. In turn, we have no choice but to scour the market for each one that has stood the test of time and others that aim to follow suit.
The Best Men's Jackets Money Can Buy
The Safest Bomber Jacket

Alpha Industries MA-1 Flight Bomber Jacket

The Premium Bomber Jacket

Golden Bear The Carter Bomber Jacket

The Safest Chore Jacket

Carhartt Duck Blanket-Lined Detroit Jacket

The Premium Chore Coat

Todd Snyder French Blue Chore Coat

The Safest Fleece Jacket

Patagonia Retro-X Fleece Jacket

The Premium Fleece Jacket

KAPITAL Yosemite-Printed Fleece Jacket

The Safest Harrington Jacket

J.Crew Harrington Jacket in Cotton Twill

The Premium Harrington Jacket

Baracuta G9 Modern Classic Jacket

The Safest Leather Jacket

Buck Mason Bruiser Leather Moto Jacket

The Premium Leather Jacket

Schott Natural Pebbled Cowhide Cafe Leather Jacket

The Safest Puffer Jacket

Patagonia Nano Puff Jacket

The Premium Puffer Jacket

Canada Goose Everett Puffer

The Safest Technical Jacket

Arc'Teryx Proton LT Hoody

The Premium Technical Jacket

Vollebak Apocalypse Jacket

The Safest Trucker Jacket

Levi's Sherpa-Lined Trucker Jacket

The Premium Trucker Jacket

Lee 101 Rider Jacket

The Starter Varsity Jacket

Stewart & Strauss Letterman Jacket

The Premium Varsity Jacket

Reigning Champ x Golden Bear Albany Varsity Jacket

The Safest Waxed Jacket

Flint and Tinder Flannel-Lined Waxed Trucker Jacket

The Premium Waxed Jacket

Barbour Classic Bedale Jacket
Bomber Jackets
Born to Fly
Where would menswear be without the bomber jacket? While the MA-1's iconic silhouette was perhaps the first notable style to be used outside of the military, with more and more fashion-oriented men picking up on its style, the bomber was championed by various youth subcultures during the 1970s and 1980s. Today, the classic style piece is adorned in nearly every corner of the world and serves as a nostalgic reminder of our mid-century cultural shift.
Alpha Industries MA-1 Flight Bomber Jacket
Pros
The undeniable OG of bomber jackets
Made by Alpha Industries for the military for over 40 years
Cons
Quality control can be inconsistent, particularly with stitching
The Safest Bet: If your budget for a bomber jacket is $200, do not, we repeat, do not buy anything that isn't directly from Alpha Industries. The mid-weight jacket segued seamlessly into the fashion landscape, albeit hailing from utilitarian, mil-spec usage, deeming it an archetypal example of how tactical attire has had a significant impact on menswear. And, even better, it's built to take on some heavy rainfall — after all, if it was good enough for WWII, it can stand up against a whole lot.
Golden Bear The Carter Bomber Jacket
Pros
Detachable fur collar
Made in the states
Cons
Unless you don't mind paying nearly $1,300 for a jacket, there's a con for you
The Premium Pick: This isn't the first time you'll see Golden Bear on our list, and without appreciation for American-made outerwear, that shouldn't surprise you in the slightest. The humble San Francisco heritage brand's Carter Bomber Jacket is buttery smooth inside and out, boasting a black cowhide exterior, remarkably warm wool body lining, and a detachable shearling sheep fur collar so that every part of your body is only as comfy as you want it to be.
Chore Jackets
Time to Work
Most of the stylish jackets we wear today are derived from an original, hard-wearing variant that was conceptualized for durable use in some of the world's harshest conditions, and the chore jacket is no different. Designed in the late 19th century for France's manual laborers as a means of keeping warm and dry, these minimalist jackets were constructed with preferred materials and utilized a heavy duck canvas or denim as their primary fabric. After making their way to America and becoming mass produced by workwear companies, the chore coat design was refined by the iconic workwear brand, Carhartt, who fostered the design into the future.
Carhartt Duck Blanket-Lined Detroit Jacket
Pros
A classic that's not going anywhere
Pretty affordable
Cons
Ever see something so often that you never want to see it again? For some people, this is one of those things
The Safest Bet: Even though countless people have tried to cut off the signature logo patch, the Detroit jacket remains unavoidable, leaving us no choice but to include it here. The iconic workwear brand's 12-ounce top boasts a revamped lining for even more warmth than it had to offer in 1954. And while the Michigan imprint shed the famous corduroy collar, you can still find it on some corners of the market through third-party stockists — just make sure you zoom in on the photo before adding it to the cart.
Todd Snyder French Blue Chore Coat
Pros
How the chore coat was intended to look
Unique Japanese indigo fabric
Cons
It'll cost you, but it'll last you
The Premium Pick: While American workwear is usually delivered in earthy tones of beige and brown, France's take on the matter has long been connoted with this deep shade of blue. And even though Todd Snyder is based in New York, the clothier's homage to the bleu de travail is unsurprisingly pristine, as it was crafted alongside a team of textile connoisseurs that helped source a particular type of Japanese indigo fabric that garners a gorgeous fade the more you wear it. Of course, it wouldn't be a chore coat without a proper quartet of pockets, all of which are roomy enough for your tools and accessories.
Fleece Jackets
Fuzz Things Up
Although fleece jackets often go hand-in-hand with hiking and outdoor apparel, they are about as versatile and wearable as any option through our guide. Seriously, is there anything more comfortable than one of these? We don't think so, and countless brands today have embraced that notion to a point where we've seen a version of virtually any imaginable jacket constructed using sherpa fleece. Nevertheless, their blanket-adjacent snugness and (hopefully) hard-wearing makeup should convince you enough that these fuzzy pieces aren't going anywhere.
Patagonia Retro-X Fleece Jacket
Pros
Y-Joint sleeves for mobility
Signature odor control tech
Cons
Studies show that you will see someone else wearing this
The Safest Bet: The perennial option in this field was bound to appear here, featuring a sustainable composition that's been co-opted by everyone from café regulars to Instagram influencers. Patagonia's beloved Retro-X Fleece and all its six colorways practically speak for themselves, as you can tell how warm it is at first glance. But it's the sense of comfort throughout — Y-Joint sleeves for mobility, zippered handwarmer pockets, and an internal wind flap — that suggests you're better off buying one already rather than seeing everyone else wear one.
Kapital Yosemite-Printed Fleece Jacket
Pros
Made in Japan
The grail of fleeces
Cons
Expensive and (arguably) a bit overplayed
The Premium Pick: KAPITAL's famous collection of fleece jackets has been lauded by everyone from streetwear enthusiasts to world-renowned style gurus. That said, it stands head and shoulders over any option you'll find on the market if you don't want something super outdoorsy. Each piece is made in Japan using plush cotton fleece and finished with a nylon trim to keep things lightweight. Best of all, the brand offers matching pairs of sweatpants for each of its intricately patterned tops.
Harrington Jacket
Channel An Icon
Harringtons have made their appearance throughout history as a lightweight, waist-length garment. These fashionable pieces of menswear were typically constructed from suede, wool, polyester, or cotton, and made use of their casual profile to transition into pop culture as a McQueen-approved piece of outerwear. After being brought to the market in the 1930s by their original designer, Baracuta, the jacket was adopted by both celebrities and militant U.K. radical groups, becoming synonymous with a hard-cut style and outward appearance. In the west, however, Harrington jackets are often referred to as the quintessential "spring jacket," and have become of a must-have item in most men's wardrobes.
J.Crew Harrington Jacket in Cotton Twill
Pros
A timeless look for less
Several color options
Cons
For the price, there's nothing wrong
The Safest Bet: As masters of prep, it's no surprise to see J.Crew pull off making a great take on this classic. The mall store's spin on the all-time classic is truly not much of a spin at all, as it sticks to the script entirely en route to serving as a great top layer in transitional spring weather. After all, the unfilled piece may not keep you insanely warm, but its point collar and variety of color options are sure to benefit you well style-wise.
Baracuta G9 Modern Classic Jacket
Pros
We can't find one mid-century celebrity that didn't love this thing
Provides solid weather protection for something that isn't a rain jacket
The Premium Pick: Well, well, well, if it isn't the jacket worn by roughly every celebrity under the sun. Baracuta's game-changing sports jacket has been associated with Steve McQueen's character in Bullitt, as one too many people have done their best to replicate the look since — not that we can blame them, though. The vintage design has undergone just a bit of change through its tenure on the market, now offering a much more weather-capable exterior to ensure you can wear it through more strenuous scenarios and maintain an unwavering sense of coolness every step of the way.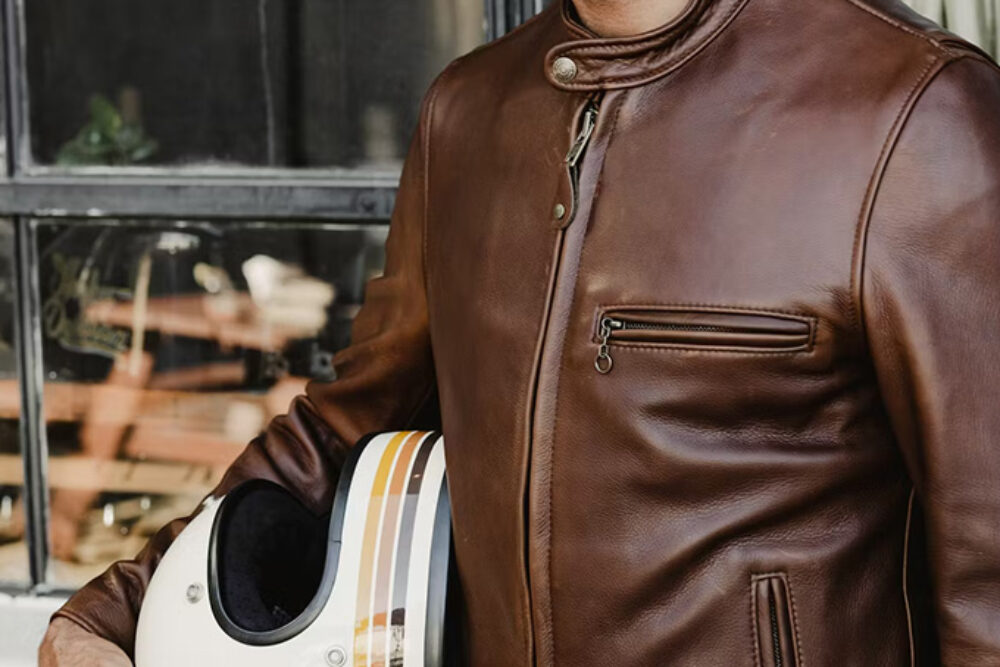 Leather Jacket
For True Rebels
The iconic leather jacket was brought to the masses in 1928 when Schott NYC decided to depart from making garments catered toward the rain, diving headfirst into thick leather fabrics. The jacket was originally sold through a Harley-Davidson distributor in Long Island, New York, and over the next couple decades, it would be popularized by film stars like Marlon Brando in the 1953 classic The Wild One, and worn into stardom by rock and punk aficionados.
Buck Mason Bruiser Leather Moto Jacket
Pros
Garment-washed and hand-burnished
Traditional look
The Safest Bet: Finding an affordable leather jacket is no easy feat, and this pick from Buck Mason is about as good as it gets without breaking the bank entirely. Obviously, $600 is a good chunk of money, but any premium piece of leather is as good an investment piece as any. The ever-so-rugged Bruiser Moto Jacket has that vintage fit most purists look for in any option of this caliber, as well as an asymmetrical zipper and hand-burnished finish for a lived-in look and feel.
Schott Natural Pebbled Cowhide Cafe Leather Jacket
Pros
Made in the states
As iconic as any piece on this guide
Hand-cut cowhide construction
Cons
Its trim fit may not be right for you
Paying an arm and a leg
The Premium Pick: It's not the Perfecto, but it's still perfect. Schott's catalog of USA-made leather jackets is as timeless as it gets, and this cowhide-crafted Café Racer is as great as any, boasting a supple feel and virtually unrivaled look that one too many brands have tried to imitate. Keep in mind that this piece's trim fit was meant to provide motorcycle riders with some extra protection against harsh conditions, going to show that it started out as much more of a functioning piece of outerwear than it a defiant fashion statement.
Puffer jackets didn't start out as the technical, outdoor-oriented garment we know today — in fact, these jackets first found popularity on the runways of America's high-fashion industry thanks to Charles James. At the same time, outdoor enthusiast Eddie Bauer was experimenting with the idea after finding himself in a near-death experience during a frigid excursion. Nowadays, you'll see just about everyone on the streets wearing them in the winter just to try and stay warm — and we couldn't forget about its sleeveless cousin, either.
Patagonia Nano Puff Jacket
Pros
Sustainable inside and out
Great for those who want less puff
The Safest Bet: Made to protect you from most of the elements, namely water, and air, Patagonia's timeless Nano Puff jacket earns the sustainable label a second appearance here. This lightweight top (or mid) layer boasts 60 grams of PrimaLoft Gold Insulation composed of nothing but post-consumer recycled polyester, all of which comes together thanks to Patagonia's proprietary P.U.R.E. tech that helps reduce emissions in the long run. And in case that's not green enough for you, it's all wrapped in a recycled polyester shell.
Canada goose Everett Puffer
Pros
The brand's EnduraLuxe material is insanely soft
Responsibly sourced insulation
Cons
You're spending a grand after tax
The Premium Pick: We could've gone several ways with this pick. Was it going to be Moncler? Moose Knuckles? The answer is none of the above, as we rolled with one of Canada's most notable outdoor outfitters by a mile. This premier puffer from Canada Goose is mainly constructed of EnduraLuxe, a high-performing fabric, then insulated using 750-fill power responsibly sourced duck down and coated with a signature water-and-wind-resistant shell, so you can stay protected from rainfall in any and all circumstances. Best of all, it's finished with CORDURA fabric reinforcements for maximum durability.
Technical Jackets
Engineering At Its Finest
Once upon a time, technical jackets were made from dense fabrics like gabardine that would provide proven weather resistance but weren't completely abject to moisture penetration. In an effort to remedy this, techwear imprints started introducing DWR treatments and fabrics into their modern clothing, pushing outdated materials to the wayside. Now, a number of athletic, exploratory, and heritage brands have utilized newly acquired waterproof fabrics in their gear, and the movement toward well-built.
aRC'tERYX pROTON lt hoODY
Pros
Gorpcore enthusiasts rejoice
Pretty affordable considering it's Arc'Teryx
The Starter: When it comes to techwear, a limited number of brands can hold a candle to Arc'Teryx, and its Proton Hoody is a great way to buy into its catalog without overspending. Packed with Coreloft Compact 80 synthetic insulation and equipped with a No Slip Zip zipper to ensure all heat stays in, the lightweight garment grants you the freedom of movement and breathability necessary for all your go-to outdoor activities, which also include running errands around town — after all, you're still outside.
Vollebak Apocalpyse Jacket
Pros
16 pockets for all your zombie-fighting gear
Cons
Price-aside, absolutely nothing wrong here
The Premium Pick: What's more important than combatting harsh weather? Combatting a bunch of zombies. And what's more important than finding a way to prevent the latter from coming into shape? Making a ridiculous jacket. Vollebak's Apocalypse collection, which also features a pair of matching pants, is the most bizarrely functional piece you'll find through our guide and maybe even the market as a whole. Taking inspiration from the workwear jackets of yesteryear, it features all the classic elements you'd expect, from low-profile snaps to articulated sleeves. Wait, did we mention that it's fireproof yet? Well, it's lava-proof, too, and with 16 pockets to boot.
Trucker Jacket
Dial It Back
Much like the renowned denim jacket, the contemporary trucker jacket was brought to the masses by Levis in 1905. Throughout the years, the trucker jacket has utilized numerous different styles of riveting, doubled pockets, logo buttons, and denim design changes, only to settle on a rough recollection of the original garment for today's modern offering. Style-wise, the trucker has long been a favorite amongst men — retaining an iconic, short, fitted silhouette that's easily recognizable due to its button front and double chest pockets, alongside well-constructed denim. These days, the jacket is a ubiquitous element of men's fashion, with everything from high-fashion designers and style moguls, all the way to heritage and vintage clothing brands releasing their own take on the classic garment.
Levi's Sherpa-Lined Trucker Jacket
Pros
Sherpa lining practically makes it a denim blanket
Still timeless
Cons
Quality is not what it used to be
The Safest Bet: Levi's Sherpa Trucker is based on the jacket that started it all, with a cotton and lyocell construction, a sherpa-lined point collar that features a front snap closure, and an iconic light-denim exterior that will pair well with a number of outfits. A sherpa-lined interior and quilted lining in the sleeves provide wearers with the ultimate in warmth and comfort, while side hem adjusters and a non-stretch silhouette keep you looking proper.
Lee 101 Rider Jacket
Pros
Undeniably classic
Sturdy Japanese selvedge
Cons
You're paying much more here than with the Levi's pick
The Premium Pick: Is it as popular as Levi's option? Not necessarily. Is it better in every sense? Well, some would argue there, but it's hard to find anything to say there, either. Lee's equally iconic 101 Rider Jacket is one that the most voguish fashion houses have had their hand at imitating, and many have pulled it off, but few quite like the heritage brand. Meticulously made using premium selvedge denim from the Kurabo Mill, this world-renowned piece is what you get when a brand has put attention to detail above all else for over a century.
Varsity Jackets
Join the Team
Seem familiar? If not, it should. While we already acknowledged how much of a major role the bomber jacket plays in the average man's wardrobe, its preppier, often-embellished cousin in the varsity jacket has something to say about it. While the collegiate-inspired piece first served as a go-to for jocks and high-level athletes, it's become an undeniable part of the high-fashion world, as well, much in part to several brands that have been churning out eye-popping takes on the matter — albeit accompanied by jaw-dropping price tags.
Stewart & Strauss Letterman Jacket
Pros
Made in the states
Can be personalized
Cons
At this price, we have no complaints
The Safest Bet: If this jacket looks familiar to you, it's probably because it's appeared in countless films, TV shows, music videos, and just about any form of recorded footage, including a varsity jacket. The humble brand's infinite variety of varsity jackets boasts the typical construction you should look for in this department: a warming wool body and smooth leather sleeves. What's most enticing, though, is the exhaustive customization options, allowing you to add personal lettering, button snap colors, and every other little detail.
Reigning Champ x Golden Bear Albany Varsity Jacket
Pros
Reigning Champ and Golden Bear… we can't ask for much more
Another USA-made option
The Premium Pick: As we said earlier, Golden Bear was bound to spend more time in the spotlight — the sportswear imprint is simply too integral to ignore. This time around, the California brand worked alongside one of our favorite athleisure labels in Reigning Champ to put a duo-chromatic spin on the matter using the latter's simple palette. Colors aside, the NorCal-Canadian crossover doesn't shy away from including all the elements that made the silhouette so classic, to begin with. This includes but is not limited to, a satin-quilted lining, brawny wool ribbing, and a set of reinforced panels to ensure this investment piece lasts a lifetime.
Waxed Jackets
Tackle the Elements
Many would are that waxed jackets served as the initial iteration of techwear, as their unique construction deemed them capable of warding off all sorts of things from harsh weather to jagged materials. Garment engineering aside, It's safe to say heritage menswear wouldn't be what it is without this particular piece, and this year proved that entirely thanks to one specific jacket donned in a specific show that went on to sweep that nation and tilt the fashion landscape on its head for a week or two.
Flint and Tinder Flannel-Lined Waxed Trucker Jacket
Pros
Cut and sewn in L.A.
It's not TV, it's HBO
Cons
Sleeves are a little too long
The Safest Bet: Unless another choice comes around to take its crown, Flint and Tinder's locally-made flagship will end up being the most talked-about jacket of 2023. Much in part to Pedro Pascal rocking it on HBO's The Last of Us, there's no denying that it serves as much more than just another trendy piece of workwear. Its ridiculously rugged, weather-resistant exterior is composed of Martexin 7-oz sailcloth that's been waxed on both sides, promoting insulation throughout for warmth's sake. Plus, with four roomy pockets, you can load up all your zombie fighting equipment just like Joel.
Barbour Classic Bedale Jacket
Pros
Cozy Classic Tartan lining
Handwarmer pockets
Cons
A bit too old-timey for some
The Premium Pick: Barbour outerwear is a testament to timelessness, and its Classic Bedale Jacket serves as no less. The heritage brand's waxed cotton layer already provides weather protection on the outside, but that Classic Tartan cotton lining makes the interior so enviously warm. In case that's not enough to pick you up through a tough forecast, its pair of roomy hand warmer pockets and plush corduroy collar are all bound to do the trick.
Boutique Men's Style Brands You Should Know
It should come as no surprise that most of our picks come courtesy of our favorite clothiers. Check out our guide to a collection of boutique style brands you should know for a better idea.