Throughout history, many different outerwear garments rise to prominence, fall into obscurity, or weather the storm as an understated staple. For the Pea Coat, this story is all too true. Unlike its more popular counterparts, the iconic style piece has undergone many a tumultuous change, transitioning to different echelons of popularity within the general populace. Luckily, fashion-minded men everywhere have continued to utilize the Naval garment in a variety of ways, contributing to its preservation, evolution, and success. Below, we'll dive into a handful of our favorite offerings from around the space, and give you an insight to the proprietors adapting the coat for a more contemporary audience.
Naval Style
The Peacoat's History
After becoming one of the most dependable military garments of all time, the nautical staple began to make its rounds within the civilian population. It was sleek, stylish, and durable, offering wearers the lauded warmth that they'd heard so much about from sailors and dock workers. Over time, it became a symbol of timeless taste, and after the 70s, the coat was confined to smaller circles of stylish men who sought to keep the vintage style alive. These days, the outerwear garment is inherently attached to its militaristic background, remaining a tried-and-true essential in the face of newer, cutting-edge styles. Now, let's dive into our picks for the best men's peacoats on the market today.
John Henric Blue Peacoat
Starting off simple (and impressively warm), this durable piece from John Henric is a great foray into the world of this classic, militant garment. The coat is made using premium Italian materials and elements of polyester, which come together to form a water-resistant piece that has enough longevity to last you countless winters. For a sophisticated look and even warmer feel, pair it with one of the Swedish brand's minimalist scarves.
Land's End Insulated Wool Peacoat
The Land's End Wool offering is equally as viable as a stylish cold-weather garment. It boasts a soft, hand-brushed wool composition, a hearty helping of Primaloft Silver insulation, and an oversized collar/throat-latch that'll keep the wind from biting at your torso during those deplorable winter outings. Obviously, Land's End's model draws heavy inspiration from the original garment, introducing authentic details like dual handwarmer pockets, a double-breasted, buttoned front, and a fully-lined interior for increased warmth retention as you take on the outdoors.
Schott NYC Classic Melton Peacoat
Schott NYC might be famous due to its timeless leather jackets, but that doesn't mean that it's any less proficient when it comes to other styles. The brand has dabbled in a handful of history's most timeless offerings, including the Pea Coat. Its Classic Melton Wool, for example, is an attractive retelling of the nautical icon, adopting a 32-ounce wool construction, a quilted interior lining, and military-inspired anchor buttons for true authenticity. But it doesn't end there. It's also outfitted with a vented back, two interior chest pockets, and a pair of capable hand warmers, paying homage to the genre's oldest dock-fairing models.
Pendleton Water Resistant Wool Blend Peacoat
If you're a fan of heritage brands whose whereabouts are about as American as apple pie, odds are you'll appreciate this weatherized piece of outerwear from Pendleton. The water-resistant piece features an asymmetric button fastening for a unique look and even boasts a trusty insulated lining to provide maximum warmth when the frigid temperature calls for it — which it definitely will around this time of year.
Buck Mason Melton Admiral Peacoat
Buck Mason's traditional take on the naval peacoat is fit for people who want to wear something different from everyone else — even if it's only by the slightest margin. The wind-resistant outerwear is composed of rugged Melton wool, a common material used for making peacoats due to its uber-thick weave that has kept seafarers substantially warm for decades. This option is lined with smooth, brushed-back Japanese satin for an added luxury touch.
Banana Republic Italian Melton Peacoat
While the mall-core brand may not typically be a buyer's first choice, this surprisingly great pick boasts a similar composition to some of our favorite high-end peacoats. This is primarily thanks to its hefty, Melton wool-crafted makeup that deems it as warm as necessary for the winter months. Best of all, though, it has a lush shearling lining to keep you as warm as possible for the season lying ahead.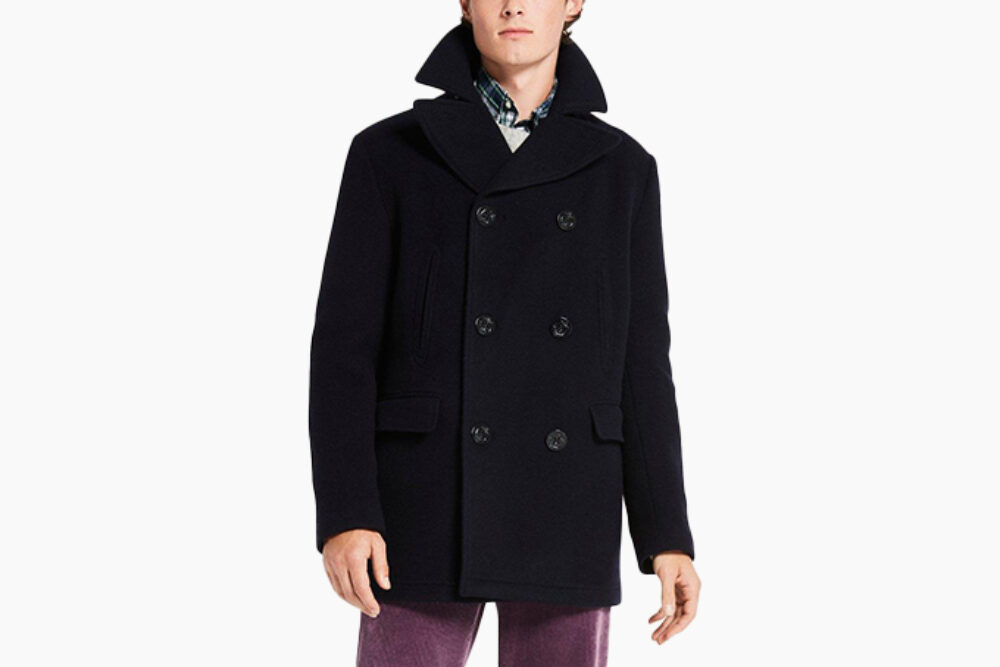 Brooks Brothers Iconic Wool Peacoat
Brooks Brothers is a go-to proprietor for some of menswear's most illustrious styles, so it comes as no surprise that the brand also trades in timeless classics like the Pea Coat. Its Iconic Wool offering boasts an archival layout that pays homage to the genre's earliest models, incorporating Barberis wool, a diamond-quilted interior, and corduroy detailing to give it an edge over its peers. To keep things contemporary, the outfit has also filled the garment with Thermore insulation, providing a wind- and water-resistant membrane to battle the elements as they come. Naturally, a style piece of this stature will include plenty of pockets. Wearers are gifted with two interiors, and two exterior storage areas, helping them to store their favorite EDC essentials with ease.
Polo Ralph Lauren Wool-Blend Melton Peacoat
One could argue that this is the quintessential peacoat, especially when you account for the price, sturdy composition, and unabashed ability to keep you warm. Above all else, it comes from an iconic American brand as any. Polo Ralph Lauren's Wool-Blend Melton Peacoat is sewn with a tailored fit for a slim look before being finished with a septet of the brand's signature corozo buttons for a classy touch. Wear it with trousers, jeans, corduroys, or whatever you see fit.
Mission Workshop Bridgeman Peacoat
Mission Workshop continues to enamor with its durable, utilitarian clothing, but who knew that they'd take a step back in history to create the Bridgeman Pea Coat? Regardless of our surprise, the winterized staple is one of the most technical offerings on this list, thanks to its three-layer waterproof soft-shell construction, four-way stretch fabric, and windproof design. Obviously, this allows it to stand toe-to-toe with Mission Workshop's other offerings, adopting high-performance polyester fleece, zippered pocketing, and a convertible funnel collar to complement its insulated demeanor. If you're looking for a functionally-efficient icon that can help you to weather the storm (on even the most dastardly days), the Bridgeman will undoubtedly be your trusted companion.
Billy Reid Bond Peacoat
Billy Reid revels in the creation of stylish, eye-catching garments, and the Bond Pea Coat is no different. Whether the outerwear piece was named in homage of the infamous international super spy, or it adopts its title from Reid's favorite Bond Street store, this sleek example goes above and beyond in terms of suave styling, incorporating a melton wool material for increased warmth, a luxurious calfskin trim, and genuine horn buttons at its front. If that's not enough, the designer has opted for an aesthetically-pleasing leather undercollar, a more relaxed, layering-friendly fit, and lighter fabrics to keep wearer fatigue to a minimum.
Todd Snyder Italian Wool Cashmere Peacoat
Like anything from Todd Snyder, the eponymous brand's luxurious peacoat is a testament to timeless style. This particular silhouette is crafted from a buttery soft blend of cashmere and wool, deeming it warm enough for a night out and stylish enough for a five-star restaurant. The double-breasted piece is available in over a handful of colors, so you can align it with the rest of your wardrobe for the perfect sartorial look.
Rag & Bone Cambridge Wool Coat
We're huge fans of Rag & Bone's sweaters and jeans, but that doesn't mean it can't make anything of excellent quality. The NYC-bred label's Cambridge Wool Coat is the fashionable embodiment of traditional British style. However, it garners an eye-popping touch of color thanks to its bright blue-lined interior. All in all, the navy-colored piece's 75% virgin wool makeup is bound to keep you as warm as necessary, and it even has a convenient back vent in case things start to heat up too much.
Mackintosh Dalton Wool and Cashmere Blend Peacoat
While this is eerily similar to the previous pick from TS, it's impossible to overlook this century-old outerwear brand in a space it typically dominates. The globally recognized outerwear manufacturer's high-end coat blends its affinity for weather protection, consistent fashion, and straying away from the trends, deeming it a technical choice that will seemingly not go out of style. After all, the brand has been around for over 200 years.
Stone Island Asymmetric Button Fastening Peacoat
Stone Island's technical prowess practically ranks second to none; as a matter of fact, the Italian imprint is so well-known for its high functionality that its signature, dystopian sense of style can tend to get overlooked. This clever piece is one of our favorites on the market due to its high-end blend of materials and innovative design. With its off-kilter button fastening and (somewhat) lightweight polyester composition, this peacoat is remarkably versatile and prepared to tackle winter winds and occasional rainfall.
Officine Generale Amir Coat
When it comes to high-end pieces, there's truly no room for error when picking something up from Officine Générale. In this instance, there is no exception, as the brand's hefty Amir Coat offers all the necessary traditional elements of a peacoat while highlighted by a runway-appropriate look. The garment is equipped with wide notch lapels and meticulous piping at the chest area for a stylish touch that's hard to ignore; but, above all else, it comes in this gorgeous shade of olive green that is simply too cool to ignore. Wear it with matching trousers or light brown corduroys if you're looking to pull it off to a tee.
The Best Men's Winter Coats and Jackets
Make sure to keep warm when the season calls for it with help from our guide to the best winter jackets and coats.