Oct 27, 2021
Category: Style
Finding the perfect jacket or coat for every different season might seem like a daunting task; after all, depending on the severity of your location's weather, seasonal changes, and environment, your decision will sway based on your own specific needs. While a heavy, down-filled variant might not be viable for those who live closer to the equator, and a light, featherweight example might seem outlandish for individuals up north, the windbreaker falls directly in the middle of the market, providing wearers with a well-rounded garment that's been built to take on a variety of seasons.
The windbreaker is a versatile piece of outerwear that's made a name for itself as one of the most adaptable styles around. It comes in a variety of different shapes, styles, and flavors, but throughout the entire range, lightweight, compact construction has become an unwavering facet that's relatively non-negotiable. As such, the style provides wearers with protection against inclement weather, without taking up a large portion of your inventory, making it an attractive offering for adventurers who want to keep weight to a minimum, and capability at the max. Below, we've outlined a few of our favorite offerings, from well-known names like Columbia and The North Face, to technical companies like Arc'teryx and Helly Hansen, you'll be sure to find the perfect lightweight peripheral to don when the weather takes a turn for the worse.
Columbia Challenger
When it comes to affordable, all-encompassing windbreakers, Columbia's Challenger is hard to match. This 90s-inspired jacket is a lightweight, water-resistant pullover that was conceptualized to battle the elements in style while providing a dependable garment for year-round use. At its front, an oversized pocket and Columbia logo provide the perfect complementary pair, accompanying the Challenger's waterproof fabric overlay, adjustable hood, and a drawcord adjustable hem to keep its drop-tail design decidedly modern.
H&M Windbreaker
H&M has your back on virtually every level, and the company's aptly named Windbreaker jacket is here to quell your wet-weather fears. Each example boasts a durable woven fabric that's been lined with mesh for the ultimate in breathable wear, working alongside a fashionable drawstring hood, front zip, and welt side pockets to provide buyers with a great-feeling piece of outerwear. To set it apart from its competitors, the Windbreaker has also been outfitted with both thick-ribbed cuffs and a similarly-tailored hem.
Mountain Hardwear Ghost Lite
Mountain Hardwear's Ghost Lite windbreaker is a great-looking jacket that's one of the lightest in the industry. At only three-ounces, this adaptable variant incorporates a handful of weather-resistant properties alongside an optimized shell that's been tailored for cross-training use, providing buyers with a featherweight garment that doesn't skimp on style. It's comprised of a 15D water and wind-resistant face fabric and can compress down into a proprietary pocket for immediate storage, making it especially useful as adverse conditions decide to change. To keep the jacket's silhouette as versatile as possible, it also features a low-profile hood stow system at the back collar and reflective branding for increased visibility across a variety of different applications.
Adidas Tiro
Adidas' Tiro windbreaker is a simplistic variant that errs on the edge of minimalistic design. This lightweight variant was made to keep soccer's most promising stars protected from adverse weather as they waited on the sidelines but has transitioned into the realm of everyday wear thanks to its sleek, urbanized silhouette, and hard-wearing fabric composition. It's been outfitted with a breathable mesh lining to make it an attractive proposition for year-round use, and thanks to the inclusion of various zip pockets and an adaptable hood, the Tiro looks to provide a well-rounded variant for buyers who want to train like the pros.
Nike Windrunner
Nike's Windrunner windbreaker is a descendant of the brand's quintessential sports pullover, and just like the original variant that was released all the way back in 1978, it calls upon a minimalistic style to keep it both fashionable and functional. To keep it in-line with contemporary offerings, it's been outfitted with a breathable mesh lining, water-resistant taffeta fabric, and ribbed cuffs for the ultimate fit. On its chest, you'll find the company's iconic chevron logo, harkening back to the lauded original.
The North Face Fanorak
The North Face Fanorak is a testament to the company's characteristic approach toward outerwear, offering a stylish variant that's filled to the brim with cutting-edge fabrics. This wind and rain-resistant pullover adopts the fanny-pack-style kangaroo pocket that's become synonymous with the windbreaker silhouette, calling upon powerful WindWall technology, an adjustable hood, and cuffs and a screen-printed logo on the jacket's left chest to keep it in-line with the brand's other offerings.
Outdoor Research Helium II
Outdoor Research's Helium II windbreaker is a 100% waterproof example that boasts some of the industry's most sought-after tech, including flash-storm protection, Pertex Shield 2.5L fabric, a durable nylon construction, and 30D ripstop throughout. Even though it's packed with innovative fabrics, the Helium II stays true to its name by retaining one of the lightest silhouettes on the market, clocking in at a featherweight 6.4-ounces, and packing down to the size of a sandwich when not in use.
Helly Hansen Seven J
Helly Hansen is a household name when it comes to ski and snow attire, but that doesn't mean that the company can't make a quintessential windbreaker. The Seven J is one such variant, offering buyers a clean, classic take on the outdoor staple, and reinventing it with a fully waterproof exterior, storm flap, and quick-dry lining. Inside, you'll find Helly's revered HELLY TECH protection, a durable two-ply fabric construction, and a proactive DWR treatment to keep you dry, even in the harshest downpour. Pair that with the Seven J's windproof but breathable silhouette, and you're treated to one of the finest offerings in the industry when it comes to lightweight wear.
Patagonia Houdini
Patagonia's Houdini windbreaker is a fan favorite, and any list wouldn't be complete without its inclusion. This transcendental variant is created with a 100% recycled nylon construction, and boasts the ultimate in weather-resistant protection, thanks to its lauded DWR finish, half-elastic cuff system, and a drawcord hem, alongside a zippered chest pocket that transitions into a stuff sack, and features a reinforced carabiner clip-in loop for added strength. Each example retains its featherweight stature and arrives Fair Trade Certified, so you can have peace-of-mind knowing that the Houdini won't let you down when the going gets rough.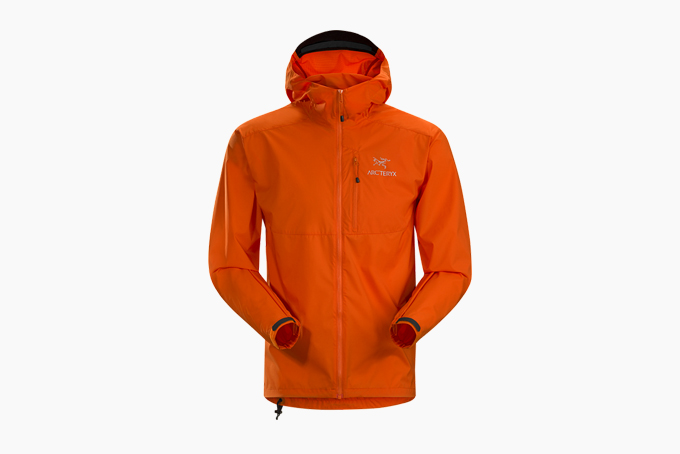 Arc'teryx Squamish Hoody
Arc'teryx's Squamish windbreaker is an exercise in transitional outerwear, resulting in a near-perfect offering that superlight, compact, and durable. On every front, the Squamish provides wearers with an above-average experience; from its wind-resistant properties to its No Slip Zip front zipper and recommended use atop an air-permeable mid-layer, the windbreaker remains extremely light and mobile, while promoting everyday wear through its minimalist construction. It's been enhanced for functions like hiking, biking, and climbing, thanks to internal guessing and patterning, and retains its versatile composure via an integrated StormHood that can be closed/secured through the use of one-handed drawcords.
Black Diamond Alpine Start
Black Diamond's Alpine Start windbreaker takes a different approach to the classic outdoor style, bringing Schoeller's famed stretch-woven softshell fabric and a highly-breathable alpine construction to the forefront. Like most of the company's gear, it remains performance-focused, exhibiting various qualities that were implemented for use on the mountain. You'll find a weather-resistant exterior, gusseted construction, and packability that rivals the industry's best offerings, making it a key component of any explorer's gear setup. Luckily, this technical example transitions to urban wear rather easily, thanks to its lightweight stretch cuffs, drawcord hem, and Bluesign-approved primary fabric.
Outerknown Borrasca Breaker
Outerknown's Borrasca Breaker is a classic peripheral that boasts a number of contemporary improvements. Within, you'll find an unlined construction made with recycled polyester, a packable hood, waterproof AquaGuard zippers, and adjustable cuffs to keep inclement weather at bay. Each example has been outfitted with a DWR treatment to keep it as resistant as possible when it comes to external inhibitors and packs down for ease of access when the weather takes a turn for the worse. Better yet, Outerknown's commitment to sustainable manufacturing holds true with the Borrasca — each variant is made using raw material waste that rids the world's oceans of destructive plastic.
Carhartt WIP Nimbus
Carhartt WIP is a household name when it comes to technical workwear, but with the brand's Nimbus windbreaker, buyer's have been subjected to a stylish offering that's right at home on the city streets. This 100% nylon Supplex garment is made using durable, water-repellent Teflon fabric, a comfortable and capable fleece liner, and an adjustable hood and bottom band to keep things secure through a variety of different weather types. If you're looking to stow your EDC gear, the Nimbus also boasts a handful of pockets with hidden zippers and a side opening that's perfect for hidden storage.
Roark Recon
Roark's Recon windbreaker was built to take on the world's most extreme climates, and look good while doing it. Each variant boasts a 20k/15k waterproof breathability rating and comes outfitted with a durable 2.5 Layer shell, a high-function active design, and a zip-off hood that lends itself to that of an old-school coach's jacket. To keep you protected from adverse weather, the Recon has been fully seam-sealed, and even packs down into a compact interior pocket to stow away easily for use at a later date.
Lululemon Outpour
Lululemon's Outpour windbreaker is an athletically-inclined offering that holds true to the company's lineage of minimalistic outerwear. This stylish variant is fully waterproof and utilizes Glyde fabric for the ultimate in functional readiness while retaining a breathable, vented silhouette that's also meant to keep your body temperature down as you head into more athletic endeavors.
The 15 Best USA-Made Pieces Of Training Gear
The windbreaker fulfills a number of uses when it comes to prolific athletic applications, but if you're looking to dive deeper into the realm of authentic outerwear, head over to our guide on the best training gear made in the USA for a closer look at sports' most lauded styles.
HiConsumption is reader-supported. When you buy through links on our site, we may earn an affiliate commission. Learn more