While windbreakers have been a prominent fashion choice dating back to the '70s, a decade ironically connoted with both emerging environmental cognizance and figuratively washing the hippie movement away, the lightweight protective jacket style can trace its roots back centuries. Though primarily crafted to take on chilly winds and a light drizzle, the modern market dictates that the ubiquitous garment can offer much more than mere wind protection. What's often been referred to as the quintessential layer for spring doesn't need to be worn only through the warmer months these days, as countless notable brands are manufacturing top-notch windbreakers for the sake of annual wear and elemental protection.
Sure, the average windbreaker is often considered a sleek, sporty touch to any outfit, but there is far more to it than that. Many of the premier offerings of its kind that you may find nowadays boast optimized insulation and meticulous composition, both of which are intended to provide the perfect wind-resistant jacket for whenever you find yourself on the trails, on an early morning jog, or simply meandering through the city. Needless to say, there are few pieces more versatile than the quintessential nylon garment, so we rounded up a steady collection of the best windbreaker jackets for men that you can buy now.
K-Way Le Vrai 3.0 Leon Anorak
K-Way has been known for doing things its own way, and the brand's sleek French-named anorak serves as an optimal entry-level piece. The Leon falls in line with the brand's Le Vrai 3.0 collection, and it's cut from a branch of water-resistant nylon that is so lightweight you can barely tell it's there. For added convenience, K-Way's navy blue garment is rounded out with an adjustable hood, as well the brand's signature striped detail along the zipper for some added flair.
The North Face Venture 2 Jacket
It's impossible to go wrong with anything from the renowned Northern California label — and we mean anything. Even the brand's more rudimentary choices serve as an archetypal option for others to abide by, and its Venture 2 is just one of many. Built to battle frigid winds, the jacket makes good use of the brand's patented DryVent fabric all the while remaining lightweight. Available in an octuple of colors, you can tailor The North Face's flagship windbreaker to your liking.
Mountain Hardwear Acadia Jacket
Mountain Hardwear's Acadia Jacket was built for everyday situations and is available in a variety of colors, allowing you to make it as flashy or as subtle as you prefer to be. The outdoor-centric brand's windbreaker's shell is composed of full-on recycled nylon and even comes equipped with a pair of pit zips to rid yourself of any unwanted warmth. If you're in the market for a lax-fitting jacket with some gargantuan pockets equipped to take on your gear, then the Acadia is meant for you.
Smartwool Merino Sport Ultra Light Hoodie
Smartwool has been pumping out "climate-positive" gear since 1994, and the brand is well-aware of the big picture. The Colorado-bred company's Merino Sport Ultra Light Hoodie is one of many nameworthy garments in its catalog, crafted from recycled nylon and equipped with body-mapped Merino Sport mesh panels for the sake of optimizing temperature in all situations. Additional weatherized protection comes courtesy of a DWR finish that lacks any sort of chemical treatment, making for a decidedly eco-friendly piece.
Patagonia Houdini Air Jacket
Patagonia's Houdini is one of the more ubiquitous windbreakers around, but the brand's upgraded iteration is a bit more noteworthy due to its Pertex double weave construction that makes way for increased airflow next to the skin, preventing you from overheating or getting uncomfortable during strenuous activities. That takes care of the "Air" moniker, and as far as the "Houdini" section of the name is concerned, well, the jacket also features a zippered chest pocket that converts to a stuffsack, allowing it to perform quite the disappearing act.
Filson Swiftwater Rain Jacket
Filson is well aware of what it takes to make it through rough terrain, which is why its packable offering is a quintessential pick for fans of American-made attire. The Swiftwater Rain Jacket boasts a 2.5-layer shell fabric composition that is further bolstered by its waterproof membrane. That's not the only water-repellent element about this piece, as it also features a trio of YKK's patented AquaGuard zippers. Plus, it has a pair of velcro-adjustable cuffs for the sake of additional warmth. Lastly, it weighs in at a feather-like 13.4 ounces, so it's as portable as they come.
Ortovox Merino Windbreaker
What could be more ideal than a year-round jacket crafted from one of the most desired textiles? As far as we're concerned, not much, which is why Ortovox's windbreaker made from merino wool is an easy choice here. As part of the brand's noteworthy Merino Product collection, this particular piece's 55% merino fiber composition is to thank for its enviously soft touch, odor neutralization, and temperature regulation.
Carhartt WIP Nimbus Pullover
Carhartt WIP's Nimbus is one of the brand's more reputable pieces, as it can easily be mistaken for a standard piece from Carhartt themselves. Geared for every time of year, there's little room for error when picking anything up from the heritage brand's streetwear subdivision, and the nylon-crafted pullover serves as no exception to the rule. For added elemental protection, it is entirely coated with Teflon and finished off with an adjustable hood. To make it even more personal, the jacket is offered in as wide an array of colors as any brand that appears here.
Arc'teryx Atom SL Hoody
While Arc'Teryx has earned insurmountable credit for assisting in the new-age 'Gorpcore' trend, the brand has been around for much longer than many even know. Dating back to 1989, the Canadian designers have managed to do no wrong, and its Atom SL Hoody is an encapsulation of the brand's prowess. Serving as one of Arc'teryx's more accessible pieces from a sheer price perspective, the jacket still boasts many of the features that make the brand's pricier ones so highly coveted nowadays, like man-made synthetic insulation, effortless portability, and a variety of colors to fit your wardrobe.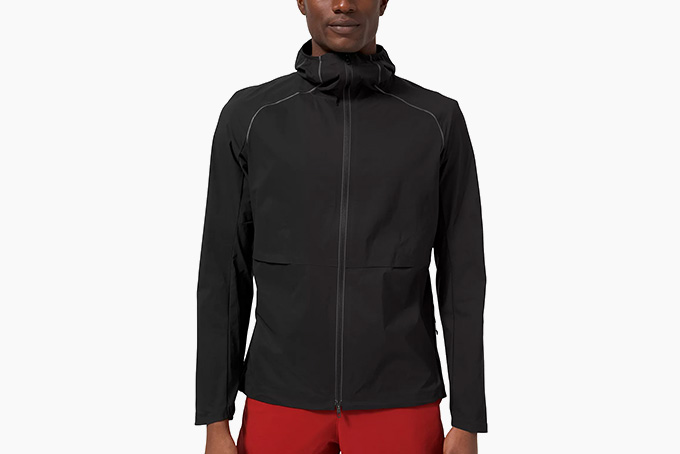 Lululemon Fast and Free Windbreaker
lululemon is one of the more renowned athleisure brands around, so it only makes sense for a garment that practically defines the branch of fashion to appear on this list. The Canadian performance label's Fast and Free Windbreaker is a remarkable piece of outerwear, as it boasts a 360-degree ventilation system that allows air to go move around your body as you run across whatever trail you're on — which comes as no surprise, as it is very much intended for running. Lastly, the windbreaker is rounded out by its cozy high neck, handy back pockets, and sleek reflective details, all of which come together to make this jacket an ideal piece for any athlete.
Comfy Outdoor Garment Windbreaker Shell Overshirt
This interesting take on the rather consistently similar silhouette is easily one of the coolest windbreakers on the market. The workplace-appropriate piece from the Japanese brand is crafted entirely from nylon and is rounded out by its business-casual shirt collar, as well as an ideal set of snap-fastening cuffs. Needless to say, this will surely catch the attention of office peers and will keep you dry on your way in. Living up to the brand's namesake, this looks to be quite the Comfy Outdoor Garment.
Outerknown Apex Jacket by Kelly Slater
Outerknown's maxed-out Apex Jacket was meticulously crafted by transcendent surfing legend Kelly Slater, the brand's founder himself. It is composed of a mightily-durable, water-repellent 4-way stretch fabric that is ideal no matter what the forecast may have in store. Capable of neatly packing right into its sleek hood, there's no question that the Apex Jacket will serve as a great pick when you're out on the move. On top of all that, it is Fair Trade Certified and falls in line with the remainder of Outerknown's sustainable mission statement.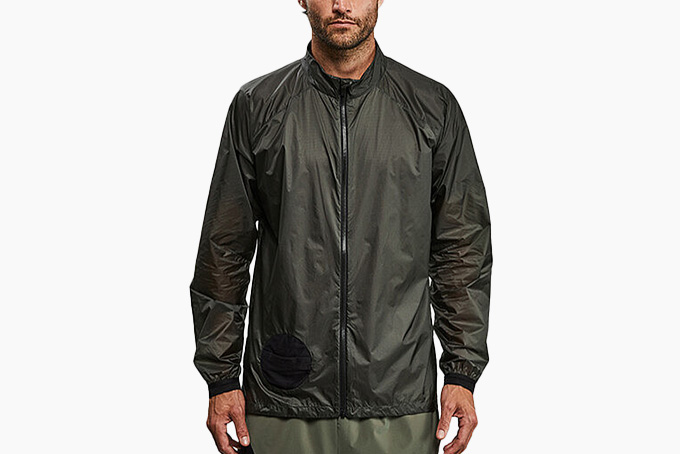 Vollebak Race to Zero Jacket
Bar none, Vollebak is one of the more innovative brands on the market. The British band of adventurers' Race to Zero jacket serves as a fitting piece to fully display what makes them so special. For starters, it is the brand's lightest jacket by a mile and is built to endure lots of them — miles, that is. The remarkably light 85-gram jacket was crafted with ultramarathon runners in mind and features 27 laser-cut vents for optimized breathability while still managing to remain water repellent and impressively windproof — it is a windbreaker, at the end of the day.
Veilance Rhomb Jacket
Veilance's GORE-TEX-bolstered Rhomb jacket is as lightweight as it gets, whether you plan on wearing it or packing it into its convenient pouch. For added practicality, it institutes SHAKEDRY product tech, making this sleek piece from Arc'Teryx's premier techwear subsidiary impeccably lightweight without shedding its waterproof prowess. An added benefit of its minimalistic makeup is the fact that it's easily wearable in practically any climate, while still offering unrivaled mobility in the rain. Lastly, the Canadian brand's patented StormHood is lined with reflective accents for visibility's sake.
Helly Hansen Odin Mountain Infinity Shell Jacket
Helly Hansen's immaculate catalog of outerwear is all the more reason to keep the Norwegian brand in mind. This top-notch windbreaker makes use of the brand's trademark LIFA Infinity Pro-tech, which is composed of ultra-sturdy, three-layer fabric construction and provides incredible water repellent specs while lacking any form of chemical additives. To no surprise, Helly Hansen's premier Odin Mountain Infinity Jacket maxes out in all but one of its performance categories, ensuring unadulterated breathability, durability, and no need to worry about the wind.
The Best Packable Travel Jackets
While most packable jackets are windbreakers, not all windbreakers are packable jackets — do you see where we're going with this? Luckily, we looked ahead of the curve and scoured the web to deliver a trusty guide on the best packable jackets to take on your next vacation, be it a tropical escape or woodsy adventure.