Techwear's roots are deeply embedded in the history of Italian fashion, which shouldn't come as a surprise considering the nation's various artisans tend to excel at crafting just about everything — from cars to wine — to an impeccable standard. One of the renowned labels that brought the branch of fashion to life was the Ravarino-based Stone Island, which was founded by a pioneer of the movement in the late, great Massimo Osti. Fusing high-quality technical materials with everyday wear just makes too much sense, and when Stone Island starting doing it in outerwear, it was difficult to imagine why most brands hadn't attempted to do the same — until just about every single one decided to do exactly that.
From designer labels to department store brands and just about everything in between — including on the outskirts of high fashion — technical jackets are most certainly not the dying breed many people insisted they were becoming in the early 2010s. On the contrary, they only seem to be increasing in popularity, and it's now safer than ever to say that techwear isn't going anywhere, as each high-end brand that decides to provide its own tailored take on the genre just goes to show that this branch of fashion is far from just another fad. But with an ever-changing market, it can be tough to figure out which technical jackets — that is, those that fuse performance materials with a futuristic streetwear aesthetic — are worth purchasing for yourself. Luckily for you, we've deciphered the ins and outs behind this particular scene in the garment industry to deliver this guide to the best technical jackets for urban environments.
Isaora Asym Track Jacket
Leave it up to a New York-bred brand to craft an ideal entry-level piece for an urban environment. Inspired by the sheer idea of adventure, Isaora has been around since 2008, and this particular training jacket is an ideal showcase of what they've done since: deliver subtle-looking gear revolving around maxed-out performability. Their Asym boasts a sleek laser-cut composition, 4-way stretch abilities, and is entirely water-repellent, serving as an ideal introduction to the world of technical outerwear.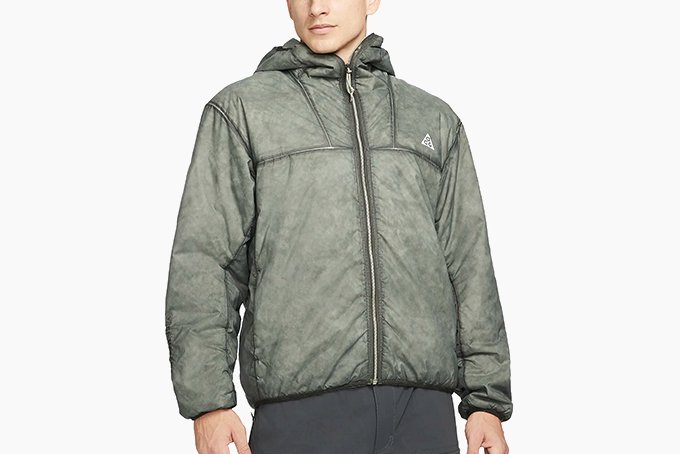 Nike ACG Therma-FIT ADV Insulated Jacket
Dubbed the "Rope de Dope," this eco-cognizant jacket from Nike's winterized branch is a flawless example of why not to judge a garment by its name. Though it's a little zany, the Rope de Dope is named after a famed trail in Smith Rock State Park, which can be found in the Swoosh's native stomping grounds of Oregon. Crafted from no less than 75% recycled polyester and nylon, each individual garment is ASUTEX dyed, which results in a far lower chemical imprint and makes each jacket unique in its own right. Bolstered by Therma-FIT ADV insulation and equipped with a bevy of zippered pockets, the Rope de Dope is a trail worth walking on.
Riot Division Combat MVP Jacket
Riot Division's MVP jacket is another piece that abides by its namesake, serving as an incredibly valuable garment that's built to take on the most frigid temperatures. Composed of a waterproof 8000/8000 three-layer membrane, the Ukrainian brand's offering is inspired by the British Army combat jacket. Finished off with a fleece-lined neck and a pair of water-resistant zippers with a magnetic storm flap, the intricacies that go into this black-on-black piece are more than meets than eye.
Seven Layer Half-Zip Snow Smock
While the last listing's inspiration hails from the UK, this particular one was legitimately crafted in the British Isles. Seven Layer's sleek half-zip was built for the snow and will help camouflage you in it, too. Thanks to the Snow Smock's DWR finish and fully taped mesh membrane, you stay dry and cozy no matter where you find yourself. Plus, it's hard to resist a stylish half-zip, especially when it comes equipped with top-notch specs.
Purchase: $400
Snow Peak 2.5 Layer Rain Jacket
Snow Peak has been doing things the right way for over 60 years now, and while the Japanese brand's history in the states may not run that long, they continue to prove just how tenured they deserve to be with each addition to their impressive catalog. The 2.5 Layer Rain Jacket does no less, boasting TORAIN's trademark waterproof membrane and serving as an impeccably breathable garment that would go perfectly with, you guessed it, Snow Peak's 2.5 Layer Rain Pants.
Post Archive Fashion 4.0+ Technical Right Jacket
Post Archive Fashion is a South Korean fashion house that came about in 2018 and has maintained its fashion-forward mission statement every step of the way. With a hypnotically stylish, offset zipper and some cozy fleece lining, the 4.0+ guarantees a futuristic look and optimized warmth all at once. Available in a variety of colors, the relatively glossy grey option is as sleek as they come.
Nike Sportswear Storm-FIT ADV Tech Pack Parka
Nike Sportswear has always managed to deliver on putting a lifestyle-level touch on each of the Swoosh's essential garments, but this particular piece looks to steal the spotlight with immense capabilities and advanced technical properties. Their 3-in-1 Parka boasts the brand's patented Storm-FIT technology, making way for a stretch waterproof shell that helps keep you moving through any perilous winter weather. On top of that, it is jam-packed with Thermore EcoDown Marble Insulation, which is immensely lightweight and prominent in the majority of Nike's more premier catalog.
Purchase: $500
lululemon Cold City Parka
Taking advantage of their patented Glyde fabric, lululemon's Cold City Parka boasts supreme lightweight insulation thanks to its 600-fill-power goose down. As goes for the majority of picks in this guide, this jacket is entirely waterproof and also comes lined with PrimaLoft insulation in the underarm region to ensure that you'll be staying warm no matter which way the wind blows — or how hard the rain falls.
Descente Allterrain GORE-TEX Pro X-Treme Shell Blouson
Descente ALLTERRAIN's Shell Blouson is a prime example of GORE-TEX living up to its reputation, as it is guaranteed to keep you dry while remaining totally breathable. Utilizing the company's Pro technology, the ultra-functional fashion house is extra breathable and dually rugged, all the while being as sustainable as they come, boasting an eco-friendly shell composed of recycled nylon yarn. Topped off with adjustable cuffs and a detachable hood, the esteemed Japanese brand's high-tech garment is practically tailored to your liking.
Arc'Teryx Therme Parka
As one of the brand's most quality pieces, this down-insulated parka is sure to max out warmth and style. While this is another piece boasting a refined GORE-TEX makeup, it is filled and lined with 750-fill-power European goose down, so it keeps cozy without any additional, unwanted puffiness. Of course, a high-end piece from Arc'Teryx wouldn't be complete without their trademark Down Composite Mapping, providing no less than optimized insulation in the areas you need it the very most. Coming from up north, there's no question that the trendy Canadian brand knows which locations to focus on.
Mission Workshop The Bremen Raincoat
Mission Workshop is a brand from the heart of San Francisco that's been bringing their A-game for several decades, and that craftsmanship is fully exuded through the Bremen. In collaboration with Olmetex, the revered Italian fabric mill, the two provide their take on the timeless Mackintosh raincoat — and the result is immaculate. Staying true to its classic silhouette, the Bremen boasts a 3-layer construction entirely crafted from refined, Italian-made fabrics. As you can see, this is far from your average trench coat.
A-COLD-WALL* Cyclone Tactical Jacket
A-COLD-WALL* is one of the many remnants that stem from the late Virgil Abloh's stamp of approval, with former protegé and brand founder Samuel Ross proving that the brand's take on innovative outerwear comes in just about every form one could imagine. With that being said, the Cyclone stands out among the rest of the label's catalog for this category, thanks to its insulated detachable neck panel and cozy raglan sleeves. For added convenience, the slanted side pockets are as large as they are chic.
Stone Island Hyper Dense Mid-Length Blouson Coat
While Stone Island has been crafting excellent products since the early eighties, their popularity has surely peaked over the past few years — and it doesn't look to fall off any time soon. Here, the brand delivers on a polyamide-crafted coat that doesn't let its lightweight makeup dictate just how comfortable it is. Thanks to PrimaLoft Insulation, this Stone Island coat is endlessly warm and is even finished off with a press-stud vent on its backside just in case things get too toasty. Plus, with a detachable logo, you can keep things as lowkey as you see fit.
Acronym 2L GORE-TEX Paclite Plus Interops Jacket
Few high-end tech brands have garnered as immense a following through the streetwear community as the Munich-based Acronym. Constantly looking forward to how they can fuse fashion and function, their recently released Interops Jacket is kitted to the nines, built for just about any situation thanks to a flawless blend of sleek style and pure practicality. Boasting a GORE-TEX PRO construction, the jacket is solidly waterproof and is equipped with a detachable hood, an onslaught of pockets, plus an exterior harness to boot. At the end of the day, you get what you pay for when it comes to brands like Acronym.
Veilance Monitor Down TW Coat
In the techwear world, Veilance is tried and true, often presenting itself as the prototypical brand in the space. As a subsidiary of Arc'Teryx Equipment, their origins require no question, because anything that stems from the Canadian manufacturer is as trustworthy as they come. Boasting a supremely waterproof 3-layer GORE-TEX composition and a water-repellent ripstop nylon lining for added security, the Monitor Down coat is bolstered by 850-fill-power goose down insulation. As goes for all of Arc'Teryx's premier down-composed pieces, the coat also implements the brand's Down Composite Mapping and Down Contour Technology, as well as their trademark insulated StormHood for good measure. If you're looking for the pinnacle of technical jackets today, this is it.
The Best Packable Travel Jackets
While keeping things lightweight, sleek, and warm are the standard attributes that put together a nameworthy technical jacket, the same applies to another important branch of handy outerwear: the packable travel jacket. In efforts to make your upcoming vacation one garment less strenuous, check out our guide unraveling the best stowable jackets on the market.