Jun 1, 2022
Category: Style
With winter fast approaching, we're well within the timeframe of preliminary procurement — especially when it comes to cozy outdoor garments. Traditional jackets and vests might be making their rounds within the mainstream media, but if you're anything like us, you're in the market for those obscure functional pieces that'll get you through the snowy season in style. Of our personal favorites, the fleece stands out as a time-tested staple that few people incorporate within their wintery ensemble. That's why we're here to give you 15 different reasons as to why a fleece-less collection isn't as well-rounded as you might think.
Although it hasn't been around for long, synthetic fleece has quickly become one of the industry's most popular textiles. Its efficiency within both military and technical applications is second to none, and due to its versatile nature, it can take on breathable traits that heavier materials might struggle to provide. In the late 1970s, the fabric was designed to supersede wool in almost every facet of its being, including mobility and warming capability, thanks to its tightly-packed persona. The best part? It came at a fraction of the cost of its non-synthetic counterparts, cutting costs and providing wearers with equal (or greater) warmth, without the huge monetary investment. Now, the staple has become world-renowned for its unique composure in terms of water, wind, and weather-proofing, making it an attractive proposition for any avid adventurer. Check out a few of our favorites below.
Patagonia Lightweight Synchilla
Patagonia's outerwear is renowned throughout the industry, and to the surprise of many, its gear isn't confined to traditional expeditionary jackets. The recognizable outdoor brand is knowledgeable in a variety of different styles and types, including the iconic fleece. Its Lightweight Synchilla is one such model. Boasting a Bluesign-approved, 200-weight Synchilla fleece fabric, this unique model brings simplicity and efficiency to the outdoor realm, thanks to its color-blocked design. But don't let its subdued nature deceive you; the Synchilla is a viable alternative to more utilitarian examples due to its four-snap placket, Supplex nylon reinforcement, and Y-joint sleeves.
Howler Brothers Chisos
If you're looking for a well-designed fleece that caters to a heritage aesthetic, Howler Brothers' Chisos might be your quintessential garment. Like the rest of the brand's offerings, this tasteful outerwear piece boasts an eye-catching Western design, sherpa fleece fabric, and tonal nylon patches to give it a look all its own. Add a versatile kangaroo front pocket, contrast-bound collar, and smooth cuffs, and you've got the perfect formula for a fall-ready piece that you can utilize without looking like you're ready for a week in the wilderness.
Gramicci Boa Fleece
Speaking of more design-minded fleece offerings, Gamicci's Boa variant seems to be the perfect follow-up to our Howler Brothers pick. This cozy offering might call upon the company's reputation as an outdoor-approved outfit for its technical charm, but when it comes to tasteful construction, the Boa is all about urban appeal. It calls upon a mandarin collar, bonded fleece interior, and zippered chest to do its bidding, while a set of dual hand warmers, nylon elbow patches, and bound cuffs help to add a clean touch to the jacket's overall aesthetic.
Topo Designs Sherpa
Topo Designs is all about versatility, so when it made the Sherpa fleece, it wanted to create something that could accompany you in a variety of situations. To achieve this, the brand crafted a reversible garment that can transition from a twill bomber to a cozy fleece in a heartbeat, thanks to its technical fabric lining. If you're looking for a waterproof jacket that'll take on everything from the mountain to small bouts of water, the Sherpa has the ability to adapt to your needs. Its versatile nature is complemented by dual-sided pocketing, a reversible YKK zipper, and comfortable elastic binding on its cuffs and hem, sealing in warmth when you're out and about.
Outerknown Arcana Sherpa
Outerknown's Arcana Sherpa is a cozy jacket for the fall season, and it doesn't pull any punches when it comes to its (seemingly) heavyweight nature. As one of the more robust offerings on our list, this unique offering features a high-pile fleece that looks and feels dense but remains lightweight during wear. This is all thanks to the jacket's hybridized blend of recycled polyester and wool, which provides unprecedented warmth alongside its intuitive zip front, snap-closure storm flap, and wealth of pockets.
The North Face '95 Retro Denali
The North Face's '95 Retro Denali is a modern approach to one of the genre's most lauded vintage pieces. It might be a throwback to one of TNF's 90s pieces, but this unique fleece jacket is even more capable today than it was over twenty years ago, thanks to its recycled, wind- and rain-resistant fabrics, ventilated underarm areas, and detachable velcro patches. If you're looking to seal in some more warmth during the colder months, this jacket also boasts a set of elasticated cuffs and a drawstring hem, giving you the opportunity to lock-down whenever you feel the need.
Patagonia Classic Retro-X
Patagonia has already made an appearance on our list, but the brand's Retro-X fleece is a bit too good to pass up. This windproof model adopts the same retro styling as its kin but introduces a bespoke membrane for increased weatherization. If you live in an area where bouts of wind and water are common, you'll have peace of mind knowing that the Retro-X features a set of resistant pockets to keep your important items safe from harm, as well as a partially-recycled Sherpa fleece that's been imbued with polygiene for efficient odor control.
Filson Sherpa
Filson's Sherpa jacket is an industry staple, and like many of the brand's garments, it doesn't shy away from its intentions. This medium-weight insulating layer features a high-pile Polartec Sherpa fleece, ripstop patches, and a heavy-duty zip closure to keep things locked up tight. To round out the jacket, a healthy helping of ribbed trim, nylon detailing, and reinforced stress areas help to protect the Sherpa from abrasive inhibitors, prolonging its life and allowing it to be used in more adverse environments.
Carhartt Prentis Liner
Carhartt is a mainstay within the technical workwear world, so it makes sense that the company's expertise can be put to good use in other areas of outerwear. The Prentis Liner, for example, is an offering that's exclusive to the brand's urban WIP division. It boasts a heavyweight fleece construction, contrasting nylon taffeta detailing, and an internal mesh liner for increased airflow during prolonged wear. Since utilitarian pleasantries are a key component of WIP's garments, the brand has also introduced a suite of zippered compartments, pockets, and closures, including a set of storage-savvy side pockets.
NN07 Mort
NNO7's Mort Fleece could give Outerknown's Arcana a run for its money when it comes to high-pile design, but luckily, these garments differ enough to set them apart from one another. Unlike the Arcana, the Mort features a set of dyed-to-match nylon accents, cuff-fitted thumbholes, and a Velcro brand patch on its exterior, allowing you to pair cozy comfort with a handful of customization options. That being said, it's still crafted from soft Sherpa, proving that sometimes, minute details are the things that set garments apart for interested buyers.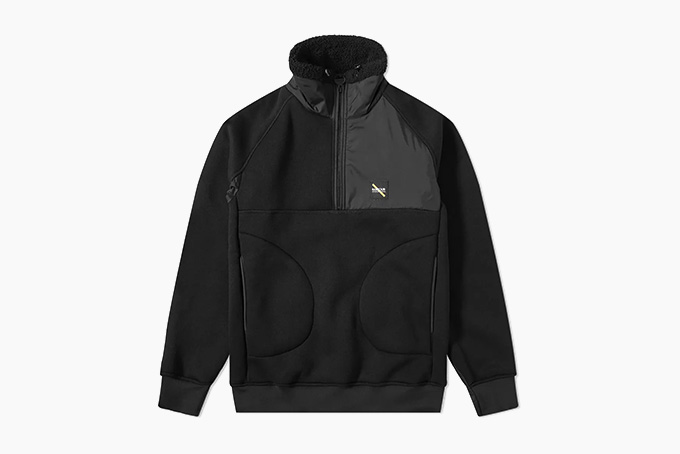 Barbour x Saturdays NYC Popover
Barbour and Saturdays NYC are both juggernauts in their respective clothing genres, so when the pair decide to come together on an exclusive collaboration, it's an event worth remembering. The result is the Popover — a biker-style fleece that pays homage to the streets of Manhattan in the only way it can. To battle against the city's colder climate, the pair's comfortable companion is crafted with a formidable black popover fleece, reinforced with nylon paneling, and rounded out with an adjustable funnel neck for improved heat retention. If you pick up a garment from two of the clothing world's finest proprietors, however, you're going to want something that signifies the occasion. Never fear; the Popover also features a co-branded patch on its chest for those who are collaboratively-conscious.
Belstaff Herne Storm
Belstaff is a voice of reason within the world of tasteful outerwear, and its Herne Storm fleece jacket is a testament to its unique commitment. To commemorate the genre's more traditional fleece styles — including the militaristic examples that have helped to catapult the fabric into popularity — the brand has created its very own storm variant, bridging the gap between comfortable mid-layers and heavyweight jackets. Each model is crafted from high-pile fleece fabric and calls upon ribbed trims, a woven brand patch, and three front pockets for improved storage capacity. The best part? The addition of unique nylon detailing helps to drive home the jacket's utilitarian feeling.
18 East Cloch Half-Zip
18 East isn't a brand that we include often, but during our search, we were drawn to the retro allure of this bombastic outerwear piece. Dubbed the Cloch Half-Zip, this 80/90s-inspired model features a unique silhouette that was based on a fishing smock, of all things. That being said, it's been developed into a more utilitarian fleece offering, thanks to its lavender nylon Taslan, block-printed corduroy accents, and aesthetically-pleasing branding. To round things out, a protective hoodie complements the jacket's substantial closure/collar zip.
Snow Peak Polartec
Snow Peak's Polartec fleece is as simple as it sounds, but when it comes to functional outdoor garments, performance is all that matters. Luckily, that's where this clothing item excels, thanks to its insulating fleece jersey, high neck, and two-way zip fastening. Since this iconic homage has been built to take on the elements with ease, it features all of the details you might expect from a more utilitarian offering, including side slit pockets, thumb slots, drawstrings, and a sealable neck, helping you to trap warmth when you need it most.
Veilance Dinitz
When it comes to technical outerwear, Veilance is a trusted source. The brand's well-informed garments are the result of years of experience alongside some of the industry's most renowned designers, and thanks to its outdoor lineage, things like the Dinitz fleece aren't off-limits. While simple, subtle, and seemingly uninteresting, this slim, tasteful jacket features everything you'll need to stay comfortable and warm during your next endeavor, thanks to its breathable stretch-woven textile construction, laminated neckline, and wool/polyester mixture, which lends itself to an enhanced range of movement.
The 15 Best Fall Jackets For Men
Winter is coming, but it's not quite here. If you're looking for some more traditional garments to round out your outerwear collection for the upcoming season, head over to our guide on the best fall jackets for men, where we outline our favor autumnal offerings.
HiConsumption is reader-supported. When you buy through links on our site, we may earn an affiliate commission. Learn more