Devised all the way back in the 1830s, this slick, three-button staple has stood the test of time as one of menswear's most important layering pieces. It began as a collarless polo used primarily for rowing, before making its way into the spotlight for style-minded consumers. Over the years, the design has continued to capture the hearts and minds of men everywhere, thanks to its simplified, layer-savvy design, calling upon a recognizable long-sleeved demeanor, two-to-five-inch front closure, and ribbed cuffs, helping to regulate body temperature during the colder months. Today, the style is as prominent as ever, reinforcing its role as one of the most important garments of all time. Below, we've curated a list of our favorite offerings from some of the genre's most renowned outfits.
J.Crew gARMENT-dYED sLUB cOTTON hENLEY
If you're not looking to overspend on a quality henley, we recommend going with J.Crew, which can usually apply to anything remotely wallet-friendly. Not only is it remarkably soft, but the garment-dyed piece is equally sustainable. This shirt was crafted in a Fair Trade Certified facility using at least 30% recycled fabric, serving as part of the shopping mall staple's Re-imagined program.
Patagonia Long-Sleeve Work Henley Pocket Tee
Patagonia is well-known for its efficient outerwear, so when fall and winter begin to show their true colors, you can bet that the brand's Long-Sleeve Work henley will have your back. Each example is crafted from a hefty 8.4-ounce industrial hemp and organic cotton blend, giving it a durable, long-lasting feel that you might not get with less robust models. As such, this unique silhouette has been touted as a working model, including a traditional three-button design, rib-knit collar, and cuffs that remain out of the way while you tackle your trade.
Buck Mason Pima Curved Hem Henley
Buck Mason's Pima Curved henley is a testament to the origins of the original garment. Calling upon its history as a staple within the world of rowing, the brand has created a versatile utilitarian version catered toward stylish poise. At its core, a soft-spun Pima cotton makes the curved henley lighter and more breathable than its counterparts, allowing it to take on the role of a perfect mid-layer.
Taylor Stitch Heavy Bag Henley
Taylor Stitch knows a thing or two about the construction of long-sleeved staples, and the henley is no exception. The brand's Heavy Bag offering features the same fan-favorite fabric that's been utilized in its Heavy Bag t-shirt lineup, gifting it with a substantial, heavyweight construction lauded for its unique feel. This means that the garment is almost twice as heavy as its traditional, mid-weight counterpart, complementing its handsome appearance.
Mack Weldon WARMKNIT Waffle Henley
Mack Weldon's WarmKnit Waffle takes the traditional henley style and incorporates it with some of today's most cutting-edge textile technologies. As you might surmise, this micro-waffle variant places an emphasis on exceptional warmth and heat retention, calling upon the brand's Thermolite tech to keep it as cozy as possible. The best part? It maintains its warming properties without the addition of any extra weight, making it a great choice for transitory seasons.
L.L.Bean Unshrinkable Mini-Waffle Henley
When it comes to buying closet essentials as simple as this, there's nothing more annoying than having to swap them out after one too many loads of laundry. Luckily, L.L.Bean touts its mini-waffle-knit piece as "unshrinkable," assuring that it's pill-resistant and built to last thanks to an exclusive form of fabric. If there's even been a shirt begging you to wash it every time you take it off, this is most certainly the one.
Vuori Long-Sleeve Ease Performance Henley
As we mentioned earlier, the henley is ideal when you're working up a sweat, especially when wearing one with performance in mind. Here, we have one with performance in its name, courtesy of none other than athleisure stalwart Vuori. The enviously soft top boasts a moisture-wicking, anti-odor construction that even offers UPF 30+ protection, ultimately keeping you protected from sweat, stench, and, above all else, the sun.
Todd Snyder Made in L.A. Premium Jersey henley
While Todd Snyder's whole brand oozes a sense of inimitable East Coast chic, this high-quality henley hails from the opposite side of the country. As its name suggests, the garment-dyed top is manufactured in an L.A. factory using premium imported cotton, then rounded out with a traditional three-button placket. Keep things simple with color choices of black, white, or navy.
Jungmaven Thermal Mountain Henley
As one of our favorite sustainable brands, it only makes sense to ring Jungmaven back in here for another closet staple. While we're big fans of the clothier's plain t-shirt, its typical blend of organic cotton and hemp deems this henley just as noteworthy. The garment-dyed piece comes in more colors than there are in the rainbow and even boasts a 4 button placket in contrast to most of the 3-buttoned options you'll find through our guide.
Reigning Champ 1×1 Slub Henley
Reigning Champ's offering is available in a handful of looks, including this brand-new British Racing Green colorway. Drawing inspiration from the early days of Grand Prix, the athleisure label managed to tack the voguish shade onto one of its most famous pieces and pulled it off with ease. The handcrafted 1×1 Slub Henley is rounded out with semi-raglan sleeves and flat lock seams to ensure freedom of movement and no skin irritation.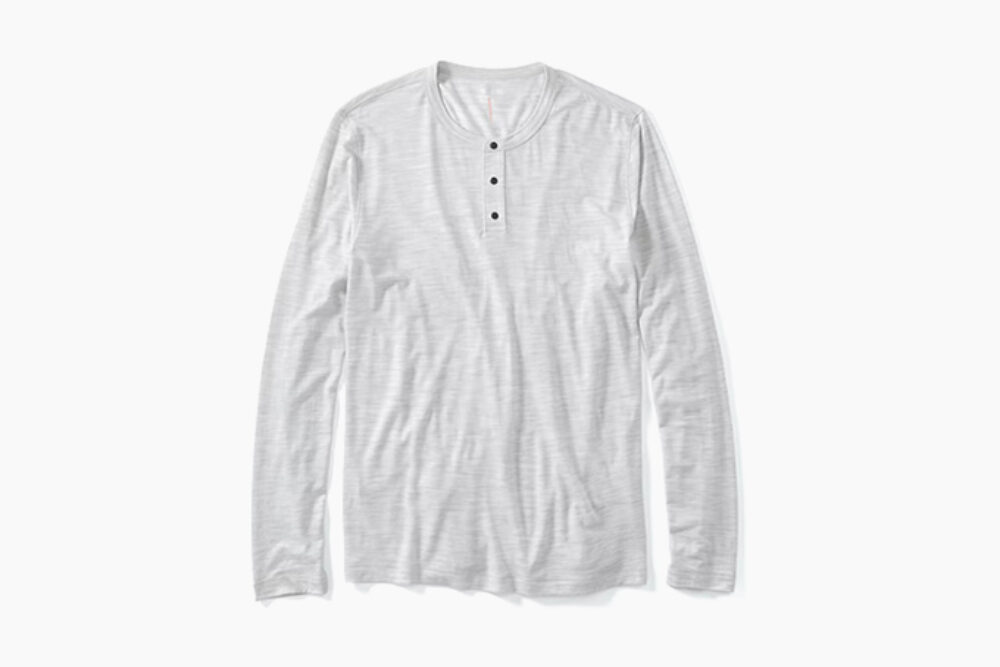 Proof 72-Hour Merino Henley
Proof's 72-Hour Merino LS is an oddball, for sure, but that doesn't mean that it's any less deserving of its place on our list. Instead of focusing on the recreation of a timeless menswear piece, the brand decided to innovate upon its established silhouette, bringing buyers a modern garment that can be worn for 72 hours straight, without acquiring any sort of odor. This means that the formidable, merino wool offering is as well-equipped as they come, providing wearers with a stylish, contemporary alternative for travel.
Alex Mill Heavyweight Jersey Henley
If you want heftier piece that'll bode well on colder days, put your faith in Alex Mill. While the brand's Heavyweight Jersey Henley features a vintage-inspired wash for a lived-in feel, it's beyond ready to take on countless outfits of your own. For added support and wearability, it's equipped with a set of military-styled buttons and a dropped shoulder.
Billy Reid Suede Cotton Louis Henley
Adept at turning anything basic and unexciting into a relative fashion statement, it's no surprise we had to ring in Billy Reid's handsome layering piece. Looks aside, the Sueded Cotton Louis Henley is about as soft as you can get, featuring a unique cotton jersey composition that's been brushed and sanded to the point that it feels like suede, hence the name. This placketed top is built to operate on its own as much as an undershirt and comes available in a handful of colors.
RRL Waffle-Knit Henley Shirt
Like most pieces from RRL, the brand's waffle-knit henley is a testament to timeless Americana, practically serving as a brand new form of vintage clothing. Composed of lightweight thermal material, the Ralph Lauren-owed line's ready-to-layer top features a set of ribbed cuffs to trap heat and a sateen-weaved placket for a lowkey touch of style.
Rag & Bone Cotton-Jersey Henley T-Shirt
Rag & Bone's Cotton Jersey rounds out our list as the quintessential white henley, thanks to its ultra-soft cotton knit, buttoned placket, and subdued design. While other offerings devote their time and effort to the faithful recreation of garments past, Rag & Bone's unique offering boasts a tasteful, modern silhouette that's cleaner and lighter than the rest, helping it to traverse the boundaries of summer and winter.
The Best White T-Shirts for Men
Stock up on another wardrobe essential with our guide to the best white t-shirts.