While cozy flannels, sturdy boots, and corduroy pants are all key components of a solid fall wardrobe, there is no more important item to have in your closet post-Labor Day than a good fall jacket. The best fall jackets for men combine warmth, style, and, most importantly, protection from the elements so you won't be caught cold, wet, or — perhaps worst of all — unfashionable. In all seriousness, it can be tough to find the perfect piece of outerwear that combines everything you need in one garment, which is why we've put together this comprehensive guide to the best fall jackets, consisting of everything from fuzzy, fleece-lined options to runway-approved bombers.
levi's corduroy sherpa trucker jacket
We're kicking this guide off with an absolute classic. Unless Levi's ubiquitous sherpa-lined trucker jacket already has a place in your closet (and heart), there are numerous colors to choose from, and (probably) will be until the end of time. When it comes to pieces that never go out of style, corduroy jackets in the autumn are as synonymous with one another as peanut butter and jelly, and this functional classic is bound to bode flawlessly through the frigid transitional season.
j.crew wallace & Barnes corduroy chore jacKEt
Speaking of corduroy, you'd be hard-pressed to find a jacket that elevates the fabric better than this option from J.Crew's high-end imprint Wallace & Barnes. Rather than using a trucker jacket as a base, W&B has opted to remake the humble chore coat, outfitting the classic patch-pocketed design with sustainably sourced, Fair Trade- Certified cotton corduroy that's ultra-soft. Available in two colors, we recommend the "Roasted Caramel" option for any apple-picking adventures.
Patagonia Classic retro-X Jacket
While a lot less formal than a corduroy jacket, the fleece pullover is a classic fall jacket in its own right. They simply don't get any better than the ones made by the fleece experts over at Patagonia, and their Retro-X version adds some throwback style to their tried and true formula. This full-zip fleece is constructed from a warm and soft bonded sherpa fleece exterior, a windproof/breathable barrier layer, and a moisture-wicking knit-mesh lining.
BUCK MASON STORM STOPPER BOMBER JACKET
Buck Mason has mastered the art of menswear basics, so it's no surprise that their new take on the classic bomber jacket — one of the most essential men's jacket designs ever — is an absolute knockout. This fully-lined bomber in Deep Olive is cut from a hefty cotton-blend twill that's been treated with a water-resistant DWR finish. It features PrimaLoft insulation, making this considerably warmer than your average bomber, and the lining is crafted from durable ripstop nylon.
RELWEN WINDZIP JACKET
A part of the brand's stellar Windzip collection, this jacket from Relwen is basically a Swiss army knife for your closet. The jacket is quite literally built to withstand any type of fall weather you might encounter. Its exterior is breathable yet water-resistant, it's filled with warm 60-gram down-alternative insulation, and it contains a solid amount of Spandex for heightened mobility and comfort. Oh, and did we mention it looks great too?
FLINT AND TINDER FLANNEL-LINED WAXED TRUCKER JACKET
When a jacket is the most requested coat on Huckberry — and one of the most popular items on the site overall — then you know it's something special. And that's exactly what F&T's Flannel-Lined Waxed Trucker is: something special. Cut and sewn in Los Angeles, this rugged and handsome coat can hold up to a hard day's work with its weather-resistant Martexin 7 oz. sailcloth exterior, while its buttery soft and smooth flannel blanket lining will keep you enrobed in warmth and comfort.
SPIER & MACKAY ARMY TWEED FLANNEL JACKET
Composed of lush wool from Italian textile fabric designer Lanificio di Pray, Spier & MacKay's handsome take on the field jacket is as warm as it is timeless. Rounded out with all the prototypical elements like a shirt-style collar and unlined finish, the versatile piece of outerwear is rounded out with a quartet of flap pockets for storage's sake, genuine horn buttons for a touch of style, and an interior drawstring waist for achieving the ideal fit.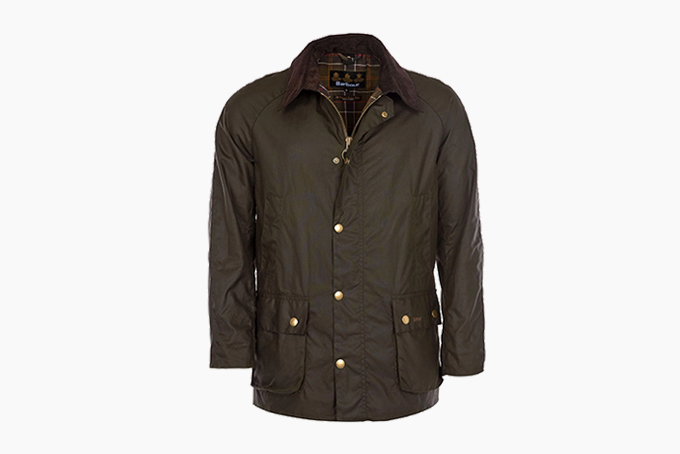 BARBOUR ASHBY WAX JACKET
When you're talking about waxed cotton jackets, you absolutely cannot leave Barbour out of the conversation. The legendary British brand practically invented the material and has been pioneering its uses for over a century. The Ashby is one of the brand's staples, a sleeker and more modern take on their classic Bedale waxed cotton field jacket silhouette. Even if you never even think about hunting in the Scottish Highlands, your fall wardrobe will still greatly appreciate this hard-wearing and luxurious heirloom-quality garment.
FILSON LINED DENIM CRUISER JACKET
We love a good denim jacket, and we really love their look for fall. The thing is, though, they typically aren't the warmest option around. Unless, of course, you're talking about Filson's Lined Denim Short Cruiser. Rather than being your typical thin denim jacket, this fall-ready coat from Filson is fully lined with the American heritage brand's iconic Alaskan Guide Flannel — essentially packing a full flannel shirt inside a jean jacket. It is, quite frankly, a match made in heaven.
CANADA GOOSE LOCKEPORT JACKET
Canada Goose's luxe puffers might fall more in line with winter attire than the typical fall wardrobe, so we've selected the trusty Lockeport to combat the transitional season. Inspired by the brand's iconic Science Research Jacket, this particular garment is tailored toward adapting to unpredictable environments, an ethos made evident by its trusty storm flap, gusseted cuffs, and a whopping total of six pockets spread throughout for keeping valuables nice, safe, and warm.
BILLY REID BOND PEACOAT
Depending on where you live, the peacoat — a classic style derived from centuries-old Naval garments — is either a fall or winter jacket. Whichever side of the coin you find yourself, you need a peacoat in your cold-weather rotation, and there is simply no version better than Billy Reid's cult-favorite. Ironically worn on-screen by James Bond himself (the coat was named for Billy Reid's Bond Street store), the jacket is made from warm melton wool and features leather trim, genuine horn buttons, and a perfect tapered cut.
A.P.C. AUSTIN RAINCOAT
While houndstooth looks good year-round, there's no better time to wear it than the heart of autumn, and this gorgeous coat from A.P.C. sums up just about everything there is to appreciate about the Parisian imprint. The Austin Raincoat is remarkably warm, which is no surprise considering its sewn from over 70% virgin wool, making it soft to the touch and undeniably comfortable. Lastly, the knee-length coat is finished with two cotton-lined raglan sleeves and piped pockets to retain warmth with an undeniably minimalist look.
TODD SNYDER ITALIAN SUEDE SNAP DYLAN JACKET
In a similar vein to most of Todd Snyder's extensive catalog, the Snap Dylan Jacket adheres to a timeless ethos that is hard to overlook, and this Italian suede-crafted iteration is as stylish as they come. The traditional jacket is equipped with a quartet of pockets, included two at the chest, and comes available in over five colors to fit anyone's personal style.
TAYLOR STITCH THE MOTO JACKET
Like the peacoat, a good leather jacket is another option that deserves a spot in your wardrobe. And like Billy Reid with their peacoat, Taylor Stitch has basically mastered the leather jacket. The San Francisco brand's Moto Jacket is a modern classic that's not just for bikers — though riders will surely appreciate it. Made in collaboration with fellow SF mainstay and leather jacket legends Golden Bear, this incredible-looking, heirloom-quality jacket is crafted from chrome-tanned, drum-dyed, 3.5-oz. full-grain steerhide. It's also fully lined and features Thinsulate insulation, making it ideal for cooler weather — whether you ride or not.
Saint Laurent Teddy Leather-Trimmed Metallic Wool-Blend Bomber
If price is no object, odds are you already own a piece from Saint Laurent Paris, so why not add to the edgy ensemble with this refined bomber? The fashion house's versatile, handsome jacket has become an iconic piece of outerwear merely six years after its release, and several elements deem it one aside from being celebrity-adorned. With its near-flawless fit, cozy virgin wool composition, and full-grain lamb leather trims, the Teddy is far more than the average bomber jacket, and it's bound to keep you warm and chic for seasons to come.
The Best Men's Corduroy Jackets
There's no more suitable textile to wear around this time of year than corduroy. Whether thick or fine, any pick from our guide to the best corduroy jackets is bound to bode well this season.