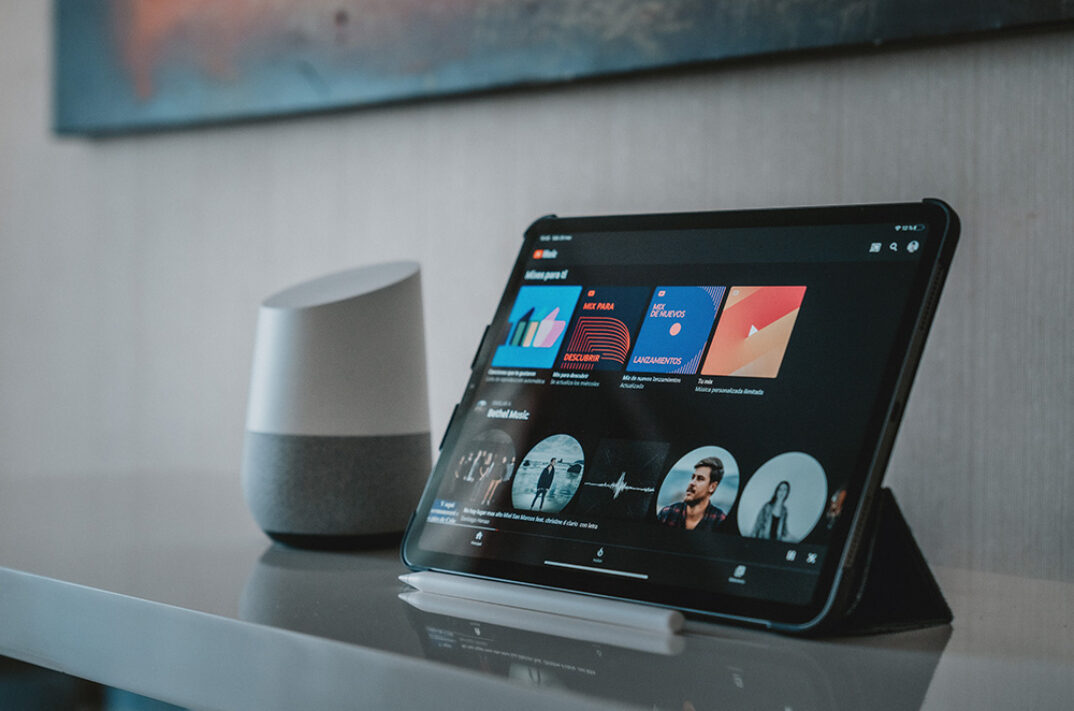 As smartphones continue to grow in both size and capability, one would think that the need for tablets would have subsided by now. And although it is true that some prominent electronics makers have exited the tablet space in recent years, the tablet market as a whole definitely isn't going away anytime soon. And that's a good thing. While your phone and computer can technically do pretty much everything a tablet can do, the best tablets make for the perfect "tweener" devices on those occasions that call for something that falls between a phone and a laptop.
Think about media consumption and communication. If you're going to stream a TV series on the go or take part in a video call, a tablet just makes the most sense. They're larger than a phone, offering you a better viewing experience and less eye strain, yet they're smaller than a computer, making them more portable and less cumbersome to use. Tablets can also be powerful work tools. They have become ubiquitous on the sidelines of NFL games as coaches, players, and even referees use specialized Microsoft Surface tablets to quickly go over plays and video. And while most of us are not employed by NFL franchises, the versatile size and high processing power of some tablets make them ideal business companions. But out of all the tablets available today, which are worth your time and money? Take a look below to find out what to look for in a tablet and then discover the 8 best tablets for every budget.
What To Look For In A Tablet
Simple Streamer Or Super Slate?
One of the first things to determine when looking for a tablet is deciding which type of tablet you actually want. Not all tablets are created equal, and understanding the differences between them can save you from blowing your hard-earned cash on a four-figure powerhouse when all you wanted was something on which you could stream episodes of Frasier. To help keep you from making such an error, we've come up with some key areas to consider when searching for your tablet.
Size: While virtually all smartphones sold today fall within the same 1.5-inch window when it comes to screen size, the tablet industry sees much more variety. Modern tablets can effectively be broken down into three sizes: small, standard, and large. The small-sized tablets, whose displays typically run from 7 to 8 inches diagonally, are most often used for more casual tasks like watching videos, reading, and/or playing mobile games. Your standard-sized tablets are probably what you think of when you think of a tablet. They usually clock in with screens right around 10 inches and are meant to be all-purpose devices. Then there are the large tablets. These behemoths typically start at 11 inches and can sometimes grow as large as 15 inches, though 12 to 13 inches is most common. These larger tablets are often intended for professional use, as they function mainly as a laptop replacement.
Operating System: Most tablets are available in one of three operating systems: Apple's iPadOS, Google's Android, and Microsoft's Windows. You are most likely going to want to choose the one with which you are most familiar. Are you heavily invested in Apple's ecosystem and a diehard iPhone user? Then you'll probably want to get some type of iPad, as switching to another OS may prove too jarring. The same is true for Android phone users. If you love your Samsung Galaxy phone, then you'll probably want to roll with a Galaxy Tab. And if you're a PC adherent who believes Windows is the only way to compute, then a Microsoft Surface may suit your needs best.
Capability: At the end of the day, tablets are computers, so you're going to apply a lot of the same logic that you would when searching for a laptop. How much on-board storage you think you'll need is a big one. Measured in GB — or, rarely, in TB, which is 1,000 GB — this number translates to how much room you'll have for downloading apps, movies, photos, and anything else you want to permanently store on your tablet. The higher the number, the more storage you'll have. This "higher is better" logic also applies to your tablet's memory, measured in RAM. Generally speaking, the more RAM available, the faster your tablet will perform, especially when running multiple applications. Also factoring into your tablet's quickness is its processor or CPU. Measured in GHz, "higher is better" doesn't always apply to processor speeds. Other factors, such as the number of cores, can complicate matters. If you really want to get into the weeds, you can always search online for benchmark tests that compare the speeds of multiple models you're considering. You'll also want to pay attention to your display. A higher resolution — measured in pixels and, sometimes, pixels per inch — usually means you're getting better picture quality. Lastly, have a look at your device's battery life, as there's nothing worse than a tablet dying on you when you need it most.
Apps: Without a doubt, one of the most important things to consider when shopping for a tablet is figuring out what types of apps are available for it. After all, pretty much everything you'll be doing on your tablet will require some kind of application. You'll likely want to be able to use all of your favorite apps from your phone, while also possibly adding some tablet-specific apps. Therefore, it's important to check each of the major app marketplaces to see their libraries before deciding which tablet you go with. The Apple app store is the most robust, and there isn't much that you won't be able to find there. You'll also probably do pretty well on Android devices using the Google App Store, but you may find the Microsoft Store and the Amazon Appstore — itself a watered-down version of Google Play — to be a bit lacking in their selections.
Compatibility: Another thing to think about is how your tablet will get along with other devices. Now, your OS will play some role in this. For instance, if you have an Apple TV and want the ability to Airplay content from your tablet to your TV, then an iPad will fit the bill. Moving beyond OS-specific issues, there are several other specs to investigate. You'll want to check your tablet for Bluetooth compatibility for use with wireless headphones or other wireless devices. You'll have to decide whether you're good with a tablet that's wifi-only or if you need one that will also work with a mobile data plan. You'll want to check and see what kinds of ports are on the tablet, such as a headphone jack, USB-C port, expandable memory, etc. Finally, have a look at available accessories like keyboards, smart covers, and styluses to figure out what tablet will work best for your needs.
The Case For Apple
The iPad Still Rules The Roost
When it comes to tablets, any search must start with Apple. While the electronics giant didn't invent the tablet computer, it undoubtedly created a market for them with the original iPad in 2010. Since then, the word "iPad" has become synonymous with "tablet" as Apple has continued to dominate the market while constantly evolving its iPad line. Today, Apple offers iPads in a variety of sizes and trims, but all of them exhibit the ease of use, quality components, and high levels of performance that the brand is known for.
Apple iPad
The original, and still the best? Despite being the budget option in Apple's tablet lineup these days, the plain ol' iPad still has plenty to offer. Boasting the A12 Bionic chip, which debuted in 2018, the OG iPad is plenty fast for most tasks. It also now offers compatibility with Apple's first-gen smart pencil and smart keyboard, offering some professional utility in a relatively affordable package. Its Retina display is hi-res, and like all iPads, it's available in both wifi-only and wifi+cellular versions and has access to over a million apps on the app store.
Display Size: 10.2″
Storage: 32GB or 128GB
Max Battery Life: 10 Hours
Apple iPad Mini
For not a lot more money than the base iPad, you can get a lot more iPad… well, figuratively speaking. The iPad Mini is the most compact and portable iPad in Apple's stable, making it great for travel, taking photos, and reading. The latter area is where the Mini truly excels, as its higher-resolution display with reduced reflectivity and True Tone technology reduces eye fatigue. In spite of its smaller size, the Mini also manages to squeeze in more storage than the regular iPad, as well as a far-superior front-facing camera, all while running on the same speedy processor.
Display Size: 7.9″
Storage: 64GB or 256GB
Max Battery Life: 10 Hours
Apple iPad Air
Ignore the middle child of Apple's iPad lineup at your own peril, as the iPad Air might just offer the best bang for the buck. Running Apple's latest and most-advanced chip ever, the A14 Bionic, the iPad Air is capable of some pretty big-time tasks like editing 4K video, graphic design with the second-gen Apple Pencil, or playing demanding video games. Plus, with its buttonless thin-bezel display and five available colors, the iPad Air is arguably the best-looking iPad ever made.
Display Size: 10.9″
Storage: 64GB or 256GB
Max Battery Life: 10 Hours
Apple iPad Pro
If you're looking for an Apple tablet that can replace your laptop, the iPad Pro is the closest you're going to get. Though its A12Z chip is slightly older than the iPad Air's A14, Apple has worked some magic — like including an 8-core graphics processor — to ensure that the iPad Pro is still its most powerful tablet. Not only that, but the company says it's even faster than most PC laptops, which when combined with the available full-size Magic Keyboard makes the iPad Pro a legitimate work device for many people. It also, unsurprisingly, has the best display, best camera, and best speakers of any iPad. And since it's technically the best iPad, the iPad Pro is also the most expensive iPad.
Display Size: 11″ or 12.9″
Storage: 128GB, 256GB, 512GB, or 1TB
Max Battery Life: 10 Hours
The Case Against Apple
The Competition Has Never Been Better
For many people, their tablet search begins and ends with Apple. But maybe Apple isn't for you. Apple tablets are on the expensive side, and you may be looking for something a little more affordable. You also may not like how all-encompassing Apple's ecosystem can be and prefer to just stay on the outside of it. Or maybe you simply prefer or are used to products from other manufacturers. If any of these descriptions sound like you, then you may be interested in tablets from the likes of Microsoft, Samsung, or Amazon.
Amazon Fire HD 8 Plus
If you're not planning to use a tablet in any professional capacity and are simply looking for a low-priced media consumption device, then you really can't beat Amazon's Fire HD line. The company's latest effort is this small-sized tablet that packs in strong battery life and plenty of fun for not much more than a hundred bucks. The Fire HD Plus can play HD video, act as a Kindle for reading books, and function as a hands-free Amazon Alexa assistant. Amazon's app store is definitely lacking, but pretty much all of the big-name apps like Netflix, Instagram, and Spotify are there. Screen resolution, storage, and processing power are all on the lower end of the spectrum on the Fire HD 8 Plus and there's no cellular option available, but at this price, you can't ask for much more.
Display Size: 8″
Storage: 32GB or 64GB
Max Battery Life: 12 Hours
Microsoft Surface Pro X
Despite Apple's claims about the iPad Pro, this is probably the closest you'll come to actually being able to replace your laptop with a tablet. Unlike other tablets whose keyboards are afterthoughts, the Surface Pro X is made to work just as well with a keyboard as without — even if the keyboard costs extra. Helping in that regard is the device's trademark kickstand as well as the fact that it runs Windows 10 and offers access to Microsoft Office 365. The Surface Pro X's SQ2 processor offers best-in-class graphics performance, according to Microsoft, and its two USB-C ports, removable SSD hard drive, and AI that helps you maintain eye-contact on video calls all point to this being a machine that's designed for work above all else. But don't worry, it can stream Frasier, too.
Display Size: 13″
Storage: 128GB, 256GB, or 512GB
Max Battery Life: 15 Hours
Samsung Galaxy Tab S7+
Simply put, this is the best Android tablet currently available. Samsung is Apple's biggest rival in the mobile phone market, so it's no surprise that the Korean electronics giant is looking to test Apple's dominance in the tablet space, too. Meant to go toe-to-toe against the iPad Pro, the Galaxy Tab S7+ makes a strong case. Its Super AMOLED display is about as high-end as you'll find, and Dolby Atmos surround sound speakers keep your ears entertained, too. Its Qualcomm Snapdragon 865 Plus processor is powerful enough to handle XBox games as well as business tasks, and it's the only option on this list that includes a stylus out of the box. It's also worth noting that the cellular version is 5G-enabled, a first for a tablet.
Display Size: 12.4″
Storage: 128GB, 256GB, or 512GB
Max Battery Life: 14 Hours
Microsoft Surface Duo
One thing you'll notice while shopping for tablets is that they all start to look the same after a while. But not the Surface Duo. Microsoft's latest tablet offers some rare innovation in the space with its dual-screen layout. Joined by a 360-degree hinge, the two screens offer loads of unique new uses for a tablet. You can view two different apps side by side, drag and drop items between screens, or type on one screen while viewing the other. It's a little gimmicky and it definitely isn't cheap, but if you love to be on the cutting edge of technology and design, then the Surface Duo may be the tablet for you.
Display Size: Dual 5.6″
Storage: 128GB or 256GB
Max Battery Life: 15.5 Hours
The 10 Best Drones For Every Budget
If your tablet search has you in the mood for some tech that's a little more adventure-ready, then have a look at our guide to the best drones for every budget.