Upon its founding back in 2014, San Francisco-based carry specialist Black Ember quickly established itself as the next big name in the technical backpack market. Since that time, the brand has continued to pack its products full of innovative features — almost to the point of intimidation. As urban in design as they are overbuilt in construction, Black Ember bags consistently strike the right balance between form and function.
For this reason, you really can't go wrong with any of the brand's offerings; they're all worthwhile choices in their own right. Being seasoned EDC specialists, however, we've had our eyes on one backpack in particular: the Citadel R2. Released in 2019 as an update to the Citadel line, it brought with it both a new design as well as a number of notable improvements. Never content to watch from the sidelines, though, we decided to get hands-on with the bag to see how it performs in practice.
Video Review: Black Ember Citadel R2
Words alone don't do this bag justice. Check out our Citadel R2 4K video review for an in-depth look at all of the pack's many innovative features.
First Impressions
Looks Can Be Deceiving
When first unboxing the Citadel, the bag is deceptively simple; from the outside, it seems like little more than a rectangle attached to a set of shoulder straps. Shod in a muted dark gray and fitted with three zipper tracks, a series of five Hypalon attachment points, and a top grab handle, it's about as clean as backpacks come. Moreover, between its boxy-yet-streamlined silhouette and its distinctive lack of branding, it offers a fresh, elevated take on the classic book bag style.
Beyond its design, it also appears pretty average as far as its size is concerned. That is to say — at 19.5″ long, 12.5″ wide, and 6.5″ deep, the Citadel strikes a nice middleground. It's large enough for longer treks, yet it's still small enough to be manageable for EDC duty. Thanks to the Citadel's simple construction, it provides a spacious 25L of storage.
As is often the case, though, looks can be deceiving. The more familiar you get with the backpack, the more you'll appreciate just how much intention went into its design. Everywhere around the Citadel, Black Ember has thought of ways to imbue the bag with extra practicality. Whether it be the removable side grab handle, the theft-deterrent front zipper, or the stowable shoulder straps, the backpack is bursting with handy features to help you in your daily excursions.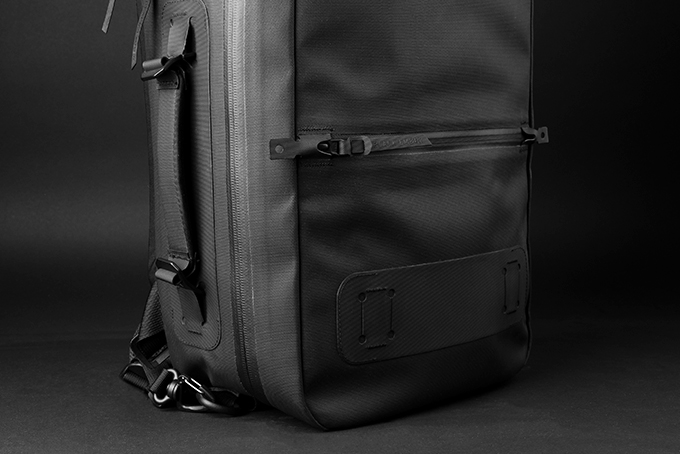 Materials & Hardware
Top-Notch Textiles
A big part of Black Ember's reputation is built on the brand's choice of textiles, and the Citadel is a case in point. The body of the bag is made from a three-layer 800-denier Microhex fabric, a textile that's both incredibly tough and also completely waterproof. In hand, it's a little stiff to the touch — almost like a dry bag. However, the sharp matte finish means that it looks sleek and understated instead of unsightly and ill-shaped.
Special fabrics alone can only go so far toward guarding against moisture ingress; without the proper sealing, water could work its way in between the bag's various panels. As such, Black Ember has employed its unique RF Welding process in the making of the Citadel, a heat treatment that bonds each piece together instead of stitching them with a needle and thread. In practice, this means that the bag comes rated to IPX6 standards. Weather, waterfalls, and brief bouts of total soaking — whatever the case, the Citadel is more than prepared to tackle your rainy day commute.
And here's the thing: the premium build quality doesn't end there; elsewhere, Black Ember has fitted the Citadel with a flurry of first-rate components. The hardware, for instance, is made from T6 Aircraft-grade anodized aluminum. The closures, too, are top-quality stock, fastened with YKK AquaGuard zippers to make for an iron-clad defense against the elements. They also sport a set of Hypalon pull tabs to ensure smooth, catch-free operation.
Around the rest of the bag, you'll find further Hypalon accents, including a set of loops for the sternum strap and five bar-tacked mounting points along the sides of the bag. Compatible with a suite of optional Black Ember accessories, each mount allows you to customize the Citadel based on your carry requirements. We particularly like how the included grab handle transforms the bag into a briefcase.
Internal Organization
Tidy And Tucked Away
Though the Citadel is an undeniably impressive pack around the exterior, it's inside where Black Ember has opted to employ the bulk of its bag-making expertise. For one, it features a flat-pack clamshell construction to facilitate easy packing and uninhibited operation.
Of course, such designs can prove pretty sketchy when it comes time to load your laptop. Accordingly, Black Ember has given the Citadel a separate zipper for accessing your device. During use, this means that you can simply slide your laptop inside without having to open the bag in its entirety. The pocket is also suspended above the ground for an extra dose of drop protection.
Unzip the Citadel, though, and you'll find even more organizational amenities. Along the bottom of the laptop sleeve is a zippered mesh pouch that provides plenty of room for larger items like chargers. Above, there's an elasticated velcro loop. In addition to securing the nylon pouches, it also doubles as a convenient headphone mounting point. Even with these items added, though, you'll still have more than enough room to squeeze things like pencil pouches behind the removable Maglock divider.
And that's hardly the extent of what the bag has to offer; on the backside of the clamshell lid, Black Ember has designed the Citadel with yet another zippered pouch. We liked to store delicate items like hard drives here, though we could very easily have fit something even larger. At the top of the lid, you'll find a second pocket. Split into a series of individual compartments, it's the perfect size for smaller items like pocketable notebooks, pens, and even charging cables.
Out front, there's a quick-access zippered pocket for efficient, on-the-go handling. Fitted with an integrated Maglock key clip for quick removal, it comes with a further two dividers for keeping track of easy-to-lose items like wireless earbuds, SD card readers, and travel-size hand sanitizers.
As if all of that were not enough, Black Ember gave the bag a hidden document pocket on the back panel. Whatever you opt to store here, you can rest assured that it'll be safe and secure — both from your bag's contents as well as from any pickpockets that might be passing by.
On Body
As Comfortable As Bags Come
Black Ember built the Citadel with a highly modular harness system that allows for a variety of different wear configurations and fits. Along with being adjustable both top and bottom, the straps are padded with spacer mesh and reinforced with a layer of Hypalon fabric. Furthermore, they unclip at the base and tuck behind the back panel when not in use — a trick that means you can carry the bag like a briefcase without any free-hanging hardware.
Back panel-wise, the Citadel sports one of the most cushioned support systems you'll find on a pack of this size. Padded with EVA foam and lined with breezy perforations, it's a super breathable setup that keeps your back feeling cool and comfortable no matter how hot it gets outside. With the L.A. heat, we can certainly appreciate this feature — after all, the weather is only going to get warmer as we move into summer here in Southern California.
Finally, we have the sternum strap. Adjustability is pretty much expected these days; however, not all designs are necessarily successful in their support. When it comes to the Citadel, Black Ember has engineered the strap around a series of loops and a T-shaped anchor. Fastened with a Maglock magnetic closure, it's a secure setup that's made only better by the small length of integrated elastic. When out and about, it helps the bag sit on your person without any pressure whatsoever.
Closing Thoughts
Minimal Aesthetic, Maximal Functionality
We thoroughly enjoyed our time spent with the Black Ember Citadel R2, as it's a bag that's exceptional in both its design and its construction. Despite everything that's going on with the pack, it's surprisingly intuitive to use. Now, the overly minimalist aesthetic won't be for everyone. However, if you're looking for a high-quality, customizable carry solution, this is one bag that can't be beat. Whether it's because of the premium finishing, the waterproof performance, or the sleek aesthetic, the Citadel R2 is an option that's sure to satisfy even the most particular EDC enthusiasts.
The 25 Best Everyday Carry Backpacks
If the Black Ember Citadel is a bit too technical for your particular tastes, don't fret. Being seasoned EDC experts, we've assembled loads more options in our expansive 25-pick guide to the best everyday carry backpacks.