While RVs and camper and conversion vans have been popular since the late '70s, it wasn't until much more recently that the off-road adventure van space began taking off, with this once-niche segment seeing an enormous influx of interest in just the last half-decade alone. Unsurprisingly, the ever-increasing popularity of this space has given way to a growing number of ever-more-capable and increasingly-well-appointed go-anywhere turnkey camper rigs — the latest and greatest of which we'll be counting down today in this guide to the best camper vans for an adventurous #vanlife on and off the road.
The Best Camper Vans Breakdown
Best Affordable Camper Van

Sportsmobile Classic 4×4

Best Value Camper Van

El Kapitan Vans Sprinter 144 Story Maker

Best Upgrade Camper Van

RB Components Sawtooth 04 Adventure Van

Best Onboard Garage Camper Van

Storyteller Overland Beast MODE 4×4

Best Luxury Camper Van

Airstream Interstate 24X

Best Pop-Up Camper Van

HYMER Venture S

Best High-Tech Camper Van

Outside Van Approach

Best Hardcore Off-Roader

Benchmark Vehicles Iglhaut Allrad 170
Defining The Segment
What Exactly Is An Adventure Van?
As you may have guessed from the name, an adventure camper van is a type of full-size van that's been converted into a go-anywhere mobile dwelling that offers the amenities and appointments of an RV while boasting a footprint that allows it to tackle the same type of off-grid terrain as your average 4×4 SUV. As such, pretty much every adventure van on the market features a suspension lift kit and off-road wheels and tires that make the vehicle markedly more competent in the dirt. It's also not uncommon to see these machines fitted with other elements commonly found on off-roaders such as auxiliary lighting, skid plates, crash bars and custom bumpers, rock sliders, jerry cans, recovery boards, and winches. In a similar vein, some camper vans have also been bestowed with exterior racks or sometimes even interior spaces to house other smaller vehicles like mountain bikes, kayaks, dirt bikes, and dual sports.
While there are some pretty obvious exterior visual differences between regular camper vans and adventure camper vans, the inside of these off-roaders are often nearly identical to their road-going counterparts — save for the addition of more rugged flooring or upholstery. Like regular camper vans, adventure vans come loaded with kitchens, beds, cabinets and other storage space, and sometimes even bathrooms. It's also not uncommon to see some adventure vans equipped with awnings and pop-up roofs. In general, adventure vans are built with a focus on catering to individuals with outdoor-centric lifestyles, with the upgrades and components needed to travel deep into nature, and to offer a great many of the comforts of home once arriving. As a result, adventure vans do sometimes feature larger fuel cells, water tanks, and other onboard systems that allow them to remain off-grid for longer periods without needing to return to civilization. 
An Off-Road-Capable Home On Wheels
What Are The Main Factors I Should Consider When Buying An Adventure Camper Van?
As both homes and vehicles, there's no shortage of areas one can take into account when shopping for an off-road camper. Knowing this, we've saved you some trouble by highlighting the most pivotal aspects to consider when buying.
Platform & Base Vehicle: Though they will admittedly be a far cry from their former selves by the time they're purchased as turnkey off-road adventure vans, the make and model vehicle platform that each camper is built atop will play a major role in the overall user experience, as this area not only will largely determine performance characteristics (and a good deal of its performance capabilities), but it will also play a major role in factors like maintenance, mileage, and other areas that hugely impact the day-to-day ownership experience. Unsurprisingly, many of today's most popular box and panel vans are utilized as platforms for turnkey adventure rigs.
Powertrain: An adventure van's powertrain is almost always dependent on the unit found in the stock donor platforms though it's nonetheless a crucial area to review when shopping. You'll want to explore the type of engine, its layout, its displacement, and number of cylinders. Additionally, you'll also want to look into areas such as service intervals and mileage, as well as how easy a van's powertrain is to access and service — at least if you plan on wrenching on the thing yourself.
Power: Another area that's important to focus on when looking at an adventure van's powertrain is its horsepower and torque figures, as this will play a direct role in the vehicle's performance capabilities — both on-road and off. What's more, these figures will also play a key role in the rig's payload and towing ratings, which are also of major importance when shopping.
Power Delivery: An adventure van can make thousands of horsepower but it means nothing if the engine's power can't be transmitted to the ground — a factor that makes power deliver another monumentally important area to review. Just like with regular SUVs or pickups, adventure van models that have AWD and 4WD setups will pretty much always outperform their 2WD competitors when off-road.
Amenities & Creature Comforts: Unlike your average commuter car that's made to take its passengers from point-A to point-B, adventure vans are built to ferry their occupants from point-A to point-B, and then serve as their home and base camp once arriving. As such, these roving dwellings almost always come appointed with beds, removable tables or nooks, and additional seating. And, while more often than not these models feature kitchens, how well appointed these kitchens are can massively vary — making this another important area to review when shopping. Additionally, some adventure vans also feature yacht-style heads with cassette toilets and wet showers.
Storage Space & Organization: Considering that these vehicles need to accommodate everything you need to live while off-grid, having solid storage and organizational features are an absolute must — making this yet another pivotal area to explore when shopping. This means looking into not only interior storage and organizational elements such as drawers and cabinets, but also exterior storage elements like roof racks or generator bays.
Modularity: Depending on if you want to work, lounge, cook, or sleep, you may want to have your camper set up differently, which is why having a modular interior design is also a great idea for campers. A camper's level of modularity can and will vary pretty greatly from model to model, though this element ins particularly important with smaller models.
Sleeping Accommodations: On top of an adventure van's ability to house gear, it's also vital that you look into the number of people that it can comfortably accommodate. This just means reviewing the number of available beds on any given model, though it is important to point out that most models feature main beds supplemented via dinettes, benches, and other elements that can fold or convert into a sleeping area.
Plumbing: On top of a camper's kitchen, you'll also want to explore elements from its plumbing system such as its sink, water tanks (both freehand gray water), and, if applicable, shower and toilet.
Weather & Climate: Most adventure vans are well insulated and are equipped with heaters and AC units that allow them brave some pretty extreme temperatures. With that said, it's always best to check on the type of weather conditions any model is made for before embarking into nature. It's also worth mentioning that most adventure campers can have their AC and heating systems upgraded, and can also have better insulation and better-insulating windows installed as we'll.
Expandability and Roof Type: A fantastic way to save space when not needed is to opt for an adventure camper with a pop-up roof, as this will provide ample headspace without raising the vehicle's center of gravity.
Go-Anywhere Abilities: A major difference between regular camper vans and adventure camper vans is the latter's ability to go where the former can't. This is thanks to adventure camper van's off-road capabilities. When reviewing this area, you'll want to pay attention to each model's ground clearance, suspension, travel, and approach, break-over, and departure angles, just to name a few.
Off-Road Upgrades: And, while these items can always been purchased from aftermarket companies, it's still worth exploring what off-road elements and upgrades come standard on an adventure camper such as steel bumpers, skid plates, roof racks, spare tires, auxiliary lighting, winches, and so on.
Sportsmobile Classic 4×4
Why It Made The Cut
An incredibly, massively-upgraded, go-anywhere adventure van that's being sold for under six-figures, out the door.
Best Affordable Camper Van: While the Mercedes Sprinter platform is undeniably the most popular platform in this space, those seeking the greats possible bang for their buck are likely to opt for Ford's tried and true E350 Cargo Van — as evidenced by Sportmobile's Classic 4×4 model. Starting from under $90,000, this immensely capable model boasts Fox 2.0 Performance Series Shocks, an Advance Adapter Atlas II All Gear Driven Transfer Case, a Dynatrac Pro-Roc 60 Front Axle, a Dana 60 Rear Axle, and a slew of other hardcore off-roading bits. Powering the adventure camper is a massive 7.3-liter V-8 that afford their a 10,000-pound towing capacity. Other highlights include a pop-up roof, a modular interior, a cool 16.5"of ground clearance, 22" of travel, and approach and departure angles of 44° and 32°.
Platform: Ford E-350 Cargo Van
Sleeps: 4
El Kapitan Vans Sprinter 144 Story Maker
Why It Made The Cut
A custom-built turnkey adventure van offered with a variety of different floorpans to suit different off-road-focused lifestyles.
Best Value Camper Van: Rather than simply aiming to design a camper van that could go off-road, El Kapitan Vans' Sprinter 144-based Story Maker model was engineered from the ground up to be the ultimate van life machine that's as conducive to working off-grid as it is road-tripping and exploring off-grid. After spending just a short time inside this vehicle, it becomes abundantly clear that the SoCal-based designers of this rig possess ample firsthand experience living out of camper vans that's been applied to the creation of the Story Teller in order to address a myriad of common issues — and to generally bolster comfort and convenience. Making the Story Maker all the more noteworthy is the fact that this model is offered with a variety of different interior configurations, all of which aim to cater to different lifestyles. The company also produces a wide array of optional add-ons and upgrades for this already well-appointed camper platform.
Platform: Mercedes-Benz Sprinter
Sleeps: 3-4
RB Components Sawtooth 04 Adventure Van
Why It Made The Cut
A fully-loaded, highly-capable Sprinter-based adventure van with an impressive suite of living systems for extended off-grid stays.
Best Upgrade Camper Van: There's no rule dictating that interior luxury and external fortitude are mutually exclusive – as evidenced by this offering from RB Components. Called the Sawtooth, this beefed-up adventure van is built upon a Mercedes-Benz Sprinter Van (the obvious most-popular donor vehicle for adventure conversions), but the similarities to the original vehicle stop at the silhouette. This upgraded version features a 3,000-watt power system, solar panels, a 69-gallon fresh water system, a custom stainless steel enclosed shower with hot water, an electric awning, bamboo wood tables and a BBQ exterior mount – and that's the short list. It also comes with beefy Toyo off-road tires, an air spring kit, and a water-fording-friendly snorkel intake.
Platform: Mercedes-Benz Sprinter
Sleeps: 4
Storyteller Overland Beast MODE 4×4
Why It Made The Cut
A well-appointed, off-road-capable adventure van with an onboard garage for storing dirt bikes, mountain bikes, & other smaller vehicles.
Best Onboard Garage Camper Van: Storyteller Overland's Beast MODE 4×4 is an off-road-specific go-anywhere camper van that's built on Mercedes' Sprinter platform. Spanning 21' in length and offering 6.3" of interior headspace, the Beast MODE 4×4 features a full kitchen, bathroom, and generously-sized sleeping quarters — all while delivering exceptional go-anywhere capabilities thanks to a slew of name-brand upgrades. On top of sporting a full suite of advanced tech and driver assists, this model also features a 3.0-liter turbodiesel V6 engine that has gobs of torque on tap while delivering solid fuel economy. In addition to its top-shelf build quality, impressive off-roading prowess, and generally luxurious nature, a major part of what sets this model aside from other adventure campers on the market is undoubtedly its dedicated "garage space" which is designed to house kayaks, dirt bikes, or mountain bikes — making this the obvious go-to choice for anyone looking to take a two-wheeler or two on their travels.
Platform: Mercedes-Benz Sprinter
Sleeps: 4
Airstream Interstate 24X
Why It Made The Cut
A Mercedes-Benz Sprinter 3500 EXT-based adventure camper with a signature Airstream interior.
Best Luxury Camper Van: One of the latest additions to the iconic brand's luxury Class B Touring Coach range, the Airstream Interstate 24X may resemble a slightly lifted Mercedes-Benz Sprinter 3500 EXT from the outside. Inside, however, this roughly quarter-million-dollar camper van seriously looks like a modern airstream trailer. As such, it boasts what's almost certainly the most luxurious bathroom and kitchen of any model on this list, along with an overall fit and finish that's legit second to none. Offered with a single floorpan, this entire vehicle spans 24', and, while it can seat half-a-dozen adults, it only has sleeping accommodations for two. A turbodiesel engine also delivers a generous 5,000-pound towing capacity. If money is no object and you simply seek the very best in terms of appointments — though not necessarily in off-road capabilities — the Interstate 24X really can't be beat.
Platform: Mercedes-Benz Sprinter 3500 EXT
Sleeps: 2
HYMER Venture S
Why It Made The Cut
A ridiculously-well-appointed two-story pop-up camper bringing the comforts of home to practically anywhere.
Best Pop-Up Camper Van: Powered by a 190-hp powertrain with off-road suspension and all-wheel drive as standard, the HYMER Venture S is the result of a brilliant interior design that's given way to an off-road camper with an interior that looks more like your average luxury tiny home than it does any kind of dwelling on wheels. Taking inspiration from boutique hotels and lounges, the interior of the Venture S boasts a slew of fine custom cabinetry and built-in furniture as well as a staircase with integrated storage that leads occupants up to the vehicle's sleeping quarters — a massive full-sized bed that offers an enormous amount of space thanks to a huge pop-up roof. The overall premium nature and fit and finish of this model are huge parts of what make it special, though with that said, this adventure camper is just as competent off-road as your average overlander – a combination that easily makes the HYMER Venture S one of the most attractive models on the space.
Platform: Mercedes-Benz Sprinter
Sleeps: 2
Outside Van Approach
Why It Made The Cut
A luxurious off-road-ready adventure camper built on Mercedes' latest, greatest, & most state-of-the-art Sprinter van to date.
Best High-Tech Camper Van: One of the coolest things about the offerings from Outside Van is their versatility in their options. Their packages all start with a Mercedes-Benz Sprinter van – which is a spacious and capable vehicle in its own right – and then they offer a multitude of different packages from there, including a long list of optional customizations. But, if you're just looking for the basics, you don't even have to bother with the list; you can just opt for their Approach Van to get all the necessities you need to get you and your companions out on the road. In addition to a well-appointed interior, the Approach features a 50" light bar as standard, along with an aluminum roof ladder, 17" off-road wheels wrapped in all-terrain rubber, an off-grid entertainment system with stereo and TV, a topo-themed wrap, and a four-cylinder Diesel engine making 208hp, 332ft-lbs of torque that's sent to an AWD system.
Platform: Mercedes-Benz Sprinter 170
Sleeps: 4
Benchmark Vehicles Iglhaut Allrad 170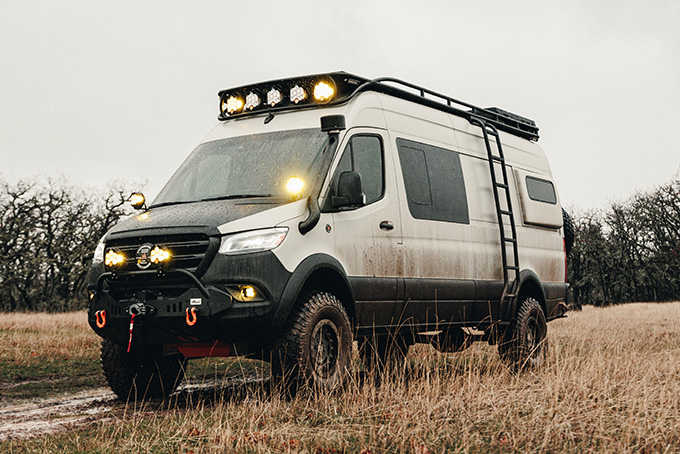 Why It Made The Cut
An insanely-rugged & immensely-capable off-road camper van with a half-million dollar price tag.
Best Hardcore Off-Roader: Aiming to provide the most luxurious living quarters on the most rugged and off-road-capable platform possible, the Benchmark Vehicles Iglhaut Allrad 170 is a super premium spare-no-expense take on an off-road adventure camper. Riding on a set of alloy billet wheels shod in 37" BFG K02 all-terrain tires, the Iglhaut Allrad 170 features a heavily-upgraded suspension package with FOX 2.5 rear shocks, front Bilstein shocks, and a massive 11" ride height. Powering the van is a a 3.0-liter V6 turbodiesel engine mated to a seven-speed automatic transmission. The van also comes loaded with a full suite of off-road upgrades including a skid plate, custom front bumper, recovery hooks, a winch, auxiliary lighting, flared fenders, and a Roambuilt Safari 2.0 Rack and two, 83-liter ROAM Adventure Company storage boxes. Measuring 170" L x 68" W x 76" H, the interior of the van features a full bed plus a passenger bench to bed seat from French seating manufacturer Scopema seats, as well as a 640-amp hour lithium battery bank, and a Dometic RTX 3000 AC unit.
Platform: Mercedes-Benz Sprinter 170
Sleeps: 4
The Best Off-Road Camper Trailers
Interested in acquiring a mobile dwelling but already own a solid off-road-capable vehicle? Then be sure to head over to our guide to the best off-road camper trailers for a look at the latest and greatest options in the towable roving base camp space.