Although most high-quality jeans used to be crafted in the United States, garment makers have been steadily taking their production overseas in order to cut down on their production costs. And it's a shame because it's led to the widespread closure of our domestic denim mills and factories, and an increasing reliance on manufacturing overseas. However, in order to honor the history of American jeans, we've done our best to only consider those options that are made right here in the USA. As it turns out, there are quite a few brands that are doing just that. So have a read and peruse our picks for the best USA-made denim brands.
Best USA-Made Denim Brands Breakdown

The history of denim in America
Few other garments have enjoyed the same kind of commodification as blue jeans. When Jacob W. Davis originally invented them in partnership with Levi Strauss & Co, he intended for them to be hard-wearing work pants for use by prospectors digging for gold. However, once mainstream fashion caught on to the likes of Brando and Dean sporting some denim, jeans quickly became elevated to a stylish piece of 'in' apparel. And the thing is — since that time, jeans have only continued to rise in popularity. In fact, the global denim market value reached some $110 billion in 2020 after experiencing a $15 billion increase from the year prior (a growth that was projected to take four years). Suffice to say, people can't get enough of their jeans.
Why does USA-made matter?
The history of denim jeans is unequivocally American; the first pair was created by immigrants to provide workers and miners with reliable protection and support. Over the years, much of America's manufacturing has gone overseas, and depending on where these products are made, much of the quality is lost in the process. Not only that, but jobs, factories, and creators in the States are also left by the wayside when industries are outsourced. This is why highlighting USA-made denim brands is important, because they're honoring the history of the fabric, while providing Americans with jobs, and taking care to craft high-quality products in our own backyard.
what to look for
Material: The brands on our list source their material from either the States or Japan. And if the denim is sourced from Japan, the company works closely with the mill and takes care of the sewing and manufacturing Stateside.
Selvedge Denim: This is a highly sought-after fabric that's been woven to have a self-edge along the edges of the fabric. It gives the jeans a clean look and prevents them from unraveling or fraying.
Raw Denim: Raw or unwashed denim hasn't been pre-washed (or pre-shrunk), which means the jeans made out of it will take longer to break in, but will generally be sturdier and have a more interesting texture as you break them in.
Sanforization: This denim, on the other hand, has been pre-washed, meaning that the break-in process takes less time, and it won't shrink as much after the first few washes.
Weight: Jeans around the 12oz territory and below will be more comfortable, but not quite as durable as heavier jeans. Heavier jeans around 16 oz and above will be harder to break in, but generally more durable.
Fit: If a pair of jeans has been sanforized or pre-shrunk should still be a little tight when you first put them on, so you may want to size down. For jeans that haven't been sanforized, it doesn't hurt to go a couple of sizes bigger because they're going to shrink more than pre-shrunk jeans.
3sixteen
Why They Made The Cut
3sixteen manufacturers its jeans here in the US, and works closely with denim mills around the world to create unique and durable denim with a whole lot of character.
3sixteen worked with the renowned Kuroki Mills in Japan to create a custom fabric in 2008, and has since created over ten new fabrics that have become mainstays in the brand's lineup. The company values form, function, and strong relationships with the craftsmen and designers that make everything possible.
Year Founded: 2003
Location: New York City, NY
Founder: Andrew Chen
Editor's Pick: CT⁠-⁠101xsClassic Tapered ⁠-⁠ Stonewashed Indigo Selvedge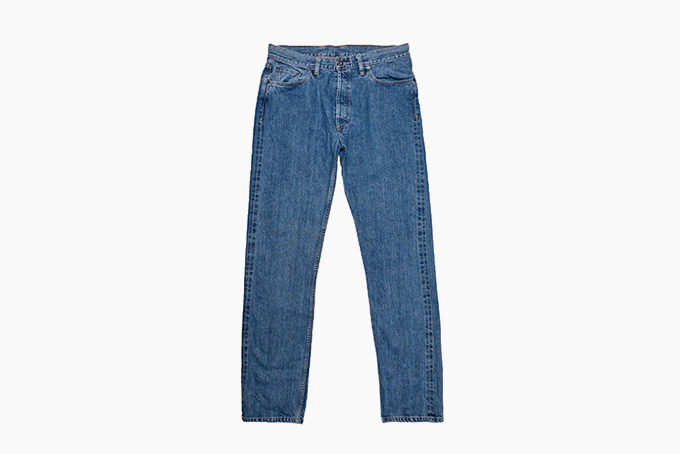 Pros
Made with sanforized selvedge denim
Cons
Waist will stretch a bit during the first few wears
This is one of the label's best-selling pairs of tapered jeans, and it's made of 12oz of selvedge denim that's been stonewashed for a lived-in and faded look. The sanforization and stonewash treatment means that you don't have to worry about them shrinking, but they will stretch a bit in the beginning.
American Giant
Why They Made The Cut
American Giant takes great care in not only crafting one-of-a-kind clothing here in the States, but also in supporting American communities by providing jobs, re-opening factories, and sourcing cotton grown in the USA.
American Giant is a brand based on the principle that keeping supply chains local is critical to the overall success of our communities. Therefore, each and every one of their products is 100% American-sourced and spun, sometimes crossing the country but never leaving its shores.
Year Founded: 2012
Location: San Francisco, CA
Founder: Bayard Winthrop
Editor's Pick: Dakota straight
Pros
Simple and classic blue jean style
Cons
Some may not like the added stretch
When it comes to the Dakota Straight jeans, you'll find that they were first woven in Trion, Georgia, and then flown to Los Angeles, California, for the finishing touch. Made from a blend of cotton, polyester, and just a little bit of spandex for stretch, they'll be comfortable to wear from day one.
American Trench
Why They Made The Cut
This Philadelphia-based clothing brand seeks to highlight American manufacturing practices and honor the materials that go into it, with modern twists on retro styles.
Although the trench coat was American Trench's "initial muse", they've expanded the catalog to include high-quality garments that run the gamut, all with an emphasis on American manufacturing. Every stitch made by every worker is done with passion and a love for the craft.
Year Founded: 2012
Location: Philadelphia
Founder: Jacob Hurwitz
Editor's Pick: Shockoe Washed Jeans
Pros
Free lifetime repairs
Soft yet crisp
Cons
Part of a 2023 collection
These jeans are crafted in Los Angeles, CA, in partnership with Shockoe Atelier (a US-based denim manufacturer), and feature a mid-rise with a slight taper at the leg opening. You also get lifetime repairs courtesy of Shockoe, so no need to worry about keeping them pristine.
Freenote Cloth
Why They Made The Cut
Freenote Cloth is a California-based clothing company that takes great pride in manufacturing and sourcing its products in the States, while taking inspiration from classic American culture.
Freenote Cloth may have been started in 2013, but everything about the San Juan Capistrano-based brand oozes classic Americana, from its founding by brothers Matt and Andrew Brodrick to the timeless style of its products.
Year Founded: 2013
Location: San Juan Capistrano, California
Founder: Matt and Andrew Brodrick
Editor's Pick: Trabuco Classic Straight
Pros
Custom rivets and button tacks
Fit is similar to 501
The Trabuco Classic Straight jeans pair a rugged 15oz fabric with an elongated rise and some added room through the hips, a combination that's made to work hard and wear easily. And when you consider that they come finished with some double-needle accents, Japanese herringbone pocket bags, as well as some custom rivets and button tacks, they more than look the part, too
Glenn's Denim NYC
Why They Made The Cut
After years behind the scenes and learning the craft, Glenn Liburd (at 62 years old) started his own denim company inspired by American subcultures and the art of denim making.
Where most other garment manufacturers rely on the collective effort of a well-coordinated team, Glenn's Denim is the product of just one man — Glenn Liburd — and his obsession with denim. Having worked in the industry for some 30 years designing and producing jeans behind the scenes, Liburd subsequently curated his own collection through Brooklyn Tailors in order to showcase his experience.
Year Founded: 2019
Location: New York City, NY
Founder: Glenn Liburd
Editor's Pick: GD110 SLIM TAPERED WASHED 13OZ SELVEDGE
Pros
Washed for a natural fade
Cons
Legs are very slim, which isn't for everyone
When it comes to the GD110, you'll find that they offer a mid-rise with a slim cut and a tapered leg reminiscent of the '70s and '80s counterculture style. And because they come pre-washed and shrunk, they're already well on their way to a perfect, broken-in fit and fade.
Imogene + Willie
Why They Made The Cut
Hailing from Nashville, Matt and Carrie Eddmenson set up their first shop in an old '50s gas station in Nashville, a very fitting beginning for a brand that values US manufacturing, community, and jeans that fit everybody.
When Matt and Carrie Eddmenson first founded Imogene + Willie back in 2008, they were broke, desperate, and doubting whether their business would even take off. In spite of their initial uncertainty, the pair stayed true to their roots and committed themselves to producing the best-wearing, longest-lasting jeans they could. Some 13 years later, Imogene + Willie is still doing its thing, and it's for good reason that the brand has made it.
Year Founded: 2008
Location: Nashville, TN
Founders: Matt and Carrie Eddmenson
Editor's Pick: henry indigo rigid USA Lot 1
Cons
Will shrink a bit after first few washes
The henry indigo rigid USA lot 1 features 14oz of premium indigo yarn-dyed denim, along with a right-hand twill. What results is a pair of jeans that look as if you've worn them for years and are just as comfortable from day one.
Left Field NYC
Why They Made The Cut
Founder Christian McCann was inspired by antique flea markets and continues to make quality American garments that our dads and grandpas would be proud of.
Frustrated with the country's overwhelming departure from domestic manufacturing, Christian McCann founded Left Field back in 1998 in order to bring stylish American-made clothing back to mainstream menswear. At the time, the company was little more than a side project based out of small New York apartments and McCann's own truck, but over the years, it's grown into one of the industry's premier purveyors of vintage-inspired apparel.
Year Founded: 1998
Location: New York City, NY
Founder: Christian McCann
Editor's Pick: Greaser 11.5 oz Japanese "Jelt" denim
These jeans combine a slightly tapered greaser-like fit with 11.5oz of Japanese selvedge denim and some bandana pocket bags. You're getting a genuine bovine patch, and copper hardware that's entirely US-made.
Railcar Fine Goods
Why They Made The Cut
Steven Dang cut his teeth as a mechanic and realized that high-quality workwear is essential for not only blue-collar workers, but the basis for durable and reliable garments.
Ask anyone on the street, and they're likely to tell you that the American Dream is dead, but with Railcar Fine Goods, you'll find that it's alive and well. That's because it was born out of Steven Dang's desire for hard-hitting workwear, with him balancing a day shift at the metro alongside late nights getting Railcar up and running.
Year Founded: 2010
Location: El Monte, California
Founder: Steven Dang
Editor's Pick: Rebels X005 Straight Leg
Pros
One of the original fabrics the company used
Equal parts story and substance, these jeans are made from 12oz of selvedge denim (from Cone Mills), and feature double waistband construction to reduce stretch, meaning they'll be with you for years to come and wear in with their own unique look and fit all the while.
Raleigh Denim Workshop
Why They Made The Cut
Founded in 2008, North Carolina natives Sarah and Victor Lytvinenko wanted to make the perfect pair of jeans while honoring classic American design and craftsmanship, and they're doing just that.
Headquartered right in the heart of North Carolina's capital city, Raleigh Denim Workshop honors the history of domestic manufacturing by employing the exact same techniques as those traditionally used to make American denim. So, in addition to retrofitting a once-closed workshop and restarting some long-abandoned looms, Sarah Yarborough and Victor Lytvinenko also consulted former industry workers in order to fine-tune their process.
Year Founded: 2008
Location: Raleigh, NC
Founders: Sarah and Victor Lytvinenko
Editor's Pick: Alexander 319
Pros
Front pockets are signed by the creator
Easy-wearing
Cons
Slightly relaxed fit may call for a size down
When it comes to their Alexander 319 jeans, you'll find that the wash comes chock full of Cone Mills character, and the fit is second to none. Oh, and as an added bonus, every pair comes signed on the interior of the front pockets in recognition of those who crafted them.
Rogue Territory
Why They Made The Cut
Rogue Territory began with bespoke jeans for select clientele, and now offers its high-quality jeans to the whole world.
What began as a small custom jean shop quickly turned into a worldwide success, and Rogue Territory has expanded its lineup to include shirts, jackets, and other garments since starting in 2008. The label still works closely with its collaborators and takes care to highlight artists and craftsmen who take denim seriously.
Year Founded: 2008
Location: Los Angeles, CA
Founder: Karl Thoennessen
Editor's Pick: Officer Trousers
Pros
Sanforized
Silk screened front pocket lining
Cons
The indigo dye will transfer to light surfaces easily
The Officer Trousers are made with 11oz of custom Japanese selvedge fabric and sewn in sunny Los Angeles, California. You're getting a slim tapered leg, a mid-rise, and a subtle crosshatching texture.
Tellason
Why They Made The Cut
Hailing from the home of blue jeans, Tellason is a San Francisco-based company that makes every last part of the jean, from the leather to the rivets, right here in the USA.
Lifelong friends Tony Patella and Pete Searson have a passion for durable gear, and respect for the history surrounding it. The label is based in one of the most historic cities in the world when it comes to denim, and they continue to honor tradition with high-quality goods.
Year Founded: 2008
Location: San Francisco, CA
Founders: Tony Patella and Pete Searson
Editor's Pick: Sheffield straight tapered selvedge jeans
Pros
Made where the first blue jeans were made
Sanforized selvedge denim
The Sheffield Straight Tapered Selvedge Jeans are made with 14.75oz of sanforized selvedge denim in the home of the blue jean, San Francisco, California. They have a mid-rise, a straight tapered leg, and extra heavy pocket bags.
Tobacco Motor Wear
Why They Made The Cut
Tobacco Motor Wear only cares about making the best motorcycle gear inspired by the riders of old, that'll perform and look just as good on the bike as it does off of it.
For those who want to stay safe on the bike but aren't a fan of the futuristic sci-fi aesthetic that comes with most protective pants, the offerings from Tobacco Motorwear will make for a welcome alternative. Although much of the label's gear is designed for riders, that doesn't mean you can't enjoy the durability and style of TMW's jeans.
Year Founded: 2014
Location: San Fernando, CA
Founders: Dave Ackerman and Andrew Hancock
Editor's Pick:
Pros
DuPont Kevlar lining
Durable seams
Cons
Sizing can be difficult to get right
The Archetype Riding Jeans pair premium Cone Mills denim with a Comfort Controlled Lining, ensuring that you look the part while saving your legs from road rash in the event of a spill. And the best part is — courtesy of their caballo-seam construction, you won't even be able to notice the added reinforcement. So whether you're donning them for a day of riding or simply just rocking them around town, these jeans have your back.
Best Japanese Denim Brands
While a few picks we've featured in this guide are made from Japanese denim, we've barely scratched the surface of the available options. If you're looking for some extra rugged jeans from trusted Japanese brands, be sure to check out our guide to the best Japanese denim brands.